2020 Beta Xtrainer 300 Review | Bike Reviews
When word came through that I was going to test the 2020 Beta Xtrainer I had absolutely no idea what to expect.
Obviously, I'd heard about this hybrid and seen pictures of it over the last few years but I'd never actually seen the Beta Xtrainer in the flesh.
The whole idea of an enduro bike designed to be lighter and more compact, primarily for slow and technical stuff, is something that I am not used to but I was eager to check it out. It is cool to see Beta pushing ahead with the development of these bikes and the 2020 model looks pretty sweet.
Introduced in 2015, the Beta Xtrainer concept is quite simple. Beta wanted to create a bike that slotted in between its enduro and trials bikes that would be suitable for everything from playing around to hard enduro. The Italian company created a light 250/300T with a smoother, softer powerband that offers excellent flexibility on technical terrain and also is easy to ride.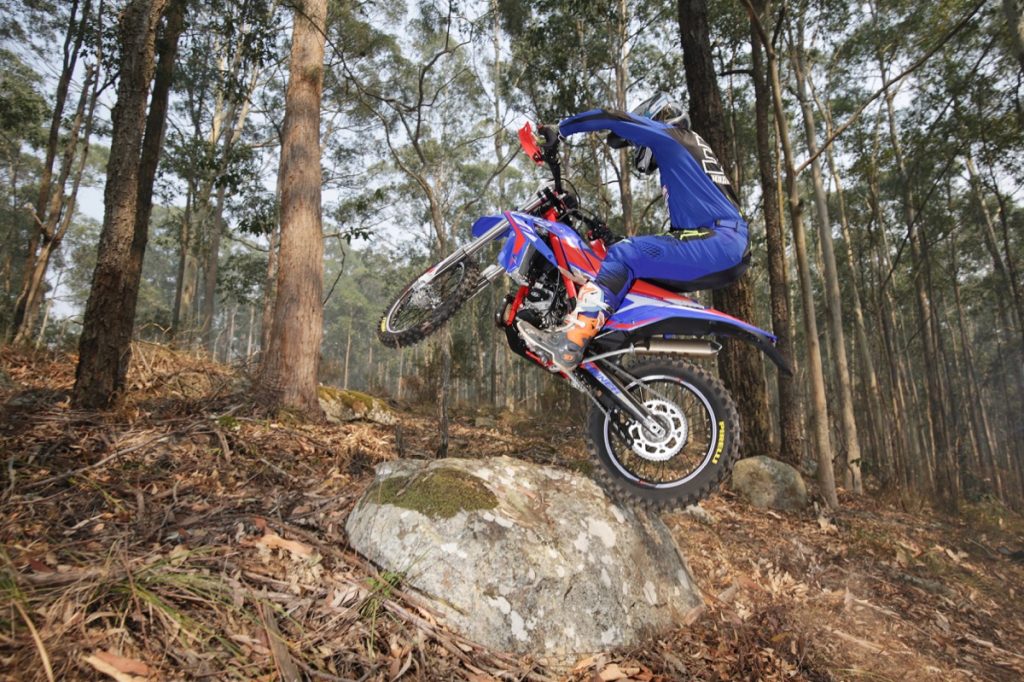 The Xtrainer is Beta's go-to bike for enduro newcomers who are learning but it is happy to handle extreme enduro riders who want a light bike with great low-down torque. I kind of expected the Xtrainer to be some kind of hybrid mix but, surprisingly enough, the best way I can describe it is as an RR300 on a solid diet … same engine but with Jenny Craig working her magic in the chassis department.
Scanning over the Beta Xtrainer 300 as it was rolled out of the van, the first thing I noticed was the bright blue and red colour scheme that is vastly different to the RR models. The Xtrainer also looked tiny compared to the enduro bikes there on the day.
It has a smaller frame and everything seems to be a lot more compact than the RR. Seat height is 20mm lower, wheelbase is 20mm shorter and weight is claimed to be 5kg lighter than the RR300.
Beta has gone to a lot of effort to tame the mighty power of the 293cc engine. It uses the same 36mm Keihen PWK carb and oil-injection system but the expansion chamber has been shrunk and looks more like an RR125 pipe that wraps around a bit further, and the muffler is smaller too.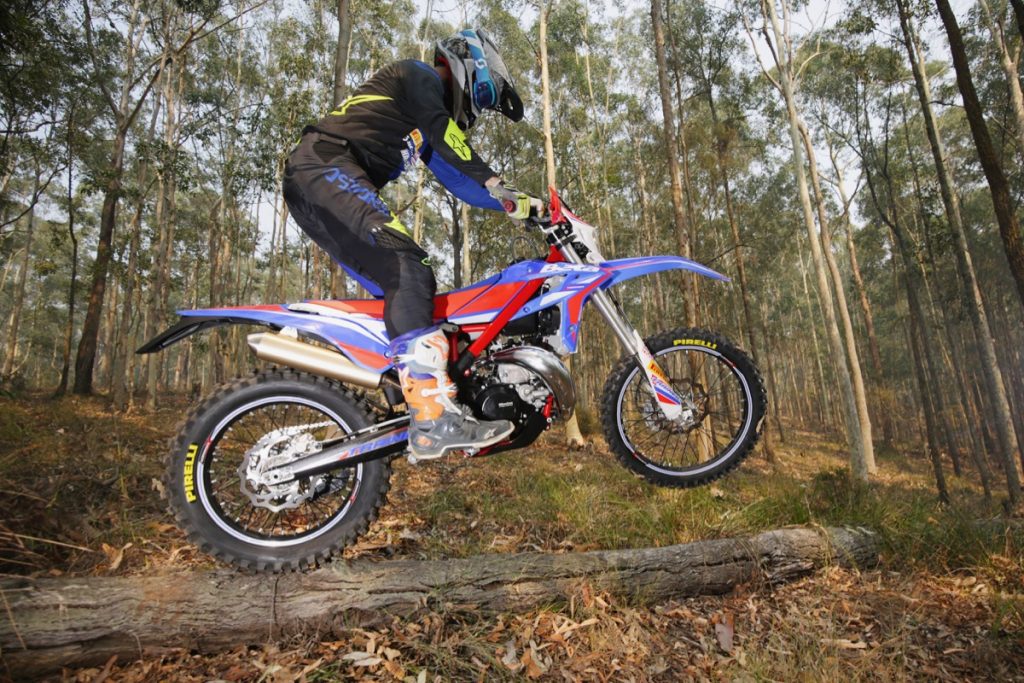 They also lowered the compression from 11.9:1 to 11.45:1 which is a huge amount. The ZF Sachs suspension that comes on the RR models has been replaced with an Olle 43mm fork and shock from Spain, which reduced travel by 20mm at both ends. It really is a compact little thing that looks like you could just throw it around.
With the RR two-strokes having an entirely new engine for 2020, the same changes were brought across to the Xtrainer. The new counter-balancer, crankshaft and clutch all feature here and create a super smooth, super easy ride. With the low seat, I was flat footed on the bike and, right away, that gives you confidence to know that if you were to get into a tricky situation, your feet will hit solid ground sooner than on a regular bike.
Once I touched the starter button, the Xtrainer fired up right away and it definitely has a kind of hybrid enduro/trials exhaust note to it. Not quite enduro, not quite trials is the only way I can describe it. It is different, that's for sure. It retains the RR's map switch, which can be switched from Rain to Dry mode. I preferred the slightly punchier Dry map, especially when going from crawling across the rocks to jumping up over them. The Rain map was a little too soft for my tastes.
It's funny how your mind works when you get on a bike. Right away on the first look at the loop we'd set out, my instincts told me to attack the trails, try to go as fast as I could and push the bike to see what it was capable of. However, of course, with all the changes and with the mellow design in mind, I quickly discovered that I was riding the bike all wrong. After all, this bike is not about lap records or smashing through ruts, it is about having fun over the gnarly stuff.
Reset Button
So I hit the reset button in my head. This isn't about going fast or pushing limits, it's about play riding, doing techo things and having a cruisey day on the bike. I turned off my "go-fast sprint" brain and started to play around on the technical terrain. Riding across traverses, hopping over logs and climbing up snotty hills, the Xtrainer had it all covered and the tamed down engine is actually super nice to use. It's surprisingly grunty off the bottom and I could crawl the motor in first gear down to what felt like 10rpm and it wouldn't stall. As quick as I let the revs die, they'd pick back up again and you were away.
There is not a huge hit of power, no abrupt powerband feeling, just a very linear power curve. It is a narrow band however, with the focus being on low- to mid-range power. You'll have a fair bit of trouble setting land speed records but again, this bike is not chasing records, it's being produced for fun and for the riders out there who are fresh on the scene and want something to get their skills up on. I was really impressed with just how easy the Xtrainer is to ride. Mission accomplished.
The soft suspension is great across the small roots and rocks and provides excellent traction up the snottiest of climbs. The racer came out in me a couple of times and I got a bit confident and boosted off a few big rocks and well, the 43mm trials fork wasn't quite as forgiving as I anticipated. Again, I had to slow myself down and just go out there and play ride.
Rather than jumping off stuff, I shifted my focus to climbing up. Staring down the face of a big rock ledge, I lined the Xtrainer up and went for it. A quick flick of the clutch and I was up and over it like it was nothing. The soft rear-end offers fantastic grip and I was struggling to fail on any obstacles.
I like how the Beta Xtrainer feels so light and small under you and there were a couple of times where the low seat definitely came in handy. It is kind of like a MTB sort of feeling where you can just throw it around.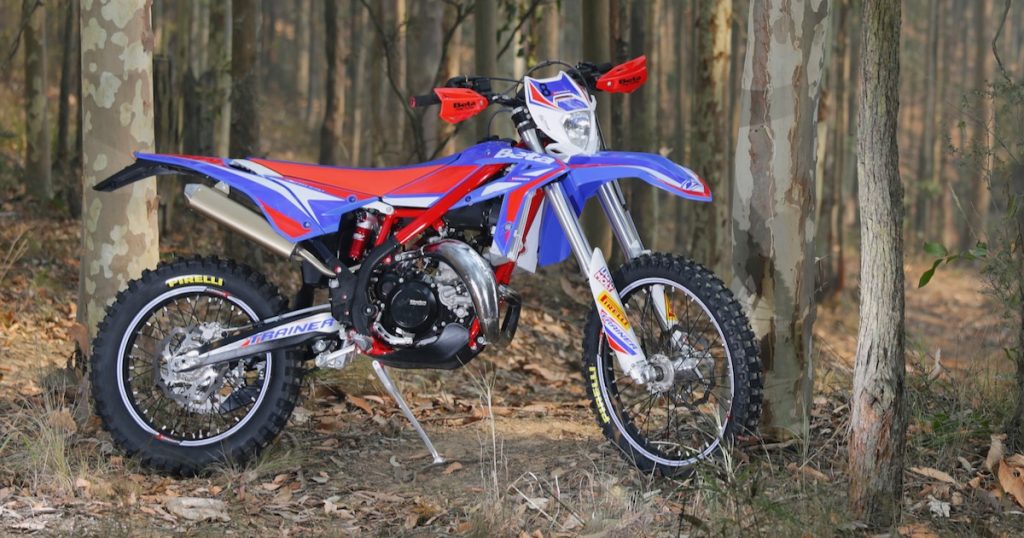 Flat Footed
Even when I would get a little cross rutted or off balance up a hill and have to stop, I found it super easy to lift the bike back in line with the grab handles under the seat.
Being flat-footed made it really easy to manoeuvre and spinning the bike around was a piece of cake. And despite how much smaller they have made the bike; it still feels spacious and open in the cockpit. I didn't feel cramped or uneasy while either sitting or standing on the bike.
After spending a fair chunk of time playing around on the Xtrainer, I reckon that Beta is on a good thing. I have always liked the power and torque of a 300T, it is perfect for the snotty stuff. But you have to admire the way Beta has mellowed the mighty RR300 engine to make it so easy to ride and stuffed it in a chassis that is purpose built to suit the slower riding style of extreme enduro riders.
If you're looking for a bike that is super fun to ride, and extremely forgiving through the most technical of terrains, then you could very well consider the Xtrainer.
2021 Beta Xtrainer
The 2021 Xtrainers are already on their way to Australia and due to go on sale this month. After receiving Beta's new counter-balanced, two-stroke engine for this year, changes to the Xtrainer are relatively minor, with increased white in the graphics being the most obvious one and no change in the price.
WORDS // GEOFF BRAICO | PHOTOS // Mitch lees
Beta Xtrainer 300
Engine
Type Piston-port, reed valve
Displacement 293.1cc
Bore & STROKE 72 x 72mm
Cooling Liquid
Compression ratios 11.45:1
Fuel metering Keihin PWK 36
Tank capacity 8.5L
Transmission Six-speed, constant-mesh
Clutch Wet multiplayer
Dimensions
Wheelbase 1467mm
Seat height 910mm
Ground clearance 320mm
Weight 99kg dry
Suspension
Front Olle R16V 43mm USD, 270mm travel
rear Olle R16V gas-oil monoshock, 270mm
Brakes
Front Nissin twin-piston caliper, 260mm wave
Rear Nissin single-piston caliper, 240mm wave
Running Gear
Handlebar Tapered aluminium alloy
Front tyre Pirelli Scorpion 90/90-21 fitted
Rear tyre Pirelli Scorpion 110/100-18 fitted
Prices & Contacts
RRP $10,995
Web betamotor.com.au
PHONE (07) 5597 4335
Warranty Six months parts and labour