The 2020 Husqvarna FE501 a new-generation model with the frame, carbon composite subframe, shock linkage, exhaust system, seat, bodywork and cylinder head all coming in for revision.
At $15,895, the 2020 Husqvarna FE501 is the most expensive standard-model enduro you can buy so I was keen to see how all that money translated to the great outdoors.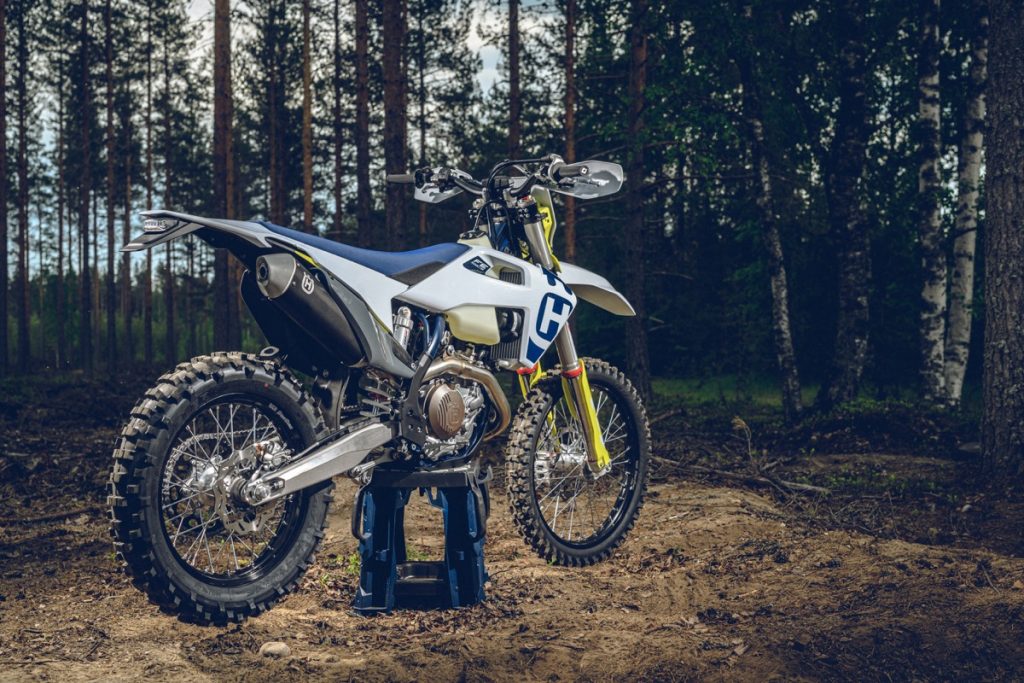 I was a fan of the reduced seat height (950mm) as soon as I threw a leg over it. Husqvarna engineers have lowered it by 20mm, 10mm in the perch itself and another 10mm in the linkage. This might not sound like much, but it gave me confidence that I was actually going to be in control of this bike.
This was even more evident when I was on a trail and needed to chuck a U-turn after hitting a dead end – getting my foot firmly planted for the quick change of direction was easy. At one point I found myself in a snotty creek bed with both feet down, paddling my way through the slippery rocks with no problem. I would have fallen over if the seat wasn't that bit lower.
Husqvarna has given the engine a lot of attention, especially to making it lighter (now 29.4kg) and more compact. The crankcase has been revised and shaved by 300g, the SOHC cylinder head is more compact, lowering the centre of gravity and cutting 500g.
Husqvarna's most powerful enduro engine comes with all the latest technology and the handlebar power map switch, which gives the rider access to two maps plus traction control, is one of my favourite features of this model.
In tight twisty terrain, I ran Map One (standard) which made the 501 easier to ride. Husqvarna says it has spent thousands of hours developing the latest maps, partly to make them more different and they've done a good job.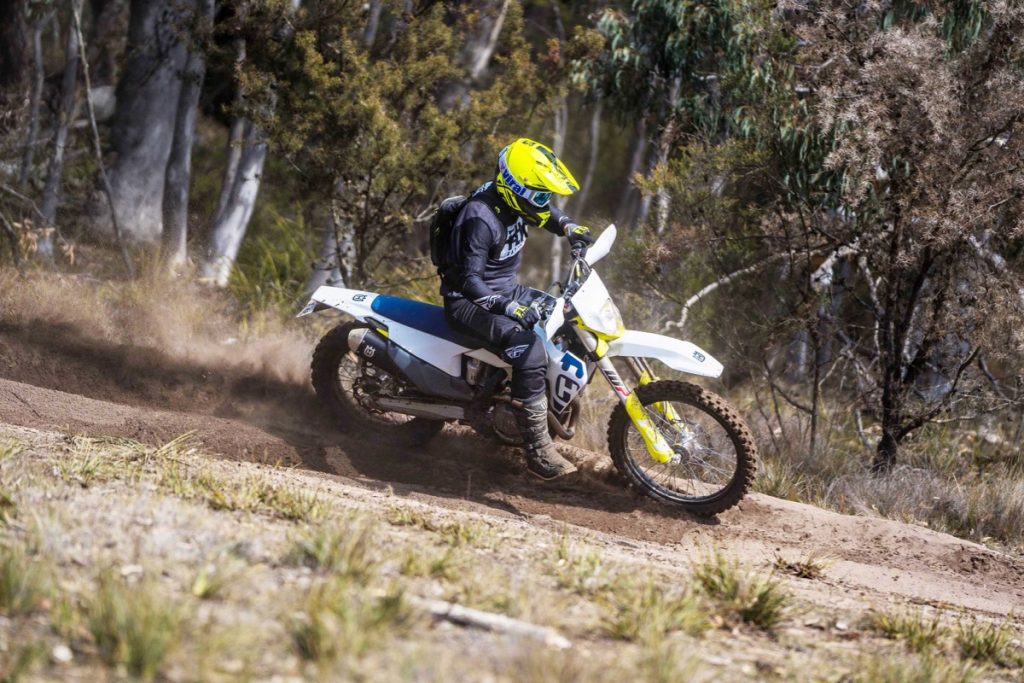 Map Two (aggressive) is definitely more explosive than the other one. I only used it in wide-open sections, where I wouldn't get much below fourth gear. I tried Traction Control with both maps but didn't really need it as the terrain I was riding had decent traction. I'd like to test it on greasy grass or mud because that's where I think it would work.
REWORKED
The suspension at both ends has been heavily reworked. The WP Xplor 48mm fork felt smoother over all kinds of terrain. When trailriding, it feels super plush and soaks up everything.
On the grasstrack loop there were a few big jumps but the Xplor handled the bigger hits without any harsh bottoming. It is very convenient having the rebound, compression and spring pre-load adjusters all on the top of the fork. I added one click of preload and that was my "sweet spot".
Out the back, the Xact shock features a new main piston and matches up nicely to the fork. It also feels smoother in action than previous models.
I have found the past few Husqvarnas had very settled rear-ends that gave great rear-wheel traction and this model is no different, if anything I felt there was even more traction. Big-bore thumpers can be a bit of a handful to setup and get turning in tighter corners but Husqvarna has improved this area a lot on the 501.
The new frame, that has increased longitudinal and torsional stiffness, does feel very stable but it's also very planted. The new cooling system features radiators mounted 12mm lower and I am sure this is part of the reason it turns so well and that the front-end grip has improved so much. It is not often I feel a new frame can work for clubman and pros, but this one could.
Probably my favourite aspect of the latest 501 is its ease of use. Considering this is a high-powered, big-bore, that is a bit of a surprise. I really am liking the direction Husqvarna has headed with the development of its enduro range, since it left the World Enduro Championship for WESS. I would rather see all the brands racing together, but I do like the more versatile, easier to ride nature that this 501 has.
Who it suits
I rate this 2020 Husqvarna FE501 very highly and consider it very versatile, but I do not recommend it for everyone. As easy as it is to handle, potential riders need to remember it is a 510cc enduro weapon. When you get tired you can't go grabbing fist fulls of throttle because you will find yourself in all kinds of trouble.
I believe riders over the 85kg mark will enjoy what the 501 has to offer, but anyone under that should lean towards something with a little less power. Gone are the days of a big-bore thumper feeling big to sit on. I sat on the 501 with my eyes shut and then went and did the same thing on the TE150i Husqvarna and couldn't tell the difference.
The main thing to consider is that with more power, comes higher speeds and harder braking, so make sure you are either really fit and strong, or have great throttle control.
WORDS // BEN GRABHAM || PHOTOS // HUSQVARNA
2020 Husqvarna FE501 Specs
Engine
Type SOHC, four-valve
Displacement 510.9cc
Bore & stroke 95 x 72mm
Cooling Liquid
Compression ratios 12.75:1
Fuel metering Keihin 42mm EFI
Tank capacity 9.0L
Transmission Six-speed, constant-mesh
Clutch Magura hydraulic, wet multiplate
Dimensions
Wheelbase 1487mm
Seat height 950mm
Ground clearance 360mm
Weight 108.4kg without fuel
Suspension
Front WP Xplor 48mm USD, 300m travel
Rear WP Xact monoshock, 300mm travel
Brakes
Front Magura twin-piston, 260mm wave
Rear Magura single-piston, 220mm wave
Running Gear
Handlebar ProTaper alloy tapered
Front TYRE Metzeler Six Days, 90/90-21
Rear TYRE Metzeler Six Days, 140/80-18
Prices & Contacts
RRP $15,895
Web husqvarna-motorcycles.com.au
Phone 1800 644 771
Warranty Six months parts and labour