The small-bore, two-stroke category has always been a soft spot for me, and I get a ton of enjoyment from riding one.
My last outright Australian Four-Day Enduro win was on a 125T so that alone has left me with some fond memories of racing a high-revving, small-capacity smoker. But it seems my enthusiasm is not shared by the general population. So it's been interesting to witness over the last 12 months, as I've travelled around the country, how many Husqvarna TE150i riders are starting to appear. There's a bit of a theme that I've noticed, as to who's riding them and it's Junior riders who aren't necessarily strong enough to be swinging off a 40-horsepower 250F or ones looking to head down the growing extreme-enduro path, where the added weight and overheating potential of a four-stroke isn't ideal.
Since word got out that I was heading to Finland for the launch of the 2020 Husqvarna enduro range and the new TE150i, with its transfer-port injection system, I've been getting a lot of messages asking for feedback. I'd like to think my feedback is as good as it gets, as I've spend a decent amount of time riding the current Husqvarna TE150i.
Apart from the electronic fuel injection, the MY20 has a new frame offering increased longitudinal and torsional rigidity, a 250g lighter two-piece carbon polyamide subframe, updated WP Xplor fork with new mid-valve piston and settings, updated WP Xact shock with new main piston and settings, new shock linkage for reduced seat height and more control, new seat, improved cooling circuits with the radiators placed 12mm lower and new bodywork for improved ergonomics. There's not a lot of bits you can swap from the 2019.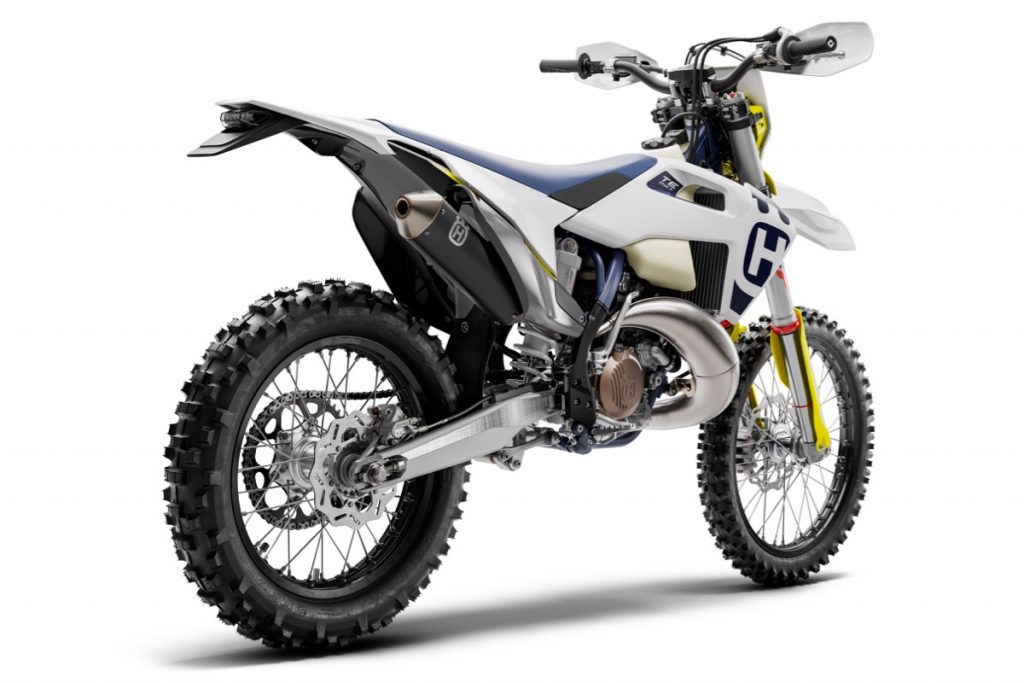 Dyno Chart
During Husqvarna's technical presentation I got a look at a dyno chart comparing the 2019 TE150 and 2020 Husqvarna TE150i and, after spending a lot of years racing small two-strokes, I was a little concerned to see the MY20 was roughly three horsepower down on the carburettor model.
The area that gave me hope in the injected engine was through the mid-range area on the graph as it was close to four horsepower stronger than the 2019. I've never had any issues kickstarting a two-stroke under 200cc, but won't be complaining about the ease of pressing a button and letting the starter motor do the job. Nor will up-and-coming extreme enduro riders when they find themselves stalled on a cliff face. The 20mm lower seat, achieved by the new monoshock linkage and trimmed perch, also makes life easier.
The MY19 TE150s I have ridden have had a rather explosive power delivery, so when I first rode the Husqvarna TE150i I expected the power to come on quite fast. It doesn't. The power comes on a lot smoother than with the carburettor version and I had to check the map switch to see what was going on.
Husqvarna likes to confuse me by making the power options opposite to their four-stroke ones, with position two being the mellow option and position one the more powerful. The bike I was riding was on position two, so I flicked it to full power and it was definitely more aggressive but still a lot smoother in its delivery than the 2019.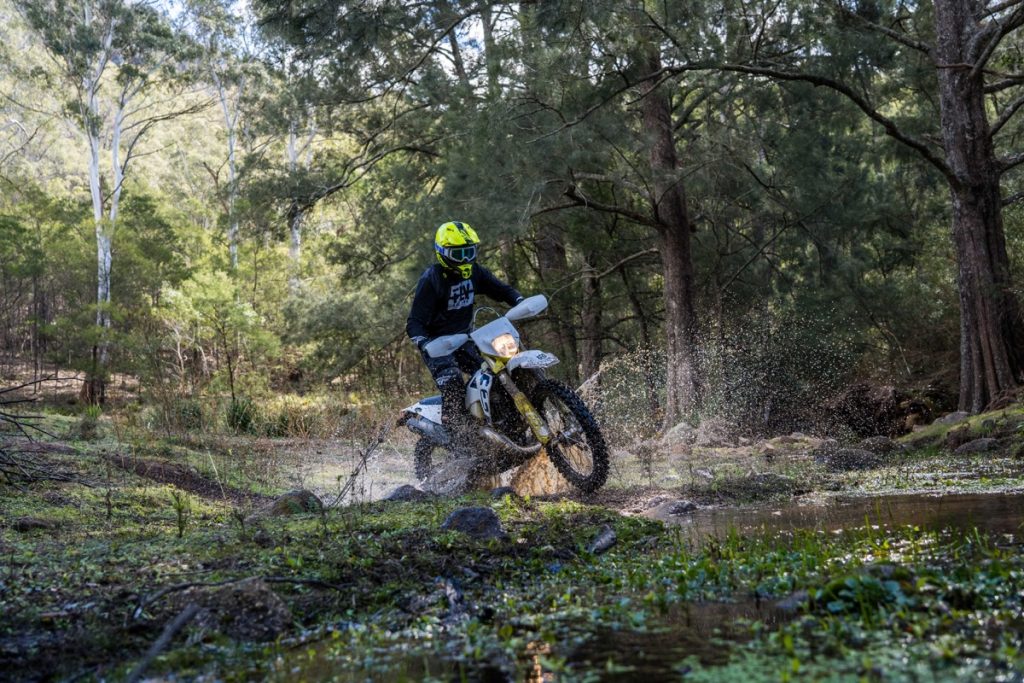 On the test track there was a really good mix of rather technical terrain and the odd fourth-gear fireroad, where I really started to feel the strengths of the injected engine. In tight corners where I'd normally have to go down two gears just to keep the bike revving enough to exit with any kind of speed, on the 2020 model it's possible to only shift down one gear, as the added torque and mid-range makes it a much easier engine to ride.
Not only was my left foot a lot less busy changing gears, but also my left hand wasn't nearly as busy on the clutch lever either.
One Gear
The more I rode the 150i the more I was impressed with its ability to lug through all kinds of terrain. For riders who have experienced 200T enduro machines, I'd tell them this 150i feels every bit as strong as one of those.
On the fast, open sections I never noticed the few horsepower the new model was down, as the stronger mid-range allowed me to shift up gears that much earlier that I never needed to rev the 150i overly hard. With the Pankl six-speed wide-ratio gearbox, top speed will not be a problem either.
The updated Xplor fork and Xact shock felt like they were sprung for a 75kg rider, not my 85kg, which makes sense, but they dropped a decent amount as soon as I was aboard. On the track I was surprised at how well both ends still took the big hits, with never a hint of harsh bottoming.
The stand out for me with both ends was how smooth they felt over all kinds of bumps and obstacles. WP has really given this updated fork and shock a feeling of comfort and ease over technical terrain, pretty much how I like them for long days of trailriding and extreme enduro riding.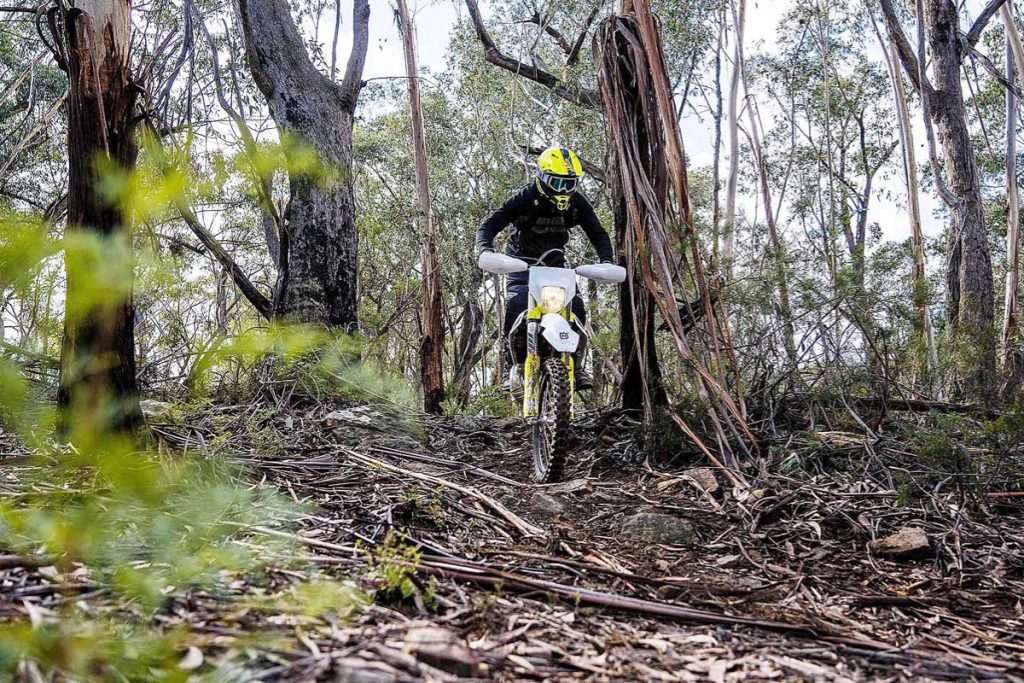 With a weight of 99.6kg without fuel, the powerful Magura brakes have no issues with stopping the bike in a heartbeat. Add that to the new ergonomics and I found it possible to put the bike anywhere I wanted while getting quite creative with my lines. I got the feeling I was always in control while the fun factor was 10 out of 10 and that's important to me.
Who's it for?
Husqvarna has definitely nailed ease of riding and versatility with this model, especially for a small-bore two-stroke. I think it's perfect for Junior riders racing off-road or just trailriding.
The 8.5-litre fuel tank is perfect for a few hours on the trail and there's no two-stroke oil mixing as there's a 700ml oil tank that handles the engine lubrication and let's you know when it is low, via a warning light. I can see everyone loving the light DS clutch that's activated by the Magura master cylinder.
Every part of this bike would really help the many Juniors I see getting thrown around on stiffly-suspended, powerful 250Fs. For the riders out there who love their 200Ts, I'd recommend they look at this slightly smaller option, as they will be surprised by what this injected engine can do.
For people tossing up between this or an FE250 I'm sure the $1666 saving from going with the 150i will feel better in the back pocket as well. Heck I'd even be happy to go extreme riding on one thanks to that feeling of being able to put the bike wherever I want.
Husqvarna TE150i Specs
Engine
Type Piston-port, reed-valve
Displacement 143.99cc
Bore & stroke 58×54.6mm
Cooling Liquid
Compression ratio N/A
Fuel metering Dellorto TPI with 39mm throttle body
Tank capacity 8.5L
Transmission Six-speed, constant mesh
Clutch Magura hydraulic, wet multiplate
Dimensions
Wheelbase 1487mm
Seat height 950mm
Ground clearance 360mm
Weight 99.6kg without fuel
Suspension
Front WP Xplor 48mm USD, 300mm travel
Rear WP Xact monoshock, 300mm travel
Brakes
Front Magura twin-piston caliper, 260mm wave disc
Rear Magura single-piston caliper, 220mm wave disc
Running Gear
Handlebar ProTaper tapered aluminium alloy
Front tyre Metzeler Six-Days Extreme, 90/90-21
Rear tyre Metzeler Six-Days Extreme, 140/80-18
Prices & Contacts
RRP $12,329 plus on-roads
Web husqvarna-motorcycles.com.au
Phone 1800 644 771
Warranty Six months parts and labour
WORDS // BEN GRABHAM | PHOTOS // HUSQVARNA