2020 KTM 250 EXC-F Review | Bike Reviews
If you're a weekend warrior who loves a good Allen's snake between hillclimbs, a 250F should at least be on your test ride list, and the KTM 250 EXC-F is a good place to start.
The war between 250 and 450cc four-strokes has been raging for what seems like a century and there's no end in sight. Riders will fight tooth and nail for their preferred displacement, with complete disregard for any evidence that might favour the other side.
If you were hoping for peace in our time I've got bad news, because both sides have credible arguments. Unlike the Holden vs Ford or BBQ vs tomato sauce debates, the 250 and 450Fs both have their place in the world, unlike Fords and tommy sauce…
Forget about the KTM 500EXC-F or 350EXC-F for a minute, because I want to address the merits of two of the longest-serving, most-widely produced four-stroke enduro capacities on the market.
Now, before an angry mob kicks down our office door wielding pitchforks, I am aware 500cc two-strokes have been around a lot longer than the KTM 250 EXC-F but, like I said, we're talking about four-strokes here.
The first year of the KTM 250 EXC-F was 2007 but it's sad to see how poorly it sells today. There's so much choice if you're joining the orange army that people forget about the little two fiddy. KTM Australia won't disclose how many 250 EXC-Fs it has sold so far this year but last year we estimate it was less than 250, going off figures from the Federal Chamber of Automotive Industries, about half the total of the 450 EXC-F. More people should ride the 250 and here are my reasons: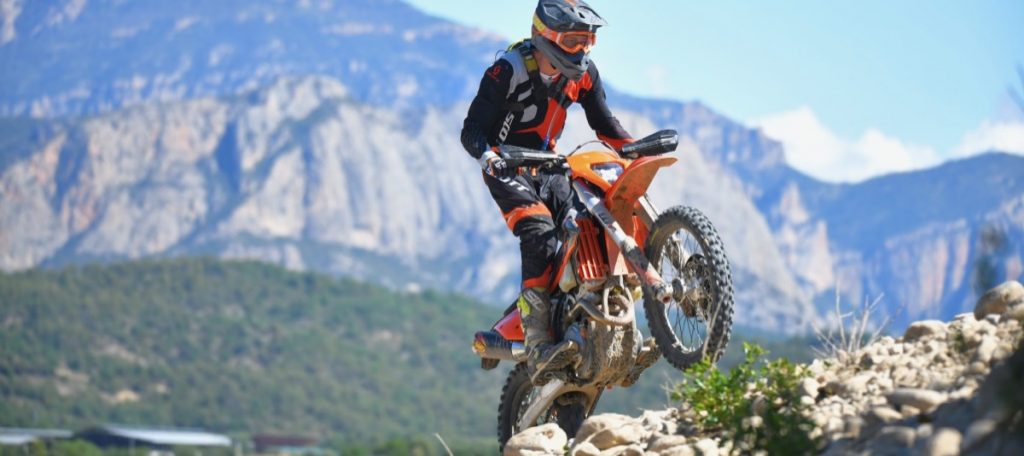 1 ENGAGEMENT
I'm not talking about dropping the knee with a big rock in hand, I'm talking about how engaging/rewarding the KTM 250 EXC-F is to ride. It's the same reason why every dirtbike rider loves a 125, whether that be riding it or just listening to it, 125s are fun and, at the end of the day, isn't that why we ride? A 250F doesn't quite have the sweet sound of a 125 on song but the fun factor is almost as high. You have to use all the ratios if you want to keep up with your mates on 450s who can just ride around in third gear all day. If all you want to do is ride around in third, then maybe the 450 is for you but I prefer a less numbing experience when I'm riding.
The 250 EXC-F eats singletrack for breakfast in the same way Editor Mitch puts away porridge, it's a sight to be seen. Second to fourth gear is where the sweet spot is in singey. First is way too low and slow, you need to be crawling to use it, and sixth is suited to fast, flowing trails. If I ever did click into sixth in singletrack it was either by accident or for a nano second if the trail allowed. At my trail speed, sixth gear puts the engine too low in the rev range, making it feel dull and unresponsive and any throttle input required a worrying amount of clutch.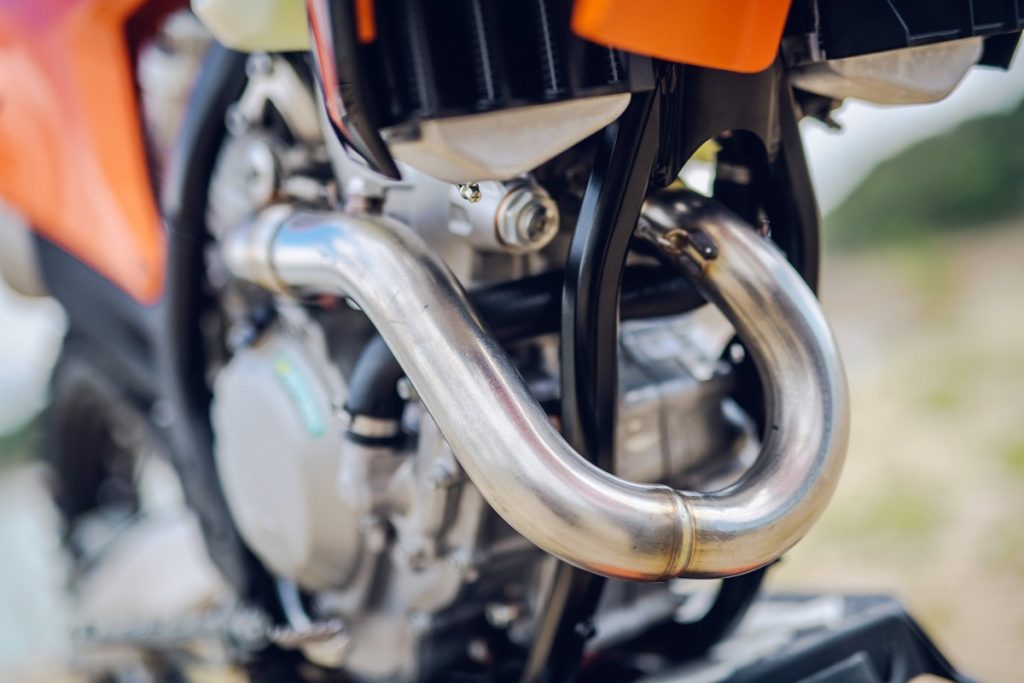 Because you have to use more of the available gears it means you can also be pretty aggressive on the throttle, not something I'd usually do on a 450F in the bush. There's nothing scientific about it, flogging the engine to the limit and flicking through the gears just feels good. It's a lot easier to find the limit on a 250F than a 450 and the best part is a 250F isn't going to flick you off as effortlessly as a 450 if you get a bit over-excited with the right hand.
2 WEIGHT
To point out the obvious, the KTM 250 EXC-F is lighter than the 450 EXC-F but not by much. It's incredible how light those Austrians can make a 450. There is just 2.5kg between them but that number is just a small part of what makes the 250 feel so agile.
With only a couple of kilos between the two, how "light" the 250 feels when you're riding comes down to the engine size. Simply put, there's less metal swinging around inside trying to cancel out every input you make through the handlebar and footpegs. The larger the capacity, the heavier the crank and piston, and the piston has a gyroscopic effect that's fighting you like a defiant teenager. This makes the 250 feel like a mountain bike to tip into corners and weave through trees, again adding to the fun factor. The engine inertia also has an effect on how the suspension performs. KTM's suspension updates for MY20 were to address the softness troubling the WP Xplor fork. The updates included a new mid-valve piston to keep the front-end higher in the stroke. The lighter 250F benefits from these updates more than the 450, making the 250 a great handling package. It's less unruly when you nail the brakes for a turn and easy to settle into a rut because it doesn't pitch about as much. I'm able to corner much more aggressively on the 250 than on the 450 because it feels more composed.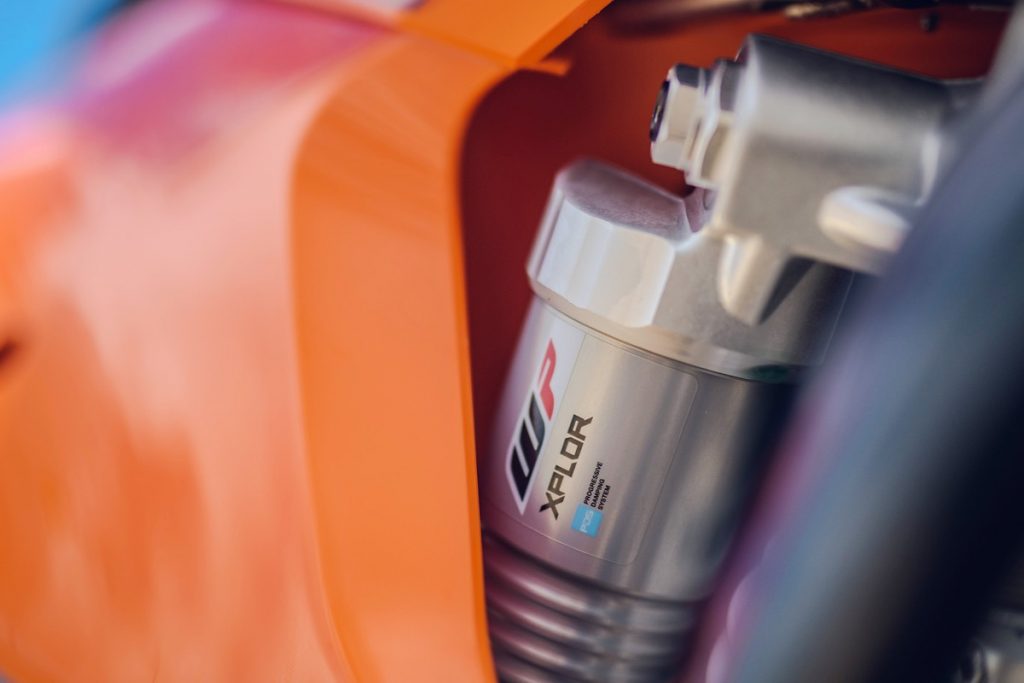 3 CONSUMABLES
Unfortunately for the owner, power gains associated with a bigger engine come at a cost. A 450F will burn through tyres, brake pads, sprockets, chains, even wheel bearings more quickly than on a 250F, which will ultimately burn a hole in your wallet. Physics always wins at the end of the day. The only way to save wear on 450 is if you ride it conservatively, to give the tyres and brakes a fighting chance but where is the fun in that?
4 PRICE
There is some overlap with #3 but here I'm talking about purchase price, not so much running costs. A quick look at the second-hand market shows you'll save between $2-3K if you opt for a 250 over a 450 while the price gap when buying new narrows. The 2020 KTM 250 EXC-F will set you back $13,395 while the 450 is going for $14,695.
That $1300 could go towards suspension tuning, a free-flowing exhaust or your beer of choice. A 250F will benefit hugely from a less- restrictive exhaust and, for $1300, there are plenty of nice options on the market. Rego and insurance will also be marginally cheaper but we aren't talking sheep stations.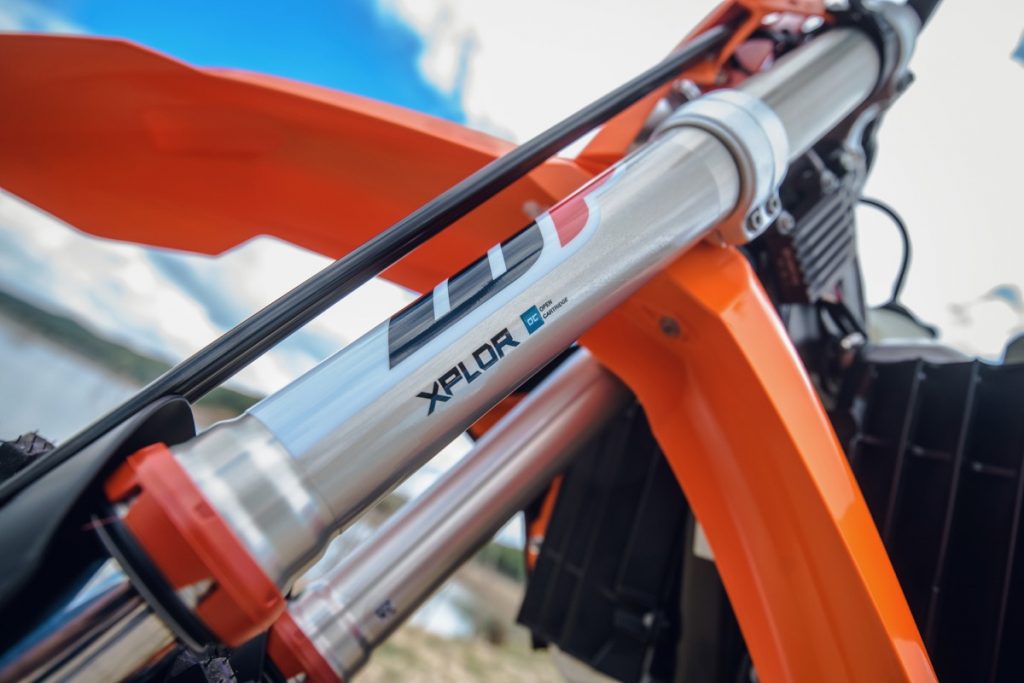 5 SLEEPER
There is something very satisfying about carving up riders on bikes almost twice the size. I can't really relate as I'm usually the one getting cut and diced but it's something Shane Watts knows all about. Your speed through the bush has a lot more to do with your skill than the size of your engine. In singletrack, where you rarely crack 60kmh, a 450 isn't going to help you if you're chasing a more skilled rider on a 250, you won't see which way they went after a few turns. I still remember the look on my mate's face after he and his new KTM 450E XC-F were made to look silly by an old bloke on a clapped out KTM 200 EXC up in the Watagans some years ago. His ego still hasn't recovered.
6 ENJOYMENT
Unless you're racing to put food on the table, riding is for fun and that's all that matters at the end of the day. Any dirtbike is going to be fun provided it goes and stops but, in my experience, smaller capacity bikes can offer more fun in the right conditions.
A 250F won't sap your energy as quickly as a 450 and, over a full day of trailriding, that can be a huge advantage.
It can be the difference between crying in the foetal position at the bottom of a hillclimb and having the energy to lift a schooner after the ride. If you spend the whole ride clinging to your bike for dear life then you're not going to have much fun.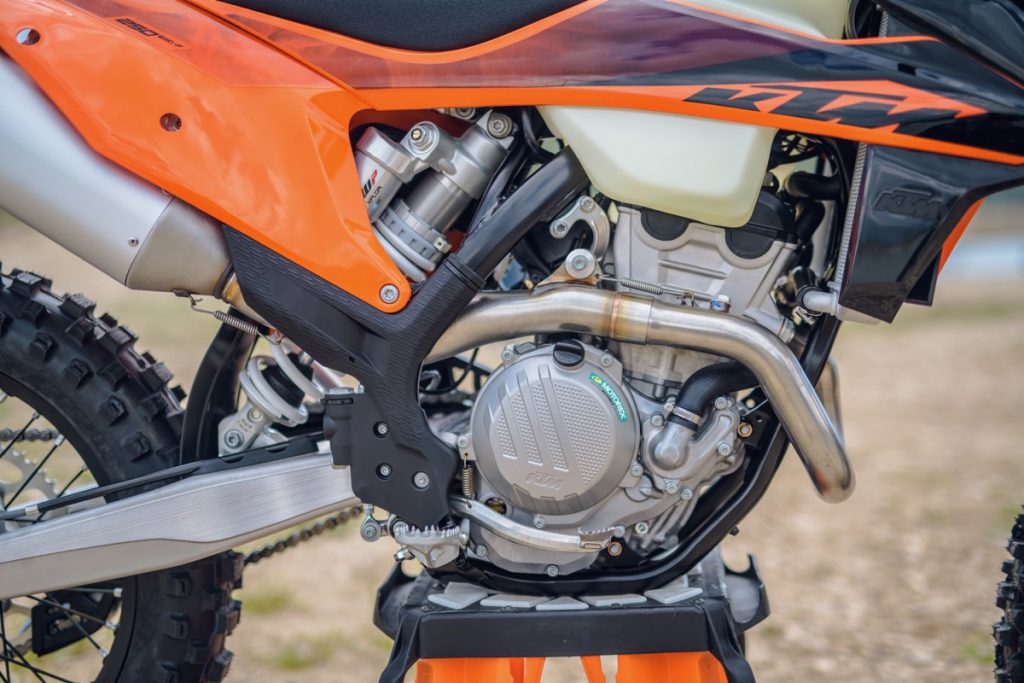 For MY20, KTM worked on the engine in the little 250 EXC-F, increasing compression from 12.8:1 to 13.8:1. This gives it more torque and better throttle response at lower revs, something a 250F can always use more of. New engine maps have also helped to extract more power, making it even more versatile.
I find 250Fs are a lot more fun to ride in what's now been called "hard enduro terrain" – we used to just call it snotty stuff.
First gear on a 450 is pretty damn fast if you're trying to crawl through a rocky creek bed and there's only so long you can ride the clutch before your hand locks up and you start stalling the thing. A 250F on the other hand will crawl at a glacial pace without much intervention from the clutch.
I've been in plenty of situations on a 450 where I was ready to set fire to the thing because I was so fatigued I couldn't stop stalling it. You're less likely to have these tendencies on a 250cc four-stroke.
7 WHERE YOU RIDE
Ultimately the decision comes down to where you ride. Sydneysiders can attest to this but most of what we ride within two hours of the Emerald City is singletrack. For this, the 250F would be my weapon of choice if the other option was a 450. But Australia is a big place and we have a lot of flat, wide-open terrain and no matter which way you look at it a 450 will be better and easier to ride across flat, straight terrain. However, as Mark Groove demonstrated at last year's Finke Desert Race, a 250F can still be competitive in the desert.
VERDICT
There's nothing wrong with lugging around on a bigger capacity bike and having a merry old time. After all, the 450F is a juggernaut of the enduro world for a reason. I'm built like the side of a five-dollar bill so my light frame allows me to get away with riding a 250F and I understand heavier riders sometimes need the extra cubes. But don't just assume a 250F is slow just because you can't carry third gear all day long.
There are not many riders in the world who can ride a 450F to the limit and those who can are being paid. It's a lot easier to find the limit on a 250F and the closer you are to the limit the more fun you'll have. If you're a weekend warrior who loves a good Allen's snake between hillclimbs, a 250F should at least be on your test ride list, and the KTM 250 EXC-F is a good place to start.
KTM 250 EXC-F Specs
Engines
Type DOHC, four-valve
Displacement 249.9cc
Bore & stroke 78 x 52.3mm
Cooling Liquid
Compression ratios 13.8:1
Fuel metering Keihin 42mm EFI
Tank capacity 9.0L
Transmission Six-speed, constant-mesh
Clutch Brembo hydraulic, wet multiplate
Dimensions
Wheelbase 1482mm
Seat height 960mm
Ground clearance 355mm
Weight 103kg without fuel
Suspension
Front WP Xplor 48mm USD, 300m travel
Rear WP Xplor PDS, 310mm travel
Brakes
Front Brembo twin-piston, 260mm wave disc
Rear Brembo single-piston, 220mm wave disc
Running Gear
Handlebar Neken tapered aluminium alloy
Front TYRE Maxxis Maxx EnduPro, 80/100-21
Rear TYRE Maxxis Maxx EnduPro, 140/80-18
Price & Contacts
RRP $13, 395
Web ktm.com.au
Phone number 1800 644 771
Warranty Six months parts and labour
WORDS: OLLY MALONE | PICS: KTM – THIS FEATURE WAS FIRST PUBLISHED IN ADB ISSUE #482