Growing up, I can remember thinking "I can't wait 'til the day I am Senior and able to race a 250cc two-stroke enduro bike".
WORDS // BEN GRABHAM PHOTO // WARREN TURNER & SHERCO
Both my dad and older brothers rode them, all the top Australian enduro riders like Shane Watts, Peter Martin and Stuart Morgan were racing and winning on them, just like world enduro legends Giovanni Sala and Petteri Silvan.
The 250T enduro really was leading the way all over the world and pretty much every off-road motorcycle manufacturer had one. For my third enduro race as a Senior, I remember borrowing my old man's 250 so I could feel like all of the legends I looked up to.
I was not a big 16-year-old, only weighing close to 60kg, so the 250 felt like an absolute rocket ship – that scared the hell out of me.
My first experience racing one was wild, but it did not kill my desire to do it, like everyone I looked up to.
It took me 'til I was 19 to actually become strong enough and really understand how to ride a 250T and, during that year, I won my first Outright at the Australian Four-
Day Enduro.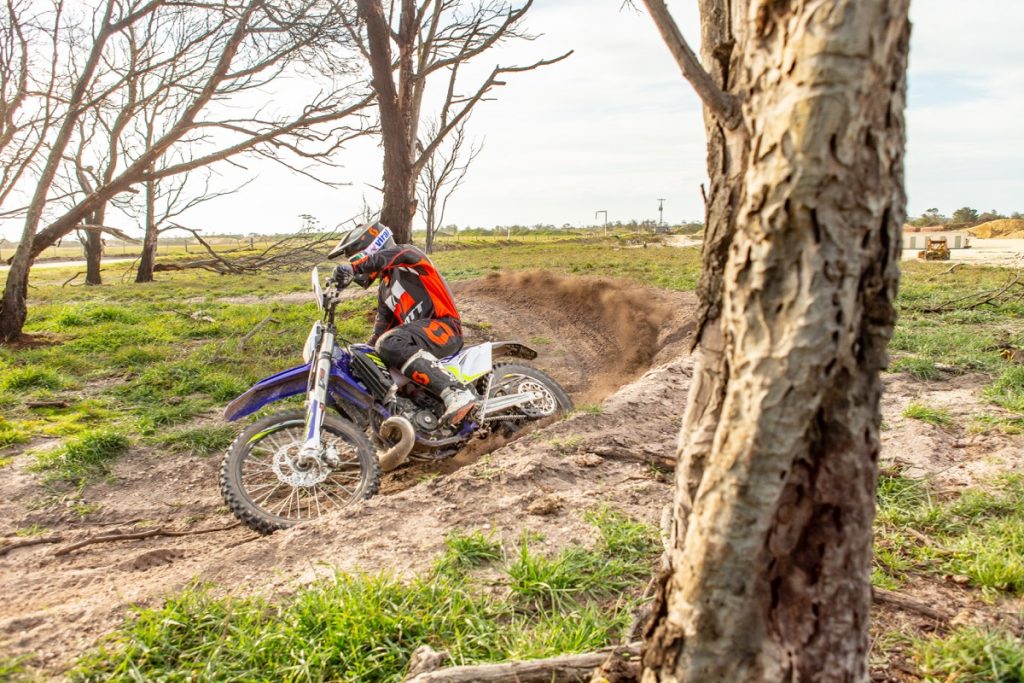 SALES FIGURES
During the next handful of years, the new-generation four-strokes started to increase in popularity and the bikes I had grown up wanting to ride decreased in number and almost disappeared .
Six years ago you were lucky to see a 250T on any kind of off-road ride. Yes, there were plenty of 300s being sold, but the mighty 250 that once ruled the world, was all but gone. A few years ago, when I had all but given up on the 250s, some fresh technology started to appear to tame the two-strokes just in time for hard enduro to really take off. This makes good sense to me, as most riders don't want to wrestle a heavy, hot four-stroke along some nasty extreme trail, so they were turning back towards light, almost bulletproof two-strokes. Even with a lot more riders switching back to two-strokes, none of the current crop of 250Ts make it onto the FCAI top-10 for enduro bikes sales in
Australia, with Kato's 300EXC the only two-stroke in the latest results (some importers do not supply sales figures and the FCAI does not supply data outside the top 10). It did not make sense to me, so I decided to test Sherco's revamped 250SE-R to see if buyers know what they are doing or if they are missing out.
The 2020 250SE-R Racing has not seen major changes but there have been enough to give it a new feel on the track. The shock linkage has reduced friction aimed at producing a more comfortable ride and new sealings for increased durability.
Feeding the Keihin PWK36 carburettor is a new inlet boot from the airbox to improve torque and provide a better route for the wiring harness. The reed valve has also changed for better air-flow, which required mods to the reed-valve housing in the barrel.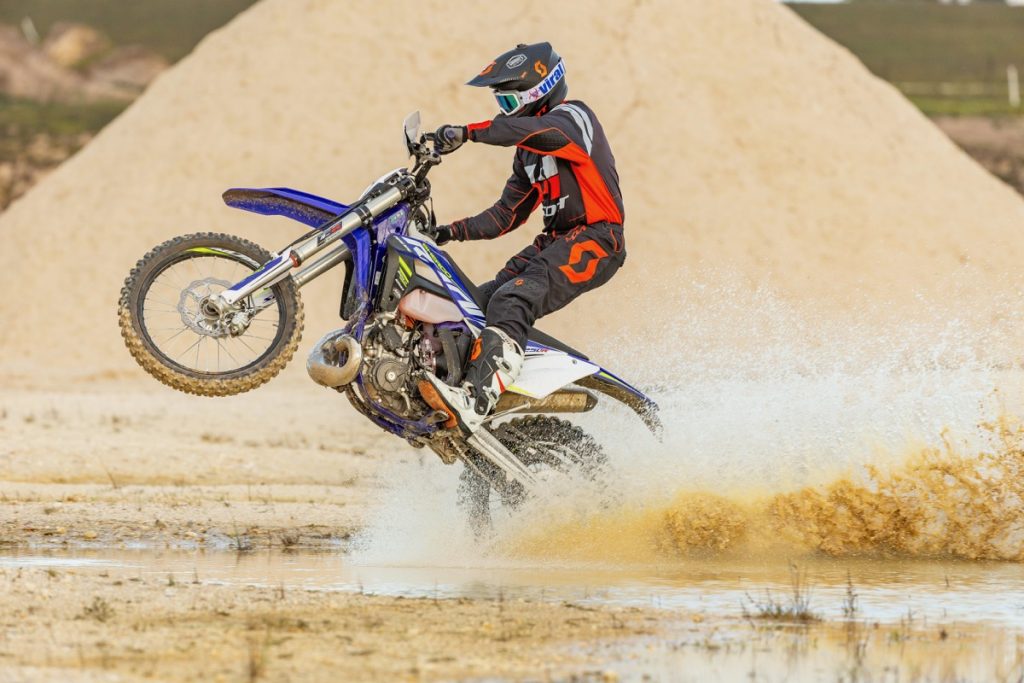 The shape of the translucent plastic tank has been modified for easier access to the fuel tap.
There is, of course, new graphics and new manganese-coloured paint for the clutch and alternator covers, as well as the cylinder head. The clutch itself gets the forged hub from the four-strokes which is lighter and will spin up more quickly.
Now the 250SE-R is mainly blue it's easily my favourite. There's no back-up kickstarter but it doesn't sound like it needs one either, as it fires into life super-fast with a touch of the starter button.
Our test venue, Krusic's Ride Park in Gippsland, Vic, has a decent mix of terrain and the enduro track starts with some decent, knee-high bumps along a fast straight. I was actually surprised how well the WP Xplor fork and WP monoshock handled the bumps. Because the suspension felt quite soft when riding around slowly, I wasn't sure how it would go on the big bumps.
The fork did bottom a few times but nothing bad enough to make me wanna back off. The shock was easily the standout in the suspension department, the new linkage really has improved the action of the shock, to the point where I could not fault it over any section of our test loop.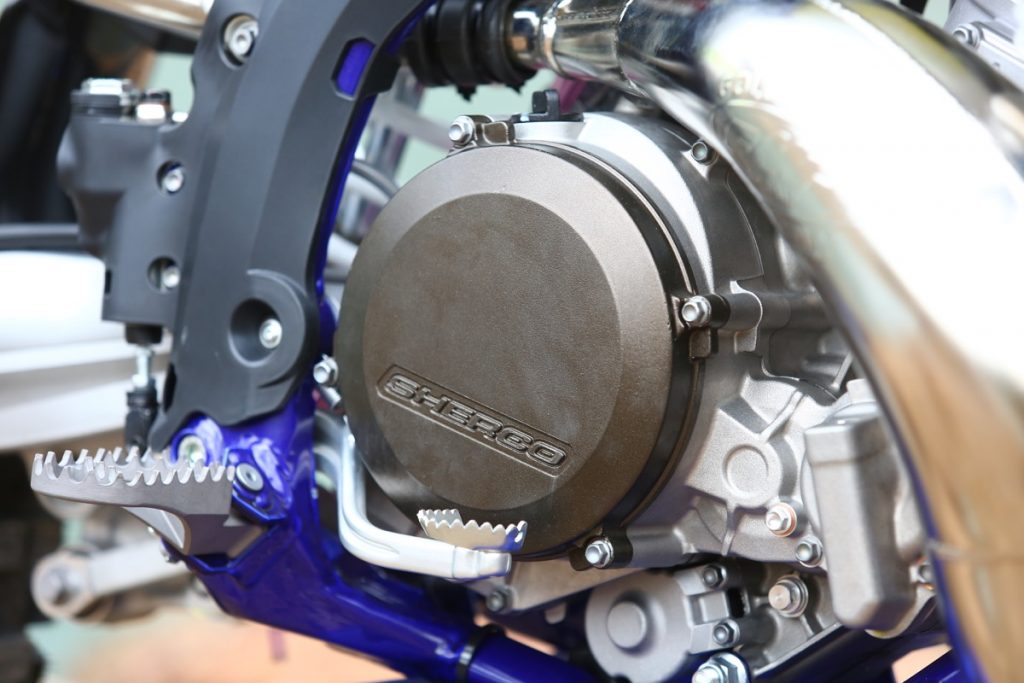 SPECIAL ENGINE
The seat sure is not the tallest I've seen but it's not the lowest either. it pretty much feels in the middle and didn't make technical sections too daunting when I needed to get my feet on the ground. The heart of this bike, the carburettor-fed 250T, is really something special. It had me feeling like I was 19 again.
The changes Sherco has made to the intake and reeds have really brought this engine to its sweet spot. It can lug well enough to rival 300s but, if you do wanna ride it like a teenager, it loves that as well and is much happier than a 300 being full throttle all day.
There is also the option of the map switch that I have always been a fan of on the Shercos as it has the ability to cut the power by a large amount, which is great for a fatigued body or when trying to find traction on slippery terrain. As this two-stroke engine has bugger-all engine inertia, the Brembo brakes come in handy and give me the feeling I can stop anywhere, anytime.
The minimal inertia and nice neutral chassis also makes turning effortless. Front-end feel is important to me, so I was a happy boy when the front wheel went everywhere I wanted it to. I really think riders are missing out if they go straight to a 300T without testing a 250 first. I had an absolute ball on this new 250SE-R.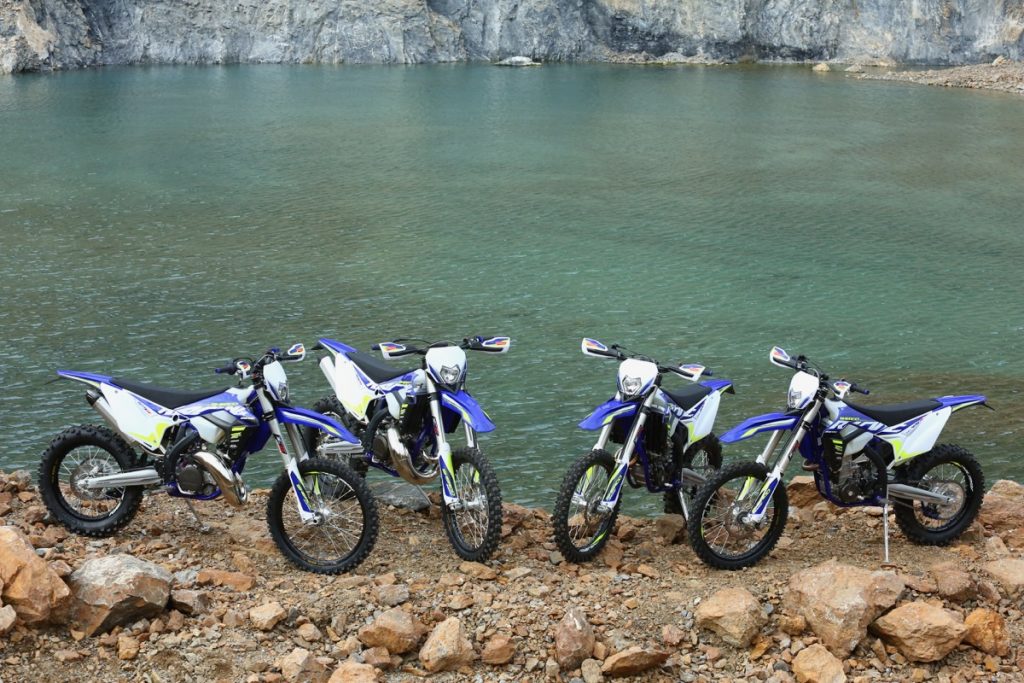 WHO'S IT SUIT?
This 250cc is nothing like some of the snappy, hard-to-ride 250Ts of years gone by. The electronic-power-valved engine, combined with plush WP suspension, really is one versatile package.
I have spent a decent amount of time riding 300Ts lately and I can say 90 per cent of riders I see would be better off on this 250. They would last longer, smile bigger and find twisting the throttle that bit safer as well.
Unless you are a top-30 guy racing national off-road, I would also say this Racing model with the softer WP suspension would be the better option. Yes the Factory model has high-end KYB suspension but this light bike, combined with the WP gear really works well and imagine what you could do with the $2000 you save when going with the Racing instead of the Factory. This little smoker also comes in the cheapest in its class at $12,290 and, when every dollar makes a difference these days, the Sherco really is a great option.
WHAT WOULD I CHANGE
There is not much at all I would change on this bike. The only real part that is a must for me would be the handlebar, as the standard one is really low. I don't mind a low 'bar but this one has a bit of a different bend. If I was only ever riding a Sherco I would get used to it but when I'm always riding different bikes, I'd have to switch it out to something slightly taller with a more neutral sweep.
While I was in the process of changing the handlebar, I'd change the handgrips too as the standard ones look cool but, unless you are a full-time racer or bricky they will eat your hands.
Sherco 250SE-R
Engine
Type Piston-port, reed valve
Displacement 249.3cc
Bore & STROKE
6.4x72mm
Cooling Liquid
Compression ratios N/A
Fuel metering Keihin PWK36
Tank capacity 10.4L
Transmission Six-speed, constant-mesh
Clutch Brembo hydraulic, wet multiplate
Dimensions
Wheelbase 1480mm
Seat height 950mm
Ground clearance 355mm
Weight N/A
Suspension
Front WP Xplor 48mm USD, 300mm travel
rear WP gas-oil monoshock, 330mm travel
Brakes
Front Brembo twin-piston caliper, 260mm wave
Rear Brembo single-piston caliper, 220mm wave
Running Gear
Handlebar Oxia tapered aluminum alloy
Front tyre Michelin Enduro Comp. 90/90-21
Rear tyre Michelin Enduro Comp. 120/100-18
Price & Contacts
Rrp $12,290
web sherco.com.au
PHONE (03) 8363 1600
Warranty Six months parts and labour