2020 Yamaha WR250F Review | Bike Reviews
Unless you've been living under a rock, you should be aware that the Yamaha WR250F and WR450F are enduro-spec YZ-Fs. Typically, two years after the YZ-F gets a major overhaul the WR-F receives the same update but with more enduro flavouring.
So what were the changes to the MY19 YZ250F, seeing as how the MY19 YZ250F makes the platform for the MY20 WR250F? The big talking point was smart phone tuning, as well as a higher compression piston, new intake and exhaust valves, new intake camshaft, new 'two step' CNC machining process for cylinder head porting, engine mount brackets changed from steel to aluminium, a new flatter and lower seat was 8mm lower in the saddle and 19mm lower at the very rear of the seat while also being 18mm slimmer in width than the previous YZ250F.
The intake valve spring rate was increased by 30%, it sported bigger lifter buckets, a stronger conrod and lighter crank, new crankcase with fewer, shorter bolts, new throttle body (from Keihin to Mikuni), a lighter cylinder which is angled more upright by 1 degree, larger radiators, and a new impeller and water pump. It came with a two mode adjustable engine map mounted on the handlebar, a larger diameter clutch with six instead of five springs, new chassis with more rigidity, updated KYB suspension settings, new bodywork, lighter rims, 16mm narrower at the front section and a new airbox with 29% more volume.
Most of those changes have been carried across to the WR250F but with enduro mapping, a tougher enduro clutch, new headlight cowling that sits lower and closer to the rider, enduro specific engine mounts (two-plate type mounts are used for the front-side mounts for more flex) and enduro-specific suspension settings.
How Does it Ride?
Now that we've established the WR250F is indeed all-new, compared with the last MY18 WR250F, how does it go? Overall the bike feels much the same as the previous model only a little narrower. The suspension felt just as good, which is excellent, and the engine felt just as powerful, again, excellent.
The KYB twin chamber SSS fork is firm for a 250F enduro bike. It is a closed chamber unit which, while typically harder to service at home, is a fork better suited to racing. Closed cartridge forks keep their oil in the inner chamber under pressure to prevent oil cavitation at high fork speeds. As a result the fork offers more resistance than most other brands but somehow still feels plush enough to not bust your blisters. It isn't as comfortable as an old XR over the choppy stuff but it isn't going to beat you up. It allows keen riders to be aggressive without worrying about diving or wildly deflecting. It will also suit those that want to cruise with their jersey flapping.
The shock is equally as impressive. Because the WR250F is so closely aligned to the YZ250F the frame is quite rigid which can result in a firm rear-end. This effect is emphasised by the alloy bilateral beam frame as opposed to the more European steel cradle frame which typically has more flex. But the shock, which features a coil with a higher fatigue strength than the previous model's while being 350 grams lighter, absorbs pretty much everything without making steering and handling a wild bull ride.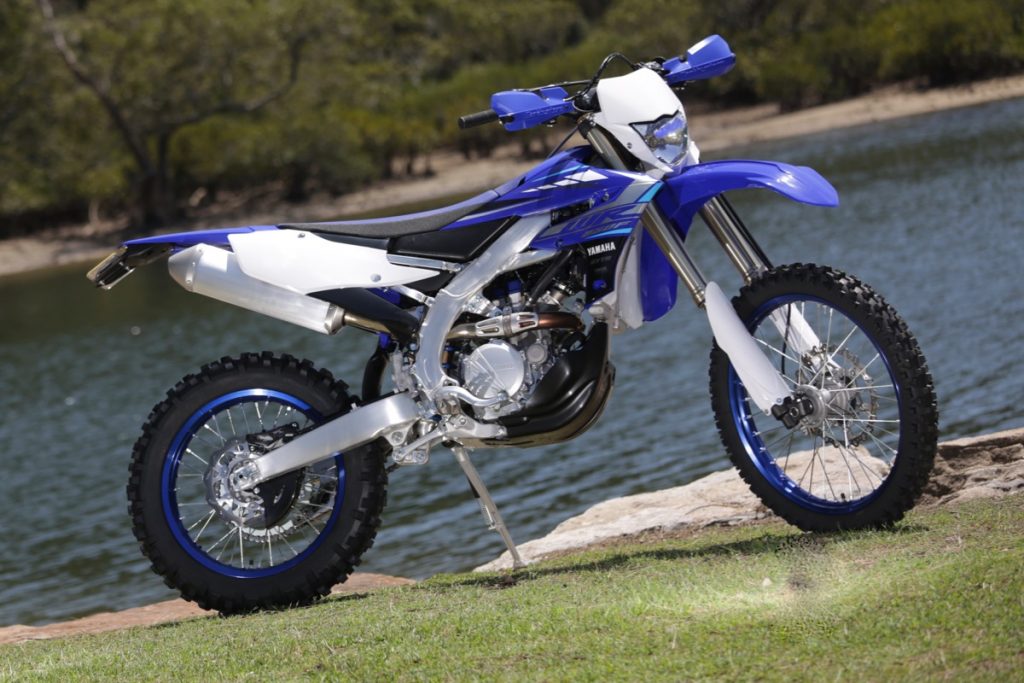 Engine Room
250Fs carry an unfair stigma in Australia. We're obsessed with large displacement engines which mean some people consider a 250F to be a beginner's bike. If you think the WR250F is a beginner-only bike I urge you to reconsider.
The WR250F has to be one of the most powerful quarte-litre enduro bikes on the market. The rearward-inclined cylinder and reverse cylinder head is nothing new to Yamaha and it's an absolute ball-tearer. Yamaha made a few refinements to the MY19 YZ250F which carried across into the WR250F but it didn't feel too dissimilar to the previous model. There is still power everywhere which is an amazing feat for Yamaha, given it's a 250F. There's enough torque for a rider of my shape (100kg with gear and 188cm tall) and plenty of power in the mid and top-end. As I discovered with the MY18 WR250F long termer I had, the engine benefits from a pipe which gives it even more power and removes that annoying flame-out in low revs. I ran the GYTR exhaust on my long termer which is made by FMF and it was perfect, just remember you will need to get on your phone to retune the mapping if you fit a pipe.
READ THE FULL REVIEW OF THE 2020 YAMAHA WR250F IN ADB ISSUE #488
2020 Yamaha WR250F Specs
Engine type Liquid-cooled, four-stroke, DOHC, 4-valve single cylinder
Displacement 250 cm3
Bore x stroke 77.0 mm x 53.6 mm
Compression ratio 13.8 : 1
Clutch type Wet, multiple disc
Fuel management Fuel injection
Starter system Electric
Transmission 6-speed
Suspension Front 48mm twin chamber SSS KYB USD 310mm travel
Suspension Rear Coil spring/gas hydraulic damped KYB 317mm travel
Front brake Hydraulic disc, 270mm
Rear brake Hydraulic single disc, 245mm
Front tyre 90/90 21 Metzeler Six Says Enduro
Rear tyre 130/90 18 Metzeler Six Days Enduro
Seat height 995 mm
Wheelbase 1480 mm
Ground clearance 320 mm
Fuel 7.9L
Warranty Three months, parts only
Price $13,999 Ride Away
Website: https://www.yamaha-motor.com.au/
WORDS: MITCH LEES | PHOTOS: ML AND OLLY MALONE