We list our five favourite things about the Suzuki V-Strom 650XT.
Choosing an adventure bike to spend your hard-earned on is tough, given the plethora of machines now available. Adventure bikes come in many shapes and sizes, and prices can vary big time. To shorten your bulging list of potential bikes, we suggest picking five of the most important features you want in an adventure bike.
I spent two days the Suzuki V-Strom 650XT in the NSW Blue Mountains, and after several hundred dirty kilometres, I could think of five reasons why I'd buy a V-Strom. It's a very comfortable and capable adventure bike, but it's the price that really makes it worth considering.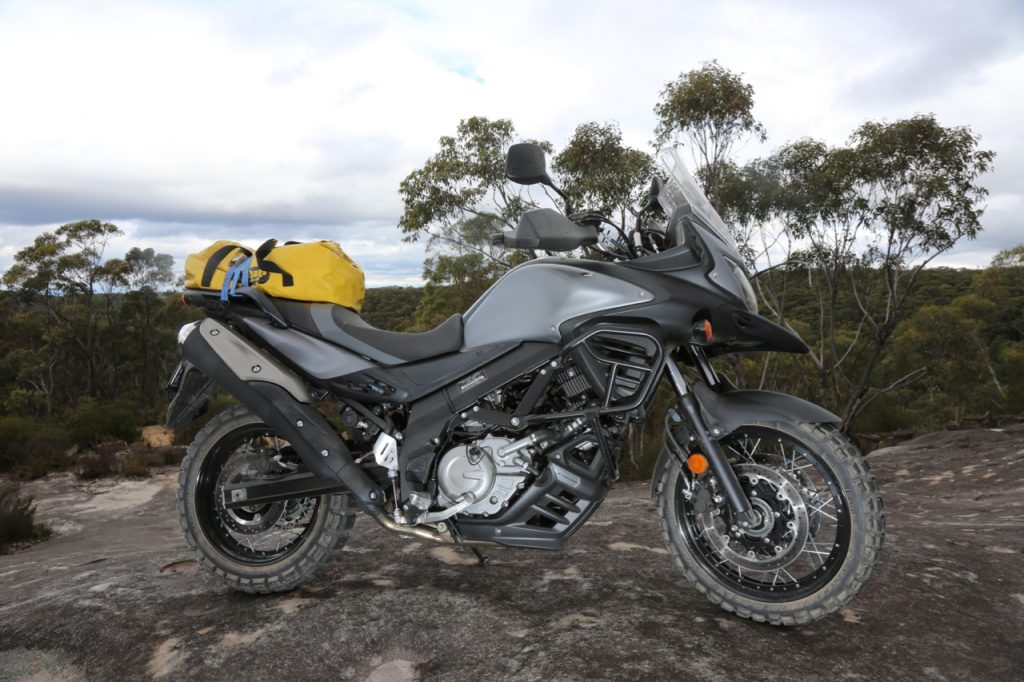 1 – The Engine
As far as 650 engines go the v-twin in Suzuki's V-Strom is as smooth as they come. As a small-to-mid capacity adventure bike, the V-Strom's 650cc chews up the highway miles, thanks to a well spaced six-speed box and in the dirt it still pack just enough punch to slide the rear-end.
Smashing through the gears squeezes the most out of the v-twin but when you're done playing silly buggers just leave it in sixth and ride the wave of torque while you admire the country side.
While it doesn't have the brut roll-on power of a 1000, being a V-twin it creates an incredibly smooth ride. This linear, yet powerful power curve puts it in a different league to the 650 singles in similarly priced adventure bikes.
2 – Standard Equipment
The 650XT doesn't need to be spoiled with aftermarket goodies. The Australian spec model rolls off the showroom floor with handguards, crash bars and an engine guard to protect the under-slung exhaust, while spoked rims are traditionally tougher and reduce the risk of flat spots in tubeless rims.
ABS also comes standard and the digital dash displays everything you need to know short of where the closest pub is.
The standard 20L fuel tank will yield 400km of riding, while the rear plastic rack will suffice for a lightweight overnight bag. If you prefer longer days in the wilderness you'll need to look into some panniers.
3 – Comfort
I spent two days in the saddle of a stock Suzuki V-Strom 650XT and my bony behind didn't complain. The seat is soft and comfortable and doesn't need any improvement in my eyes. If you've spent any time adventure riding on an enduro bike, sitting on the V-Strom will feel like you're relaxing in a Lazy Boy recliner at your grandparent's listening to stories about the good ol' days.
4 –  Seat Height
Seat height is an all important measurement for a lot of potential adventure bike buyers and the V-Strom's 835mm seat height is among the lowest in class. In comparison, the Yamaha XT660Z has a set height of 896mm and even the old faithful DR650SE claims a set height of 865mm.
At 215kg wet, the 650XT isn't particularly lightweight, but the low seat height should inspire confidence in even the most vertically challenged riders.
5 – Price
The V-Strom 650XT's retail price makes it an even more tempting buy. For an extremely capable road and off-road bike that comes standard with crash bars, engine guard, handguards, ABS, spoked rims, comfy seat, 20L tank and that sweet 650cc V-Twin you could pick one up from $11,000 to $13,000 depending on your haggling skills and the ORC. That's $3400 more than the DR650SE, but if you're more interested the creature comforts than crossing the Simpson Desert, than it's well worth it in our eyes. Olly Malone