ADV TEST | TRIUMPH TIGER 1200 XCA | Bike Reviews
The new Tiger 1200 line-up features XR and XC ranges, with the XR, XRx, XRx (low) and XRT models more on-road biased with cast wheels, while the XCX and XCA models boast spoked wheels and specialised
There's a cat fight going on in the big-bore adventure bike category and a pack of feisty felines are eye-gouging and hair pulling their rivals in an effort to be king of the jungle.
Earlier this year (ADB #461) we pitted the four most off-road ready 1000cc-plus ADV machines – BMW's R1200GS Rallye X, Ducati's Multistrada Enduro Pro, Honda's Africa Twin ABS and KTM's 1290 Super Adventure R – in a head-to-head contest to find a winner, and it was the big Bavarian cat, the BMW, that left its rivals licking their wounds.
No sooner had we nailed down that report than British brand Triumph unleashed its all-new litre-plus adventure bike(s), with not one, but a range of Tiger 1200s. And the new Tigers don't just have a new name – the previous Explorer badge is gone – they are fresh meat from nose to tail … and needless to say, Triumph Australia was keen for us to try them.
So we grabbed the most off-road ready of the new Tiger 1200s – the XCA – by the tail and headed bush to see how she purrs.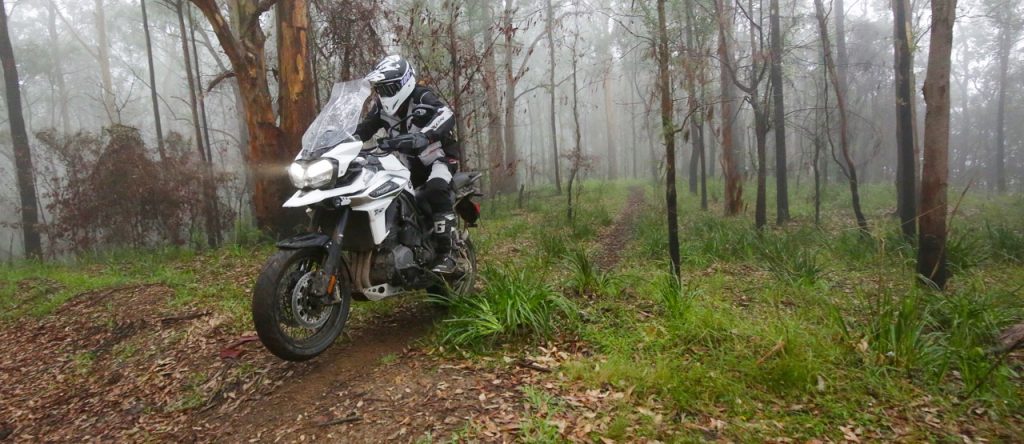 A litter of tigers
While Triumph's Tiger bloodline dates back a whopping 80 years, the new Tiger 1200s are the result of four years of intense development that delivers, Triumph claims, "the most adventure-ready Tigers ever built".
The new Tiger 1200 line-up features XR and XC ranges, with the XR, XRx, XRx (low) and XRT models more on-road biased with cast wheels, while the XCX and XCA models boast spoked wheels and specialised off-road features to take them further off the beaten track.
The XCA is the big cat Tiger 1200 that stands tallest of all, with a list price of $29,300 (inc GST), which puts it above BMW's Rallye X ($27,250) and KTM's 1290 Super Adventure R ($25,995), and is getting towards the league of the top-dollar Ducati Multistrada Enduro Pro ($31,990) – while Honda's top-selling Africa Twin ABS lists at just $16,999.
So what does the XCA deliver for all those dollar bills?
The heart of the beast is Triumph's 1215cc inline triple-cylinder engine that pumps out 141 horsepower through shaft drive via a single-sided swinger and has undergone a major revamp from the previous Explorer model. Tuning tweaks, including a lighter crank and flywheel, have been aimed at delivering improved responsiveness and smoother power delivery, while there's also a new Shift Assist system for smooth clutchless gear changing, along with an Arrow titanium and carbon-fibre muffler.
Engine management is much updated with the XCA as well. It features a new Inertial Measurement Unit (IMU), integrated braking system, optimised cornering ABS and traction control, hill hold, ride-by-wire throttle and no less than six riding modes: Road, Rain, Sport, Rider, Off-Road and a new Off-Road Pro mode that allows the pilot to turn off the rider aids and be in total command with no traction control or ABS intervention.
Updated frame geometry is matched by suspension tweaks that include Triumph Semi-Active Suspension WP components front and rear. Brembo Monobloc four-piston radial calipers up front and twin-piston caliper rear handle the stopping chores, with 19/17 inch spoked wheels running on Tourance NEXT tyres as standard.
Detail updates for the new Tiger 1200s are extensive, with Triumph claiming there are over 100 improvements to each model over the Explorer and are up to 10 kilograms lighter than the previous models. Just some of the other features the top-of-the-line XCA boasts include adaptive cornering lighting and LED lights, fog lights, a full-colour TFT dash display, illuminated backlit switchgear, updated cruise control, heated grips, electronically adjustable screen, adjustable seat height (835/855mm), heated seats, new handlebar shape, engine crash bars, power sockets, centre stand, beefy off-road footpegs, plastic handguards, aluminium sump guard and radiator guard. Oh, and there's now a keyless ignition system … just don't lose the fob!
If you're thinking the XCA sounds like it's fully loaded, you're bang on the money.
Pat that cat
If there's one thing the big-bore litre-plus ADV machines are good at, it's bashing out big days in the saddle. So that's just what we did with the Tiger 1200 XCA, by taking aim north from Sydney to the Upper Hunter Valley and then looping way west and coming back home via the Blue Mountains. Two days and a thousand kays was a tantalising prospect … until we set off at sunrise to start with the arranged photoshoot in the Watagans, where it was pissing rain and the fog and mist had settled down on the mountains … until lunchtime.
Riding a big-bore adventure bike on greasy red clay found on winding forest roads and bush tracks is F-U-N (not!), especially when it's shod with Tourance tyres, and especially when the photographer barks, 'Just go down this singletrack, turn it around and then come back and launch off this lip!' Hmmm.
Traction was definitely a rare commodity with road-biased tyres, but credit where credit is due, for a 1215cc beast, the XCA's power delivery is super-smooth and super-rideable, even when conditions are working very much against you. And to be fair, this kind of pure off-road riding would rate as rather out of the ordinary for most XCA owners.
After a couple of hours playing in the soup for the camera, I made a note-to-self that Off-Road and Off-Road Pro modes had helped keep me upright, while still giving drive when required; ditto braking power. With the photos done I could bail out of the Watagans gloop-fest and head north for hopefully sunnier climes in the Upper Hunter Valley, which was precisely what I got no less than 20 minutes later at Cessnock – and then it was blue skies the whole way up to Denman and on through the Bylong Valley, which is always a sweet tarmac run.
In Sport mode the XCA firms up in the suspenders and delivers the full enchilada of performance and the big British feline covers ground as quickly and confidently as anything in the class. It's a fabulous backroads sports touring mount, with such strong, smooth and tractable power delivery that you can either roll on from nothing out of corners and just keep building revs, or hold a gear and let it squeal right the way up toward the 10,000rpm redline.
The brakes are strong and predictable and the tweaked handlebar and tank shape felt more comfortable than I remembered the Explorer being. The XCA's electronically-adjustable touring screen allows you to cut the wind blast if you so desire, while features like cruise control, heated grips and heated seat all come to the fore when you need them.
After a quick refreshment stop at Bylong General Store, it was time to hit the dirt that runs parallel to the main road south toward Rylstone, and then rack up stacks more dirt through Ilford, Razorback, Sofala and the Turon River, before eventually hitting my overnight stop at Bathurst just after roo o'clock.
On the dirt, the XCA feels an immediate upgrade over the Explorer. Ten kilos is a handy weight saving, and no doubt contributes to the Tiger 1200's improved dirt manners, but it was the semi-active WP suspension and new Off-Road Pro mode that impressed the most.
The Explorer had a low riding belly but it carried its weight high, and the Tiger 1200 still does, but the new suspenders help the bike to feel like it sits a little higher off the ground, especially when you dial in Sport on the suspension. Set up like this, the XCA delivered a more confidence-inspiring ride than the Explorer ever did, especially when it came to tackling loose and stony, rutted forest roads and twin tracks like those that dominate the back-blocks of Sunny Corner and the Turon River.
Sure, I'm old school and like to control power delivery and brake feel – which Off Road Pro mode lets you do – and I was impressed by just how well the XCA performed. The triple-cylinder motor is a gem and the power delivery is just so smooth, while the handling and feel of the bike off-road is much improved over the Explorer.
Ultimately the limiting factor in the bush were the Tourance tyres, as knobby tyres would have helped on the slippery and stony ground, both with steering precision on the front, and hooking up and getting drive at the rear.
THE CAT'S MEOW
After nailing down just under 600km getting to Bathurst, I managed to squeak out another 400km on the way home to Sydney, which included more snooping around Sunny Corner before running Blackfellow's Hand Trail across to Zig Zag and then the Bell's Line of Road down off the mountains.
Day two delivered more of the same good times adventure touring vibe, the Tiger's flight deck allowing easy riding-mode and suspension changes to suit specific riding conditions as you encountered them, and the 20-litre tank offering around 360km range as the motor sipped go-juice at the rate of around 18.5km per litre.
All the upgrades and refinements have definitely made the Tiger 1200 XCA a more capable and impressive performer than the Explorer. This bike is a supreme sport tourer on the tar, and better all-roads performer in the bush than ever before, especially if you want to cover big miles in real comfort.
Finally, the XCA offers plenty of bells and whistles – as it should for the price! It will have you playing for days.
Tech-savvy riders will love the adjustability within riding modes to tailor the bike's performance exactly as they want, which is what life in the big-bore adventure bike ranks is all about these days. CLUBBY