Three days and 1250km on a boomer loop with KTM 1290 Adventure R, BMW R 1200 GS Rallye X, Ducati Multistrada 1200 Enduro and Honda Africa Twin - the perfect agenda to test these ADV battleships.
With adventure riding booming in recent years and manufacturers keen to plug any market segments they can find, adventure bikes come in all shapes and sizes, just like the various types of riding adventure motorcycle owners do.
But there's one market segment that arguably screams 'adventure' more than any other, and that's the 1000cc-plus off-road biased category.
In the past 12 to 24 months, more brands have stepped into this arena of high-spec and high-performance ADV hardware, leaving us – just like so many of you – keen to see how the latest big-bore ADV off-roaders perform. So we gathered the four most off-road ready 1000cc-plus ADV machines on the market today and headed bush.
Three days and 1250km on a boomer loop encompassing all types of adventure riding terrain, including some specifically selected, more hardcore off-road sections, was the perfect agenda for putting these ADV battleships through their paces.
BMW R 1200 GS Rallye X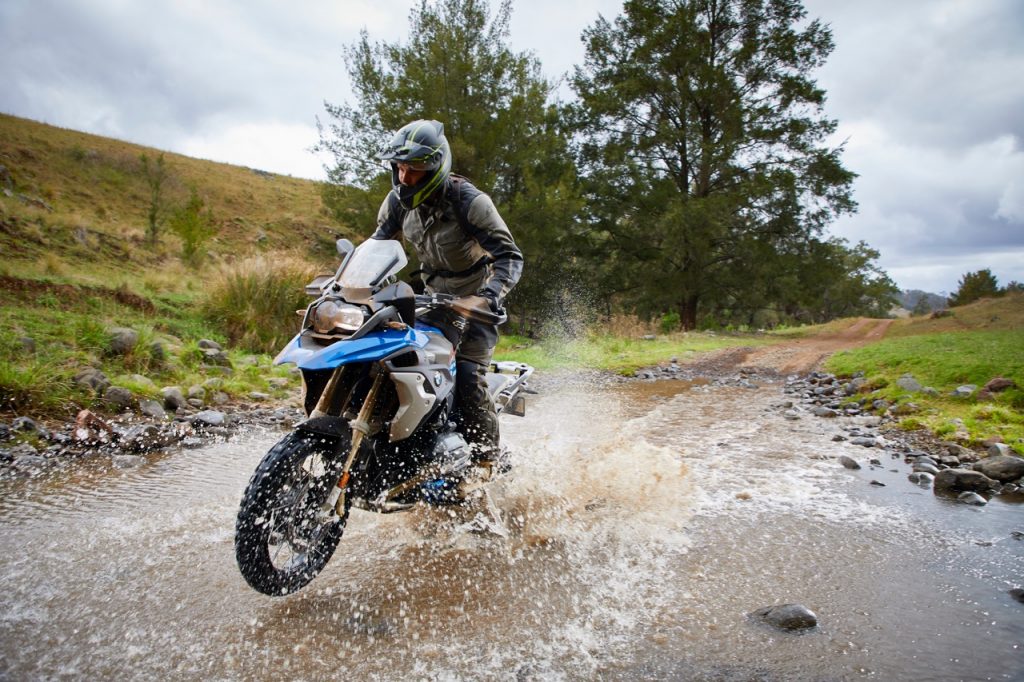 If you're a BMW R 1200 GS fan, and certainly if you're an owner, you will well know the story of this latest Rallye X variant, that's been dubbed 'the Frankenbike'. It's the product of longtime 1200 GS owner and rider Geoff Ballard, who took the longer travel suspension of BMW's R 1200 GS Adventure model and combined it with the slimmer ergos of the R 1200 GS to make his 'just right' GS.
The Rallye X is powered by BMW's well proven 1170cc 'Wasserboxer' air/liquid-cooled flat-twin DOHC powerplant that pumps out 125hp and drives through a six speed gearbox and shaft drive single-sided swingarm.
Riding modes have been developed specifically for the Rallye X, with two Pro modes – Dynamic Pro and Enduro Pro – as well as Rain and Road modes on offer.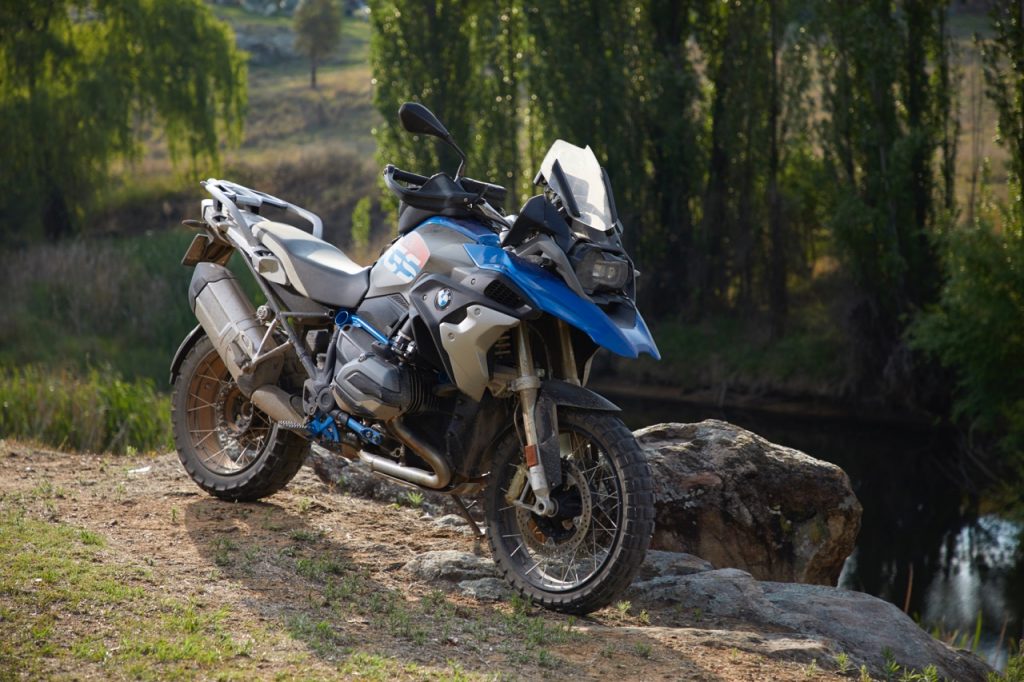 Boosting the Rallye X's off-road performance are stiffer springs in the Telelever front and Paralever rear ends that offer 20mm longer travel than the standard GS. The suspension action gives a mostly confident feel on the trail and takes jumping a GS to new levels, although the Telelever front end did exhibit head shake on sudden hits or when powering through rough corners.
The Rallye X also has 20mm more ground clearance, helping reduce underbelly scarring on rocky G-outs. A lower screen, larger dirt worthy footpegs, radiator guard, cross-spoke 19/17 inch wheels, Continental Twinduro TKC80 tyres and a 20mm taller seat height of 890mm are all features endowed upon the Rallye X that help boost the bike's off-road capabilities.
The weight is carried low and the bike feels well balanced, while the suspension and handling manners combine with the smooth, strong and abundantly torquey power delivery to make a confidence-inspiring mount for a wide range of rider skill levels.
SUMMARY
+ The best performing BMW R 1200 GS in the bush, ever. You can thank Aussie off-road legend Geoff Ballard for that.
+ The Rallye X comes at a $5000 or so premium over a standard R 1200 GS, but the extra spend is worth it for the boost in specification and performance.
+ Owners should consider investing in crash bar protection for the exposed engine cylinders/heads.
Ducati Multistrada Enduro Pro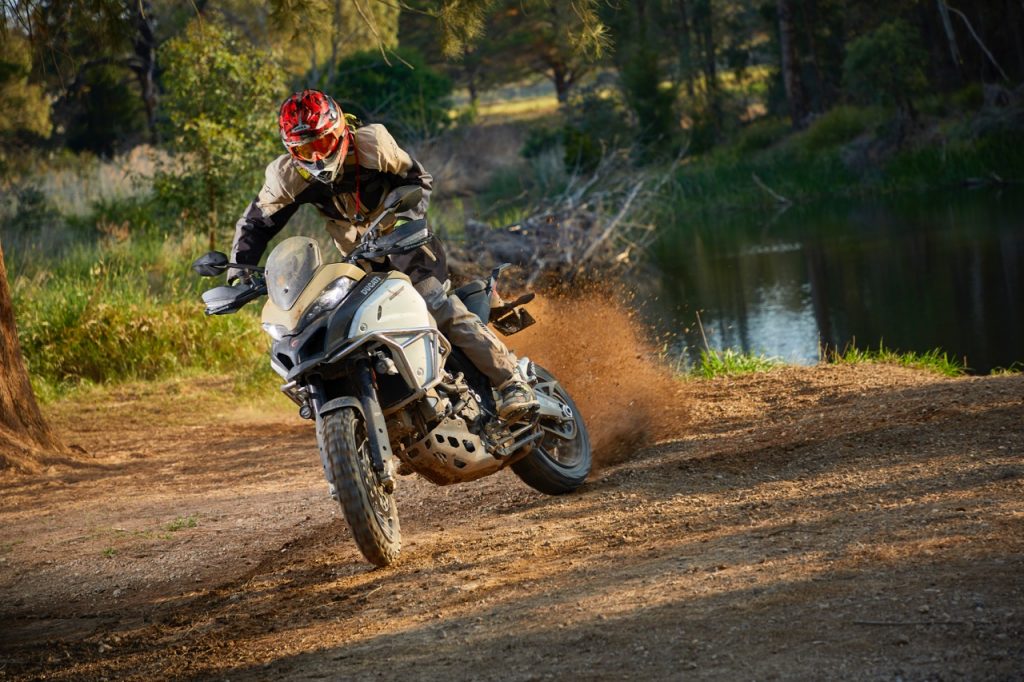 At $31,990 the Multistrada Enduro Pro is far and away the most expensive bike in this pack, but it comes loaded with plenty of fruit. A 30 litre fuel tank, Pirelli Scorpion Rally tyres, Touratech crash bars with LED lights, low screen, Termignoni exhaust, sand coloured body panels, two-tone seat and black sub-frame and clutch/alternator covers set the Enduro Pro apart from the standard Multistrada Enduro model.
It's a big bike but when you climb aboard the ergos actually feel good. Meantime the hefty 261kg wet weight load is amazingly well disguised as soon as you start rolling … and immediately you will be rolling at a great rate of knots.
Powering the Enduro Pro is the scintillating Ducati Testastretta 1198cc V-twin engine with Desmodromic Variable Timing that pumps out a ground pounding 152 horsepower. Ducati's Riding Mode technology offers the rider the choice of Enduro, Touring, Sport and Urban modes – all of which can be further individually customized.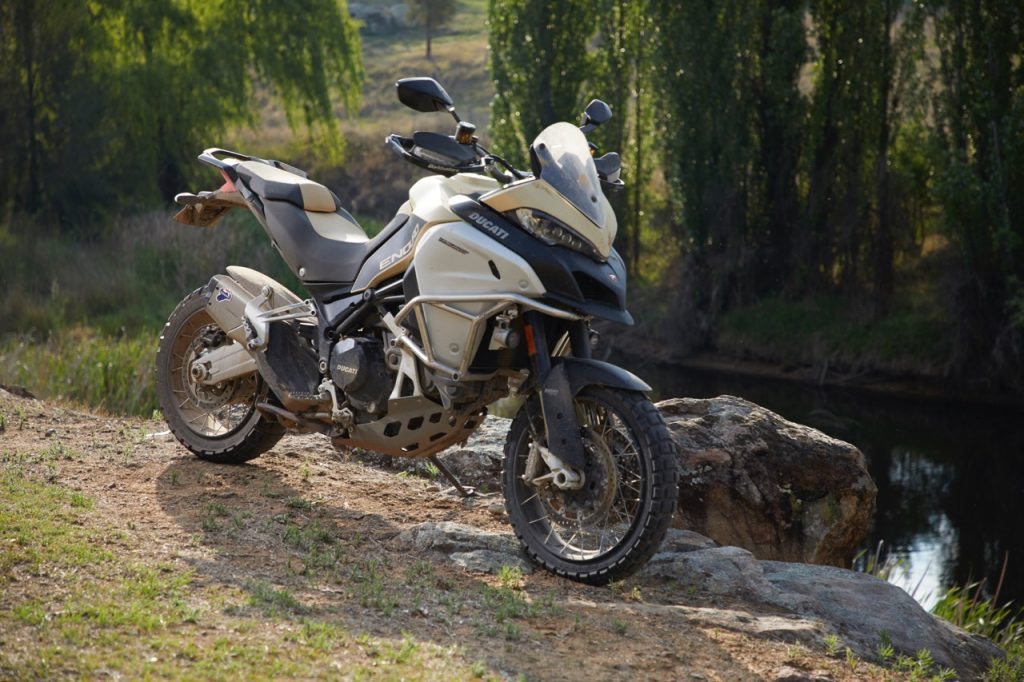 The power delivery is scintillating and the planted feeling of the front-end inspires confidence on tarmac twisties.
On gravel roads, twin-tracks and fire-trails it was a revelation just how fast and how confidently the Ducati could be pushed through the bush and hold a line on twin-track trails.
The Multistrada looks big and bulky, but feels nothing like that to ride. It's steering and front suspension action is so impressive and the clean throttle response and supremely strong power delivery make it a blast to ride.
As for gravel roads, this beast is the power slide king. The question isn't can I get a slide going here, it's how long do I want to hold this slide? Or how soon will I have to fork out for another new rear tyre?!
SUMMARY
+ The surprise performer in this pack, from a brand best known as a manufacturer of knee-scraping superbikes. That Ducati got an adventure motorcycle so right is impressive.
+ This bike is the Sultan of Slide and has an insatiable appetite for rear tyres. Get ready to know your tyre supplier on a first name basis and be prepared to fund his first born child through primary school.
+ Performance comes at a price, the Ducati hitting the showroom floor at a whopping $31,990, making it the most expensive in the pack.
Honda CRF1000L Africa Twin ABS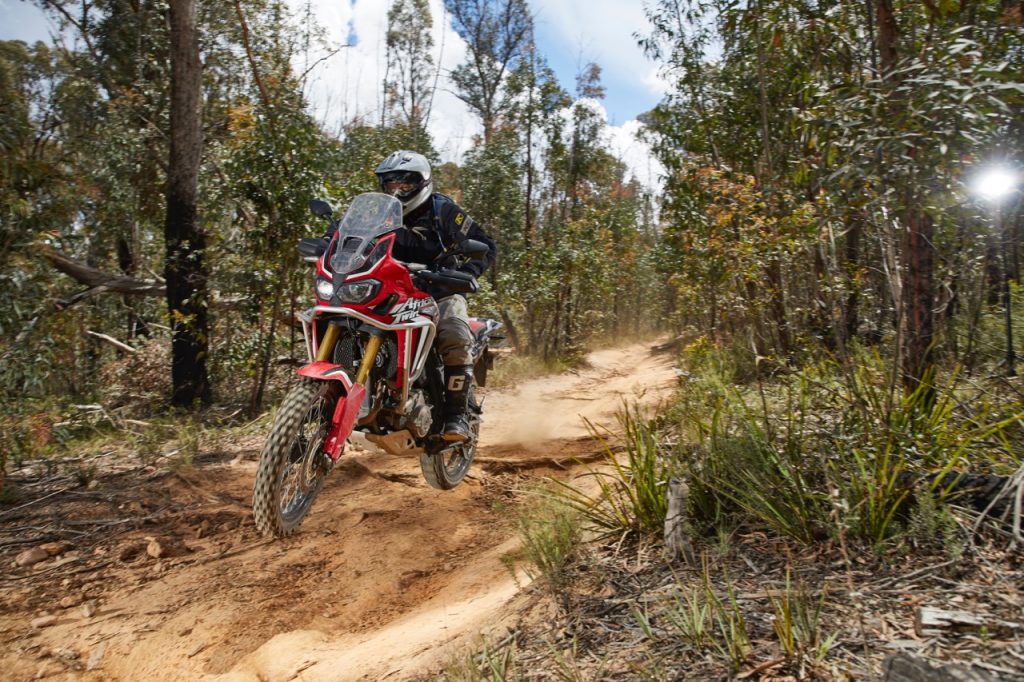 Honda's Africa Twins are the bargains of the big-bore adventure motorcycle ranks but does bargain price mean bargain performance?
With a traditional throttle cable and no ride-by-wire technology, the Africa Twin can be considered old school against the European opposition. There's no choice of riding modes, but there is traction control that offers a choice of three levels of intervention, plus off, but we all only used level one or off, as levels two and three are rather intrusive. Level one allows a smile inducing amount of controlled sliding, but the Honda's throttle response isn't quite as precise or modulated as the Euro bikes. The first time you clench your sphincter after being caught out by the rear end breaking loose more than expected will have you showing more respect in your right wrist application.
A button on the Honda's dash allows ABS to turned off to the rear wheel, which is a beneficial feature off-road, but the Africa Twin's ABS just can't match the linked front and rear systems of the other bikes.
At 998cc the Africa Twin's parallel twin motor is the smallest capacity of the four. That said, the Honda pumps out 94hp and is no slouch, while the power delivery is just so rideable, in an all-day chomp-through-the-miles kind of way.
In the handling and suspension stakes, the Honda's Showa fork and shock offer a softer, plusher action at both ends than its rivals, which makes it easy to ride and confidence inspiring for riders who have limited experience when it comes to pushing big bikes hard through the bush. But you will feel you reach the limits of the fork and shock sooner on this bike than the others, be it on the tar where the front end dives readily under heavy braking, or in the bush where bigger hits and/or higher speeds will bottom both ends.
The Africa Twin's 21-inch front wheel is a feature aimed squarely at off-road performance, and helps the Honda when picking a line through gnarly, rocky terrain, and when confronted by soft surfaces.
While the Honda is easy to handle by virtue of the tidy ergos of its tank/seat junction and feeling slim and light – it weighs a claimed 232kg wet, almost 30kg less than the Ducati, the bar/seat/pegs relationship holds it back for taller riders. The pint-size footpegs fitted to the Honda are a throw back to the '70s and should be the first thing upgraded by owners to give a larger and more comfortable platform to stand on.
At $16,999 plus ORC, this mid-spec Africa Twin is a bargain and leaves owners with a wallet full of folding stuff for aftermarket goodies.
So while the Africa Twin wasn't the first choice of our riders if money was no object, it was if we had to lay down our own hard earned cash.
SUMMARY
+ The Africa Twin is the bang-for-bucks king. If you like keeping dollars in your pocket or your new bike budget is tight, look no further than your nearest Honda dealer.
+ Lacks the ride-by-wire and cutting-edge electronics technology of its rivals, but credit where credit is due, this bike still gets the job done and is an easy bike to ride. The 21 inch front wheel is of real benefit in the bush and the compact parallel twin engine design contributes to the bike's low centre of gravity.
+ Smallest fuel tank of the group at 18.8 litres.
KTM 1290 Super Adventure R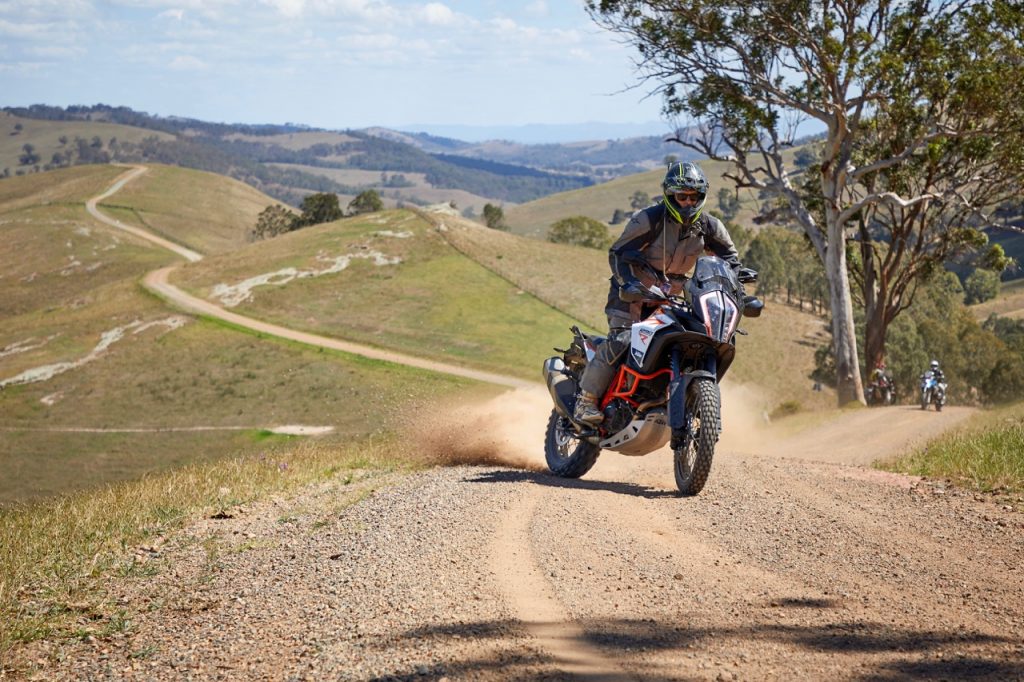 As big-bore adventure bikes keep getting bigger, 'smarter' and ever more powerful, KTM has kept upping the ante and the latest fruit of their labours is the 1290 Super Adventure R. And wow, what a package it is, with a 1301cc 75-degree V-twin motor that churns out 158hp and weighing in at 240kg wet. There are four riding modes, cornering ABS, traction control, LED cornering lights, tyre pressure monitoring, off-road ready WP suspension, Brembo brakes, 23 litre tank, illuminated handlebar switches, self cancelling indicators, immobiliser, cruise control and a 6.5 inch full-colour TFT dash display. Further options fitted to our test bike included an aluminium skid plate, huge rally foot pegs and radiator protector.
As all of us had logged miles on KTM's previous 1190 Adventure R, we were toey as a Roman sandal to climb aboard the 1290 and get it into the dirt – and I lucked out to get it first for the run north through the full length of the Watagans. Now this is a regular ADV route for me and I reckon the 1290 contributed to my posting a PB time from Palmdale to Quorrobolong. The booming V-twin 1290 simply hauls the mail and in off-road mode with the power 'tamed' to 100hp and the off-road ABS and traction control doing their thing, the run was a thorough blast. Fire-trails, pot holed forest roads, corrugations and slippery downhill off-camber corners were dispensed with in a totally hassle-free manner as off-road mode came to the fore, once again indicating KTM's sophisticated electronic assistance package has its riding modes technology extremely well sorted.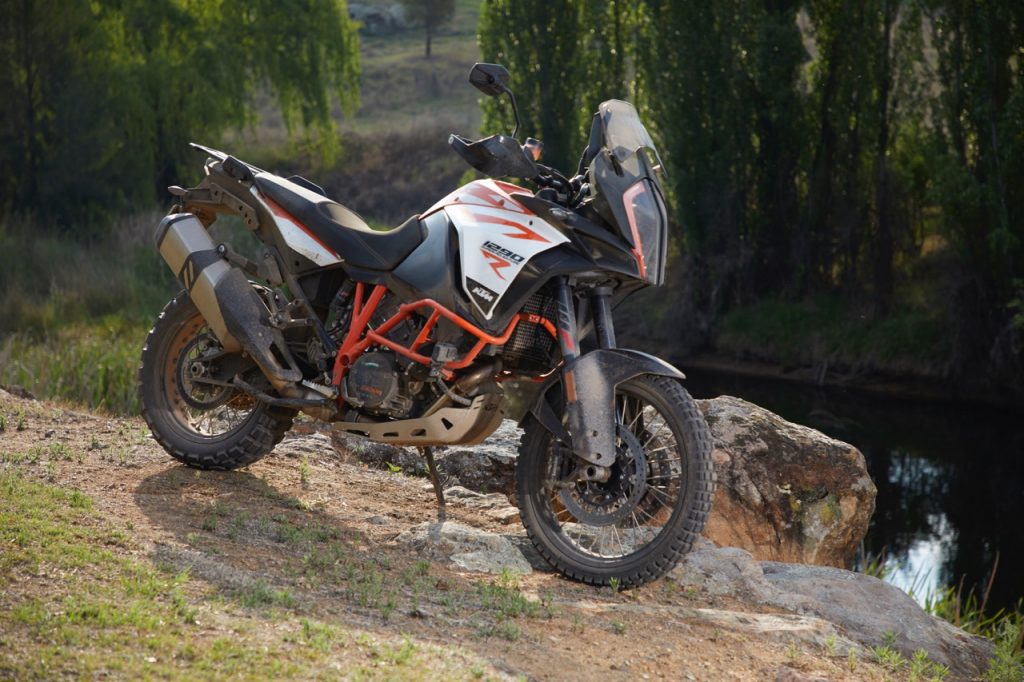 With it's 21-inch front wheel and long travel (220mm both ends) WP fork and PDS shock, the 1290 feels like a big dirt bike and that's how you ride it: like a big dirt bike. The 1290 is a bike that rewards confident and aggressive riders in the dirt, just like KTM's big V-twin adventure bikes always have.
But the 1290 is a big, high feeling bike, with all riders commenting that it felt tall and top heavy compared to the others – including, even, the Ducati – especially when punching through tight and rocky trail sections. With the tallest seat height at 890mm, a narrower dirt bike-like handlebar, limited steering lock and the way it carries its weight, the 1290 wasn't as easy to ride as the BMW or Honda in snotty conditions. Which surprised us and left us pondering that KTM's 1090 Adventure R would be the choice for the most determined of off-road biased big-bore KTM adventure riders.
As an adventure tourer, the 1290 is a supreme ride and will comfortably power through long, solid days in the saddle across all types of terrain, both dirt and tar.
Adventure Motorcycle Test Summary
+ KTM's biggest, brawniest adventure motorcycle ever, pumping out a stonking 158hp and weighing in at 240kg wet, giving it the most impressive power-to-weight ratio of the four bikes.
+ Top heavy feel, high seat and narrow bars made the 1290 tougher to manhandle on rocky and technical trails than any of us were expecting, but everywhere else in the bush this bike romps through.
+ Immobiliser system repeatedly gave us grief and eventually saw the bike in the back of a ute to get out of Barry Station when the transponder key fob would not activate the bike's circuitry. When we got phone signal again at Nundle, KTM Australia advised us of an over-ride system that immediately had the bike running again … phew. Best that 1290 owners consult their dealer and make themselves familiar with the over-ride before disappearing deep into the bush.
Summary
Sometimes there's little consensus on multi-bike test rides like this, but that's not the case this time around, as the consensus was clear: our favourite bikes were the BMW and Ducati.
With the R 1200 GS Rally X, BMW has gone and made an already good thing even better, while Ducati has come from way out of left field and produced a big-bore adventure motorcycle that simply works, albeit at a hefty price premium.
KTM's 1290 Super Adventure R wasn't as impressive as we had expected, despite us all being dirtbike riders and the 1290 being the most dirtbike feeling of the bunch.
Meanwhile Honda's Africa Twin is clearly built to a budget and lacks the techno-wizardry of its rivals, but if we had to spend our own money, it was the bike all of us would buy!
Ranking
MITCH LEES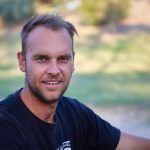 1. BMW
2. Ducati
3. KTM
4. HONDA
OLLY MALONE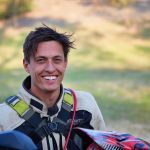 1. BMW
2. KTM
3. Ducati
4. Honda
JOSH EVANS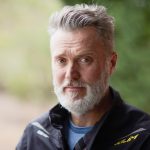 1. Ducati
2. BMW
3. KTM
4. Honda
ANDREW CLUBB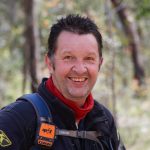 1. BMW
2. Ducati
3. KTM
4. Honda
WORDS // ANDREW CLUBB | PHOTOS // JOSH EVANS