ADB Editor Mitch Lees swings a leg over the new Yamaha Ténéré 700 for the official launch ride through the New South Wales New England region.
We got an Aussie-first ride on the all-new Yamaha Tenere 700 in time for last month's Dakar Special issue but, as is the case with any special deal, there were strings attached. This is often because the bike is so fresh off the boat that the manufacturer hasn't had time to do things like arrange registration, fit off-road specific parts or even shoot the bike for their own marketing. In our case it was the latter two.
The bike wasn't ready for proper off-road use (it had a paper air-filter, no handguards and dualsport tyres), Yamaha hadn't had time to do its official photography, so we couldn't scratch it and we couldn't show it off to our mates.
Our testing was limited to a large paddock on my family's cattle farm, so ADB's Ben Grabham and I were able to get a good understanding of how the bike handled but we were unable to test the bike's competence in an adventure setting. To do this I needed bulk kilometres, luggage and days of endless dirt roads.
Fortunately, one month after our little taste test, I got a proper go at the official Yamaha Tenere 700 launch, which started and ended in Port Macquarie with 2000km of outback NSW in between. The ride gave me a chance to test several aspects of the bike we weren't able to on my farm: the fuel range, the suspension with luggage, long days in the saddle and, of course, off-road tyres.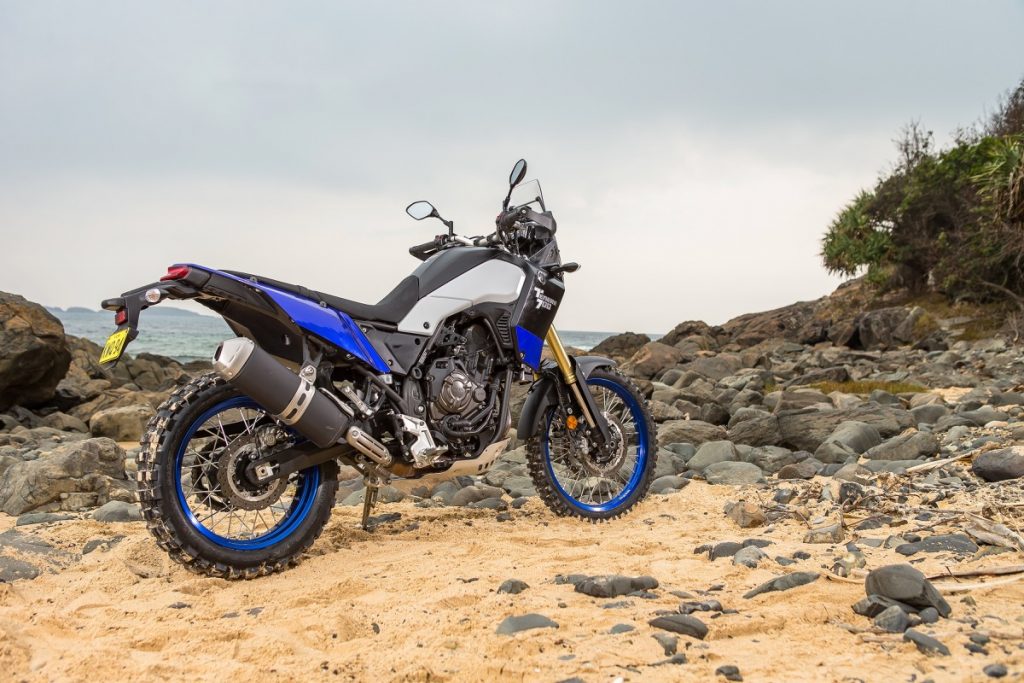 A DROP SHORT
The fuel tank on the Yamaha Tenere 700 carries 16 litres of go-juice. That's not a massive amount for big adventures in the outback. A par score for a good-size tank is 20L, which is why so many aftermarket tanks, like Acerbis or IMS, come in around this size. But, with more fuel-efficient engines, manufacturers claim big tankers are a thing of the past.
The fuel light came on for me at about 210km on a day where we left Tamworth and made our way to Gloucester via the Barry Way. Anyone who has ridden this road knows how stunning it is. You will also know how many long, windy sections of dirt road can be drifted 'til your hearts content.
Big straights and long, fast climbs require your wrist to be facing the ground while your knuckles kiss the moon. So when I say I got 210km before the fuel light it's important to note, with a bunch of ultra-competitive journos on a road designed for horsepower that distance is a little misleading.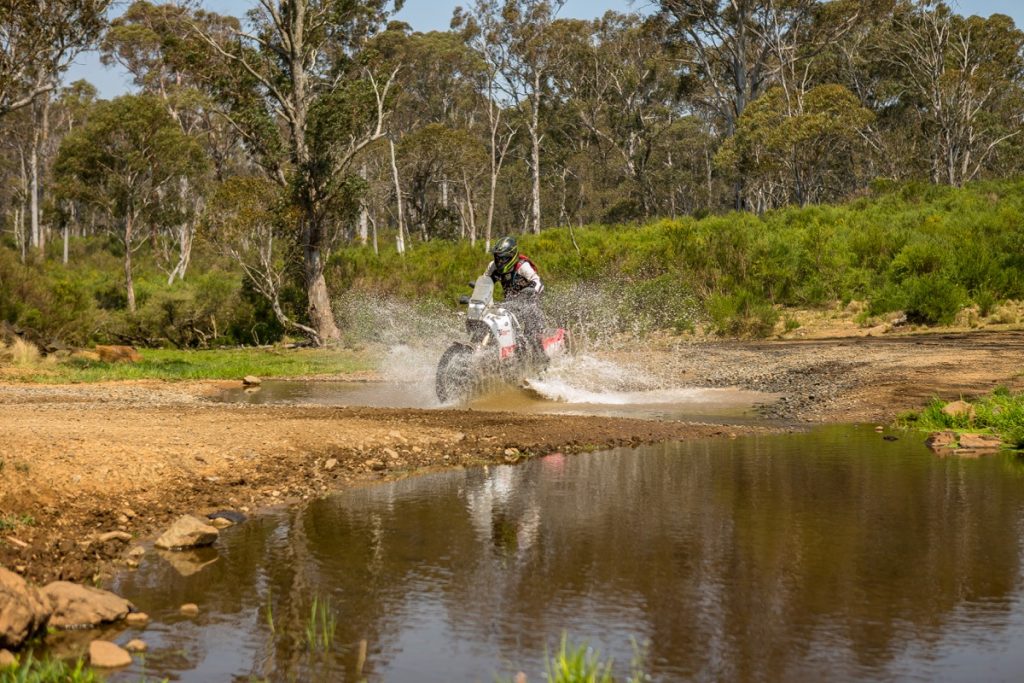 But, what's more misleading is the light itself. I continued riding until I hit about 250km before I refuelled. The pump only spat out 13L so I was surprised to find I had three litres left. By my calculations, if the tank is sucked dry you can expect about 300km before you'll need to start pushing. And that's if you're riding like it's Day 6 of the ISDE. For regular adventure riding my guess is that the 16L would carry you about 350km.
In my opinion, the magic number for adventure riding is 400km. I've circumnavigated Australia twice and I've never been stranded without fuel. If you stick to well-worn adventure trails you shouldn't need a 400km range but if you plan on tackling Arnhem Land on the Yamaha Tenere 700, I'd suggest you invest in a fuel bladder or Roto-Pax.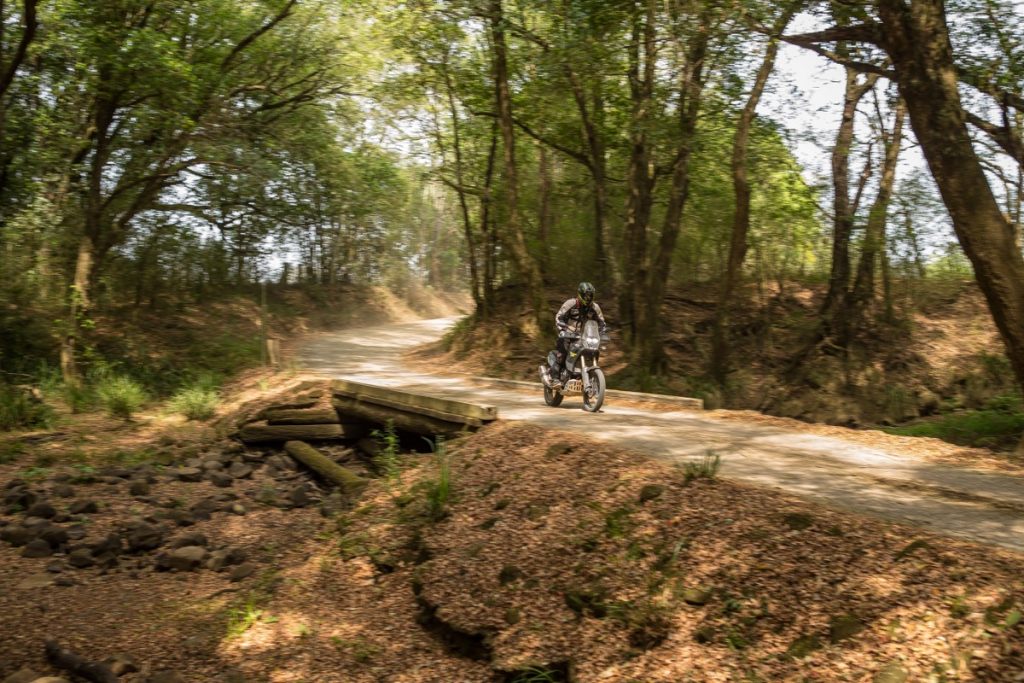 FULLY LOADED
The new Yamaha Tenere 700, or XTZ690, is night and day better than the previous model when it comes to performance. Yamaha has delivered a suspension package much firmer than the XT660Z which makes carrying an overnight bag that little bit more comfortable. The shock still bottomed out when hitting erosion mounds or table drains but it didn't wallow like the previous model.
And, to make things even easier, Yamaha has included four tie-down points on the rear of the bike. One of the journos on the launch forgot to bring his hydration pack and had to strap a plastic water bottle to the pillion seat using the tie-down points. In five days of riding he didn't lose it once!
While the tie-down points are handy, well-positioned and have a lip on them to secure your strap, the Yamaha Ténéré 700 does not come with a luggage rack as standard. Which means your bags will be rubbing up against the material on the pillion end of the seat. Yamaha does sell a rack, called the Mono Seat Rack, at a cost of $308.19. It simply replaces the pillion section of the standard seat. However, it is important to note you will not be able to use this rack if you are using the tall Rally seat (see Saddle Time), which is one-piece.
Yamaha also offers a rack to fit over the standard seat which is designed to take its hard luggage cases. The topbox rack is $443.80 and the pannier racks are $560.60.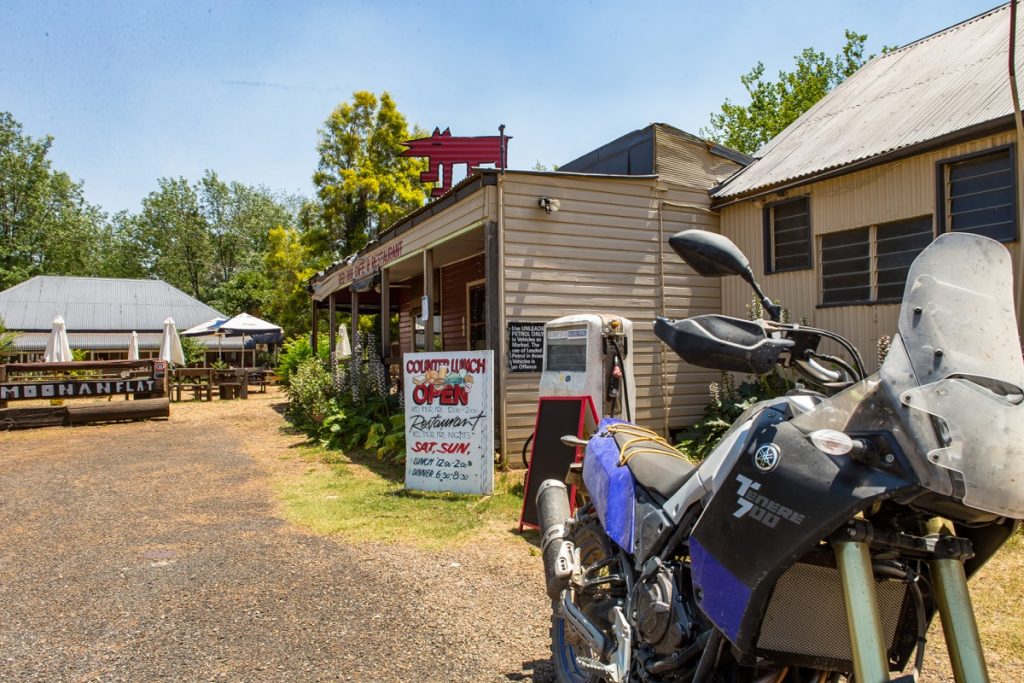 SADDLE TIME
There's no better way to test a bike's adventure potential than saddling up for long days behind the 'bar. You also need a variety of terrain from big stretches of open dirt road to tight four-wheel-drive tracks and, of course, some commuting.
The Yamaha Ténéré 700 hits the saddle time out of the park. Unlike other 600-700cc adventure bikes, the Ténéré 700 is comfortable seated or standing and offers little wind buffeting at the top of the helmet thanks to a tall but sleek, rally-inspired screen.
For the long haul from Tamworth to Gloucester I was mounted on a white Yamaha Ténéré 700 with the Rally seat ($596.30). This increased the seat height by about 35mm while feeling narrower and with a little more grip. The extra height made transports a little less cramped for my 188cm frame. I found the standard seat was comfortable enough but the Rally seat was just that little bit better. Of all the mods I could buy, this would be the only one I'd need.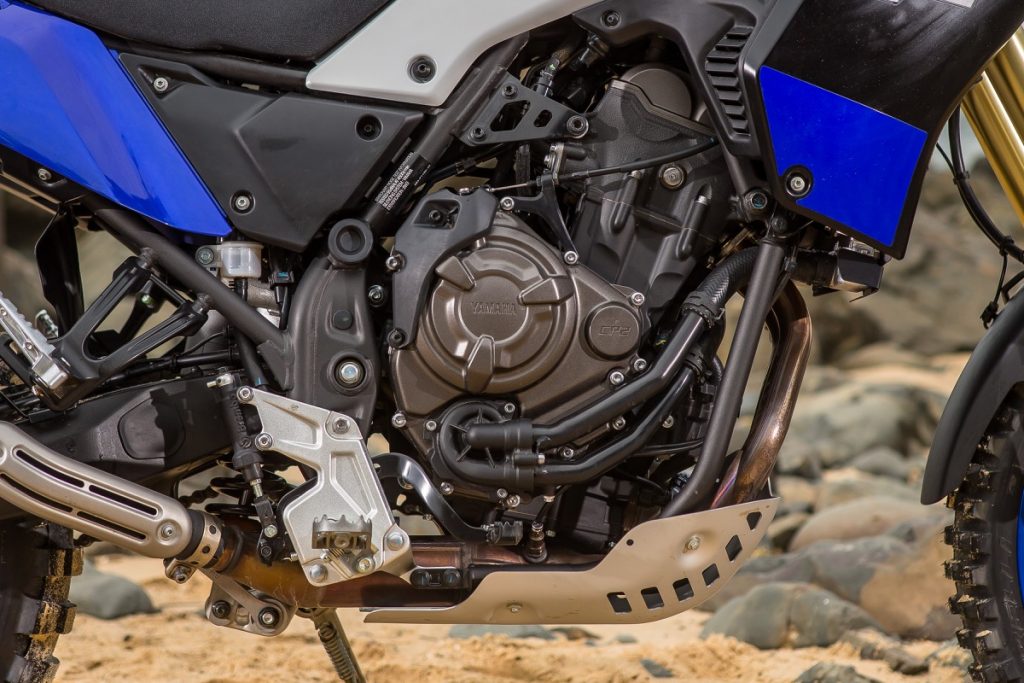 GRIPPY KNOBS
As I said earlier, when we first rode the Ténéré 700 it had road-based tyres so I was relieved to see Yamaha had fitted the Pirelli Scorpion Rally tyre for the launch. However, Yamaha has confirmed the standard tyres will be the Pirelli Scorpion Rally STR which are slightly more street-oriented, as the name suggests.
The Pirelli knobs are among my favourite for adventure riding. By the end of day five and 2000km the Pirellis were well worn and probably needed to go in the bin but a budget-conscious adventurer could stretch them to 3000km before starting again.
On slippery, pea-gravel they provided excellent traction while in the snotty four-wheel-drive climbs I got plenty of drive, even on day five. The centre knobs wore the quickest so you still had traction in off-camber dirt turns thanks to the side knobs. On the bitumen they were a little noisy but they didn't sacrifice much in traction.
CAN YOU TOUR?
The Ténéré is more than capable of doing long tours. It's incredibly comfortable all day long (especially with the Rally seat), there are plenty of options for luggage and the powerful 689cc parallel-twin moves you and your gear with ease while the adjustable 43mm fork and adjustable shock (including manual preload adjustment) put up more resistance than the previous model. Fuel consumption when riding like you stole it was about 21km per litre or 5L/100km so it's enough to get by but big rides will require you to carry extra fuel, at least until someone produces an aftermarket tank.
What about those packs?
You may have seen European distributors offering an Explorer Pack and a Rally Pack. Yamaha Australia has confirmed it will not sell these kits. I did get an opportunity to test several of the GYTR items (most of which come in the packs in Europe) and I believe the bike does not really need any of them. The standard metal skidplate let nothing through while the aftermarket version was heavy and loud when rocks hit it.
I preferred the standard pipe as the throttle was more linear. The aftermarket Akrapovic added a little response but the throttle was more jerky. The Ténéré 700 comes standard with wrap-around handguards while the luggage racks are handy if you don't want to run soft saddlebags. Like I said earlier, the only aftermarket part needed for taller riders is the Rally seat.
What Grabbo thought
It was slim, compact and seamless to sit on. The exhaust note was quieter than I expected. The power delivery was incredibly smooth. I always found good traction and never felt intimidated on the hilly terrain.
Yamaha's ABS works better than most I've tested, but I still prefer to not use it on any kind of dirt. I found the new Ténéré worked best for me over the hilly technical terrain when I was in a standing position, which was comfortable and not painful for my back or shoulders. It actually felt very similar to the rally bikes I have ridden.
The fork worked great. The new springs held up well and never bottomed out. The shock was comfortable over the choppy trail debris when seated, but was a tad soft for me as I did find the bottom a few times. Fortunately, it is possible to firm up the shock via the adjusters.
The standard gearing is quite tall, as most of the time I was riding technical terrain in first. It is mellow and smooth up to 5000rpm then it's powerful and aggressive from 5000rpm to 10,500rpm. I got up to 170kmh in fourth. Read Grabbo's full review HERE.
WORDS // MITCH LEES | PHOTOS // iKAPTURE