First unveiled at Germany's Intermot show in 2014, the Portugese-born AJP PR7 rally bike has undergone a three-year gestation period, developing into a formidable on and off-road bike.
The fuel-injected (45mm throttle body), balancer shaft equipped and button-start-only six-speed SWM motor is wrapped in AJP's trademark twin-spar steel and aluminium frame design, and the 17 litre Acerbis under-seat fuel tank remains, giving the AJP PR7 a slim feel.
The AJP PR7 nav tower and screen/fairing not only houses twin headlights, but an Asus android tablet as well that riders can customise with navigation/GPS apps, or use as a heads-up display via apps offering speedometer, trip meter and timer information. A smaller LCD display is fitted below the tablet, offering speedo, tacho, fuel gauge and trip meter functions.
Mounted in front of the roomy seat is a lockable fuel cap and carbon air box lid, which covers a K&N-style filter in the above-motor air box. The engine breathes out through twin titanium headers that merge into one low-slung mid-pipe and muffler hanging rally-style from below the right side of the fuel cell. The exhaust and aluminium lower frame cradles are protected by an alloy bash plate.
Suspension duties are handled by ZF Sachs components while braking is in-house as are the 21-inch front and 18-inch rear wheels, with a cush drive hub rear. A red alloy rear brake pedal, sizeable alloy foot pegs and outer fork tubes complete the bling. A rear rack is fitted, mounted to the steel rear subframe (yes, there is one), which is concealed by the wrap-around fuel cell design.
The power delivery is entirely rideable, the tall gearing and restrained output thanks to the motor's Euro 4 compliant state combine right away to make me think there's more to be had.
Lower gearing could help give more bark down low, while the optional Power Up kit's ECU and freer breathing air box lid and muffler would certainly pump up the ponies.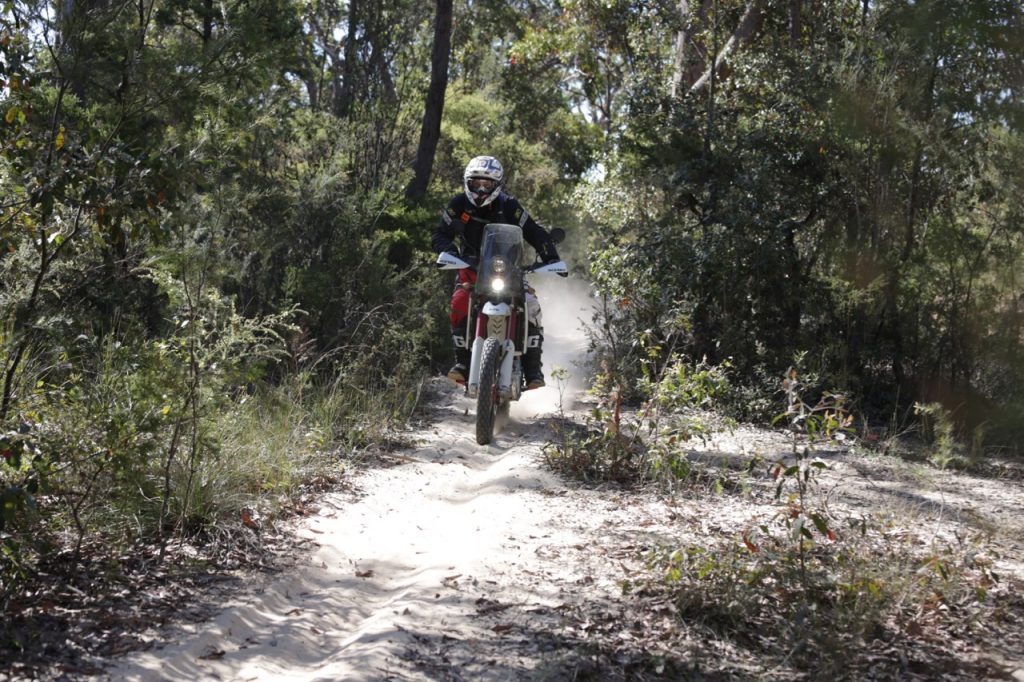 The bike's lightweight and low placed fuel load makes it fun to throw around in the bush, while the suspension feels firm and planted. Riding it like a dirt bike, standing up, weight forward, delivers best rewards. There's nowhere in Adventureland you couldn't take this bike.
The fork and shock transfer a little too much reaction to the rider. Tweaking the clickers helps to reduce the firmness on repeat sharp edged hits. Otherwise the suspension and handling package is clearly off-road ready.
The brakes feel great, with that big front rotor delivering plenty of stopping power, while the clutch and gearbox action is sweet. The motor does like to be in neutral for starting, though, while the stock lithium battery on this bike had been replaced with a lead acid battery to boost cold morning starts. Vibes are minimal, with just a hint of tingling through the 'pegs at highway speeds, but on the dirt you barely feel it. The seat is a good one, too, with great padding and stacks of room.
AJP has done an impressive job, delivery a rally inspired machine with real off-road adventure riding aspirations. What's just as impressive is a small Portuguese brand has brought this kind of bike to market, rather than one of the Japanese heavyweights, or the European KTM/Husqvarna powerhouse, as a bike just like this could well have served as an ongoing 640 Adventure variant.
The Australian AJP dealer network is small, but growing slowly, so for potential buyers, just getting touchy-feely with a PR7 will take some effort on their part. And of course, there are questions only time will answer regarding long-term ownership support, but if you are chasing a dirt worthy adventure thumper, put the PR7 on your radar.
Read Clubby's full-ride impression of the AJP PR7 in ADB issue #459.