Motocross-style handshields are becoming more popular than wrap-around handguards.
They're a little less bulky, improving your ability to slide through trees while also making the front-end feel lighter. But the problem has been that they don't offer the same protection. That is not the case with the Barkbusters Sabre handguards.
WE RATE
STRONG: I never thought I would find a set of handshields so damn strong! The foil and the mounting arm are by far the toughest I've come across. There is minimal flex but still enough to prevent them snapping.
ADJUSTABILITY: We have the Sabres fitted in full defence mode here, with the top and bottom plate fitted. If you want less bulk or more airflow you can remove the bottom and top plates.
FITTING: Unlike wrap-around handguards that require you to cut off the end of your handgrips, the handshields don't need any cutting and simply attach to the handlebar via the normal bracket most brands use.
THE FOLD: Before we bolted on the Sabres we'd run a set of entry-level handshields and broke a lever. Since fitting the Barkbusters we haven't broken any.
PRICE: I believe the Sabre is the best handshield I've tested and, for some reason, they are cheaper than some!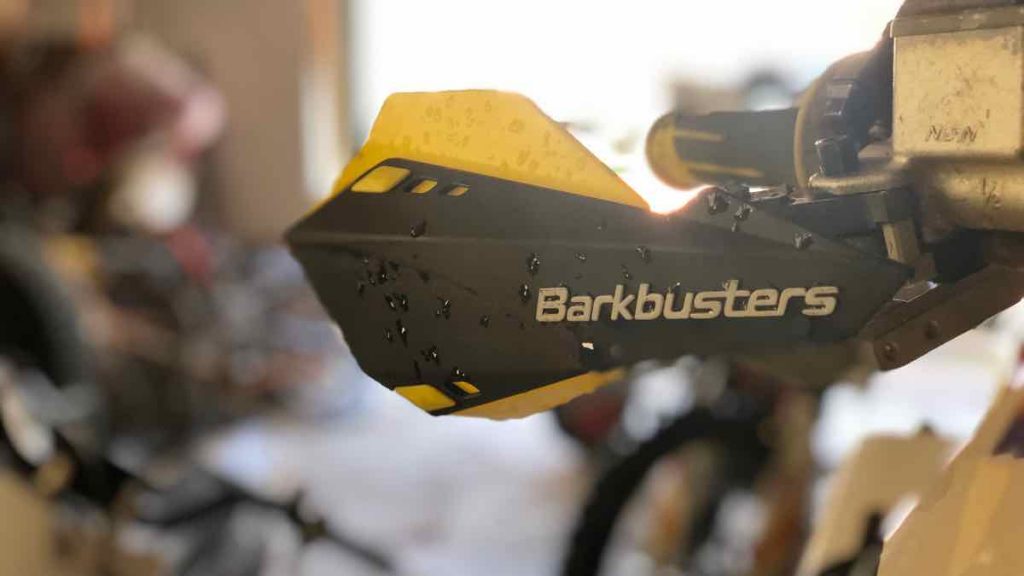 WE DON'T RATE

WEIGHT Finding something that wasn't good about these handshields was impossible, so the only thing I could think of was that they felt heavier than some other options. It makes zero difference on the bike, you don't feel it through the steering, but it gives me something to whinge about.
VERDICT
I'm a massive fan of the Sabre Barkbusters not because they offer the toughest defence a handshield can manage without using a metal bar to wrap around the handgrip but because they're also an Aussie product. Barkbuster began making handguards way back in 1984 and they're now exported around the world by Rideworx. They come in a variety of colours so you will definitely find a set that suit your ride. Editor Mitch Lees
GET IT HERE
BILL: $69.95
BROWSER: barkbusters.net.au
BLOWER: (02) 4271 8244