Betas aren't the rare and somewhat exotic enduro bikes they once were, but in the mid-to-late noughties if you were seen on the trails riding a Beta people would point and stare.
2011 was the first model year when Beta's started to resemble the machines we know today. ADB was first in line to throw a leg over the 2011 Beta RR450 and RR520 and it was a young Geoff Braico and the legendary Ben Grabham who had the honours of breaking them in.
THIS FEATURE WAS PUBLISHED IN ADB ISSUE #375- DECEMBER 2010 || Words: Sam Maclachlan || Pics: Scott Davidson
Beta wouldn't mind admitting it's a fringe dweller when it comes to enduro bikes in Oz. The Italian factory has a long history of making two-wheelers – they made their name with trick trials iron – but the Australian presence has always been low-key. This was especially the case in 2009, as no new Betas were brought into the country, despite there being an all-new bike produced, with its own engine – previous Betas ran KTM engines.
The first bikes (2005) were quirky machines, with some ADR compliance issues, meaning the electric start was left 'bar-mounted, rather than right-side, they had a choke you couldn't get to without a screwdriver and produced a very European, trialsy feel. They were light, slim and steered well, though and quirks aside were nice to ride, albeit in a tough market.
For the 2011 model year, Beta is back in Oz, and ADB was the first to sling a leg over the Beta RR450 and RR520 to see if the Betas are ready to get off the bench and get with the mainstream. The moment the Italians rolled out of the van, myself, long-time ADB tester Geoff Braico, and our new addition and columnist, Ben Grabham, were climbing all over them, pointing at the trick seat release, discovering the toolkit in the subframe and rating the new looks.
Our attention pretty quickly turned to the kilometres of tracks ribboning into the bush just a few revs away. We looked at each other, rushed the helmets on and hit the buttons (on the right side now). Beta get going (ok, that was lame).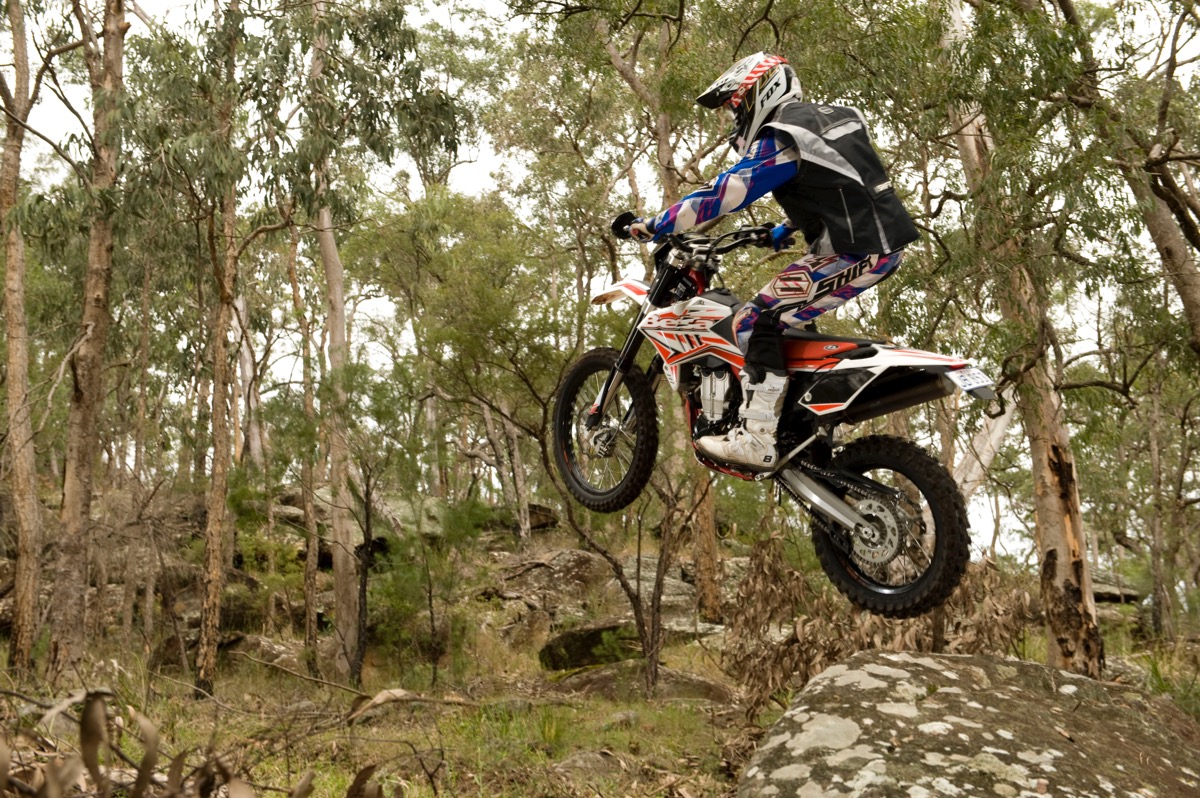 NEW DONK
The new engines aren't as tiny as some of the competition, nor are they on a crazy angle, or even fuel-injected. Beta has gone for Keep It Simple Stupid, rather than unleashing all-new technology – which isn't a bad idea for a brand still establishing itself in the enduro world.
Pretty much straight-away our two resident Factory racers were talking about the smooth power delivery on both bikes and how easy they are to use and how predictable they are. That's right, other bikes in the classes have more power. But for a fast-ish trailrider like me, the smooth power delivery translates into something I can ride all day.
The bikes were jetted perfectly for the muggy conditions, and had solid power out of the rev basement, making panic wheelies over surprise logs easy, without wanting to pull out of your hands. While Grabbo wanted more punch here, I am happy with how it delivers the grunt.
Both engines loved a rev, and the 520 in particular only came alive once you were giving the go-tube a determined twist. Having said this, both bikes are very quiet, the titanium-look end-can definitely keeping decibels and possibly horsepower muted, so a freerer-breathing exhaust might wake up some Clydesdales. It was the first mod Braico and Grabbo talked about, however I like a quiet bike in the bush and don't need massive power (even though it is fun).
The six-speed gearboxes shift sweetly, though finding neutral with the engine running was a bit hit and miss – something I experience on most Italian bikes. That said the bikes start in-gear no problem, which is handy. In fact, both bikes started very well for us all day, hot or cold.
We also found the gearlever awkward, which made shifting a cause for concentration. An aftermarket gear lever would fix that, or a subtle re-modelling of the standard lever.
At the end of the day, we all agreed it's a great engine for the trailrider – something of a theme for this bike – but most racers would want more punch. There aren't many engines in these classes that don't fall under that description, and while the Yamaha WR450F also has a super-smooth engine, it also has one of the best race records around. And again, an exhaust would most likely inject some fire from the Beta's belly.
BETA BALANCED
Being of trials roots, it's no surprise to find both bikes are very well balanced – they are both the kind of bike that makes it easy to hover, feet-up on the spot, and this balance translates to whippet-like performance in tight trees and ruts. It also feels very light on the move, thanks to that balance. There's no tippiness to speak of – it just goes where you want it to.
The racer boys were reaching for the suspension clickers pretty quickly to slow the suspension down, though. My 85kg was well looked after, however once I got up it, I was thinking "firmer springs". I think that for most standard bikes.
I would say a 75kg trailrider would love it as-is, but we heavier Aussies would generally want something firmer if we wanted to feel really comfortable at speed.
On fast, rocky trail roads, both bikes are still stable and happy to put on long powerslides with no wallowing, deflection or tucking front wheels.
Interestingly, the 520 shock feels firmer than the 450's on the same settings, but neither bike kicked anyone's butt (Grabbo and Mini-GB certainly kicked my butt, though) over logs. The fast boys did bottom both ends out, but that was at flat-tits pace, and they do that to most production bikes.
The 50mm Marzocchi fork is surprisingly compliant over a variety of terrain, and really helped with that front-end feel.
Our test bikes were fitted with new Dunlop MX51 knobbies and heavy duty tubes (not standard), and traction on some of the slippery patches was very good. The connection between the right hand and rear-wheel was excellent, offering great drive over all sorts of terrain.
The overall impression was of bikes that put the front-wheel where you want them, are very well balanced, and offer a lot of confidence to the rider, while being a little too plush for the really fast blokes.
Most trailriders will love the lack of harshness through the 'bars and footpegs, and I felt great on the bike the moment the wheels were turning – confidence goes a long way when an epic hill presents itself, lined with your riding mates watching your every move, and the Beta offers plenty of morale-boosting confidence.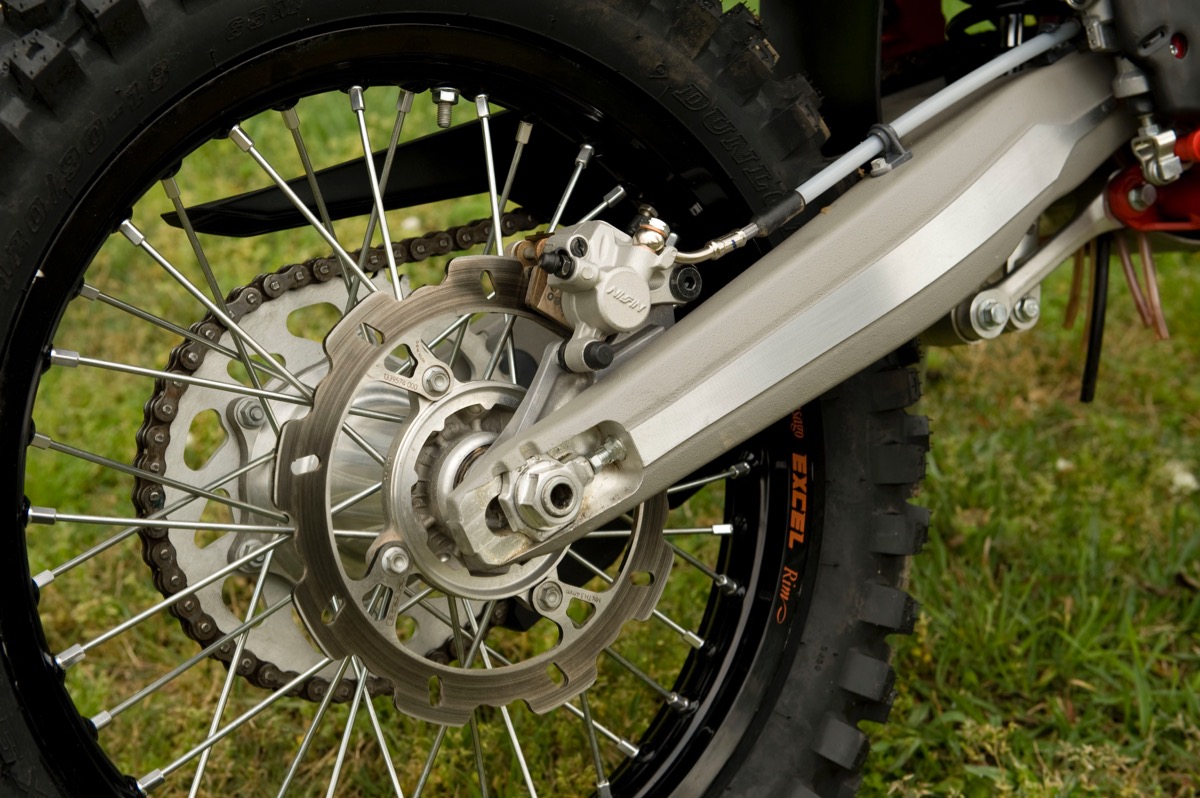 WHERE YOU SIT
Betas have always been slim, and the new bikes are no different. The best bit about what is a reasonably conventional ergonomic package is just that – it's conventional! There's no doubt you're on a European bike, but it doesn't feel foreign or just plain weird like some.
The handlebars are a good width, with quality standard grips, solid feeling brake and clutch levers, and the clutch is hydraulic, light and smooth. The 'bars are adjustable on the top triple-clamp three ways, too, so getting the cockpit right for you is easy.
We found the seats a bit slippery, but suspect some over-enthusiastic silicone spraying may have led to that. You can get well forward on the bike, and moving around on the seat is easy and natural – no yoga needed here.
The dash has the usual range of features we expect these days, though the speedo backlight can be adjusted through shades of orange and red to suit your taste – a nice touch.
The seat pops off with a single push of the button mounted in the handy left side grab rail, though the air filter is accessed by simply popping off the sideplate, KTM-style. Once the seat is off, you find an 8mm socket mounted on the subframe, which allows you to access the quality toolkit mounted by rubber straps on the subframe. A muddy ride would blacken the tools, but it's a neat idea.
The sidestand is light and has a solid foot on its base; the choke is easy to get to; as is the fuel tap. The bikes look horniriffic, though we were worried about the red-painted frames, thinking they would be rubbed raw in no time. We didn't put a mark on them all day.
In short, everything is well thought out, and whatever quirks there were have been banished.
BETTER? YEP
The Betas are definitely better than they were when last available in Oz. Nothing really blew us away on these bikes – except maybe the styling and neat touches everywhere – but nothing upset us, either.
They are definitely built with the trailrider in mind, and the best bit is, despite not being hard-edged, bitches of things to ride, they actually look race ready.
The first two Betas in the country are good things, no doubt, and deserve to get bums on seats. The upcoming 400 and 350 versions sound interesting, too, and will be here later in the year. Priced at $12,695 (Beta RR450) and $12,995 they are in the ballpark price-wise. The biggest hurdle for Beta is building the infrastructure to give people the confidence to buy them.
Parts back-up, dealer service and reliable communication channels are all-important, something importer Gary Grealy knows all about and is putting big efforts into further establishing. That will be the making or breaking of these bikes, but rest assured the bike itself is well-refined, well-built and enjoyable to ride. If Beta can convince the bike-buying public they are also enjoyable to own, there will be more of them in the Aussie bush.
Rider Feedback
Geoff Braico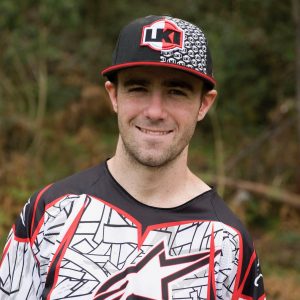 The Beta RR450 engine doesn't have the power its Euro competition has, but it can be ridden fast as it's so smooth. That's why I preferred the 520! Suspension-wise I did have some headshake, but it was very comfortable, and I really enjoyed riding it. I was happy jumping on it for the first time and smashing berms with it straight away. Nothing blew me away, but nothing disappointed me either. I did have a drama changing gears at times, as I think the gearlever is in an awkward position, so from second to third I couldn't get it easily. To race it, I'd just firm it up and open the exhaust up, and go for it! They look great, too. I reckon the Beta RR450 may be a top five bike in the upcoming shootout – we'll have to wait and see…
Ben Grabham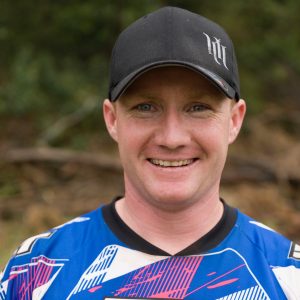 The bikes are definitely targeted at the trail rider, I reckon. I was pretty impressed with the engine: it's very smooth, and there's not much of a hit anywhere with either the Beta RR450 or 520, which gives it the nice easy-to-use power. I liked the 520 best, as it had a bit more power to suit racing, but a pipe would liven both up I reckon. The suspension is a bit soft if you're trying to go super fast, but at trail pace it's really comfortable and capable. The bike feels really light and maneuverable. It's really simple to work on too, and has a good sidestand. There's plenty of room to move around on it. I still knew it's an Italian-made bike, it has its own feel, but there's little to fault. It's a well-built bike and I really liked it.