KTM racing team's Kirk Gibbs and Nathan Crawford finish on 2023 ProMX Championship podiums.
Following eight hard-fought Australian ProMX Championship rounds, KTM Racing Team's Kirk Gibbs has finished in third place overall in the premier MX1 class standings, while MX2 title challenger Nathan Crawford secured second place in the final standings as the curtain closed on the 2023 season at Coolum.
Gibbs opened his race weekend by posting the fifth-fastest lap-time during Saturday's qualifying session, which he would back up with another fifth place in Sunday's Top 10 Pole Shootout.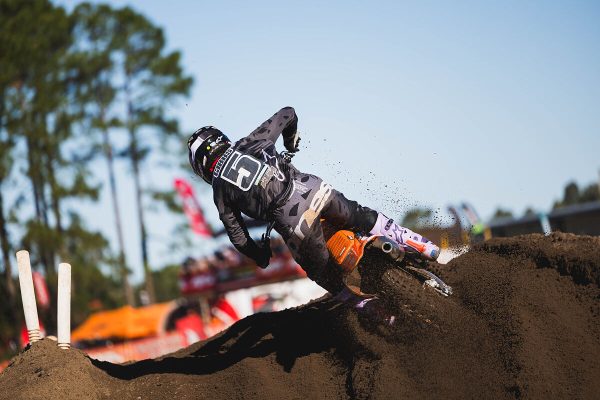 In a close championship fight for third place, the former MX1 champion powered his KTM 450 SX-F to the holeshot in the first moto, navigating the deep sand whoops of the iconic Sunshine Coast venue to a fifth-place result. A strong ride when the circuit was at its roughest in moto two saw Gibbs finish in third, successfully claiming third overall for the round and sealing the final place on the series podium.
In the MX2 class, Crawford recorded the fourth-fastest time in qualifying, before fighting through the pack and the pain of a coccyx injury in the opening moto to finish second. Suiting up for another determined ride in moto two, the Queenslander pushed hard to take third place, which landed him P2 overall for the final round.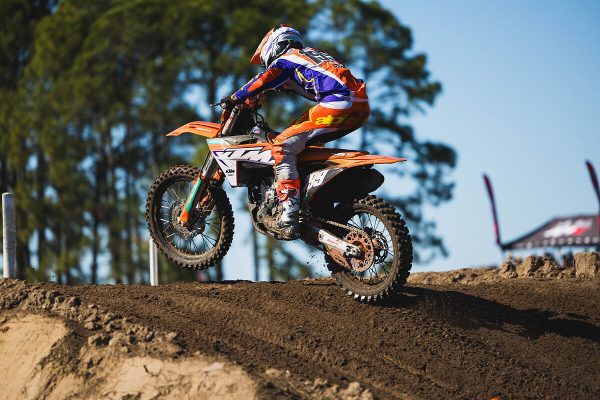 Claiming seven race wins and three overall round victories this year, Crawford pieced together a solid championship campaign in 2023, and raced to P2 in the MX2 class championship standings.
Western Australian rookie Kayden Minear enjoyed a strong haul of points at Coolum, as the sand specialist posted two consistent results across the two-moto format. He rode to a 4-8 scorecard, which earned him fifth overall for the round and sixth in the MX2 standings following his first year of full-time professional competition.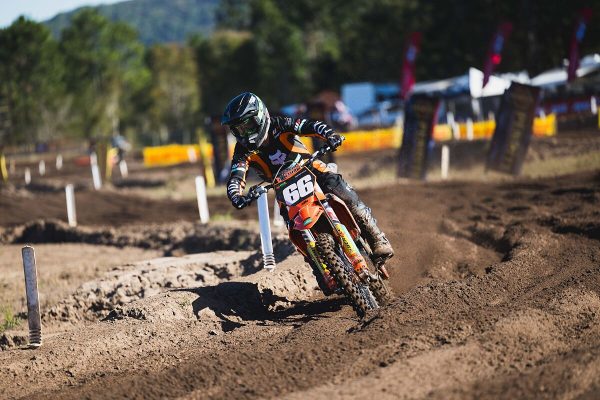 Kirk Gibbs: "Last round here in Coolum, it went really well for me – I had a solid day and ended up third overall for the round and third overall in the MX1 championship. I'm happy with how the season ended and really can't thank everyone from the team enough for all their effort throughout the year!"
Nathan Crawford: "We gave it everything we had here in Coolum. I had a big crash on the opening lap of qualifying yesterday where I got cleaned up by another rider, having gone down leading the field. We lined up today, which was really tough as the body wasn't where it needed to be, but we ended up salvaging P2 on the day and for the championship. I scored a good number of wins and podiums throughout the season, so I've got to be happy with that. We showed a lot of fight and dug ourselves out of a pretty deep hole from the beginning of the season, so I can't say a big enough thank you to the team. We fought hard and I'm proud of what we accomplished together in this year's motocross championship."
Kayden Minear: "Coolum was a blast! I was super-happy with my speed, though I just tightened up a little bit in both motos as the rack was so rough here today. Overall, I ended the season with a fifth overall here at the final round, which I'm happy with, and now my sights shift to the supercross season!"
2023 Australian ProMX Championship – Coolum Pines MX, QLD
MX1 round eight results:
1. Kyle Webster (Honda) 50
2. Dean Ferris (Yamaha) 44
3. Kirk Gibbs (KTM Racing Team) 36
4. Jed Beaton (Honda) 35
5. Hamish Harwood (KTM) 33
MX1 championship standings:
1. Dean Ferris (Yamaha) 315
2. Jed Beaton (Honda) 291
3. Kirk Gibbs (KTM Racing Team) 258
4. Aaron Tanti (Yamaha) 249
5. Kyle Webster (Honda) 248
MX2 round eight results:
1. Wilson Todd (Honda) 50
2. Nathan Crawford (KTM Racing Team) 42
3. Noah Ferguson (GASGAS) 38
4. Brodie Connolly (Honda) 35
5. Kayden Minear (KTM Racing Team) 31
MX2 championship standings:
1. Wilson Todd (Honda) 334
2. Nathan Crawford (KTM Racing Team) 299
3. Brodie Connolly (Honda) 265
4. Rhys Budd (Yamaha) 233
5. Noah Fergusson (GASGAS) 227
6. Kayden Minear (KTM Racing Team) 198