BIKE COMPARISON | Beta RR200 v RR480 | Bike Reviews | Features
Motorcyclists have been arguing the toss between two-strokes and four-strokes and big-bore versus small- bore since they first strapped an engine to a frame and called it a motorcycle.
WORDS // MAT BOYD | PHOTOS // Troy pears – THIS FEATURE WAS PUBLISHED IN ADB ISSUE #479
Some love the power of the small-bore two-stroke and others like the roar of a big-bore between their legs.
What I find interesting is that we're prepared to fight to the death over our favourite bikes without paying any attention to the facts. I'm no stranger to it, I've had guys come for me with pitch forks because I haven't praised their favourite brand or engine capacity as they see fit.
I'm a glass-half-full kind of guy so I prefer to think that it is good for the sport when guys become so passionate about a certain motorcycle. Arguing over bikes certainly beats the hell out of talking politics, that's for sure. So with that being said, let's go for it and take a look at the Beta RR200 two-stroke up against the Beta RR480. This is a real David versus Goliath match up or, in modern terms, it's like sticking Mike Tyson in the boxing ring with Kostya Tszyu. Tszyu has the speed and dexterity but if Tyson hits him then he'll have to go back to last week to pick up his teeth.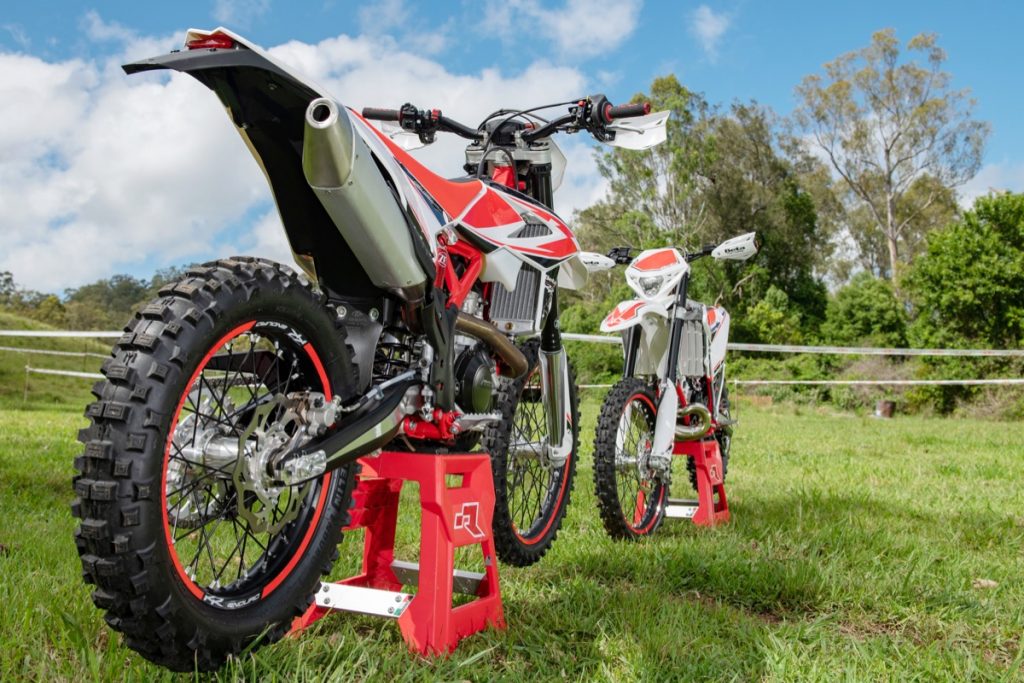 Now in case you're not following me, Tyson is the big, fast and powerful 480 and Tszyu is the fleet-footed but quick 200. As far as 200s go, the Beta is right up the top of the list and the 480 is certainly no slouch either.
The two are both at the top of their game but in the boxing ring they are at opposite ends of the WBF spectrum. One is a 200T with oil-injection weighing only 97.5kg dry and the other is a 480F weighing 12.5kg more. They share the 48mm ZF Sachs fork and shock, with spring and damping adjustments, as well as the same quality Nissin brakes. They both use a chrome-moly frame but the cradles vary to suit the engines. They are both top-quality machines but let's see how they fit in the real world.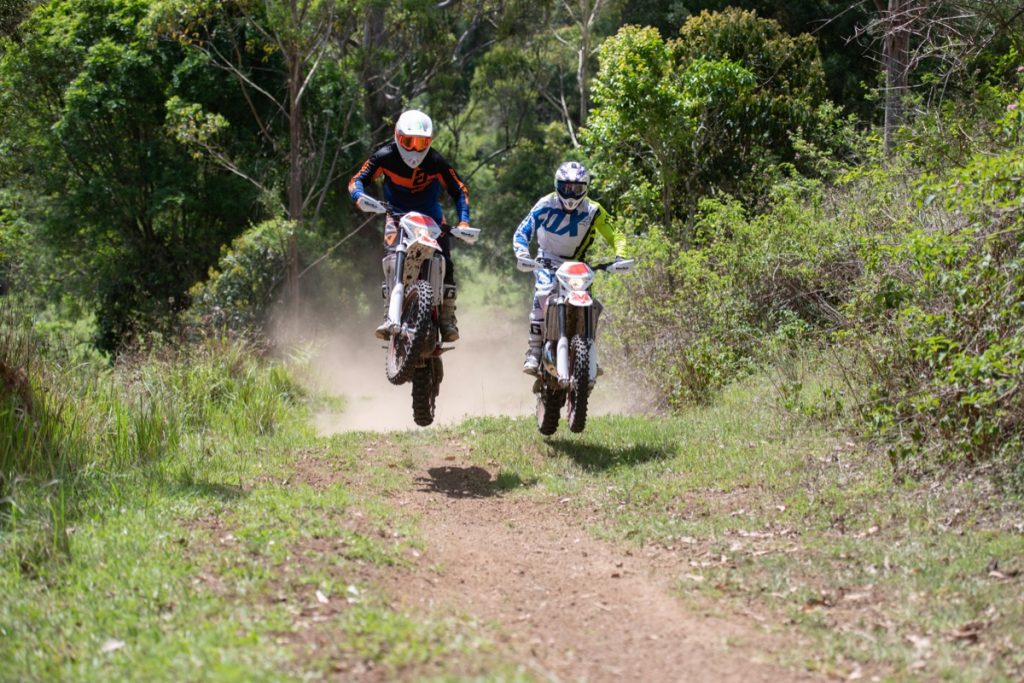 WHAT FITS WHERE?
The 480 loves wide-open tracks and faster trails. If you live out in the desert then the 480 is your bike. Think of the 480 as a thoroughbred race horse. It loves to run and doesn't like being cooped up in a small paddock. Personally I love the 480 but they are a handful even for experienced riders.
They are harder to hang on to and more fatiguing to ride but they are a whole lot of fun. No current-model machine will pucker your sphincter like a big-bore four-stroke. If you're riding in the sand then the RR200 will struggle compared to the 480. It will be on redline but still battling to make progress whereas the 480 will just eat the sand and spit it out the back.
In tight trails, the 200 will show its real colours. It is nimble so it is much easier to change direction on and pivot around the trees. I'm not saying the 480 won't do it, I'm just saying it requires more input from the rider and takes more effort. On the trails you tend to be holding the 480 back and need greater throttle and clutch control to keep a handle on it.
You are much less likely to find yourself hugging a tree from an accidental whisky throttle on the 200. If I had to place the 200 somewhere I would say it belongs in the trees or on tighter, technical trails. It also makes a fantastic hard enduro or endurocross bike. The 480 belongs in the desert or on faster, open trails where it can be opened up and let run free.
IS BIGGER BEST?
I've always been told that bigger is better but, when it comes to the 200, size does matter. I'm afraid if you are too big then you will most likely struggle with the power.
I'm 90kg and the RR200 pulls me around just fine but I would expect that anyone much bigger would start to struggle and find it under-powered.
If you're more around the 70-80kg mark then the 200 will be your jam. It will pull you along quite nicely while you will still have enough size to throw it around easily. The 480 is not necessarily so friendly towards smaller riders. The bigger bike takes more muscle to ride. Smaller, experienced riders can throw it around well but novice-to-intermediate riders who are vertical challenged may struggle. The 480 is a big, fast bike so I would suggest that, if you are a novice, the 200 would be the best place to start. Once your skills have progressed you can make the jump up to the big bike.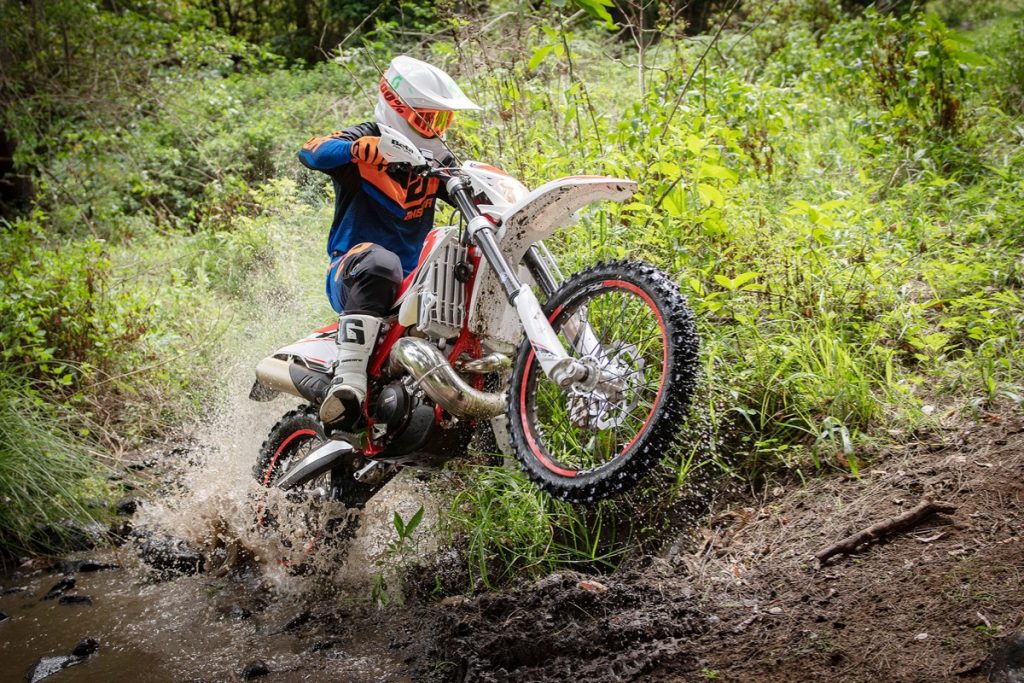 WHO'S FASTER?
In a straight drag race the 480 is naturally going to win but here's the tricky part that everybody seems to forget. We race through the bush. That's right, we race through, around, under and over obstacles. The fastest bike in the straight line is not always the fastest bike around a loop in the bush.
The bike needs to be nimble and it needs to be easy to ride. This is what makes a bike fast around a cross-country special test. The other thing to consider is how fatiguing the bike is to ride. If you can ride the bike fast for 15 minutes but it tires you out and you have to slow down for the next one hour and forty-five minutes then your race is going to be very slow.
If the bike is easier to ride and you can ride it faster for longer, then your finishing position in the race will be better. This is an easy concept that is so often forgotten. A faster bike does not always mean a better finish. Now if you're just a trailrider you might be thinking who cares I only trailride but ask yourself this. If you ride for six hours on a Sunday and you are totally spent by the third hour you have to spend another three hours riding in agony to get back to the car. Now if you chose the bike that was easiest for you to ride then you could potentially ride for the entire six hours before getting worn out.
CAN WE SWAP?
Now so far it's sounding like I am saying the big bike is for big riders and the little bike is for little riders. To a degree I am, but there is an exception. A big guy on a 200 is just hard work. He will have to constantly work the clutch and the gears to keep the bike going, which is not healthy for the bike and tiring for the rider.
He would be better off, would conserve more energy and would feel much more comfortable on the 480. Now a big guy with a high level of skill has the potential to ring the neck out of a 200 and ride it just as quick as the 480. A smaller rider with a low level of skill is going to have a tough time on a 480.
The power can be intimidating and can cause the rider to get into situations they otherwise would not find themselves in on a less powerful bike. Now here comes the compromise. A small rider with a high level of skill is able to ride a 480 just fine but the skill level must be high.
So, the 200 is for smaller or less-experienced riders. If you want to buy one because they look like heaps of fun but you're 100kg, think again. The 480 is typically for experts or larger riders but average punters can lug them safely.
UP OR DOWN?
The last thing to consider here is riding style. The techniques for riding a 200T and a 480F are quite different. Because the 200 has less torque, the engine needs to be revved constantly and the clutch will need to be used more frequently to keep the revs up. If the revs drop too far then the motor will fall out of the powerband and you will need to get the revs back up to get the bike to take off again.
These days, with the addition of exhaust power-valves, the two-strokes produce much more torque than they used to, the powerband is much less aggressive and the grunt is spread over a broader rev range but the riding style is still different.
The 480 produces loads of power and torque so there is no need to rev the engine so high. The clutch is used much less frequently and you can rely on the power to pull you over obstacles or through corners. You do not have to change gears anywhere near as much and if you get into trouble and need more power then there is always plenty more waiting. If you are shifting down to a 200 from a 480 then you will need to learn to rev the engine harder, change gears more frequently and hammer on the clutch more. If you are stepping up to the 480 from a 200 then you will have to learn to rev the engine less, use the clutch less, change gears less and rely on throttle control more.
Beta RR200
Engine
Type: Reed-valve, piston port
Displacement: 190.2cc
Bore/Stroke: 62 x 63mm
Cooling: Liquid
Compression Ratio: 13.5:1
FuelLing: Keihin PWK36
Tank Capacity: 8.5L
Transmission: Six-speed
Clutch: Brembo, wet multiplate
Dimensions
Wheelbase: 1477mm
Seat Height: 930mm
ClearAnce: 325mm
Weight: 97.5kg dry
Suspension
Front: ZF Sachs 48mm, 295mm travel
Rear: ZF Sachs monoshock, 290mm
Brakes
Front: Nissin twin-piston, 260mm wave
Rear: Nissin single-piston, 240mm wave
Running Gear
Front Tyre: Michelin Enduro 90/90×21
Rear Tyre: Michelin Enduro 140/90×18
Price & Contacts
RRP: $11,695
Web: betamotor.com.au
Phone: (07) 5520 2483
In short
Pros
• Nimble
• Quick handling
• Light
Cons
• Less power
• Less torque
• Needs to be ridden harder
Beta RR480
Engine
Type: DOHC, four-valve
Displacement: 477.5cc
Bore/Stroke: 100 x 60.8mm
Cooling: Liquid
Compression: 11.86:1
FuelLing: Synerject dual injectors
Tank Capacity: 8L
Transmission: Six-speed
Clutch: Brembo, wet multiplate
Dimensions
Wheelbase: 1490mm
Seat Height: 940mm
Clearance: 320mm
Weight: 110kg dry
Suspension
Front: ZF Sachs ZF 48mm, 295mm travel
Rear: ZF Sachs ZF monoshock, 290mm
Brakes
Front: Nissin twin-piston, 260mm wave
Rear: Nissin single-piston, 240mm wave
Running Gear
Front Tyre: Michelin Enduro 90/90×21
Rear Tyre: Michelin Enduro 140/80×18
Price & Contacts
RRP: $13,395
Web: betamotor.com.au
Phone: (07) 5520 2483
In short
Pros
• Powerful
• Grunty
• Roomy
Cons
• Heavier
• Harder to ride
• More fatiguing