This year marks the end of an era for one of KTM's models, the trusty 200EXC.
This year marks the end of an era for one of KTM's models, the trusty 200EXC.
KTM has decided to try and condense its range and the 200 hasn't made the cut. It's a shame as I've always seen the 200 to be the perfect bike for the average trailrider, the kind that rides maybe once a month and just enjoys going out with the boys on some nice, tight singletrack with maybe a few open fire roads where he can hear the sweet sound that is a two-stroke wide open.
The 200 was introduced in 1997. It came in EXC and MXC versions. KTM tried to grow the 200cc enduro market and added an SX version at one point, and an EXC GS version as well, although not all versions came here.
Almost 20 years later, the 2016 model is a whole different machine. It's light, nimble, has a nice motor that can be chugged down to almost nothing on technical stuff and then rev and rev and rev if you feel like opening it up. It even has electric start!
I wondered why a 200 needed the button because they are so easy to kick over but, once on board, I was quite happy to have it there. Another huge plus for this bike is the low maintenance.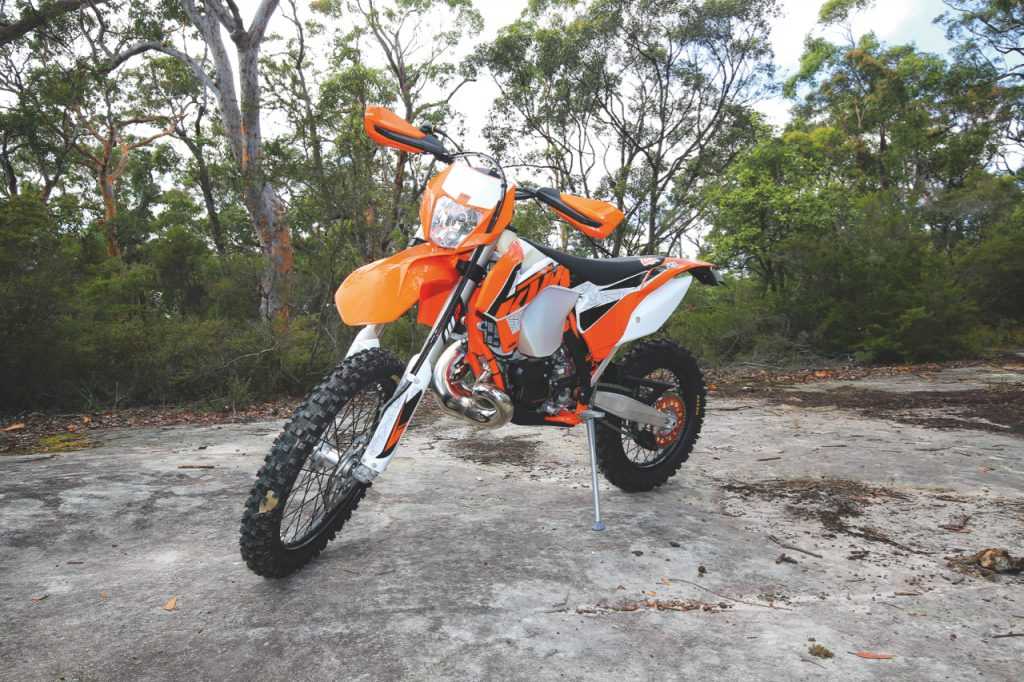 RACING CAREER
It has to be one of the most bulletproof motors around. This little two-smoker is a heap of fun and it's a real shame that it won't be around anymore.
As good as the 200EXC is, it hasn't really had a stellar racing career. That is not because of the bike itself, it is more to do with the classes and the type of racing in Australia.
For years, there was the Under-200cc class in the Australian Four-Day Enduro but once the new age four-strokes became more reliable and rideable and the class names changed to E1, E2 and E3, the 200 got stuck in E2 where it was up against the 250 two-strokes and 450 four-strokes.
There are still some riders that rely on a 200 for their race weapon. David "Flea" Fleming has piloted his trusty 200 to the A4DE Masters title for the last two years. He may be the last person to win an Australian title on one. That's a pretty cool claim to fame.
THINGS WE'RE GOING TO MISS:
1. SIMPLICITY This bike is almost maintenance-free. It's well built, the suspension is quite balanced, the motor is super reliable and I can't remember the last time I heard of a 200EXC having dramas. Like I said earlier, if you're a rider who doesn't have a whole lot of time to do maintenance, then this bike is for you. Ready to go straight off the showroom floor.
2. THE RIDE I was pleasantly surprised with how easy this bike was to ride. I have ridden four-strokes for the last few years and hadn't ridden a 200 since '07. The track we rode on was quite rough yet flowed nicely. The little 200 was loving it. Once I figured out how the bike revved and how to ride it, I felt right at home on it and was happy cutting lap after lap on it.
3. TECH STUFF I went away from the test loop into the valley and decided to go down to the valley floor and come back out. Thanks to the torquey little powerplant, light, nimble feel of the bike and the electric start, I was hopping over all the nasty stuff and back onto the ridge in no time. The bike practically crawled out of the valley with little effort and even when I got stuck, it was super easy to get out of trouble and back on the move.
4. RESALE It's hard selling second-hand bikes. No question. And selling an unregistered bike these days is even harder. However, the 200 EXC can be registered and that is a huge plus. That gives you that piece of mind if you go riding in a state forest and you came across the boys in blue. It also makes a big difference for when you want to sell.
5. SOUND Everyone loves the sound of a smoker. It's a crime to discontinue a machine that provides music to any die-hard off-roader's ears.
THINGS WE WON'T MISS:
1. That expansion chamber sticks out a mile. I always thought the weird way the pipe got super fat and then skinny heading into the muffler looked strange. It's different to any other two-stroke and I've always said that if I owned a 200, I would change that asap.
2. Riding a two-stroke that's been strangled half to death with all the Euro 5 emissions crap that's coming.
3. Mates giving me a hard time about riding a 200.