ADB Heritage Editor Warren Jack reflects on ADB's exclusive test of the Factory Yamaha YZ250 AMA Supercross bike ridden by Chad Reed in 2003.
The first obstacle to testing a factory bike, especially one ridden by Chad Reed, is getting a tester of sufficient ability to really make it work and, as much as the ADB staff hungered to throw a leg over Chad Reed's bike, the actual testing of the Chad Reed Yamaha YZ250 was done by Kiwi and Australian MX champ and ex MXGP rider, Darryll King.
At first glance Reed's bike didn't look to be dripping with factory parts manufactured from unobtanium except for the gold-anodised fork. There was nothing ostentatious about it but it was stuffed to the gills with bits that were subtly fast and functional.
King's first impression once he was on the bike was how small it felt for his 185cm frame. A stock YZ felt quite roomy to him, but Chad Reed had shortened his bike by 10mm in the fork and shock to keep the centre of gravity low, the handlebar was close to the rider and he suspected a significantly reduced triple-clamp offset as well.
In terms of overall power, the Chad Reed Yamaha YZ250 was not that much more powerful than standard but it had very smooth and useable power, with "incredibly good jetting everywhere through the rev range – just crisp as". King also noted that the throttle response and torque were impressive, especially off the bottom, with a quicker reaction time than a standard YZ.
The result was to make it easier to clear technical stuff on supercross tracks like step-on and step-off sections where instant response is important.
THIRD-GEAR STARTS
The bike flattened off up top sooner than the standard model, indicating how it was set up exclusively for SX.
Chad Reed remarked that he pretty much stayed with the same engine settings all season, as it was easy to ride on both hardpack tracks and ones with plenty of traction. He also mentioned that it made the two-stroke YZ "pretty much as close to a four-stroke as you could get".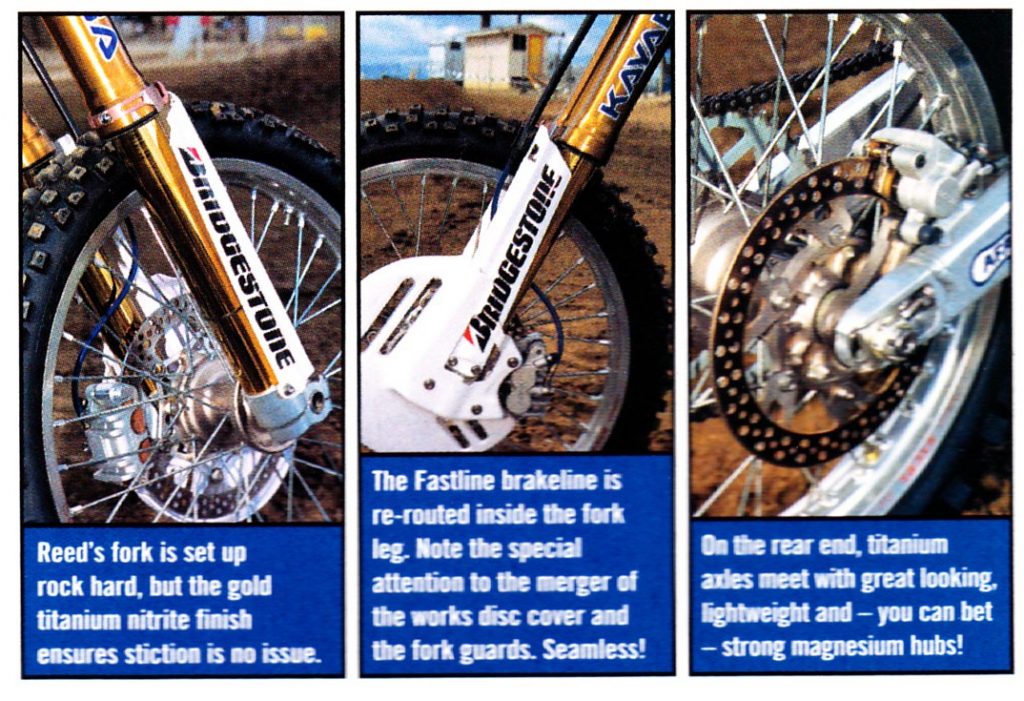 The factory gearbox ran only four ratios, with Reed running either a 53- or 54-tooth rear sprocket matched to a 14-tooth front. King said that this allowed the use of third gear in slow corners, which would be second on a stocker, and the use of fourth where a production model would never use it.
Third-gear starts were possible and King assumed the set up allowed Reed to use third more than any other gear on most tracks, minimising the number of gear changes per lap. King discovered that the Reed YZ250 was a purpose-built weapon for aerial work that didn't know the meaning of bottoming out no matter how hard it was slammed into things.
It was set up specifically for an aggressive style of riding that allowed hitting up-ramps at full noise, and the subsequent landing without pain. The Kayaba shock rode low in the stroke and never kicked back through the whoops, allowing them to be nailed wide open every time yet it didn't pack down.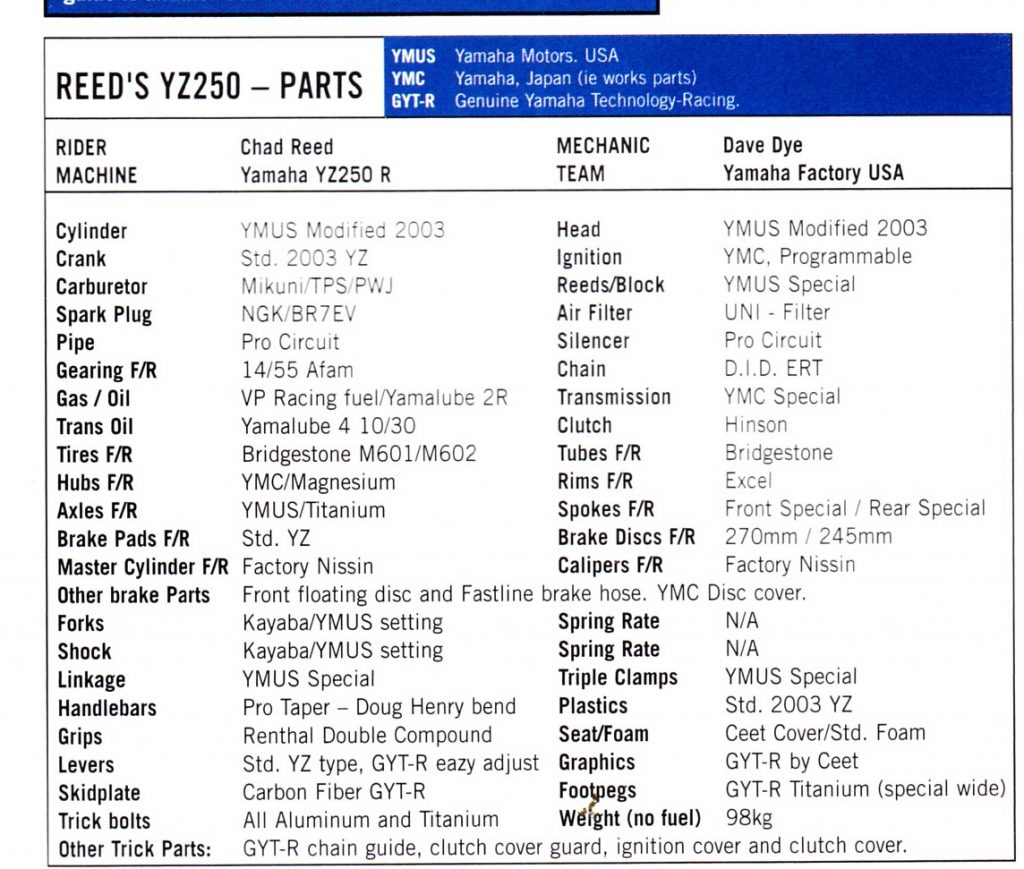 The KYB fork was harder than any pro rider in Australia would run it, very stiff but not harsh.
King thought it was possibly due to the high-speed compression valving more than just stiff springs.
Exotic magnesium and titanium bits here and there knocked 3kg off the weight from stock, a saving that can add up over 20 laps of supercross.
The Yamaha Factory USA Team bike had parts from the Yamaha Motors USA workshop as well as Yamaha Japan YMC and GYTR bits and pieces.
The engine was made up of a YMUS-modified 2003 head and cylinder with a standard crank, YMC magnesium hubs and YMUS titanium axles, a factory Nissin master cylinder and calipers, YMUS settings on the Kayaba suspension, a YMUS special monoshock linkage, YMUS triple-clamps, reed block and reeds, YMC programmable ignition, carbon fibre skidplate and all the bolts were aluminium or titanium. Heritage Editor Warren Jacks