Ben Grabham scored a test ride on Rod Faggotter's Yamaha WR450F Dakar Rally bike before Rod took off to Saudi Arabia.
THIS YAMAHA WR450F RALLY TEST WAS PUBLISHED DURING THE DAKAR RALLY IN ADB ISSUE #486 – WORDS // BEN GRABHAM | PHOTOS // JP Media
As I write this, Rod Faggotter is blasting around Saudi Arabia in the Dakar Rally on a privateer WR450F rally bike after being dumped by the factory team. Rather than being pissed off about what happened, 'Rocket' was happy to be running his own show on a Drag'on Rally-prepared WR450F Rally Replica, with support from Yamaha Australia, and not have to pick up the pieces as the works team's "water boy" while its Euro stars implode around him.
"This is the first time I'll be able to have a red-hot go on a bike that is very close to factory spec," Faggotter said before leaving. "It will be different as a privateer but I'll be on a bike that I know well."
The Longreach Yamaha dealer was so relaxed about the whole deal that he was happy to let me have a ride on his $50,000 Drag'on practice bike only days before jetting off to Jeddah.
PROVISO
Knowing that Rod was very close to going, along with a crate full of the suspension parts, I really didn't think there would be enough time to arrange a test. Assuming the answer was going to be no, I was totally surprised when he said "sure, I don't have any time, but let's make it happen".
Rod did put a couple of conditions on our test, one being that it had to be near Port Macquarie as he didn't want to drive too far from north Queensland. Most people would dread 1700km, but being an ex-rally rider myself, I knew Rod was serious when he said that 1700km was okay.
The other proviso was that he wanted to get the test done before lunch so he could head home in the afternoon. Both of these were more than reasonable, so we locked it in.
I had close to a six-hour drive to Port Macquarie myself, but it was a good chance to reflect on my times racing Rod and to consider how I expected his bike to be set up. It would certainly be very different from Mark Davidson's Husqvarna FE450 Rallye du Maroc bike that I tested last year (ADB #484).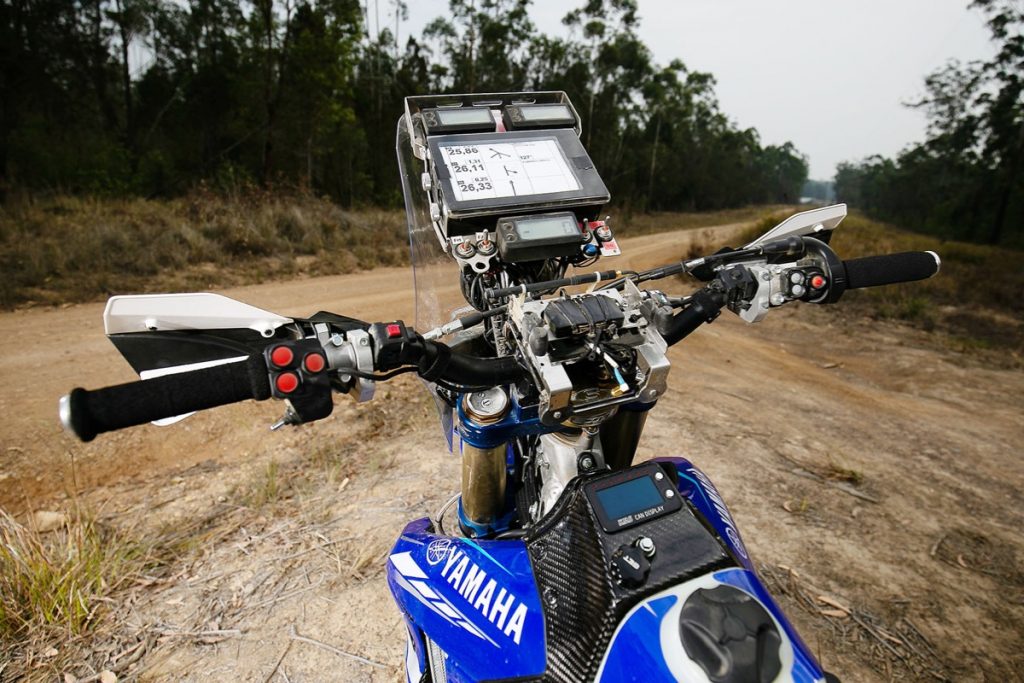 My first experience of racing Rod was at the 2008 Australasian Safari in WA. I had won the event the previous year and was back to try to retain the number one. I expected my main competition to come from Todd and Jacob Smith, who were the official Yamaha team, or my older brother Damien, who was on the Honda team with me.
So it was a bit of a surprise to find I was being hounded by a guy I had never really seen or heard of, Rod Faggotter. I worked out pretty fast that Rocket was a good package as a cross-country rally rider, as any time the navigation got tough he was always right there. Then, during the stages that really tested reliability, he was smart enough to get his bike to the finish, while most of the factory riders abused their bikes to death.
Racing against Rod and seeing how well he could handle most rally situations made me pay close attention to what he was doing. He turned 43 last year, so he is no spring chicken, but at Dakar it is not uncommon for riders to be in their late forties.
I believe having lots of rally experience, good mechanical skills and less of a "bull at a gate" mentality has it's benefits in a long-distance race like this. I guess, because I feel like Rod has been racing rallies forever, I kind of expected his bike to be set up kind of soft, for a rider who was all about finishing rather than outright speed.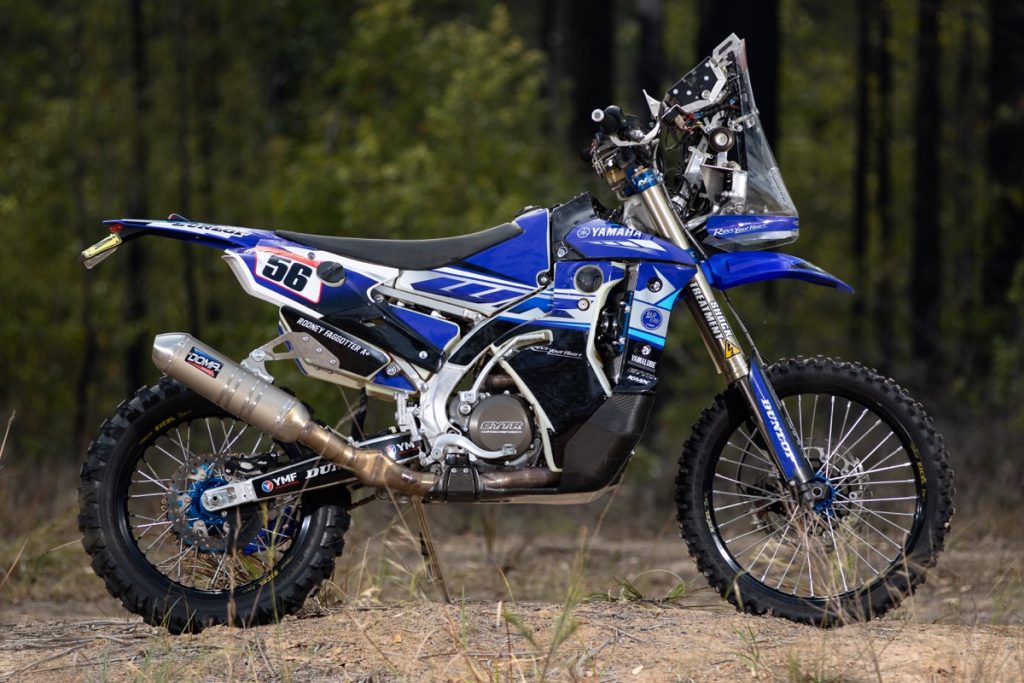 I had seen pictures of Faggotter's Drag'on Rally Race Service WR450F Rally Replica but they just didn't do it justice. When you see it in the flesh you realise how much time has really gone into transforming the WR-F into a rally bike.
Everywhere you look there are trick parts and the four fuel tanks, which give a total of 41 litres, certainly look like the factory items. They need two pumps to get all that petrol to the fuel injection system. The gearbox is reinforced but remains a five-speed, there's a kickstarter you don't get on the stock bike anymore and there's a cooler to boost the stock oil capacity, which we'd imagine is more than the stock 900ml.
NAV TOWER
The Drag'on CNC-machined and welded navigation tower is a work of art and runs a Migtec roadbook holder and RNS speedo. A Scotts steering damper stops it all flapping in the breeze on the blue-anodised Nissin triple-clamps. The swingarm is extended and converted to hold some of the required water while Haan supplies a pair of its bulletproof wheels which are fitted with mousse tubes.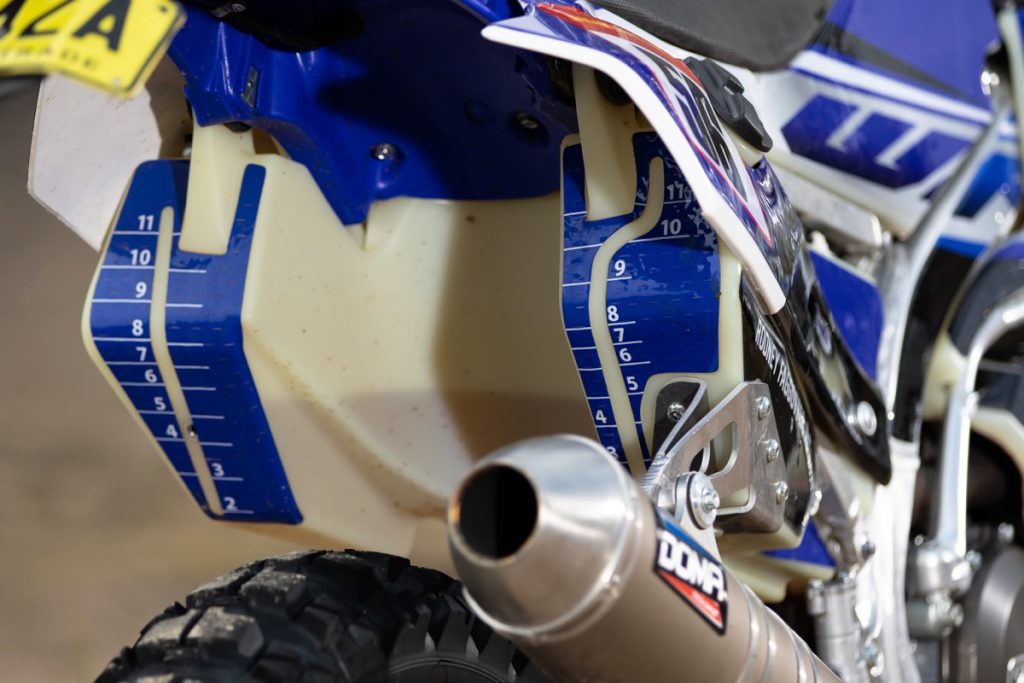 Rod gave me a quick run-down on which button did what and then it was my turn. Throwing a leg over the thing, I did feel intimidated by the overall height. Drag'on, which is based in Calais, France, does provide a specification list, but that doesn't give a seat height, perhaps to avoid frightening people of normal height away from their credit cards.
Rod's WR450F rally bike I'd say is a good 20mm taller than the 955mm of the current WR450F due to the larger fuel tanks and longer swingarm, so it's easy to understand how it felt a bit too tall for my muscle-bound 178cm frame. Taking off down the first straight it was evident the practice bike's engine was truly based on a standard WR450F, it had tonnes of bottom-end power and strong mid-range but signed off up top.
Rod was due to be running factory camshafts in his Dakar race bike, which were expected to make a big difference to the top-end. As it was, the under-slung Doma stainless steel exhaust put out a sweet, deep note that wasn't too hard on the ears.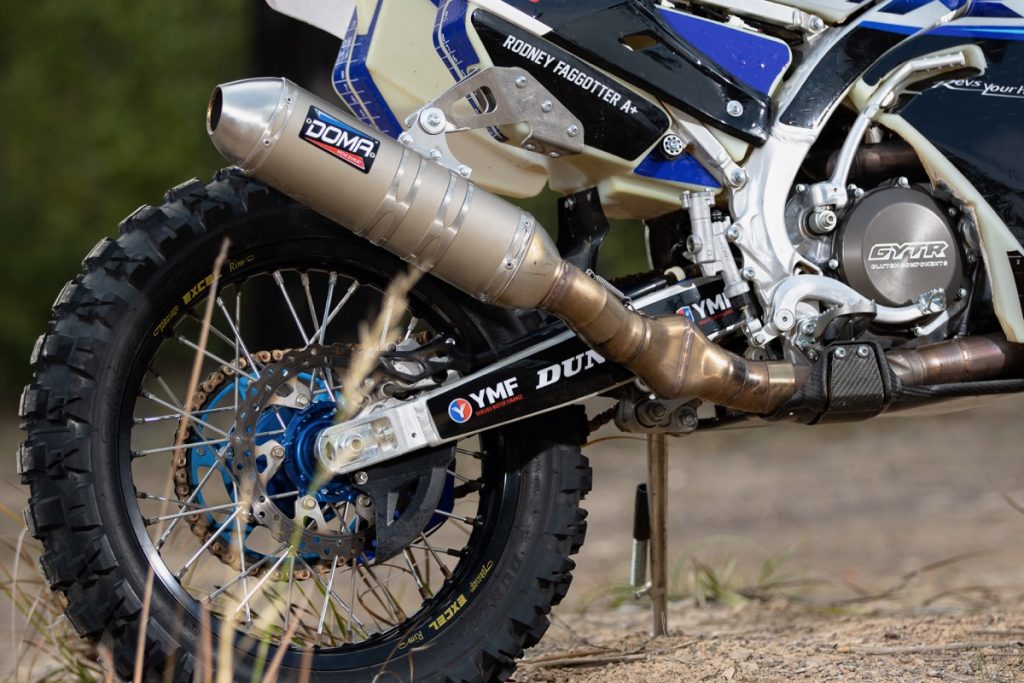 It wasn't long before I found some rough terrain. I was eager to find out what setup Rod was running, after some tweaking by Shock Treatment. Charging into the first rough section, I gripped the Yamaha super tight as I didn't know how it would react but the fork just glided over everything like there was no real bumps at all.
The shock reacted a little differently. It was fitted with a stiffer spring to handle all the fuel and was set up noticeably firmer than the fork, meaning I felt every bump through the rear-end.
SEND IT
A good rally suspension package has to be able to handle big, unexpected hits, so I found the biggest mound I could to launch it off and send it as high as I could. I remember thinking while I was in the air that the fork was going to bottom out hard, considering how well it had soaked up all the choppy ground, so I was surprised to find it soaked up big hits just as well as it did small ones. In this environment the shock seemed a lot more at home and soaked up the big hit as it was designed to do.
Gone was my theory that Rod might have his bike set up for comfort and consistency. He may be older but his set-up was something I'd expect to find from a young charger going for outright speed.
I am pretty sure a lot of people would like to know how Rod's Yamaha stacks up against the current KTM 450 Rally Replica but I haven't ridden one of those. I have raced the model that Pricey won his first Dakar on in 2016, so I'll give you an idea of how the Drag'on bike stacks up against that.
Let's say the KTM was a 10 out of 10, especially as it won the 2016 race, and I'd be comfortable in saying Rod's bike is an eight. The biggest area where I see the Yamaha being behind the KTMs and Huskies is when it comes to working on them. I know of a rider in last year's Dakar who changed a KTM engine in under 15 minutes and I really cannot see anyone changing a Yamaha one in much under two hours because it is a production-based bike.
On the track, the WR-F Rally Replica's performance would be as strong as anything, if not stronger off the bottom through to the mid-range, although Rod's signed off rather early without the factory cams. That's where I feel the orange and white machines would have an advantage.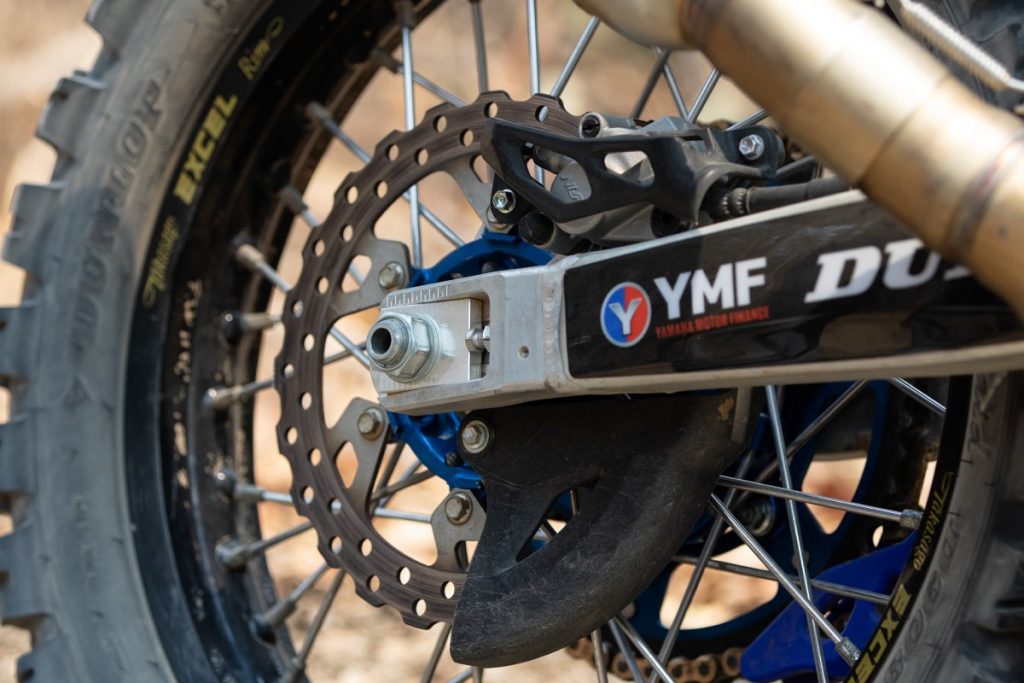 Stopping power feels pretty similar, as I don't believe there would be too many kilos between them, and both run oversize front discs from Moto-Master. On fast, rough terrain, I feel the Yamaha has a slight advantage, as it runs quite a long wheelbase due to the extended swingarm. The faster I went over bumps in a straight line the more the Yamaha liked it. But what gave it speed on the straights made it weak in the tighter terrain as I found the long wheelbase a disadvantage when trying to rear-wheel steer through 90-degree turns.
COMFORT
I didn't expect Rod to have too much trouble avoiding Saudi rocks as visibility on the Yamaha is great, with the clear fairing making it easy to see around the front wheel at what is ahead.
Often comfort is sacrificed on rally bikes, so it was nice to find Drag'on has maintained a comfortable seating position. There isn't much I'd need to change to make it perfect. I'd probably need a lowering link to make the overall height manageable so I could change direction more easily, soften the rear spring for better control on choppy ground and run the rear wheel as far forward as possible to shorten the wheelbase so that I could flick the rear around with less effort.
As I sit here in Bathurst with my fingers crossed, I know Rod's bike is capable of fulfilling his aim of a top-10 finish. It may not be the million-dollar class leader, but it has enough strengths to get the job done. That's impressive when you consider it only runs 50% of the gear typically required to win Dakar which in-turn makes it a more affordable option.
A consistent rider like Rod could easily get a top-10 result to go with his 14th in 2013 and 16th in 2018. Wouldn't that be a little wake-up call for the factory team?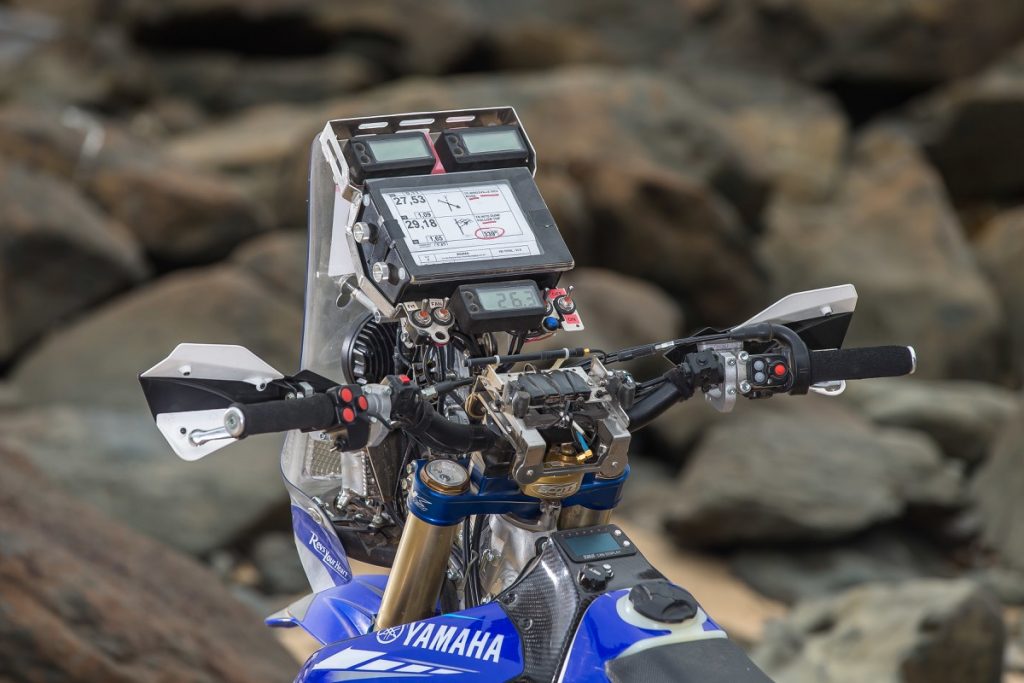 Spot the difference
Not every WR450F rider has enough coin to order themselves a custom Drag'on Rally WR450F Rally Replica for close to €30,000 ($48,600). But I am sure there are plenty of riders who would like to get their current WR450Fs as close to Rod's bike as possible.
First up, you are going to struggle to get that extra fuel capacity but if you shop around there are a few companies that have ones available that will get you close enough for the Sunraysia Safari, Condo or shorter rounds of the Cross-Country Rally World Championship.
Next up would be fitting a tower for the navigation equipment, with Rebel X Sports in Italy being one of the brands I know of that makes great ones for Yamahas. Fit some rally tyres, up the gearing and get your suspension set up to handle the extra weight and you've got a rally-spec WR450F for a quarter of the price. For an event like Dakar where you might want extra oil capacity, must carry an emergency water supply and need an extra wiring loom for the Iritrak GPS gear you might have to think seriously about leasing a bike or buying a customer bike like the Drag'on.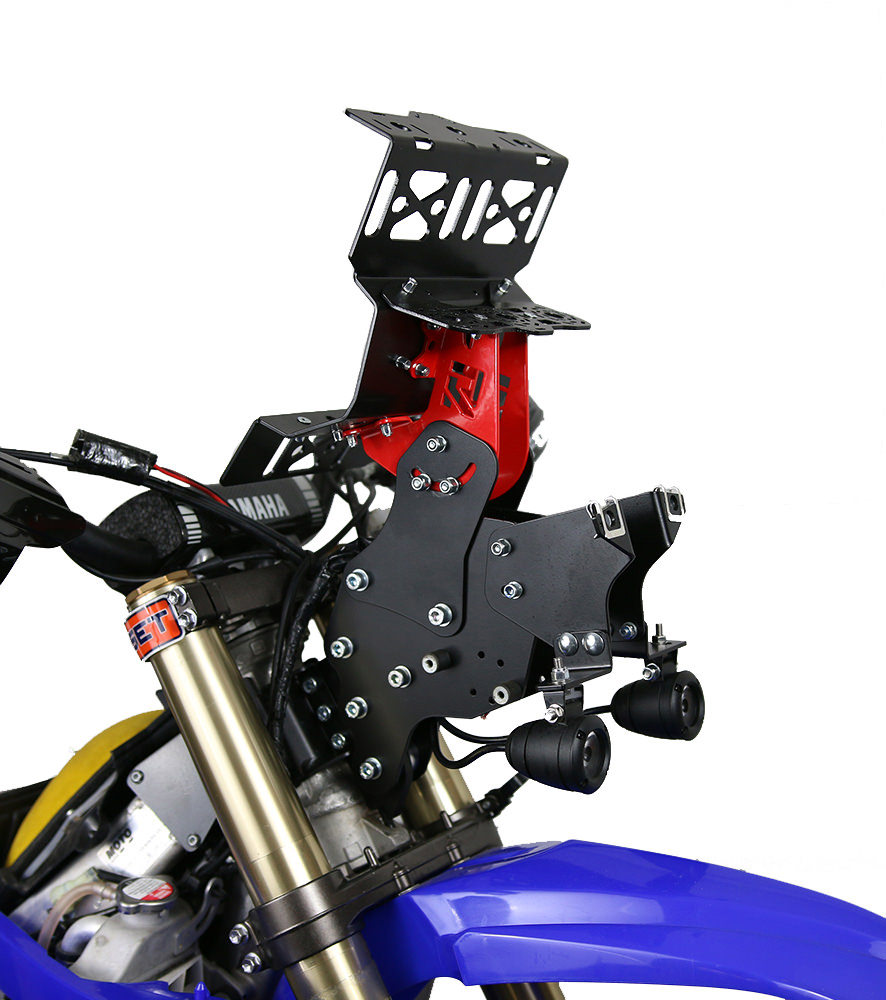 Trick stuff
· Moto-Master wave discs (290/245mm)
· Aviation-standard brake hoses
· Fork-mounted custom oil cooler with expansion tank
· High-volume radiators
· Heavy-duty piston
· DT1 alloy air filter cage
· GET programmable ECU
· Heavy-duty gearbox
· Kickstarter kit
· Heavy-duty springs front and rear
· Shock Treatment suspension tuning
· Scotts steering damper
· Carbon-fibre bashplate
· Drag'on navigation tower
· Migtec roadbook holder
· RNS trip computers
· Barkbuster handshields
· Top front, rear and two x front pannier tanks
· Carbon airbox cover
· Extended swingarm with water tank
· TMD Baja Slide and Glide Kit
A little bit factory
A dedicated Yamaha man, Rod Faggotter was devastated when his factory bike blew an engine on stage three in Peru last year, when he was running in the top 15. For the 2020 event he was replaced as the support rider in the Yamaha Rally Team by British bLU boy Jamie McCanney.
After two top-20 finishes and three DNFs since 2012, Rocket could be forgiven for calling it quits, but he decided to bite the bullet on a Drag'on customer bike.
"I know the majority of people would expect me to say the factory bike I raced last year is way better than the customer-spec bike I'm racing in Saudi but it's not way better," he says.
"Yes there are a few areas where the factory bike is better, especially in the finishing touches. Spec wise, they run a KYB factory 52mm fork mated to a factory KYB shock. Yes, these are cool but the fact I have spent some time setting up and riding on the production-spec KYB fork and shock [which he took with him for the race bike] has me feeling more at home with it.
"The factory bike also uses a lot more carbon-fibre, instead of aluminium alloy. It does look cool but the difference is not overly noticeable on the track. The exhaust is the Doma stainless steel system, where the factory runs Akrapovic titanium systems.
"There is a slight weight advantage for the factory bike in this area but, in saying that, my stainless system is stronger so I'm not worried either way. Engine wise, the factory bike was strong, but I am getting the loan of some factory camshafts for Dakar, so I don't expect it to be far off the performance of the factory engine.
"Overall I don't feel disadvantaged at all stepping back onto a customer-spec bike as the small setup changes I have made give me a really good feeling with this bike."