Doctor's Orders! 2018 Suzuki DR-Z400E TESTED | Bike Reviews | Features
More than 18,000 prescriptions have been filled for Suzuki's DR-Z400E, proving that Aussie trailriders will happily take their medicine.
Words: Clubby
Photos: Tanya Clubb
This feature was first published in ADB issue #462 – March 2018.
Ahh yes, the mighty DR-Z. Tougher than a battleship and damn near unburstable when it comes to exploring the Aussie bush. The dear old Doctor has been providing sterling service for almost two decades now, and has racked up more than 18,000 sales Down Under since its launch back in 2000.
Sure, it's not the sharpest tool in the shed compared to today's fire-breathing, fuel-injected 450cc off-road weapons, but when it comes to bang for your trailriding buck, the good Doctor just keeps on keeping on. With a suggested retail of just $7990 plus on-roads (you'll get it cheaper by shopping around), the DR-Z represents real value for money when you want a trailriding tool that can do it all with minimum hassle along the way.
While this latest model sports a black tank and anodised rims, fresh graphics and a full set of yellow plastics, the DR-Z400E remains basically the same bike it has been since day one. Which means it's packing a 398cc liquid-cooled, five-speed, DOHC motor with button-start that's fed by a Keihin FCR39 carby (you remember carbies, right?)
The motor is wrapped in a full-cradle chrome-moly steel frame with 49mm conventional Showa fork and Showa shock, with 21/18-inch front/rear wheel sizes.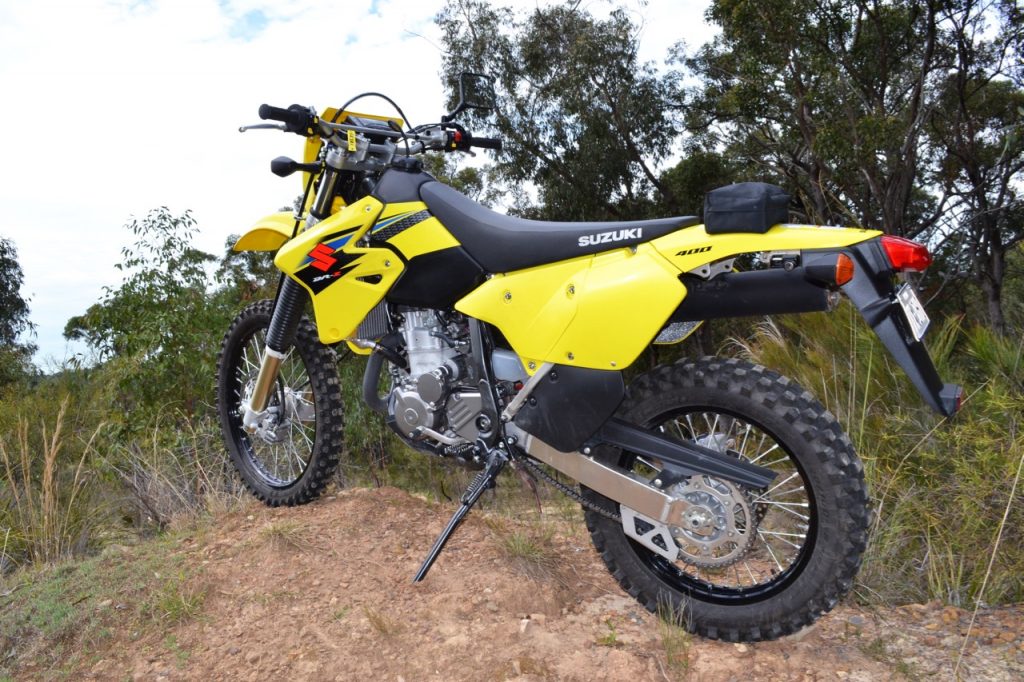 MEMORY LANE
Climbing aboard the latest DR-Z400E is a trip down memory lane if you've ridden one before, or you've ever done a Cape York tour. I've done a few trips to the Tip and the good ol' Doctor always feels the same – which is no surprise, as the model updates are only ever cosmetic.
The DR-Z's stock steel handlebar is still not tapered, real low, and not equipped with handguards, which leaves you feeling absolutely naked as soon as you get into the sticks. The cable clutch pull is good, but not feather light like a hydraulic unit, while the gearbox shifts sweetly.
Starting the bike when cold offers another trip down memory lane, requiring use of the carby-mounted choke button – do you remember them? And when the motor fires into life, there's definitely more bark from the muffler with the baffle removed, so try not to offend the neighbours if you're making an early morning start.
Get into the bush and the DR-Z starts to hit its stride. But let's just all understand the DR-Z is a trailbike, not an enduro. If you want to smash singletrack and launch off erosion mounds there are many lighter, faster and more expensive enduro weapons you can choose from.
But as a trailbike, this Doctor sure knows how to fill a prescription.
The power delivery is strong and torquey and really, really easy to ride. It's actually surprising just how well it will climb and conquer technical sections, and the light clutch pull, low gearing and clean carburetion combine to make picking your way up snotty climbs rather easy. It's only when you get a little over-confident and start tackling real snotty ledges or obstacles and have to start paddling that the Doctor's weight works against you. It's just not enduro-bike light in those conditions.
But on fire-trails and twin-track the DR-Z works really well, in a mellow, good-time kind of way. The suspension is on the soft side by enduro bike standards but, by trailbike standards, the fork and shock are absolutely fine, and both ends have plenty of adjustment to let you dial in the ride to be even better.
The DR-Z's brakes are up to the task, while the ergos are good and the seat is comfortable, but taller riders will instantly be wishing for a higher bend 'bar or risers. And everyone will be wishing for handguards ASAP!
With a 10-litre fuel tank, the bike's range is good and it will nudge 200km in easy-going. Bank on around 160km when you are on it in the bush.
VERDICT
In the value-for-money trailbike riding stakes, the DR-Z400E hits a home run. Aussie off-road riders have known that for the best part of two decades and been voting with their wallets. When they're on a good thing, Suzuki sure knows how to stick to it.
See the full feature in ADB issue #462 – March 2018