Grabbo discovers he has a taste for French fast food after testing the 2023 Sherco 450 SE-F Factory. Here's what he thinks of it.
Rocking up to Sherco Australia's, MY23 model ride day I thought this would be the perfect chance to spend a decent amount of time on the current 2023 Sherco 450 SE-F Factory and see where it fits amongst the full range of Sherco Factory enduro models. Our test location was Broadford motorcycle complex in Victoria, the terrain is your typical Aussie bush, quite dry and slippery coming off a warm end to the summer.
Before I jump onto any bike for the first time I like to have a good look over it to get an idea what I might be in for. The 2023 Sherco 450 SE-F Factory is littered with quality parts and bling, and the Akrapovic muffler and KYB Suspension were the first big brand names I noticed but the list does not stop there. It has trick black anodized billet triple clamps, Brembo brakes, Excel Takasago rims with Michelin tyres, a heavy duty 6mm AXP bash plate, grippy diamond-pattern Selle Dalla Valle seat, a dual-map switch and trick looking in-mould graphics. Sherco definitely have not held back with the quality brand name parts on this model.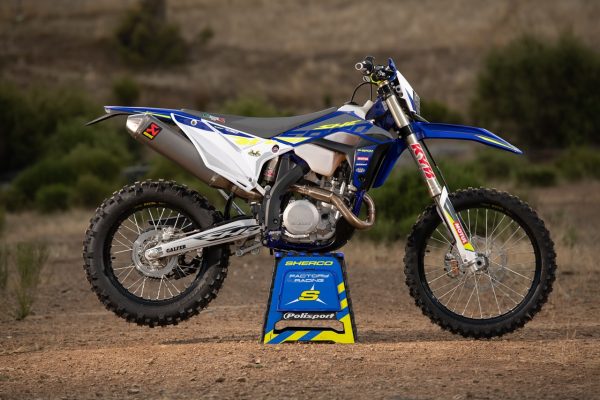 HOW'S IT FEEL?
Heading out onto the test area the first thing I noticed was the unique exhaust note. Just like all the other Sherco models the 2023 450 SE-F Factory has a very unique sound that is not like its competitors. It is a good note that is a mix of modern fast revving four-strokes and old school thumpers.
During my work I get the chance to ride the majority of the enduro bikes that are available these days and the two things that really stand out and give the 450 SEF its own unique feel is the footpegs and handlebars. If you stand behind a Sherco and get your eye level around the foot peg height you can see that they taper downwards, and this gives a very different feeling under your feet to begin with. Then the Oxia handlebar has a very low and straight bend that can make the front end feel low at times. Neither of these are a problem when riding the 450 SEF, they just take a bit of getting use to in the beginning.
Just like the exhaust note the engine performance on this 450 SEF gives off a feel of old school and current thumper power all mixed into one. As soon as you open the throttle at low revs the power is very snappy and responsive and it keeps feeling like this all the way into the midrange. From the mid up to the rev limiter is where it doesn't feel as snappy as it flattens off a lot.
Trail riding and technical enduro sections is where this engine felt great, out on the open terrain it was nice to ride, however it just did not feel super powerful. Another stand out point of this engine for me was the minimal engine braking it has. I like this a lot as it means the bike did not rock back and forth a lot when on and off the throttle.
Sherco claim that all of their models have individual specific suspension settings. If that is the case I reckon they should get whoever came up with the settings for the 450 SEF to do all their models, as I could not fault the 450 SEF anywhere. The fork was your typical well set up race fork that soaked up the dry slippery terrain with ease and never bottomed on the few big drop offs I hit.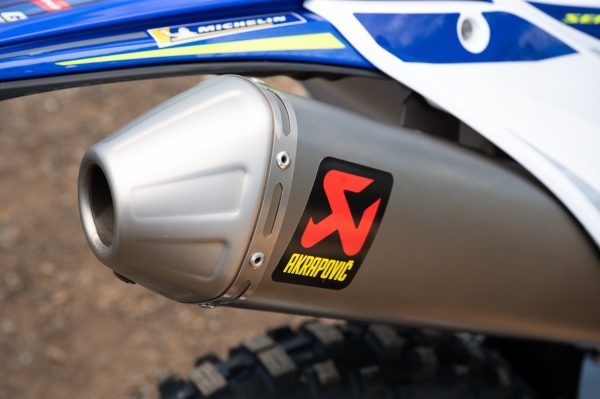 The shock worked just as well, if not better, as it felt silky smooth over everything. The ride was that comfortable and soft that I expected it to bottom on the big bumps, however that was not the case as it took everything with ease.
Overall handling wise it has a reasonably long feel that results in a front-end feel that is not super responsive and requires you to put in a decent amount of body input to get the desired line. On the flip side the front end is as stable as you can get in open terrain.
Braking wise, I did have one or two moments where it reminded me I was on a 450 as I overshot turns. None of this was from lack of braking power, just from the decent amount of engine inertia it generates at higher revs. Both ends of the Brembo brakes provide excellent braking power with top quality feel.
BUT HOW FAST WOULD I BE ON ONE OF THESE?
I have done enough racing to not have to use a stop watch to decide what bike I would be faster on. I can easily say after a day on all of the Sherco models this 450 SEF was a clear winner for me on the day. The excellent suspension encourages you to push faster regardless of the terrain and it also makes you want to keep lapping. The engine has enough low-mid excitement and punch to keep building speed and the overall handling of this package is more than capable in all kinds of terrain.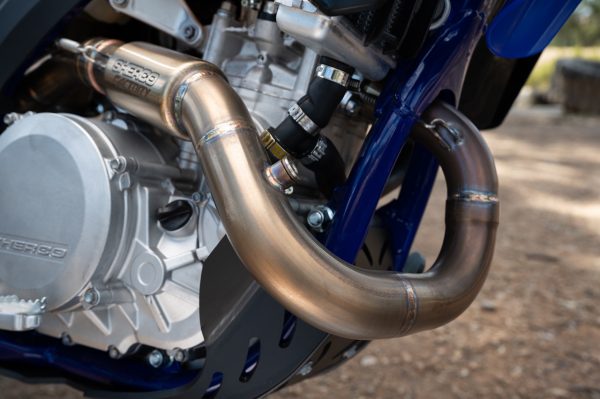 WHO SHOULD BUY ONE?
The simple answer is someone in my weight range of 82kg will be right at home, but I'll go into a bit more detail. I see way too many riders flapping off the back of 500 SEF's in the desert when they would be faster, safer and have a much more enjoyable race with the slightly lesser powered 450. I can see riders ranging from 75-90kg having the time of their life aboard a 450 SEF. I believe too many riders see the top riders dominating desert races and think a 500 is the only way to go when they would be so much better on one of these.
The place this package is totally at home at is when trail riding, it has the perfect amount of power that you can safely navigate technical, slower terrain then get out on the open sections and give big bores a hurry up. The gentle nature of the suspension performance on this bike is perfect for long days in the saddle. This particular model may be getting a tad long in the tooth, however Sherco engineers have done a great job at smoothing over any rough edges as this is one nice ride.
So to answer my initial question of are 450cc four stroke enduro bikes relevant? Going off the Sherco 450 SEF Factory I totally believe they are, and in my experience I think a lot of riders are potentially choosing the wrong weapon for their size and abilities.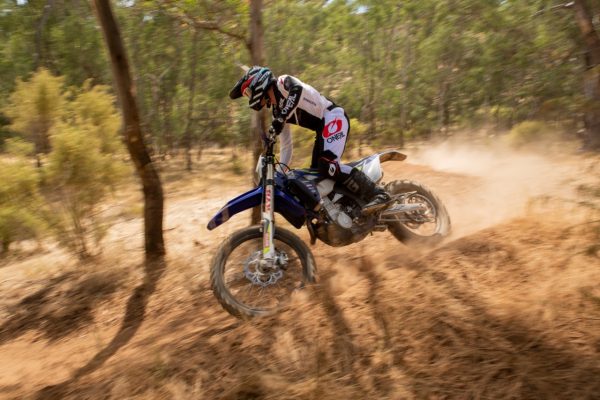 WHAT WOULD I CHANGE?
On the same day, I got to ride a few of the Sherco race team bikes and funnily enough they all had the majority of the same changes that I would do with this 450 SEF. I would swap out the standard downward sloping footpegs for a set of aftermarket ones that tapered up. One of the race bikes had 24MX Titanium ones that felt spot on.
Next up I would fit a slightly taller and more swept back bend handlebar, something like the Renthal 996 would work well for my 178cm height. I am also not a huge fan of the standard handlebar grips, they might look cool but they torture my soft hands so they would also get swapped out when the handlebars did, for a softer less aggressive pattern. Other than that I would not change a thing as it is ready to rip up the trails as is.
SHERCO 450 SEF FACTORY
ENGINE
Type 4-Stroke DOHC 4-Valve
Displacement 449.40cc
Bore & STROKE 95mm x 63.40mm
Cooling Liquid cooled with radiator thermo fan and expansion tank
Compression ratio N/A
Fuel metering Synerject digital electronic fuel injection
Tank capacity 9.7 litres
Transmission Six-speed sequential gearbox, primary gears and chain secondary
Clutch Brembo Hydraulic, multi-disc is oil bath
DIMENSIONS
Wheelbase 1490mm
Seat height 950mm
Ground clearance 355mm
Claimed Weight N/A
SUSPENSION
FRONT 48mmKYB closed-cartridge, fully adjustable 300mm travel
REAR 50mm KYB shock absorber, 18mm shaft, fully adjustable, 330mm travel
BRAKES
Front Brembo hydraulic 260mm Galfer disc
Rear Brembo hydraulic 220 Galfer disc
RUNNING GEAR
Handlebar Oxia oversized
Front tyre Michelin Enduro Medium 90/90-21
Rear tyre Michelin Enduro Medium 140/80-18
PRICE & CONTACTS
RRP $16,799
BROWSER www.Sherco.com.au
BLOWER 03 83631600
Warranty 6 months