EXTREME TEST: Yamaha YZ250FX | Bike Reviews
There's nothing ground-breaking about the 2018 YZ250FX; it's much the same as last year, but we'd never considered it a hard enduro weapon.
WORDS: Mitch Lees
Pics: Olly Malone
When most people think of hard enduro they think 300cc two-stroke. And why wouldn't you; they're lightweight, agile, powerful and robust. But they're also harder to ride if you're not great with clutch and throttle control, they roll on when you want them to stop, vibrate your back teeth out and kick and buck more than a four-stroke when screaming around tight single track.
But what if I told you there was a bike that possessed all the pros and none of the cons from the above list? You'd rightfully call me liar, because there aren't any bikes that strike that balance. But for diehard Yamaha fans wanting to get into hard enduro, the YZ250FX comes pretty close. Sure, there's the YZ250X, the FX's two-stroke cousin, but for those like me who aren't mad about two-strokes, a machine like the YZ250FX will get the job done. There's nothing ground-breaking about the 2018 YZ250FX; it's much the same as last year, but we'd never considered it a hard enduro weapon.
In issue #451 we pitted a 350cc four-stroke against a 300cc two-stroke in an extreme enduro battle. Both bikes had strengths and weaknesses but unfortunately Yamaha don't make either of those capacities. So, we took the race-bred YZ250FX enduro machine through a treacherous creek section on my family's cattle property near Goulburn, NSW. Four hours later we emerged, wet, exhausted, battered and bruised but with a good idea as to how the trusty blue chameleon fares in an extreme enduro enviroment.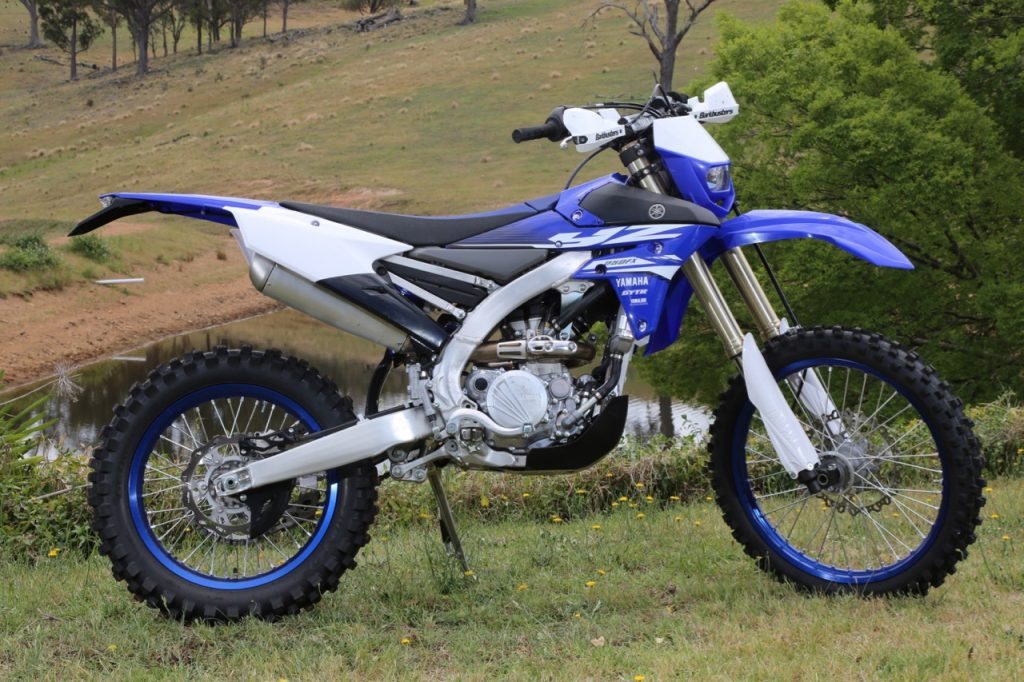 Plenty of poke
Despite switching from a five-valve engine to a four nearly eight years ago, Yamaha has not suffered any major reliability issues from its rearward slanting, liquid-cooled, four-stroke, DOHC, titanium-valved donk. It's an absolute cracker. That is, if you can ignore the sucking noise that comes from just below the steering stem. For a bike that only produces 250cc of power, it's boxing way above its weight class.
This engine has built a reputation for being powerful and robust. The WR250F engine is choked up and without modifications to the airbox is a little unresponsive and down on bottom-end. However, the YZ250FX utilizes the YZ250F shorty exhaust, shorter gearing at 13/51, and race spec engine mapping. Like the WR250F, the YZ250FX also has added flywheel weight compared with the YZ250F and makes the most of a wide ratio six-speed box.
The end result is a much stronger bottom-end than the YZ250F and WR250F. It's incredibly grunty for a 250F in the bottom-end, which is a welcomed change from the WR250F long termer I have been riding. It's so strong that popping up and over boulders or launching out of creek beds requires no more throttle input than what you'd use on a 300cc two-stroke. It just does it in a more controlled manner. And if that isn't enough to get you to reconsider your next hard enduro mount, Yamaha also modified the crankshaft and counter-balancer design to reduce vibration.
This aggressive, punchy engine is what makes the YZ250FX a great hard enduro machine. And the wide ratio, six-speed gearbox allows you to carry a taller gear, like a two-stroke can, without having to worry about shifting down to climb an obstacle The only downside is the EFI factor.
The EFI on the YZ250FX is great and I had no issues with it flaming out, however it simply will not idle and crawl along at slow speeds like a two-stroke can. Having said that, if you are capable of employing a more stop-start riding style in the hard stuff, then the fast revving EFI system will not be a problem.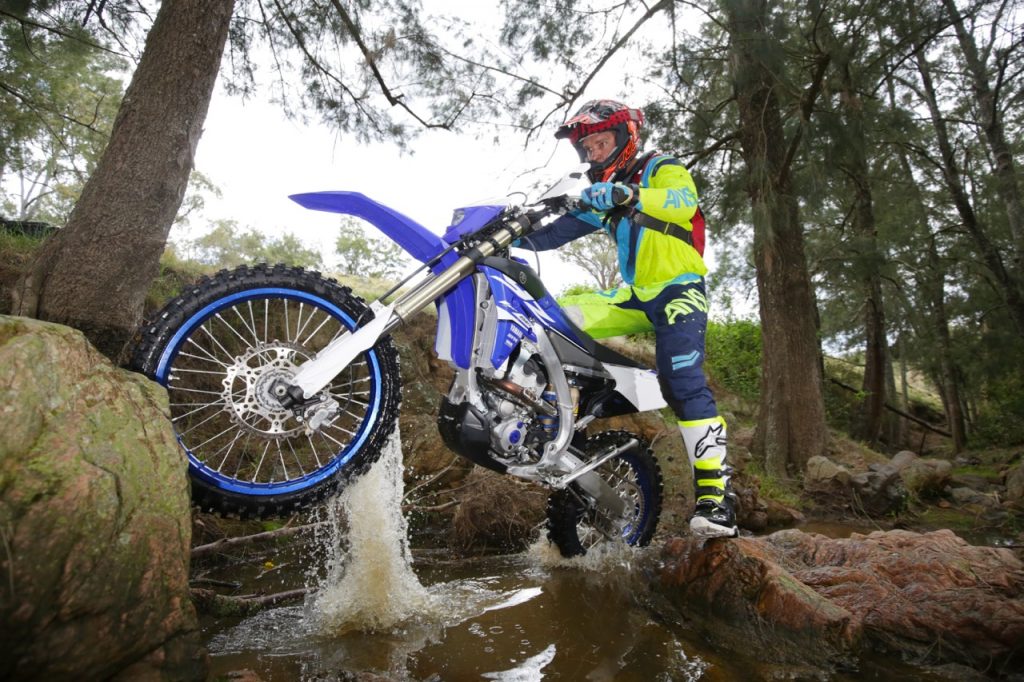 Lightweight baby!
While the engine is the YZ250FX's best hard enduro attribute, the reduced weight when compared with the WR250F or any other four-stroke is not far behind. At 105kg (dry) the YZ250FX is one of the lightest four-stroke enduro machines on the market. And there's more to lose. If you are doing nothing but race the YZ250FX you could also drop the sidestand. With no speedo, bashplate, radiator fan, handguards, rearview mirror, lights or horn, the YZ250FX is significantly slimmer than most of the four-stroke, road-registerable enduro machines. You can bolt a bunch of this stuff on using the rec rego kit provided by Yamaha, but that's only if you intend on riding on public roads in states that allow rec. rego.
The YZ250FX carries its weight down low thanks to a cleverly designed bilateral beam frame, first introduced on the YZ250F nearly a decade ago. This makes it easy to drop your legs out and pivot the bike on the back wheel through rocks and over logs. The seat height is also quite low making it easier for slow technical sections. Despite being within several centimeters of most other four-stroke seat heights, the YZ250F seat is scalloped out and sits lower in the rear. This means getting your toes on the ground while you crawl through difficult terrain is an easier task.
Without the dash setup found on most enduro bikes the front-end feels lightweight and agile as well. The steering is faster and more accurate. While the steering lock is a little short (meaning you can't turn the 'bar as far as some other bikes), the lack of clutter up front feels like you're piloting one of Redmond's BMX bikes.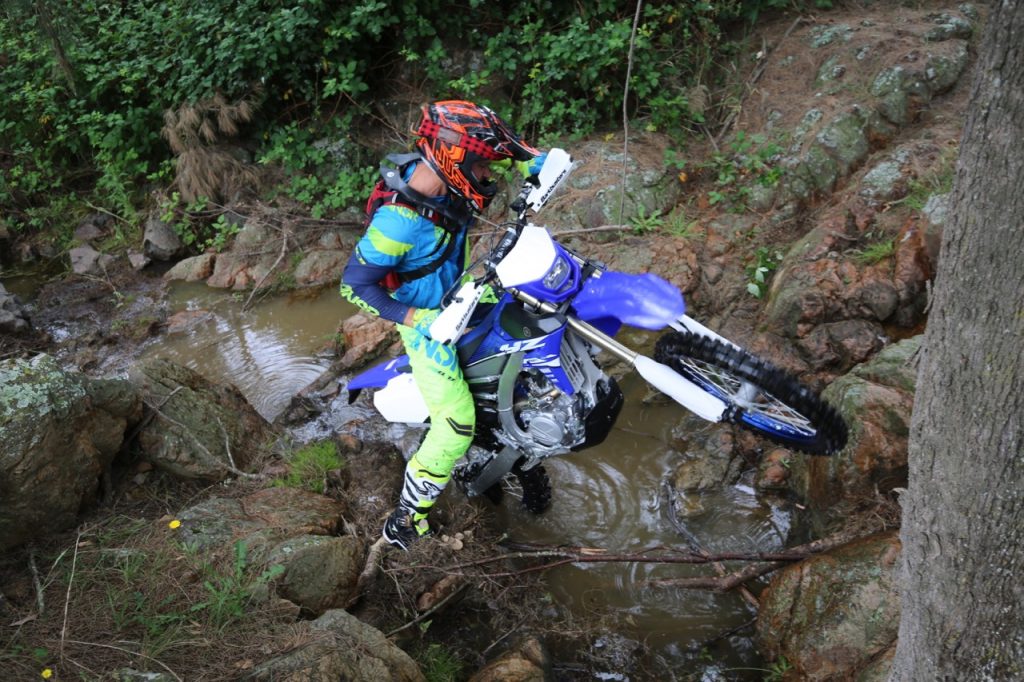 Faster suspenders
Yamaha designed this bike for typical off-road race use, i.e. cross-country or enduro-style events. Hard enduro was not necessarily on the mind of the R&D team when they began the build. So the suspension is setup a little better for high-speed hits and not necessarily for slow, groveling hills.
However, at 100kg in riding gear, the suspension worked well for me. I liked the firmer feel, especially compared with the WR250F, but I can understand if some riders would prefer a slightly softer setup, like on the WR250F, for hard enduro.
Back in 2015, when Yamaha introduced the YZ250FX, they did so with enduro specific suspension settings. The blue brigade combined a bunch of gear from the YZ and WR range with a 4.4N/mm spring rate up front, the same as the WR250F, and a firmer 56N/mm shock spring out back. The FX fork also received an extra 5ml of fork oil (compared with the WR) and revised valving, mainly to improve bottoming resistance.
The suspension package is plush but also firm, and I liked its ability in the extreme stuff but the more forgiving WR gear could be better.
Winner, winner?
The punchy, strong engine, mass-centralized weight, and de-cluttered front-end make the YZ250FX a great extreme enduro mount for Yamaha warriors not wanting to saddle up on a European mount. Other bits and pieces like electric start (a must in hard enduro), an 18-inch rear wheel and plastic skid plate just add further value to the YZ250FX as a serious hard enduro machine.
However, it does have some shortcomings, as can be seen in the Potential Deal Breakers sidebar. An all-day hard enduro event will wear you out so the likes of a hydraulic clutch would make the going a little easier. We also managed to bend the front disc which could have been avoided with a disc protector, but the only 250cc four-stroke that comes with one of those as standard is Honda's motocrosser, the CRF250R.
Surprisingly, despite not having a thermo fan I never managed to boil the YZ250FX. I also dropped the YZ250FX several times and the levers failed to break, even without handguards.
If you're in the mood to race some hard enduro or endurocross in 2018 and refuse to switch to the opposite team (anything with two-strokes or European) consider the YZ250FX as your next mount. The engine is the catalyst for what could be an impressive and unexpected hard enduro soldier.