Ben Grabham tests his little brother Broc's Gas Gas EC300 race bike.
THIS TEST WAS FIRST PUBLISHED IN ADB ISSUE #471 – DECEMBER 2018
Words: Ben Grabham
Pics: Mitch Lees
When I think of the Australian Off-Road Championship, all the flashy race teams from KTM, Yamaha, Sherco and Husqvarna pop into my mind. But they are not the only brands chasing podiums and #1 plates, as Gas Gas has re-joined the scene.
You have to go back to the first year of the Australian Off-Road Championship in 2005 to see the last official Gas Gas entry, with rider Craig Douglas. Dougos was the lone ranger for the brand and did a good job.
After 13 years, Gas Gas is back in the AORC results with my big little brother Broc Grabham heading the Gas Gas line-up on an EC300. I say big little brother because Broc is a good half a metre taller, 15kg heavier and 13 years younger than me. Must be all the chicken nuggets he eats.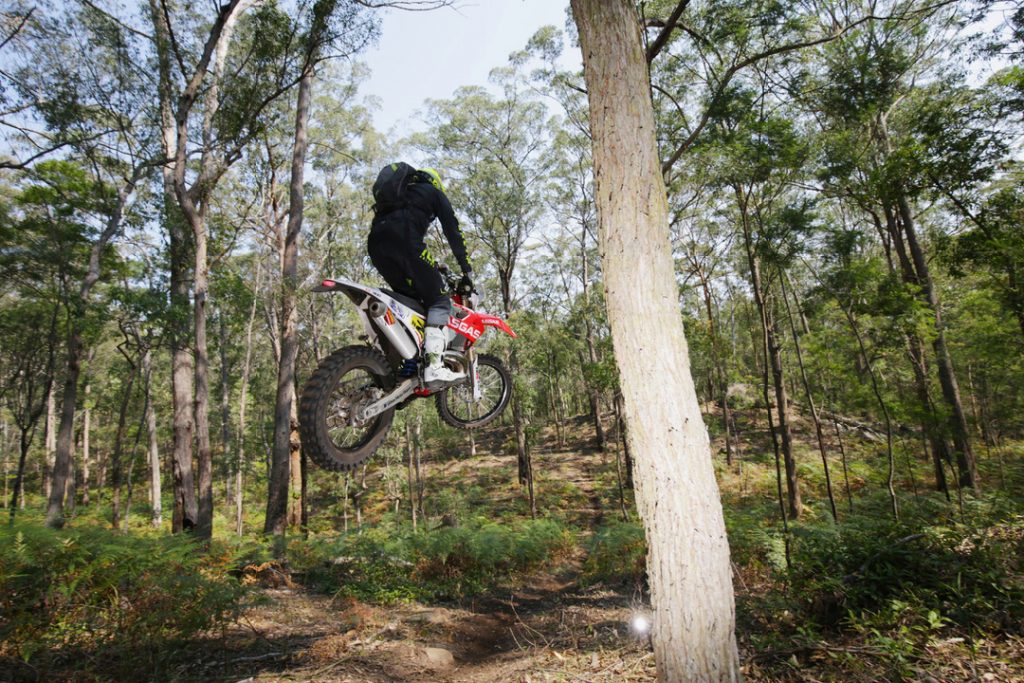 With Broc finishing third in E3 and 11th in ADB's unofficial outright tally (first 2T), the Gassers are back on people's radar. This got Editor Mitch Lees wondering what it was like as a race bike and I knew exactly where the keys were to Broc's bike. However, getting hold of the bike wasn't that simple.
My little bro' was not keen at all. I'm not really sure if it's because I still make him eat my roost at dirt track, or from the time I dropped him in a puddle when he was two. It could just be he hates washing bikes. Whatever, he was the hardest person I have ever had to deal with to get a test bike. Mitch had been talking up some test track he stumbled across near the Watagans State Forest in some ferny valley and it sounded like the perfect spot to test the EC300.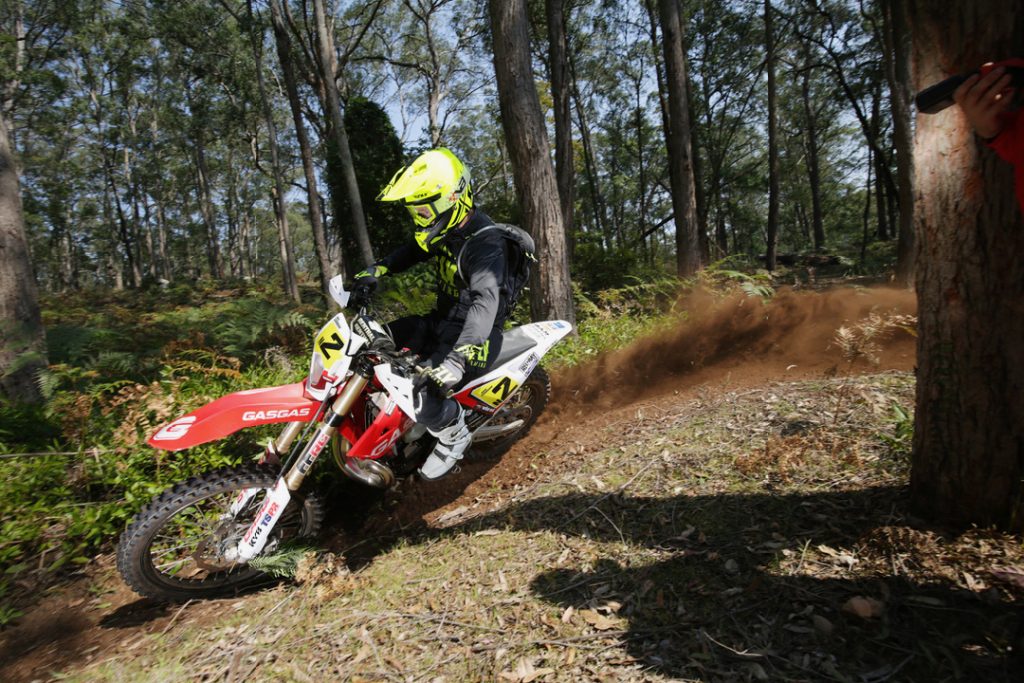 I picked up Broc's Gas Gas under cover of darkness on the morning of the test. Once we unloaded it, I was impressed to see he had the thing looking the goods, especially knowing how much he'd rather ride than wash his bikes. I do my usual look over the bike to see what looks standard and what doesn't and the rear brake is the first thing I notice.
It has a solid disc and the brake pedal has an extra spring added to the back. I was keen to see how the spring made the brake pedal feel and when I tried to push it down with my hand, it didn't move at all. I used my foot next and soon realised it takes a lot of effort.
The next thing I noticed was an XRC steering damper but, other than that, Broc had only changed small things like the handlebar and 'grips, making it not that far from standard trim.
OVER-SHOOT
It was about a 30-minute ride to the test track, which was a good chance to warm up and get a feel for the Gasser before I opened her up. As it had rained the day before the dirt was perfect, with lots of grip, but I still managed to over-shoot the first turn as I went to rear brake-slide in. Nothing happened.
After making my way back onto the track I was about to stop and check why the brake was not working, then I remembered the extra spring on the pedal. I tried the rear brake again, this time with a lot more force, and it worked fine. I now knew the brake worked but that Broc's setup needed a lot of force to move the pedal.
Other than the excessive force needed to move the pedal, nothing caught me out on the trail. A slow lap of the test loop soon had me keen to burn some fast ones. Finally, Mitch had come up with a really cool track that closely resembled some of the Special Tests you get at an AORC round. There were some nice, natural jumps to test all aspects of the Gas Gas and some great corners.
SUSPENSION
Straight out of the first rutted corner while accelerating as hard as I could, the handlebar felt really close to my chest and made it more difficult than necessary to hold myself forward. Considering I'm a lot smaller than Broc, I can't help but wonder how it feels to him.
The next few laps I focused on how the suspension handled the mixed terrain. The fork had a really smooth action and soaked up everything I charged at with ease but always felt tall, not allowing me to weight the front enough for my liking.
The shock action and how the rear hooked up was more than impressive and definitely a standout. It was as good as anything I have used. I could sit down over bumpy, rocky ground without feeling a bump, then it would soak up the biggest jumps and bumps with ease. It's the type of shock set-up I could race with all day and not get tired.
Broc's EC300 has nice, smooth power off the bottom, which is just what you would expect from a standard 300cc two-stroke. But the mid-range was where the bike really felt best and liked to be ridden.
The power flattened off pretty quick up top, which is nothing that would bother a trailrider but in AORC-style events it felt like it could do with a little more grunt to suit local race tracks a bit better. The XRC steering damper kept things stable at the front, as it never produced any headshake as two-strokes sometime do, due to being so light. After riding the bike, it's not really a surprise that this Gas Gas has landed a few podiums with Broc at the controls.
Cool stuff
• Fork re-valved by Full Force Racing Components
• Stiffer .46kg/mm fork springs
• Shock re-valved by Full Force
• Heavier 5.6 shock spring
• Willmax Graphics
• Renthal 996 Twinwall handlebar
• Renthal Kevlar handgrips, Protaper donuts
• XRC steering damper
• Solid rear disc
• Extra brake pedal return spring
• AXP skidplate and monoshock linkage guard
• Golden Tyre 333 120/100-18 with G-Mousse
• Golden Tyre 216 80/100-21 with G-Mousse
The rider
This is my first real year racing a two-stroke so it's taken me a while to get the feel of it. I've spent the past four years racing four-strokes and a 300cc two-stroke requires a rather different technique. When I started riding the Gas Gas I spent a few weeks on the standard spec bike and it felt pretty good.
The main area I wanted to adjust was the suspension, so Full Force Racing Components helped me to get it soaking up all the small square-edge bumps better. I'm 96kg so we went to heavier fork and shock springs. I alter the rear brake a lot to make it a lot harder to drag as I have a bad habit of cooking them.
I'm working a full-time job with the railways, so it's not easy to test or tune the bike as much as I would like. I have pretty much just ridden and raced it all year as Ben tested it, so it was cool to be the highest placed two-stroke in the A4DE and the AORC, but I think I can still improve.
It's only my first year with Gas Gas so, hopefully, we will only get faster with the more experience I get on the bike. Broc Grabham
Comparison score
During my time as KTM Off-Road Team manager during 2015 and 2016 I had a big role in developing the bikes that Toby Price and Daniel Sanders raced to their AORC outright championships. So how does the development of Broc's Gas Gas compare to those championship-winning KTMs? Well, it doesn't.
I don't mean that in a bad way, but there is just a huge difference when you have full-time mechanics building and preparing bikes and pro riders to test and develop them. It is very hard to beat manpower, money and knowledge. Each person in the team can focus on their role of making the end result that much better. In terms of testing and development, some of the big teams would achieve in a week what has taken Broc nine months to complete. Ben