TESTED: Daniel Milner's KTM 350 EXC-F | Bike Reviews
Last year was one to remember for Victorian Daniel Milner. He dominated the AORC E3 class and won the 'unofficial' overall title while winning E3 and the Overall at the A4DE during the season.
I was quite surprised when I heard that he was going to step down from the 500 to a KTM 350 EXC-F to defend his titles, but he's already been super-successful on small-bore machines, winning the AORC E1 and A4DE titles when he rode for Yamaha. Amazingly, but not really to my surprise, Dan has picked up right where he left off last year and has immediately put his 350 on top of the AORC podium in both the E2 class and 'overall'.
It seems that he's gelled with the smaller machine just as well, if not better, than his 2018 bike and that spells trouble for everyone. He may not be able to torque it everywhere like he did the 500, but he has adapted very quickly to the KTM 350 EXC-F and to say I was excited to ride his weapon of choice was an understatement.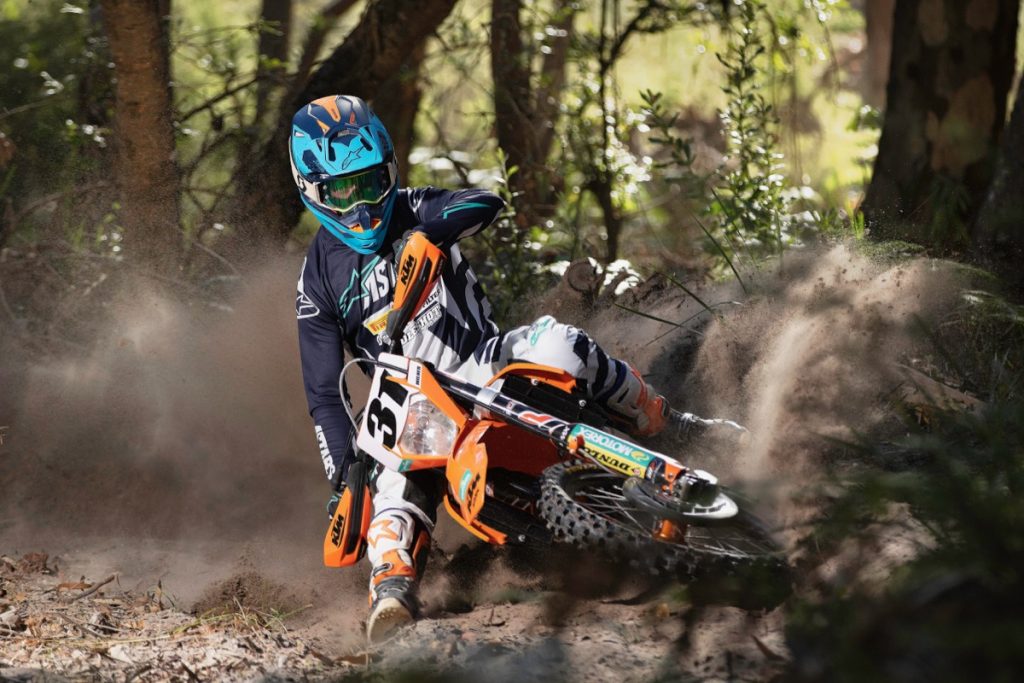 I was lucky enough to get hold of the KTM Enduro Racing Team guys during the break between the AORC and Hattah to ride the bike. Since it was just sitting there in the race shop, I figured what the hell, asked if I could ride it and they said yes! I instantly began polishing my boots.
We headed out to an area that I know well and it has a good range of hardpack grass before changing to deep sand through the trees.
It is quite a rough track with plenty of small, sharp bumps and tree roots just to keep you on your toes. And, like everywhere in NSW, it was very dry but it didn't matter because I was looking forward to getting the bike out there.
The great thing about Milner's situation with KTM is that he has a host of models at his disposal. For his chosen E2 class, he not only could choose between a 350 or 450 but could potentially pick EXC-F, XC-F or SX-F versions. I asked Milner's mechanic, Mick Carusi, what kind of bike Dan had ended up with and Mick assured me that it was a genuine EXC-F not an SX in an EXC frame.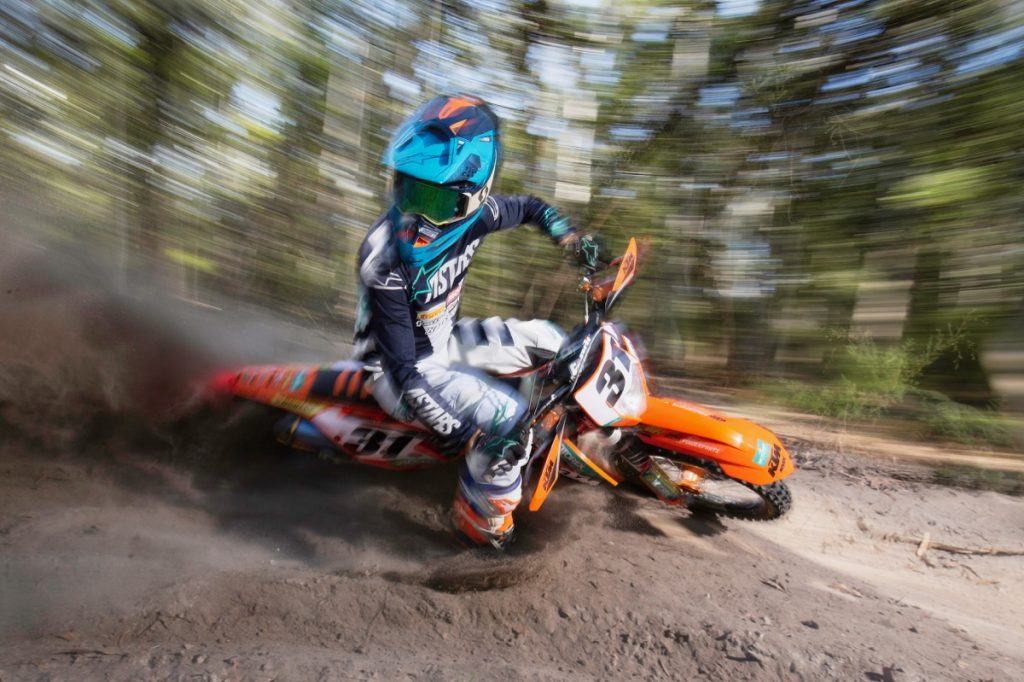 Of course, the stock KTM 350 EXC-F is an awesome platform to start with but as a race bike, it's very mellow and also has soft suspension. Luckily for Dan, this can be changed. I asked a few questions about what had gone into building the motor into an AORC weapon and, not surprisingly, they were pretty tight lipped about the details. They were happy to say it's had plenty of work done to it (the Vortex ignition gives you a hint) and that I should hurry up and go ride it.
BLING CITY
As you can imagine, the team goes all out with bling and performance parts. Carusi has the bike sparkling from every angle and you can tell it's his pride and joy. It has every possible Powerpart that is available to the public. It's dripping with carbon-fibre bits and wherever they could swap out the stock stuff for orange-anodised bling, they've done it.
Probably the most factory thing on the bike is the titanium bolts that are sprinkled all over it. They look so trick and it's something that factory teams love to rub in our faces. The custom FMF titanium header fits perfectly, sounds awesome with the FMF muffler and has that beautiful, blue finish that titanium developes once it's been heated up.
To finish the bike off, KustomMX has kitted it out with a clean-cut graphics kit and, paired up with the orange frame, trick Kite wheels, factory WP parts and Dunlop factory 3S tyres, the #31 machine is ready for business.
Once I finished drooling, I fired the machine up and, right away, I could tell that the motor was going to be strong. The custom FMF exhaust gives it a throaty sound while not being obnoxiously loud, which is great. I think it's really cool to see FMF helping the team out with custom parts.
After a few laps to get familiar with the bike and scope the track, I had to come back in to adjust one thing and that was the rear brake.
Milner has the pedal set so high that I couldn't even use it. I am a brake dragger so I run mine lower than most people but Milner's pedal is above the footpeg so I don't know how he rides it like that.
With the pedal lowered, I could go out and have a dig at the track. Right away I felt comfortable, the levers were a little lower than I'm used to but, overall, the riding position was quite neutral and the way the power is delivered gives you plenty of confidence to push hard.
The motor is a very nice package. It comes on smooth and strong and is torquey enough that you can short shift through the gears. I found myself riding it more like a bigger-bore bike and using third gear a lot. It is more than happy to handle that but if you decide that you want to get aggressive and rev it like an MX bike while burying it in a sand berm, it is happy to do that too.
The power delivery, even when revving it and being aggressive, is still very rider friendly. The bike won't rip out of your hands but you can be sure that it is getting the power to the ground and that you are getting from corner to corner as fast as possible.
It has a very broad power spread too. Solid bottom-end through to the mid-range and then it just keeps on pulling up through the gears. This is great news for Milner as some of the AORC tracks are quite high speed and I have no doubt the KTM 350 EXC-F can hold its own against the bigger bikes.
It's interesting to note that while this is a full-blown race engine, even a trailrider or an old fart like my old man would very much enjoy the power it produces. And if Dan, for whatever reason, needs a bit of a change to the power to suit a different track or terrain, the Vortex allows the guys to play around with the power and customize the delivery to whatever he wants.
RIDING ON A CLOUD
When I rode Milner's AORC-winning 450 EXC-F a few years back, the team was still running the drool-worthy factory WP 52mm Cone Valve fork. Those things were extremely nice to ride on. Fast forward to this year and, unfortunately, KTM Australia no longer uses them. They are now using the WP 48mm Cone Valve fork which is available to the public.
They look awesome too, with a black and red finish, and they just scream factory. The shock is the WP Trax unit which also has a black and red colour scheme. So, the suspension looks cool, but does it actually work that well?
Short answer? Hell, yes. Milner's setup was damn near spot on for what I wanted. I know that the KTM team has been doing a ton of testing with suspension over the years and has sought the help of Anthony Giles from Choice Suspension in Kyneton, Vic, and it's safe to say that they have got it down pat.
Milner has told me that he loved the 52mm fork and wasn't sold on the 48mm unit at first, but he and the team have spent countless hours on the track developing settings and, since working with Choice, they have been making leaps and bounds and it's just about perfect for him.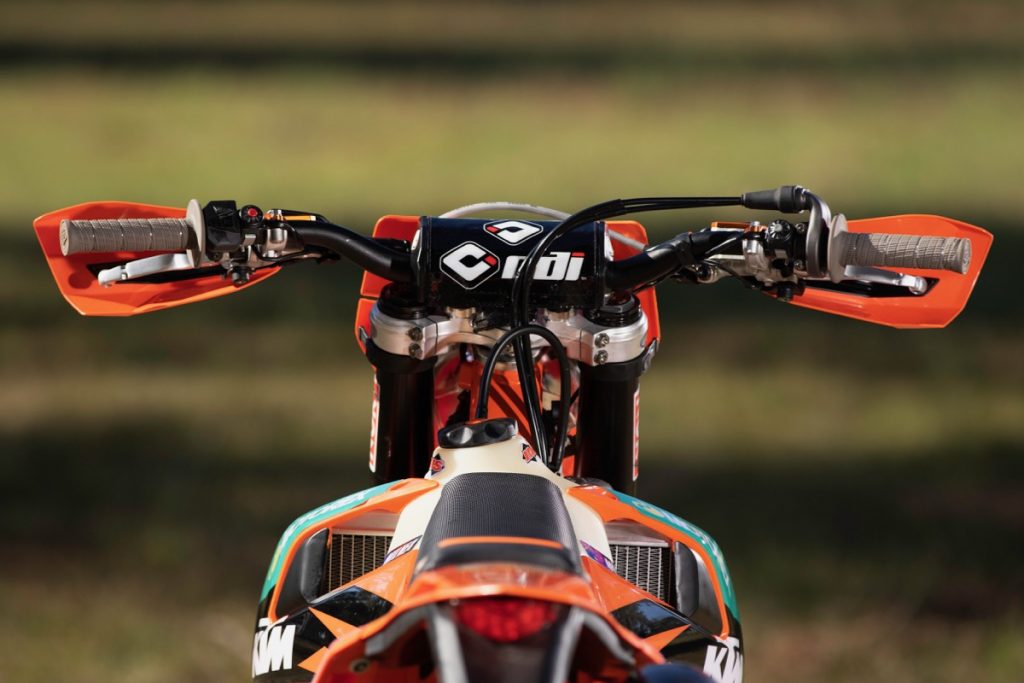 It's super plush and compliant in the first part of the stroke and soaks up the little choppy stuff easily. The track we tested on had a lot of tree roots and little stumps that will catch you out and I felt like the plushness of the fork allowed me to push through those sections faster than I ever have before.
Even on the bigger hits, the fork gets firmer and firmer without getting harsh so you feel like you can launch off anything.
I spoke with Gilesy from Choice about the fork and he mentioned that they have been working super hard trying to get that plush, yet firm feel for the boys and I was very happy with the result.
I was pretty impressed with the Trax shock and felt like it paired up nicely with the fork and gave the bike a very balanced feel. It too had a plush feeling in the initial part of the stroke but didn't bottom out on the big hits. On acceleration, even through the annoying, choppy tree roots, the rear-end stayed planted and drove straight on without bucking you around or getting out of shape. I take my hat of to the boys at Choice, they've done their homework and built a suspension package that breeds confidence.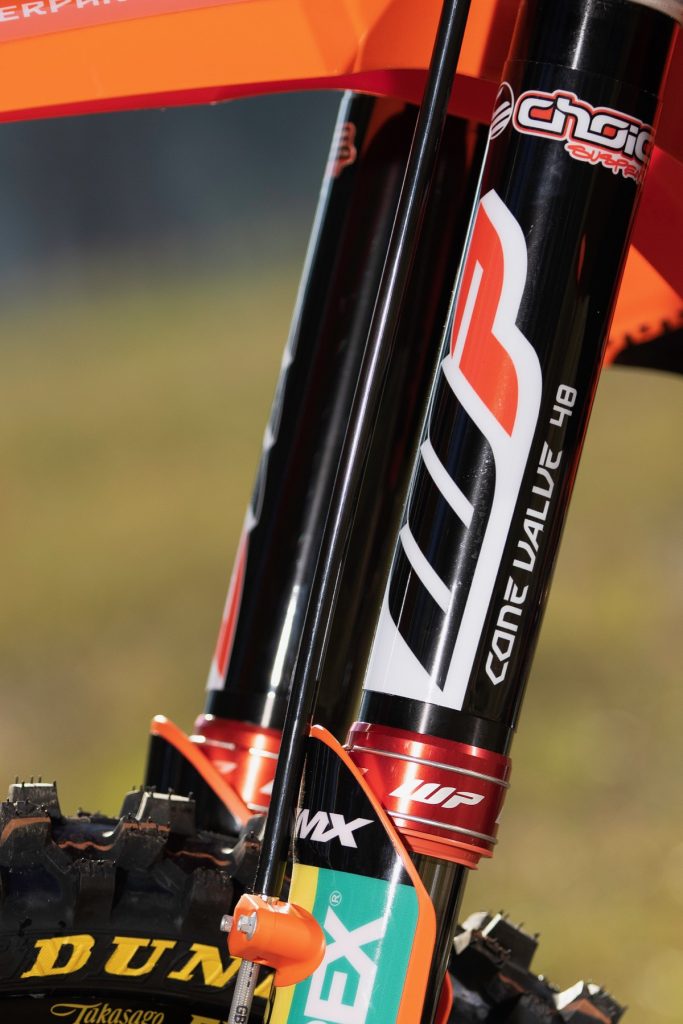 VERDICT
As you would expect, Milner's race weapon is bloody good. After all, you can't ride as fast and in control as he does without having the machinery to support you doing it. The motor is strong and easy to use and the Choice-tuned WP suspension is very forgiving so you feel like you can put the bike wherever you want on the track. It's a credit to the team that Dan is winning races on it.
Daniel Milner on his KTM 350 EXC-F
"I decided to try something different this year and switch from the 500 to the KTM 350 EXC-F. After riding the 450 and 500 in years past, I wanted to show how competitive the whole KTM range is. The transition to the 350 was actually a little tougher than I expected as I'm a guy that doesn't rev my bike hard so it took me a little longer then it would going from the 500 to a 450.
"We did a heap of testing in the off-season and I love the 350. It's light and easy to ride and, to be honest, I was more relaxed going into this season than I have been in the past as I felt I had the speed and fitness, I just needed to maintain it and not over-do it. I think we have got this bike just as good as my last year's bike as I have worked hard with Gilesy from Choice Suspension to get it where we needed it.
"My 2019 season has not gone as good as I was wanting it to. My program had been solid but I have struggled a little with injury that not many people know about so I think it's only going to get better towards the end of the year. I have the best team behind me and the results show that.
"Everyone puts in 100% behind the scenes and, as a rider, I have so much trust in them and that helps us with our confidence. Mick bends over backwards for me and I'm so thankful for everything he does. Same as GK and Gilesy, there are so many people behind us that people don't know about and this is why we are called a team."
The team manager Glenn Kearney on Milner's KTM 350 EXC-F
"Milner's KTM 350 EXC-F is a work of art, Mick Carusi does a tremendous job in preparing Milner's 350 to the highest standard. The stock 350 is a great base to start with and Daniel knew exactly what he wanted from the bike.
"Mick, with the help of our head engine technician Danny Apro, were able to get some more horsepower out of the motor and, more importantly, move the power and get more torque exactly where Daniel rides the bike.
"Anthony Giles from Choice Suspension has worked hard with Daniel to get the WP Cone Valve fork and the WP Trax shock tuned to the point where Milner can put the bike exactly where he wants at any speed.
"The standard KTM is so strong and reliable that all we do is refine a great package to personalise it for Daniel. Basically, we throw the KTM Powerparts catalogue at it, which adds extra protection, performance and reliability as well as looking awesome.
"The season has started well, with Daniel winning the opening rounds of the AORC and he looks every bit as fast, if not faster, than he did last year on the 500EXC-F."
Milner's KTM 350 EXC-F Trick stuff
• WP 48mm Cone Valve fork set up by Choice Suspension
• WP Trax shock set up by Choice Suspension
• ODi Podium handlebar
• IMS Core footpegs
• EK O-ring chain
• ODI lock-on handgrips, soft compound
• Kite hubs with Excel rims
• Twin Air filter
• Vortex ignition
• In-house-built engine
• Custom-built FMF titanium header with FMF muffler
• KustomMX graphics
• NGK iridium sparkplugs
• Dunlop 3S factory front with Dunlop mousse
• Dunlop 3S rear with Dunlop mousse
KTM POWERPARTS
• Clutch and brake perches
• Clutch and brake master cylinder caps
• 270mm oversize front disc with carrier
• Oil filter cap
• Oil filler plug
• Clutch slave cylinder protector
• Top and bottom chain sliders
• TM Designs chainguide
• Flat gripper seat
• Solid rear disc
• Rear disc guard
• Map selector switch
• PHDS bar mounts
• Rear brake master cylinder cap
• Handguards
• Bashplate
WORDS // GEOFF BRAICO PHOTOS // JP MEDIA – THIS FEATURE WAS FIRST PUBLISHED IN ADB ISSUE #480