FACTORY TEST I WP Suspension Yamaha WR450F | Bike Reviews
Ben Grabham tests Stefan Granquist's 2020 Yamaha WR450F fitted with WP Suspension.
Yamaha has been producing off-road motorcycles with quality KYB suspension for decades, so it's no surprise to see close to one hundred percent of the YZ and WR motorcycles I see are running it. Every now and then I have seen the likes of Josh Green (Active8 Yamalube rider) using an Ohlins shock but that's no huge surprise as Yamaha used to own a big chunk of the Swedish brand.
So when I heard that Yamaha-supported rider Stefan Granquist was pulling out his WR450F's KYB gear and replacing it with a WP Cone Valve 48 fork and Trax shock, I was definitely surprised. For starters, it would make more sense if he fitted Ohlins, as he's Swedish.
Secondly, KYB forks and shocks are arguably the best standard suspension on an enduro bike off the showroom floor. They are also very tuneable in expert hands so you can end up with close to any feel you want.
Thirdly, WP is owned by Pierer Mobility AG, a fierce Yamaha rival which sells KTM, Husqvarna and GasGas machines, making me wonder how the bLU team allowed Stefan to perform leg transplants. On the flip side, I get why Stefan would want to try WP. You only need to look at last year and, without checking any results, I know their gear won AORC, Finke, Hattah, Dakar, World Cross Country Rally Championship, MX Nats MX1 and MX2, GNCC, AMA Supercross, WESS, ISDE and world MX2, so it's easy to understand why Stefan and teammate Emelie Karlsson would want to give it a go!
When I found out ADB had scored me a ride on the WP-equipped WR450F, which featured as our Factory Ride last month (#489), I jumped at the chance! A big chunk of my race wins were on chrome-moly framed KTMs equipped with WP suspension, so I know what WP is capable of.
The thing I hadn't experienced was what WP suspension worked like in an aluminium-beam framed motorcycle and I'd always kind of wondered if some of the great feelings I had experienced with a WP Cone Valve fork and Trax shock was due to the KTM trellis frame. I was excited to find out.
CHANGE WANTED
Before I threw a leg over Stefan's WR-F I had to ask how the hell he got the okay from Yamaha Australia. "I dealt with Ray Howard from Yamaha Australia and, at first, he questioned why I wanted to switch to WP," Stefan said. "I then explained how, after being on the Yamaha for close to 10 years, I was looking for a change, to freshen things up with my racing.
"I didn't want to change bikes, but felt a change like the switch to WP Suspension would be exactly what I needed to keep the desire for racing at a national level as strong as ever." Ray understood and said, with the limited support Yamaha was able to provide for Stefan, he was not going to deny him the chance to get some help from WP or put the lid on a change that might maintain Stefan's desire to keep racing at a high level.
As an ex-racer and ex-team manager, I rate Yamaha and Ray very highly for allowing this to happen. Maybe 15 years ago this wouldn't have surprised me but now, when everyone is trying to be politically correct and be seen to be doing the right thing, it does come as a nice surprise that Yamaha actually care what direction Stefan wants to take his racing.
Next up I wanted to find out how well the WP Pro Components suspension fitted up to the WR-F, mainly because I could see the WP shock body was sitting very close to the fuel tank. Stefan told me that the Cone Valve 48 fork fitted perfectly but he could not say the same for the Trax shock. The reason it did not fit straight into the WR-F was that WP does not actually make a shock for it. The shock in Stefan's bike is for a YZ450F and most of you would know that these models use the same KYB shock body. Unfortunately, the WP shock's gas reservoir is on a different angle to the KYB one.
This is fine on the YZ-F but the WR-F fuel tank is larger and takes up more room near the top shock mount. Stefan has lifted the rear of his tank by 5mm using hard rubber washers to keep the shock from rubbing the tank.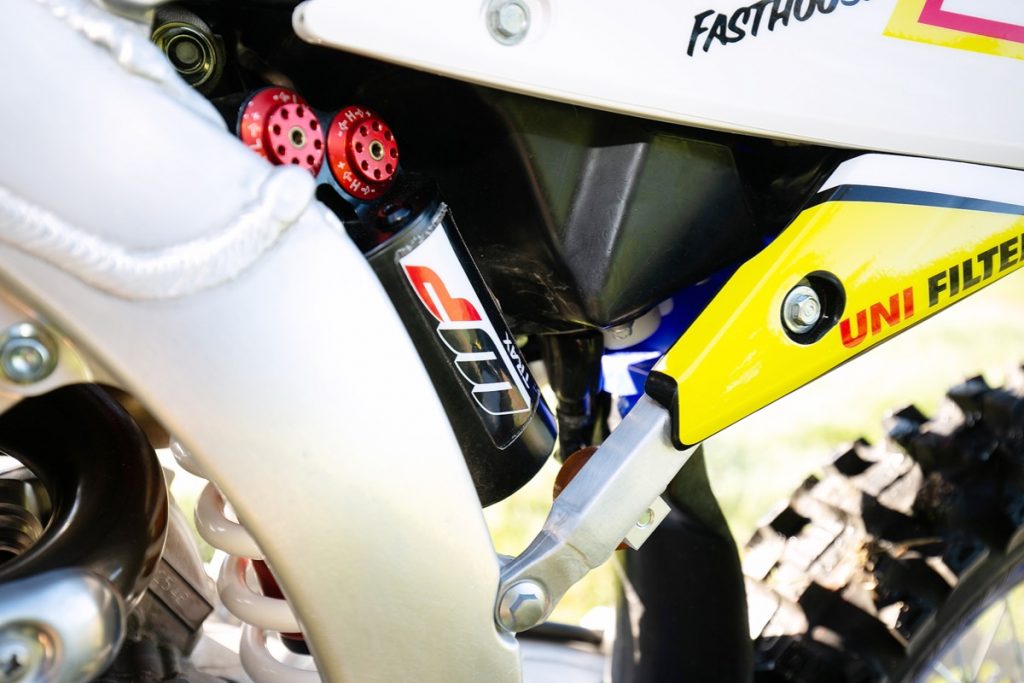 Then it was just a matter of sorting the spring and damping rates for off-road use with the help of Stefan Appelgren at WP Australia. Appelgren told me they got the settings from Anthony Giles at Choice Suspension, who is responsible for the likes of Daniel Sander's and Daniel Milner's WP gear, but Sydney WP Authorised Centre Shock Treatment is looking after the fine tuning. Luckily, the test location had a little bit of all kinds of terrain, and was pretty bumpy as some AORC riders had been training there the previous day. At first I stayed out on the more open, motocross-style terrain while I got a feel for Stefan's WR-F, and the first thing I noticed was how nice the fork felt.
I have seen Stefan send some pretty big jumps in the past so it wouldn't have surprised me if his suspension was really stiff. The Cone Valve 48 absorbed everything I steered it towards with ease and because it soaked up everything so well I felt like I could put the front exactly where I wanted. This is definitely a big plus on a bike with as much power as the WR450F.
The Trax rear-end felt noticeably firmer. I am a lot shorter than Stefan and a bit lighter so I could not load the rear-end as much as he does but, in saying that, it felt firm but it never did anything weird for me. It always tracked super straight.
I purposely jumped into some big holes on the motocross section to see if I could get any harsh feeling but the harder I tried to bottom the suspension, the smoother both ends felt. It was like the suspension rewarded hitting things faster.
When I switched over to enduro-style terrain, I was impressed with how both the fork and shock soaked up all the little roots and bumps with no fuss at all. A lot of the harsh, firm feeling that I had always associated with alloy frames had easily halved, even with the shock on the firm side.
COST
For me, the WP suspension had still managed to smooth out the overall feel of the WR-F and took away a bit of the hard edge it has at times in technical terrain. The Cone Valve worked even better in the enduro terrain. There were some slippery river bed rocks that would normally give me nightmares, with the front-end deflecting all over the place, but I could just point the front wherever I wanted with ease, thanks to the way this WP fork worked. Pretty impressive when you consider Stefan had not done any serious testing with them at that stage and was sitting seventh in E2 after the third round at Dungog.
So I have mentioned everything that I think is great about the WP suspension in Stefan's bike, but here is the part that will sting. The fork is $5195 and the shock is $3250, with a choice of three spring rates included with both. When you unpack them, they are already fitted with the springs WP has worked out are optimal for your bike, but the next lighter and heavier winds are packed in the box in case you want to go for a softer or firmer feel. I know if I was racing full time, I would want them on my bike but, for trailriding, it would depend how deep my pockets were.
Wide Range
I am sure a lot of people only associate WP with a few European brands, but the Austrian firm makes them for a much wider range of off-road motorcycles. Where it does get a little bit confusing with WP's latest Cone Valve 48s and Trax shocks is that the latest ones for KTMs and Husqvarnas are close to all-silver while those for other brands in the Pro Components range are close to all black (above). Don't get upset, because both are from the top-of-the-line suspension range sold to the public.
Here's a brief list of brands and models you can purchase them for: Beta RR125-480 standard and Racing; Honda CRF250R-CRF450R; Husqvarna TC, TX, FC, FX, TE, FE 50-501; Kawasaki KX250 and 450; KTM SX, EXC, XC-W, XC-F, 50-500; Sherco SE-R and SEF-R 125-500; Suzuki RM-Z250 and 450; Yamaha YZ125-450. WP Australia has 11 WP Authorised Centres spread across Australia, giving serious riders the chance to make the switch to WP with great service and support.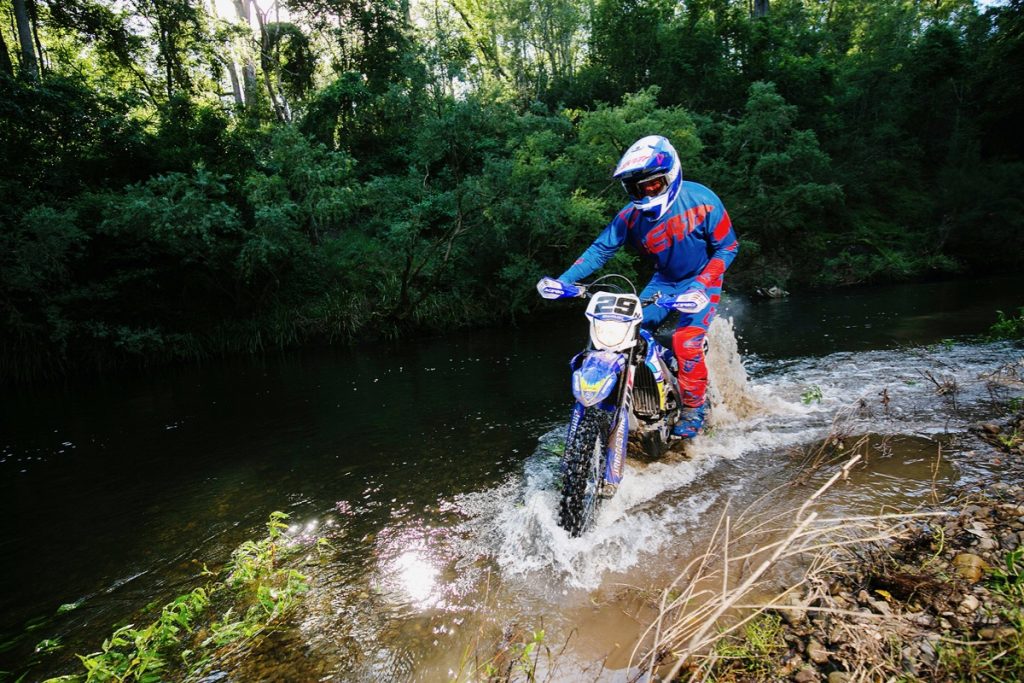 Who Should Switch Up?
WP Suspension is far from a cheap option but when has winning or having anything great ever been cheap? The way this suspension rewards speed, I can see serious racers getting some big gains by switching and definitely could see riders enjoying the benefits of a more forgiving ride when taking on longer races like Hattah and Finke. This would also be a great option for riders who have purchased a base model Beta or Sherco and plan on upgrading the suspension.
I hit up Anthony Giles from Choice to see what re-sale values are like and he said: "You only need to look online – you cannot find much at all. Generally it holds its value really well and doesn't take long to sell."
While I had Gilsey on the phone, I asked him why he rated the Cone Valves and Trax so highly. "It's basically because they are so tuneable," he said. "To give you an idea, with most production suspension, I can only go a certain amount in either direction, whereas with this WP stuff, my options are almost limitless, meaning I can provide any sized or speed rider exactly what they need for anything from hard enduro to supercross."