In case you hadn't noticed, desert racing is big in Australia. Finke and Hattah are massive, drawing a lot of competitors and huge numbers of fans.
It's a big deal to win one of these events, not just for the riders but for the distributors.
Finke is a great example. I won my first two Finke crowns on Hondas and when I switched to KTM in 2009 there was no shortage of people telling me I would never win again. Honda had dominated for a long time and, looking through the entry list, its string of victories had certainly helped sales. It was a sea of red in the pits and on the track.
The Honda faithful couldn't see past their tried-and-true winning formula. Although KTM was well established in racing, its desert record in Australia was pretty light on.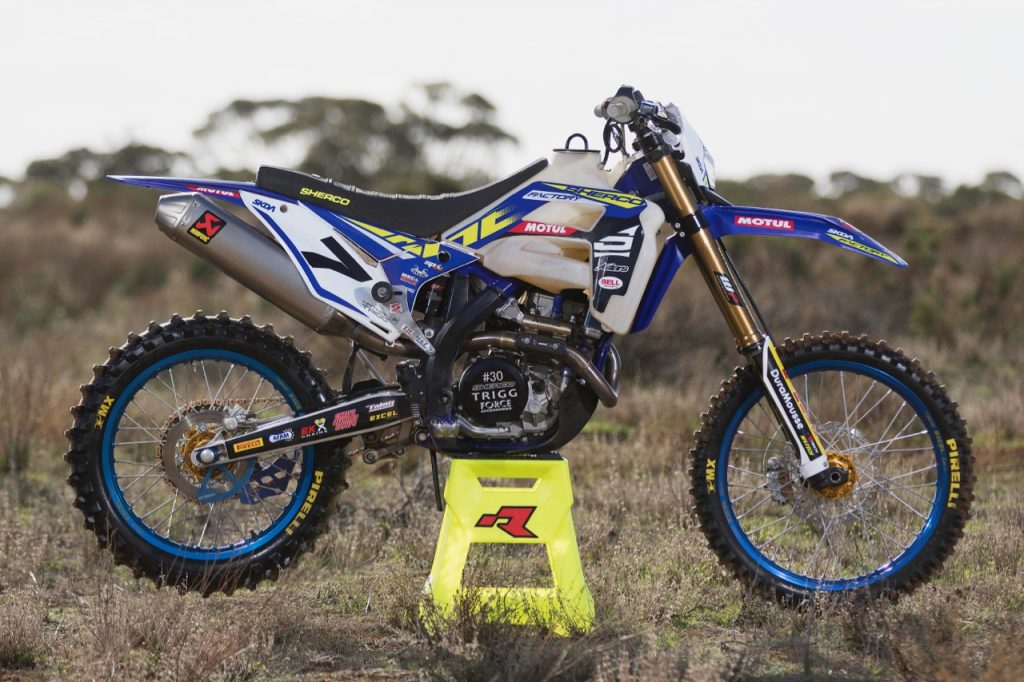 SHERCO JOINS THE PARTY
KTM just wasn't held in the same regard as Honda, but that soon changed. It claimed not only the Finke Desert Race in 2009, but the Hattah one as well. Since then the Austrians have strung together a very admirable list of big desert race wins and the popularity of the brand has skyrocketed. Coincidence?
The only bike to make any real impact on the mighty KTMs at this year's Finke was the Sherco 450SEF-R ridden by Nathan Trigg. The two fastest Husqvarnas never made it to the end and the factory Honda 450s both broke down but the Sherco was the fastest 450.
Trigg ran as high as fifth before a crash and a minor mechanical set him back to tenth. He stayed true to form at Hattah with a fine fifth place, running as high as third before fatigue got the better of him.
Sherco definitely isn't the first brand to spring to mind for people thinking of taking on Finke or Hattah but Trigg has proved the French missile is up to the task. So how can a family-owned business in Nimes possibly have a bike capable of winning Australia's greatest desert race?
Surely the French beast isn't a patch on a Honda or KTM? Or even a Yamaha? Sherco offered up Trigg's 450SEF-R for a test ride and I was really interested to see what it would be like. The last time I rode a Sherco 450 was back in 2008 for ADB #343 and, quite frankly, I was not a fan.
The engine felt slow, the levers and handlebars were weird and, combined with some funky turning characteristics, I wouldn't have dreamed of taking one to Finke or Hattah as I just didn't feel safe going fast on the 2008 model. Time has passed and Sherco has got serious about its bikes so let's see how this Sherco feels in the desert. The test location was a private property just outside of Mildura. This area has always been a good location for testing and I have used it a lot. It has a good mix of the terrain you will find in both desert races.
SHOWROOM
As soon as I arrived I got my first decent look over the 450SEF-R. For a motorcycle that had just raced Finke and Hattah it looked more like it had just rolled off the showroom floor, not out of two of the toughest desert races in Australia.
Circling around the bike a few times I could tell Sherco team mechanic Derek Grundy had put a lot of love into this bike. Once I stopped admiring how good it looked I started looking for all the key parts needed for a successful desert campaign, such as a steering damper, Steg Pegz and long-range fuel tank. All of these desert essentials were there but the tank looked huge.
Stephen Tuff (Tuffy) from Sherco was on hand so I asked him about the Safari fuel cell. I learnt the tank holds 14 litres, which is good for two fuel stops on the way to Finke or two laps at Hattah. That all sounded good but it still looked huge.
Before I fired the bike into life I got Tuffy to give me a run down on how modified the bike actually is. Since the introduction of EFI to most enduro four-strokes I have found as both a racer and team manager, that you need to make a decent amount of modifications to obtain the horsepower most riders are chasing in the desert. So I was surprised to find that the Sherco engine is standard apart from the Akrapovic exhaust system fitted for some extra go.
Sherco Australia's main focus was to build a bike based on the standard machine, only adding what was really needed to get the job done and stay within a budget that is a fraction of what I have seen spent to win Finke.
FEELING THE LOVE
A quick press of the starter button and it fired into life despite the chilly morning. The first thing I noticed was how quiet and smooth the engine was at idle. While the motor was warming up I jumped on. I'm no giant at 177cm tall, so Trigg's Topline seat with added foam to suit his 189cm body felt a little tall to me. Other than that, everything felt really comfortable and neutral.
The handlebar was smack in the middle, basically how I have my own. The ODI grips were soft and comfortable and the only setting that was a little different was how far towards the ground Trigg's clutch and brake levers pointed. This is all just personal setup and I figured his taller body was just more comfortable with them in this position.
With the engine now up to temperature I began riding and for the first few minutes I played it careful. To be honest, I didn't go easy for too long as I was feeling comfortable straight away.
After just two corners I thought, "hang on, what about that huge Safari fuel tank?" It felt really good, not overly wide at all like I had convinced myself it was going to be.
The next thing I noticed was how smooth the engine delivers its power. For me this is a huge plus as I have found a lot of four-strokes lost their nice, smooth power delivery when they switched to EFI. Finding traction is also made easier with this sweet power delivery. This definitely is a big plus when trying to save energy over a long race.
Mid-range to top-end power is where this bike was most impressive, especially considering it's a standard engine. It wasn't long before I was in sixth gear. Things get scary very quickly at this speed, so I was hanging on very tight to start with. After a few minutes I realized how stable the Sherco frame was. I know some readers would be crediting the MSC steering damper but I've ridden bikes on which it didn't matter how good the steering damper was, holding the handlebars at speed was like trying to hold on to a wet fish.
Next on my mind was the suspension. Sherco uses WP, a brand I have used to win two Finkes, but I was keen to see what direction Trigg had gone with his. His modified 48mm open-chamber fork from the Racing model is impressive. It has a silky smooth action that's nice and easy on my hands, something that I feel is important for long-distance races, yet no matter how hard I hit larger bumps it didn't blow through the travel, ever.
I can't say I was nearly as happy with the shock. It never actually did anything to scare me, it was more the fact it was quite firm and slow to rebound, making me use a lot more energy than I would like to. Overall, I was very impressed with the package that this little brand and team has come up with.
After my test, could I picture a Sherco winning Finke? Yes I could. All of the main ingredients are there, heck there is Kayaba suspension and a 500SEF coming for 2019. Add this to the current package with some more testing and fine tuning then we could easily see a new colour at the top.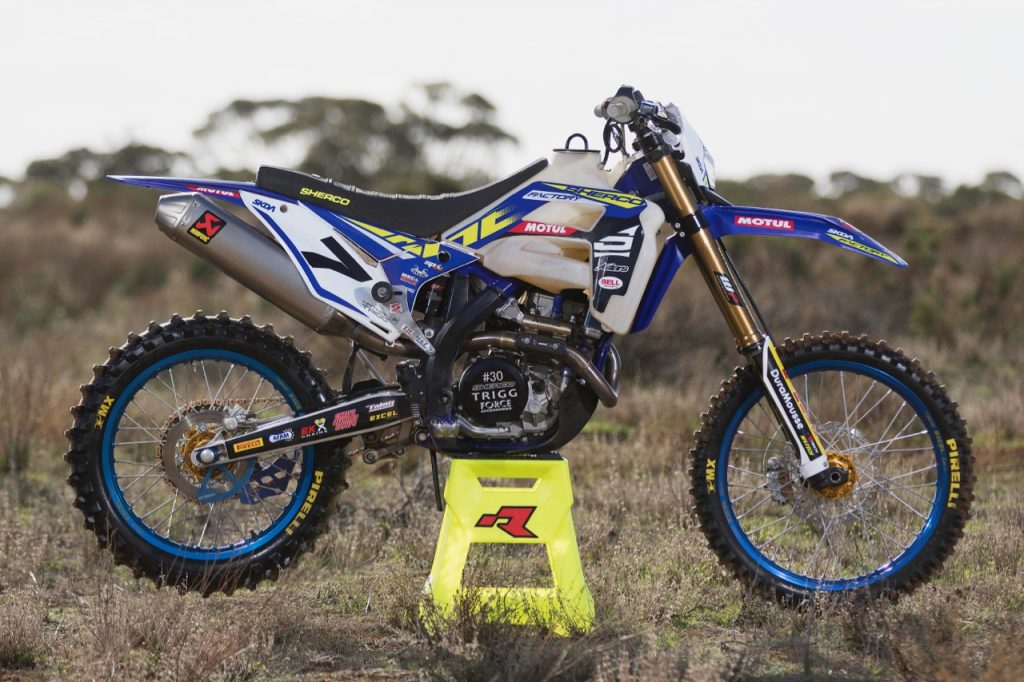 DESERT READY
For any bike to be competitive at Finke you need to dial in a specific setup. Forget anything you might know and start again. The Motul Pirelli Sherco Team set to work on Trigg's bike by adding all the basics needed to get the job done.
• 14-litre Safari tank fitted with IMS dry-break system for faster fuel stops.
• MSC Moto steering damper to help with handling at high-speed. Even with great suspension the head-shake from the rough terrain and high speed is unavoidable.
• Steg Pegz for leg grip
• Topline seatcover with extra padding for that extra comfort
• ODI full-waffle handgrips. Soft 'grips with good feel
• Chad's Offroad Setups suspension package using the Sherco 450SEF-R Racing model 48mm WP open-chamber fork valved to suit the rider. The outer fork legs have Kashima coating and the fork tubes have DLC (diamond like carbon) to reduce stiction.
• The shock has an MX Tech triple adjuster which offers low-speed compression, mid-speed compression and low-speed rebound control. MX Tech low-stiction piston band and slightly firmer valving than standard.
• An Xtrig pre-load adjuster makes setting the ride height super easy. It's an 8mm nut head that you can turn with a T-bar. You simply wind it up or down. It's trick.
• FunnelWeb air filter
• Akrapovic exhaust system
• Pirelli XC Mid Hard tyres for Finke
• Pirelli MX32 Mid Soft front and Pirelli MX Soft 410 rear for Hattah
• Dura Mousse for the front and ultra-heavy-duty tube for the rear
• Samco Sport silicone radiator hoses
• Clutch cover, rear disc guard and radiator guards from Sherco Racing Hard Parts
• Specialised Engineering footpegs
• Talon hubs mated to Excel rims
• 15/49 gearing for Hattah and 15/47 for Finke with EK MXZ chain with rivet link
• Motul brake fluid
• Rear brake return spring helps stop Trigg riding the pedal.
• SK Designs graphics
• Wiring insulation to prevent wear and damage
• Lots of Loctite and safety wiring