For its first model under the new ownership Gas Gas has been cautious. The 2017 two-stroke enduro bikes are very similar to the 2015s.
What's New
Gas Gas will produce a bevy of two-strokes, with 200 and 250cc enduros to accompany the 300 we tested. The demise of the KTM 200 EXC could come in handy for Gas Gas which may end up being the sole manufacturer in that class.
Gas Gas continues to produce one of the best engines in the 300cc class. To compliment an already impressive powerplant, Gas Gas has rethought the map switch, tweaking the ignition settings, and has come up with a much more noticeable difference between Hard or Soft. Traction is also assisted by a quality set of Metzeler Six Days hoops that come standard on the EC 300.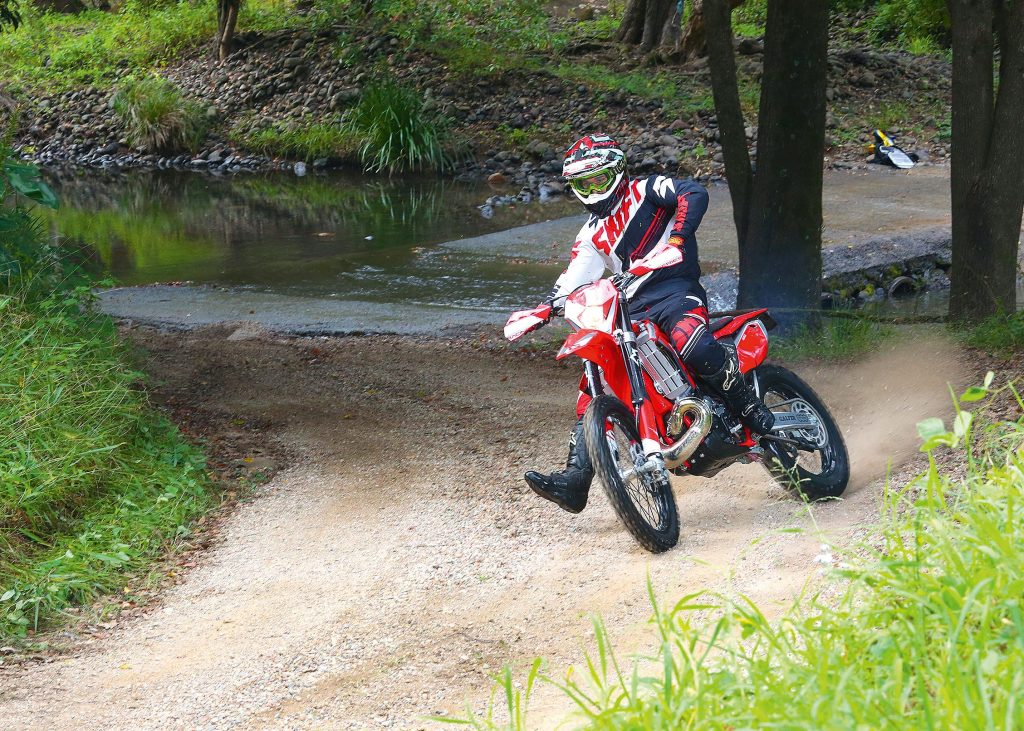 Suspension
The 48mm closed-cartridge Marzocchi fork has the potential to be usable for both trailriding and racing but it lacks the valving to make it exceptional. An open-cartridge setup would be better for trialriding as it offers a softer ride that can feel more plush, but it will not hold up at race speed like a closed-cartridge.
As for the shock, Gas Gas continues to persevere with the Reiger. Over the small choppy bumps it was great and returned the wheel to the ground quickly ensuring excellent traction, but when at full throttle on fast open sections, it bucked hard if it smashed into a square edge bump.
The adjustability of the suspension was as you'd expect most quality European gear to be with spring preload, rebound and compression at your fingertips all round, with high and low speed adjustability also on the shock.
Handling
As for the rest of the bike, the ergonomics are very comfortable. The bend of the 'bar feels neutral and familiar, while the dash and instrument cluster were born this century (the same can't be said for some other brands). The electric leg kicked over every time and we never had to touch the kick starter, while the hydraulic clutch was effortless and the Nissin brake calipers married with Galfer 260/220mm discs performed flawlessly with minimal effort.
The Gas Gas EC300 makes for an excellent trail or race bike, but it will require a suspension tune. That being said, it comes with all the bells and whistles from the crate, like an FMF pipe, handguards and a graphics kit so the money you'd save on those bits and pieces can be spent dialling in the legs, something that helps most bikes.
Mitch Lees
Read the full ride report in issue #443 of ADB Magazine