We have been testing an FMF Powercore 4 silencer from Husqvarna Australia on our FC350 long-termer.
The FMF Powercore 4 is available through the Husqvarna accessories catalogue and is available as a slip-on or with the header pipe as a complete exhaust system. Here's what went down:
WE RATE
FITTING The muffler went on without any problems. We lubed the slip joint with a little silicone spray so it slipped straight onto the stock header easily.
SOUND The aural presence of the 350 is instantly transformed. The sound becomes much deeper and louder but if you don't like the extra noise then the pipe comes with a screen insert to quieten it down.
PERFORMANCE The 350 already has a strong engine but the FMF pipe increases the response and torque, making the bike easier to ride and more user friendly as you are able to carry higher gears through turns and use the torque.
LOOKS The appearance of the FMF transforms the bike and sets it apart from the rest from Joe Average Husky. The pipe makes it stand out and gives it that factory look.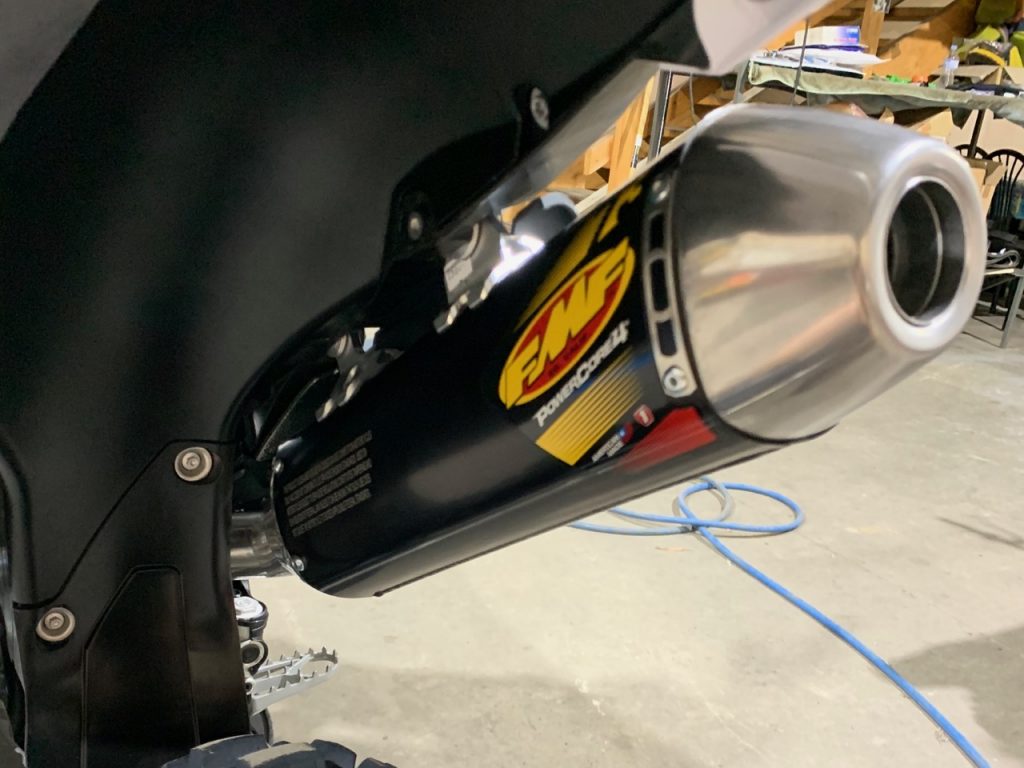 DON'T RATE

UNMATCHED The only issue I have with the muffler is that it looks out of place fitted to the stock header. Obviously it is made to pair up with the FMF one. It would look much better and, most likely, perform better but life wasn't meant to be easy.
VERDICT
I have been extremely happy with the FMF Powercore 4 silencer. It looks top notch and it lifted the performance of the bike just the way I expected it to. I was nervous that the black anodizing would scratch up easily but it isn't showing any wear at all. I have not had to touch the pipe since fitting it. It was a simple bolt-on-and-leave-it job. The increase in performance was instant and so was the improvement in looks. The price is reasonable for a slip- on, especially when you compare quality, durability and performance. I would expect that the header pipe, in true FMF fashion, would increase the power even more while being durable and stylish.
Tech Ed Mat Boyd