The Fork-King is an easy solution to relieve pressure on your bike's fork during transport. We've been using the Fork-King for over six months and we haven't broken it!
Your fork is arguably the most important performance part on your dirtbike. Poor handling can be the result of a fork that isn't set up right or is not working as it should. You don't want to put any unnecessary load on the fork as it can blow the seals or wreck the springs but hours on end strapped to your ute, van or trailer will do that. To relieve some of that pressure you can try jamming an empty four-litre oil pack or a block of wood between your front mudguard and the tyre but getting that done can be more hassle than it's worth. The Fork-King is an easy solution and, after six months, we haven't broken it!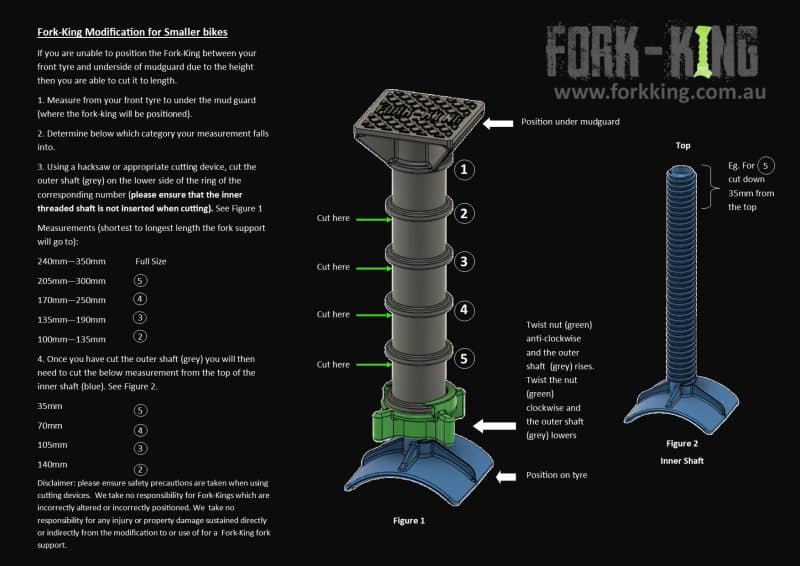 WE RATE
EASE OF USE To wedge the Fork-King in place, simply strap your bike down so it's comfortable and then insert the Fork-King and wind out the nut until it holds. Then just pull down on your tiedowns to tighten it the last few centimetres and you're done.
PRESSURE The Fork King takes the pressure off the valves, shims, springs and seals in your fork and applies them to your tyre and mudguard where it attaches to the lower triple-clamp.
TOUGH We weren't expecting the thread and nut on the Fork-King to last all that long under the pressure but, to our surprise, the nylon and fibreglass combo is stronger than we thought.
RANGE The one adjustable unit will fit most bikes of 85cc and over. Fork-King also claims you can cut them down to fit smaller bikes. The standard size fits from 250mm to 350mm.
HOMEGROWN As Australia looks to rebuild its economy, it's reassuring to know you're buying an Aussie-designed product.
VERDICT
For something so simple in design, the Fork-King has the potential to go all sorts of wrong if it spits the dummy while you're hurtling down the freeway. Lucky for us, the Fork-King is incredibly tough and the nut hasn't loosened once on the thread. It performs a simple task perfectly. And who wouldn't want to support Shaun, the bloke behind the device who grew up racing in the Macleay district of Queensland. Editor Mitch Lees
Details
BILL: $37
BROWSER: forkking.com.au
BLOWER: 0438 626 406