Ben rides the bike currently leading the world enduro championship and discovers why
RED ONES GO FAST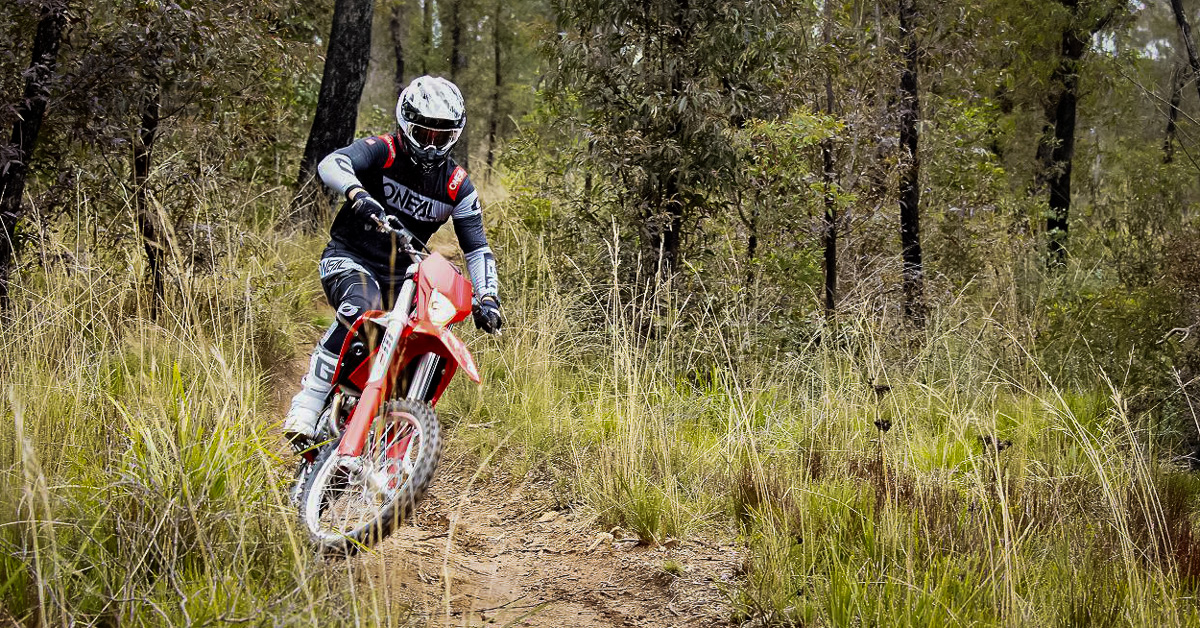 With 2023 GASGAS Enduro models starting to roll onto dealer showroom floors ADB got their hands on a shiny new GASGAS EC250F for me to put through its paces. During my racing career a lot of the major enduro wins I achieved were aboard 250cc four-stroke enduro bikes and the enjoyment I still get from riding one is priceless, so you can understand how much I was looking forward to riding it.
Visually the new GASGAS EC250F looks significantly different and better in my opinion than the previous 2022 model. The white rear guard and side plates have gone and been replaced with new red ones leaving the new 2023 GASGAS all red from nose to tail. However apart from the fresh new red look there are no major updates to the engine or chassis. Considering this particular model is currently leading the World Enduro Championship outright with one weekend of racing to go maybe it is a good thing that GASGAS has not made any major changes
I was swinging off the throttle building more than enough momentum and dodging trees effortlessly and going plenty fast enough
WHAT IS IT LIKE TO RIDE?
I will start with the engine as in my opinion this is the most important part of a small bore Enduro bike. GASGAS certainly have their Keihin EFI system dialed in perfectly, as this thing fires into life with the smallest press of the starter button. Riding off on the GASGAS EC250F for the first time and opening the throttle wide while I shifted up through the gears it was not very exciting to be honest. Like a lot of the current larger capacity four strokes this little thumper is not trying to stretch my arms or lurch out from underneath me, instead it just keeps gradually building momentum.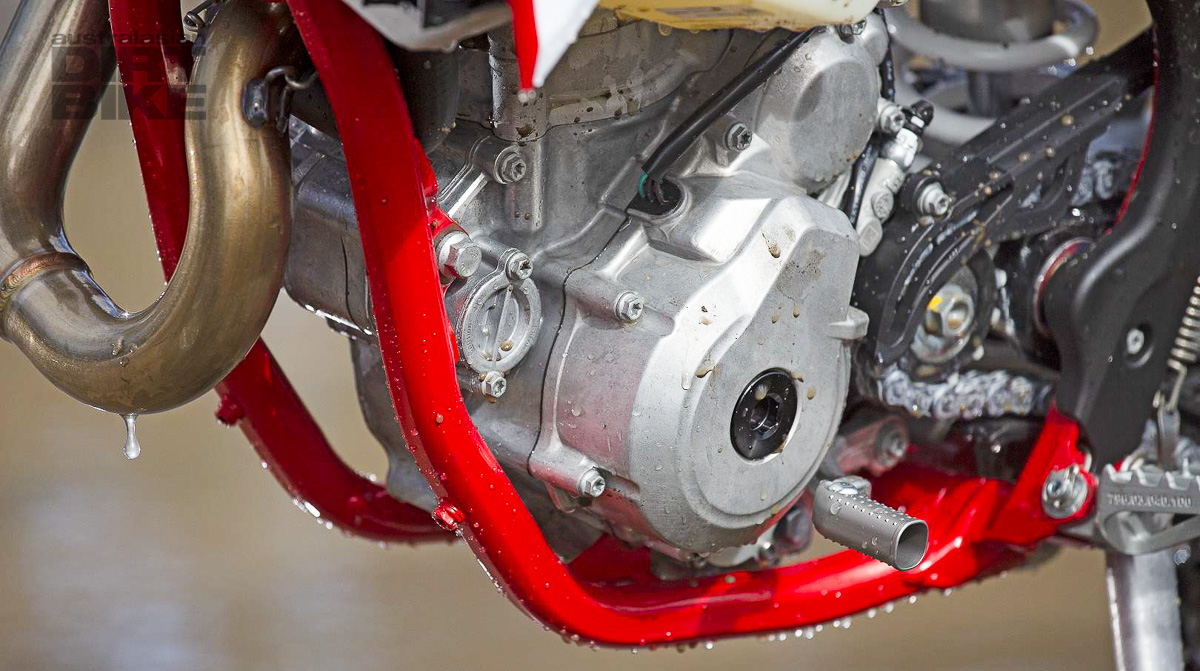 Once I got in between the trees and on a more traditional enduro track, was when I started remembering why I like these capacity bikes. That underpowered feeling that I previously felt on the road getting to the enduro track was now my best friend. I was swinging off the throttle building more than enough momentum and dodging trees effortlessly and going plenty fast enough.
Even though this little engine does not make arm wrenching horse power it does make more than enough torque to hold whatever speed you are comfortable at. The bottom to mid-range power all feels very similar in the way it gradually builds and produces power in a very gentle nature. I also enjoyed the fact I never had this engine flame out on me at any point.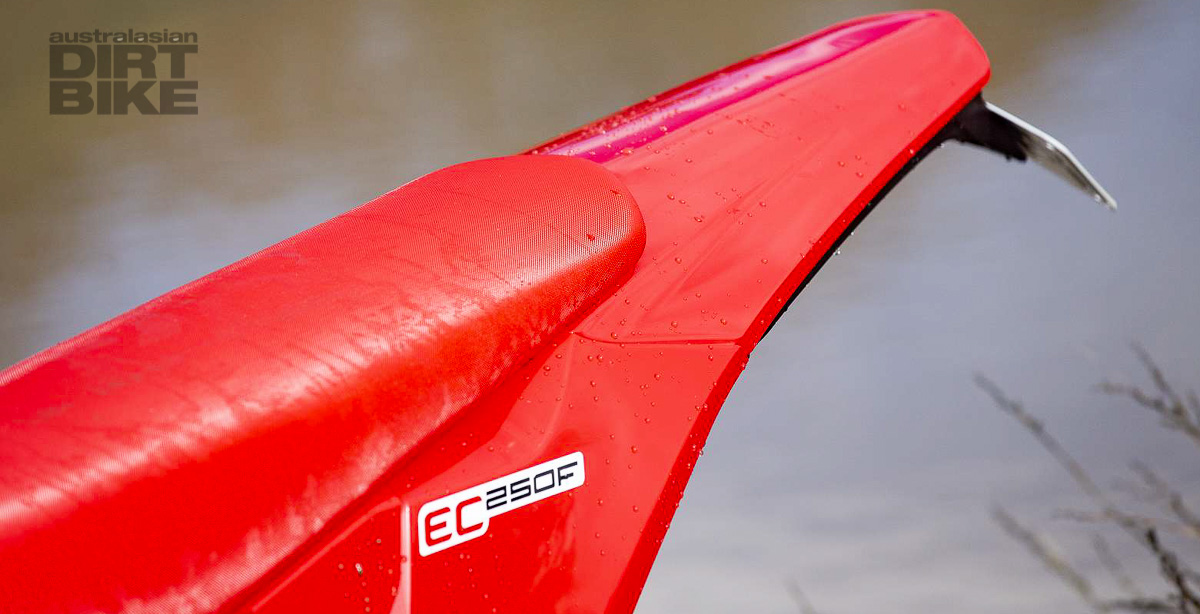 Top end power is where this engine really wakes up and feels most lively, it was an eye opener how high this engine can rev before the limiter kicks in. Providing I kept good momentum this engine is so forgiving as it never wants to spin up the rear wheel or launch me onto anything other than the line I wanted.
I am a big fan of this particular clutch as it provides pinpoint accuracy with minimal lever movement
SUSPENSION
GASGAS have done a great job at making the WP suspension on this bike provide a soft comfortable feel when trail riding, I am 80kg and for trail riding I could not fault either end. When I upped the pace and started to race the track I definitely found the WP fork was too soft on big hits or holes. It would use all the travel even when I made clicker adjustments to harden the compression up. Even though the WP linkage rear end felt just as soft as the fork, I never found its limit as it handled the big hits reasonably well and still had plenty of adjustment to go either way.
The ergonomics and feel of the GASGAS EC250F give the bike a small low feeling and I like this as I am no basketball player. As the handlebars are low and flat they contribute to a lot of this smaller feeling. Either way I like this as I always feel totally in control and it makes flipping side to side between corners quite easy.
Braktec brakes grace both ends of the braking department. The front provides great feel and initial stopping power, however I do find it slightly underpowered for heavy braking. The rear brake has exceptional feel and was more than up to the task any time I needed it.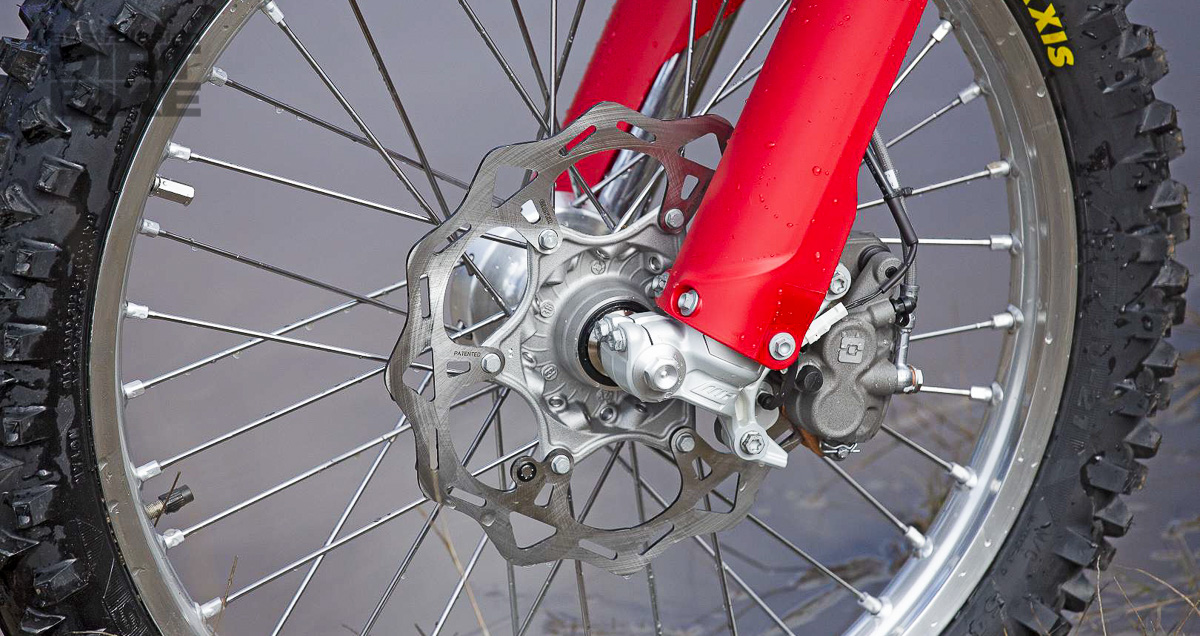 While on the subject of Braktec they also provide the hydraulic clutch system on this model. I am a big fan of this particular clutch as it provides pinpoint accuracy with minimal lever movement. In technical Enduro situations when you need to know exactly what your clutch is doing this clutch felt spot on.
WHAT I WOULD CHANGE TO MAKE IT A RACER
First up the main area where I find this bike falls short on a race track is in the fork department as it is just too soft. The WP cartridge kit is just one of many routes you could go down to improve this area.
Next I would be looking to improve the heavy braking capabilities of the front brake with an oversized front brake kit.
I'd fit hand guards to stop every branch grabbing the levers, plus some engine protection with a nice bash plate will give  piece of mind when charging through a rocky section as the GASGAS EC250F is a little naked in standard trim.
You will notice I did not mention any go fast engine mods because I don't see the point in messing with something that already works great for me in standard trim.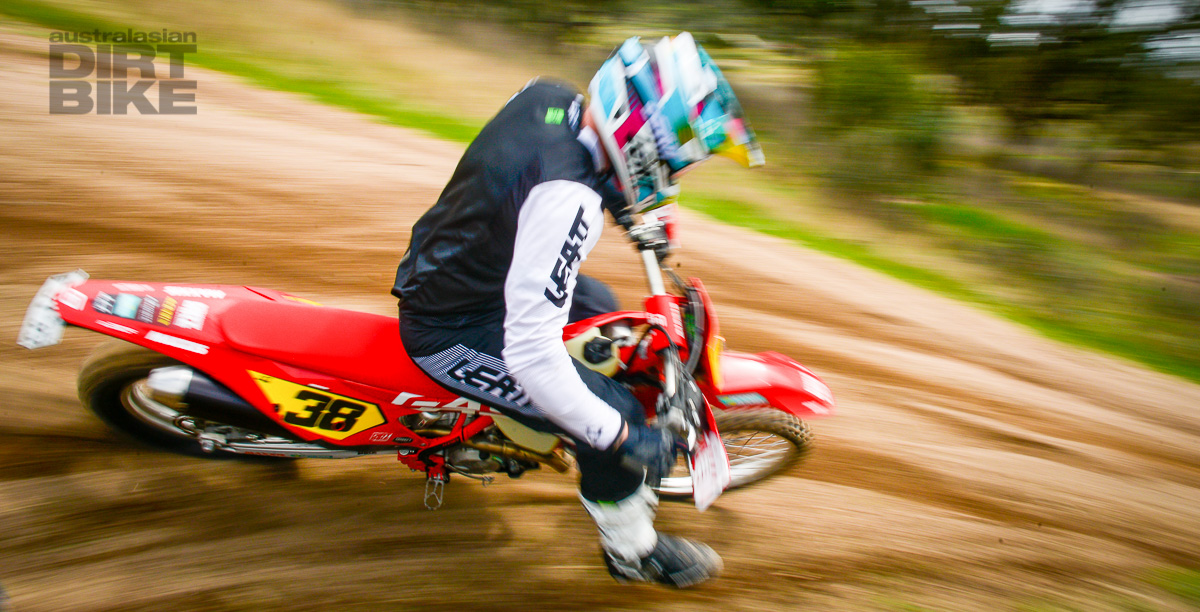 VERDICT
Even though 250cc four-stroke enduro bikes do not set any sales records in Australia, maybe they would if more riders threw a leg over this particular one and gave it a chance. For me the feeling I get on this bike is that I am taking it for a ride and not the other way around is as good as it gets.
GASGAS EC250F

ENGINE
Type                           Single cylinder
Displacement           249.9cc
Bore & Stroke          78mm x 52.3mm
Cooling                      Liquid cooled
Compression           13.8:1
Fuel metering           Keihin EMS
Tank capacity           8.5L
Transmission             Six-speed
Clutch DDS    Wet multi-disc clutch, Braktec hydraulics
DIMENSIONS
Seat height                960mm
Ground clearance   360mm
Claimed Weight       105.6kg
SUSPENSION
FRONT           WP XPLOR-USD 48mm
REAR              WP XACT MONOSHOCK with linkage
BRAKES
Front                          260mm Disc
Rear                            220mm Disc
RUNNING GEAR
Handlebar                 Neken
Front tyre                  Maxxis Enduro 90/90-21
Rear tyre                   Maxxis Enduro 140/80-18
PRICE & CONTACTS

RRP
$15,599 Ride away price
BROWSER
BLOWER
1800 644 771
Warranty
1 Month
Words
Photos
Mitch Lees