Used Bikes - the boutique Italian Stallion TM EN300 blast from the past
Heritage Ride: TM EN300 '02-'06
The TM EN300 has an awesome reputation as a very potent enduro and trail machine. It's very closely related to the EN250 with only an increase in bore size and top end parts separating the two TM's. The bigger bore really livens up the power delivery and the bike is something of a V8 supercar of the trails compared to the tamer 250 version. The later '02 models started coming out with the "double power valve" cylinders and can easily be fitted with the JRF Torque Control, which can tame the power or unleash it with the turn of a dial. The most common complaint with this model was that the bike had too much power! After riding the bike with and with out the controller I can say it should be on your shopping list if the example you're looking at hasn't already got one fitted.
The TMs of this period all came with quality Öhlin's forks and shocks. Spring-wise the early bikes suited most riders between 75-85 kg but were a little stiffly dampened. The EN's awesome motor is matched by the bike's powerful brakes – the Nissin/Brembo front with 270mm wave disc (standard) being one of the best combos around. The price for used models tends to be slightly lower than more mainstream brands, but this is just because the buyers in the lower end of the market are gun shy due to a perceived lack of dealer support. Fact is, living with a TM is very straight forward and most consumables are interchangeable with more mainstream bikes – such as brake pads which are available everywhere. You will still have to seek out a TM dealer to buy some engine, sprocket and ancillary parts through.
Heritage Ride: TM EN300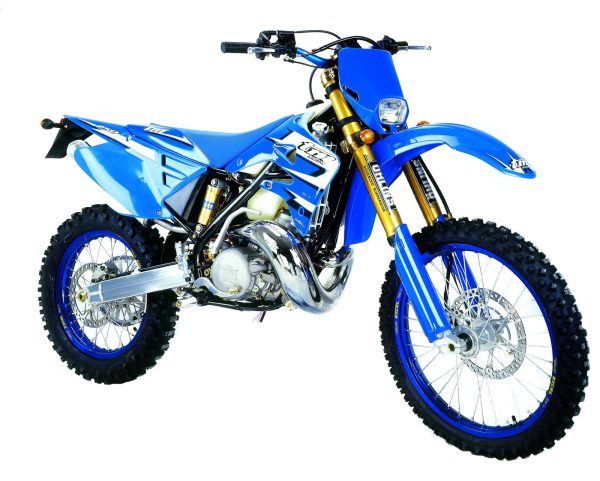 Rider suitability
Intermediate to Expert
Watch for
Leaking water pump seals on older bikes, water dripping from the front of the clutch cover area is a bad sign and will require fresh seals and gasket to put right.
Spend on
Fork and shock re-valving – '02 and '03s models (later bikes came valved better).
JRF Torque Control – Power valve adjuster unit that came stock on some of the later bikes and can be retrofitted to the late '02 models on. If you find the bike too aggressive for you in the tight stuff it is a good investment.
Expect to Pay
$3000 – $5500
Compiled – Ross McWatters