Husqvarna WR300 Used Bike Review | Used Bikes
The Husqvarna WR300 was a trailbike that came in well under the price of its competitors. It was produced in the days before KTM's takeover of the Swedish brand.
This is why the Husqvarna WR300 from this era looks very different to the current ones. During the period of BMW ownership from 2007 and 2013, Huskies were still designed and built in Varese.
The WR was cheap, but it did have its gremlins. Occasionally I've seen engines lean out due to the reed block leaking, which led to the piston melting, and other times I would see them with dead ignitions. The stators like to pack it in as they can get moisture under the cover.
Other things I would regularly see were either broken, stripped or completely missing engine-mount bolts, or the engine mounts themselves would be gone, and the wiring harness had a habit of breaking around the steering head or under the fuel tank and seat.
The engine mounts could be fixed with some high tensile bolts and a tube of automotive silicone if you are handy enough with tools but the wiring harness was a tricky problem. I have seen people try plastic conduit but this does not solve the issue of the wires moving and breaking from wear. Fortunately, the breakages only happen once the bike has had a significant amount of use.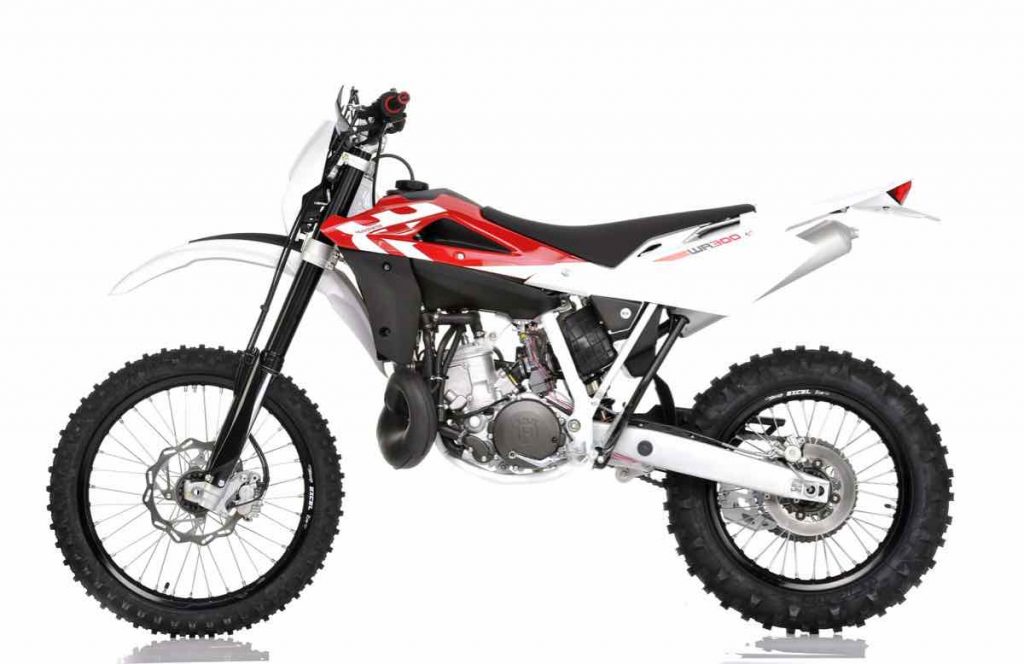 RATTLES
If you are looking at a second-hand Husqvarna WR300 then make sure it starts easily and the engine does not rattle. If it idles easily then that's an indication that the donk is in pretty good order. Ride the bike, make sure the clutch does not slip and that the transmission selects all gears without jumping out or slipping.
Check the chromoly frame for cracks and the wheel bearings, as these have a habit of seizing over time. The Marzocchi fork and Sachs shock were not fan favourites as they could be difficult to tune but make sure they are in good order. The rear floating disc liked to move around a lot and made plenty of noise, especially when you were pushing or riding slowly.
If there is excessive movement in the disc then it is possible to replace it with a solid one to reduce the noise. Take a good look over the bike for oil leaks and check the coolant and gearbox oil to see if it's clean. If the gearbox oil is milky that could indicate a leaking coolant pump seal.
Check the airbox to see if it has been cleaned and maintained and have a good look over the wiring harness. Most of the time the lights and harness is long gone on these bikes but if it is still all there then it will make getting the bike registered much easier.
The WR was, and can still be, a good trailbike. They can be picked up cheap with parts still available. They are easy to repair so if you want something pre-Kato then the 300 is a good place to start. Tech Ed Mat Boyd
Husqvarna WR300 Price Guide
New
2009 $10,795
2010 $10,495
2011 $10,495
2012 $9540
2013 $8995
Second Hand
2009 $2700 – $3250
2010 $3000 – $3550
2011 $3300 – $3900
2012 $3700 – $4350
2013 $3900 – $4600
*Prices according to redbook.com.au
MARKET EQUIVALENT