We take a look at Ivan Long's Husqvarna FE450 desert weapon.
THE SWITCH
I decided to switch to Husqvarna after three years with KTM. As we all know, KTM has been running up the front in desert races for many years and, after talking with Jeff Leisk, I thought it would be a cool idea to get Husqvarna on board and see what it can do in Australian desert racing.
When Leisky offered me the opportunity I was excited to give it a go. Previous to my years with KTM I raced Husabergs so the transition between the three brands has been quite easy with all their similarities. All great bikes with plenty of power straight out the box.
DEEP WELL
Deep Well was a fun race but I wasn't entirely prepared. I picked up my Husqvarna FE450 the weekend before the race, put three hours on the clock, chucked on an FMF muffler, Michelin sand compound tyres and Steg Pegz and was on my way.
I wasn't sure what to expect as the local boys are fast and have good knowledge of the tracks. I had some good battles with Daymon Stokie. I finished second in the first moto to Stokie and then won the second and third motos to come through and take the outright and Pro Open class wins.
The motos were roughly 30 minutes long with 40+ degree heat and in natural terrain sand and whoops. It is one of the toughest races out there, especially when you throw in the dust.
FROM THE CRATE
I love how the FE450, straight out the box, is a dream to ride, the power, the way it handles and how surprisingly lightweight it felt for me. I was very impressed. I only had to put the Steg Pegz, Michelin tyres and muffler on it for the race; the rest I was pretty comfortable with. There isn't anything to fault. It's a great machine.
MODIFICATIONS
So far I have just added the FMF muffler, Michelins and Steg Pegz. In the near future I will play with some suspension settings as I get used to the linkage suspension, which is the biggest difference coming from KTM's enduro range.
I will be making a few more trips to Alice Springs before the Finke Desert Race to try and get the perfect set up for that race. I am fairly confident that not much will need to be changed though.
DESERT SETUP
When setting a bike up for the desert, the main things that really comes to mind are the Steg Pegz, steering damper, stepper seat and foam grips. You also need a bit of work on the suspension to ride the whoops at speed a bit more comfortably.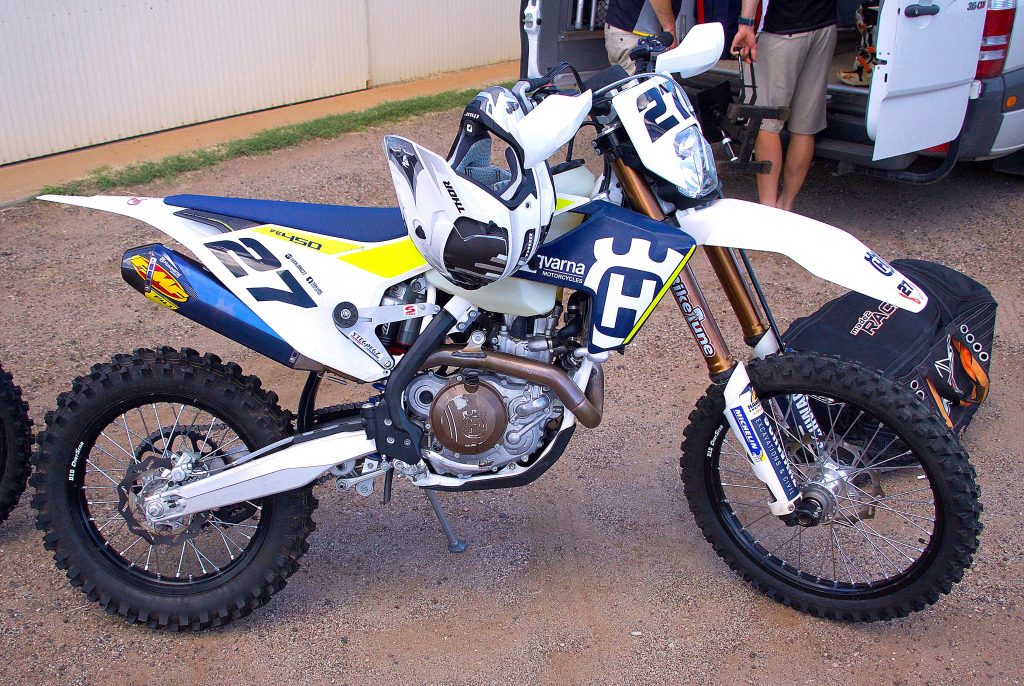 YEAR AHEAD
This year I will be focusing on desert racing, so I will plan my year around the Finke and Hattah desert races. I also hope to make all the other desert races around Australia that I can fit in between working full-time for Schwarz Excavations in Lobethal, SA. I am hoping to give the Gas Dash, Condo and North West Enduro Series a crack. I will also be racing my local SA Off-Road Series to get some racing time in. We are pretty lucky in SA to have a lot of sand tracks that the SAORC series uses.
THE SPONSORS
I would really like to thank Jeff Leisk and everyone at Husqvarna Australia. Leisky has been behind me for four years now and, without his support, I wouldn't of achieved the level I have got to. I would also like to make mention to Schwarz Excavations and Buttrose Earthmoving who are behind me this year with huge support. I also have a handful of valuable sponsors including Pod Active, Shotz Sports Nutrition, Thor, Gas Imports, Michelin, Zero MX, Steg Pegz, GDR Suspension and Bike Tune. It's important to have these people behind me, as racing would not be possible without them.