Kawasaki's 2022 KLR650 gets a few fine upgrades that bring it up to speed with the tech-heavy adventure market
We break down the upgrades made to the new Kawasaki KLR650 Adventure 2022.
I first laid eyes on the Kawasaki KLR650 back in 2007. You've probably heard my KLR story already but if you haven't here it is. I was fart-arsing around in casual news writer roles for major TV outlets unsure of what I wanted to do with my life. I loved most sports with a focus on dirtbikes, surfing and rugby. I loved adventure and was addicted to the adrenalin hit you get from doing something where the outcome is unknown and the journey to get there is challenging or risky.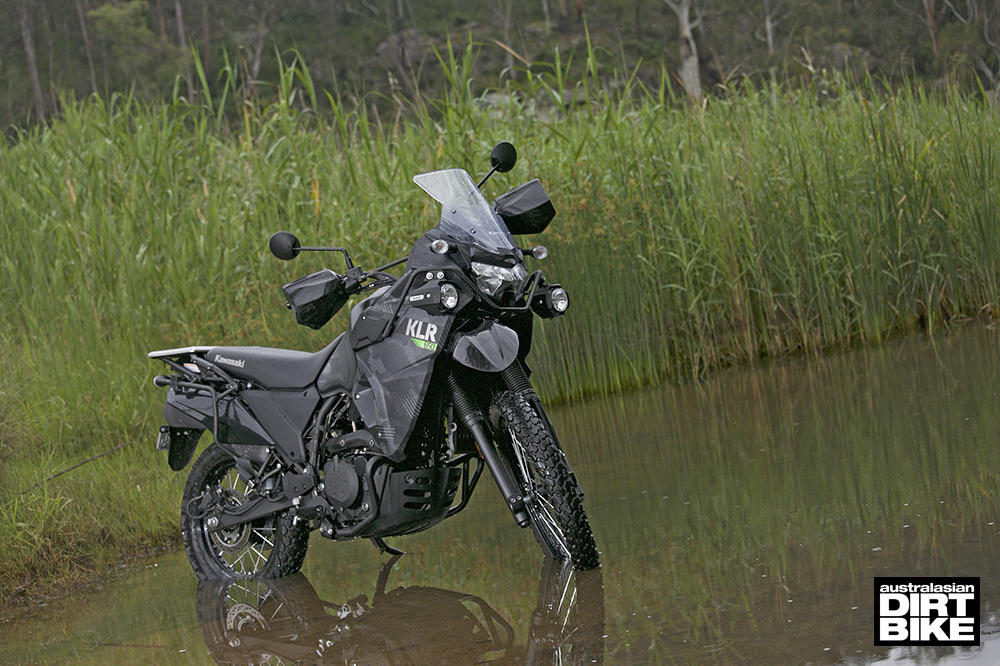 2007 was also around the same time the Long Way Down and Long Way Round documentaries aired. That's when it dawned on me, I have to do something epic on a motorcycle.
So I called my mate Tom Reece and asked if he would consider circumnavigating Australia with me. He didn't hesitate and that same afternoon we were plotting our route, building our inventory list and sourcing the best bike for the job.
We decided we needed to tackle our 18,000km journey on new bikes because our mechanical knowledge was okay but not excellent and a major engine problem would see us out of our depths. Kawasaki had just released the all-new KLR650 and seeing as how we were planning our trip for 2008, we knew the bike would be proven by then. We didn't have much cash and the KLR650 offered the two things we were interested in: a big tank and a windscreen.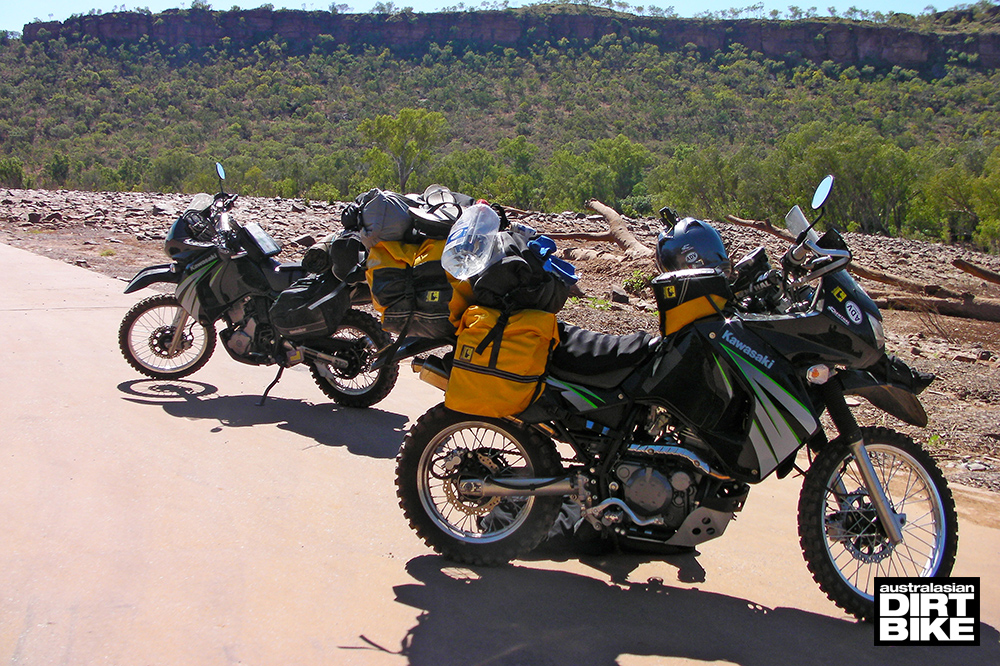 We piloted those KLR650s all around Australia for three months and the only thing to let go was a seal in the radiator on the Gibb River Rd which we were able to fix with a little cracked pepper until we could get it replaced. So as you can imagine, the nostalgia I have for the KLR650 runs deep. It is and always has been a great, no-fuss, low-maintenance, budget adventure bike and this latest iteration is no different.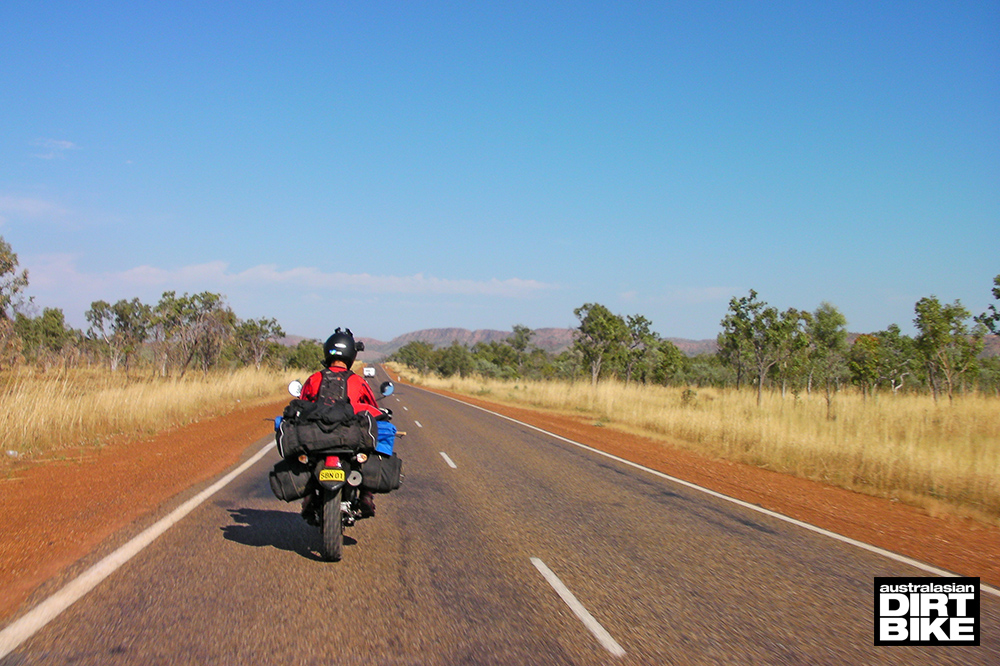 What's changed?
Aside from the crash bars, a camo paint job and spot lights on this Adventure model KLR650, you could be excused for thinking not much has changed. That's because most of the changes are internal.
The change everyone has been talking about is electronic fuel injection. In 2021 you'll find it hard to locate a bike that doesn't have some sort of fuel or oil injection system to reduce emissions, even on two-strokes. But the KLR650 didn't just get EFI, the chassis received bigger axles, it got a 2mm larger diameter swingarm pivot that is now 30mm longer too, with two degrees more rake and 8mm more trail, it has firmer suspension damping settings and bigger brake rotors, with off-road-tuned ABS. On the adventure model we tested we also got a 12v outlet and USB charging ports, the spot lights and crash bars plus a rear, hard-cased pannier system.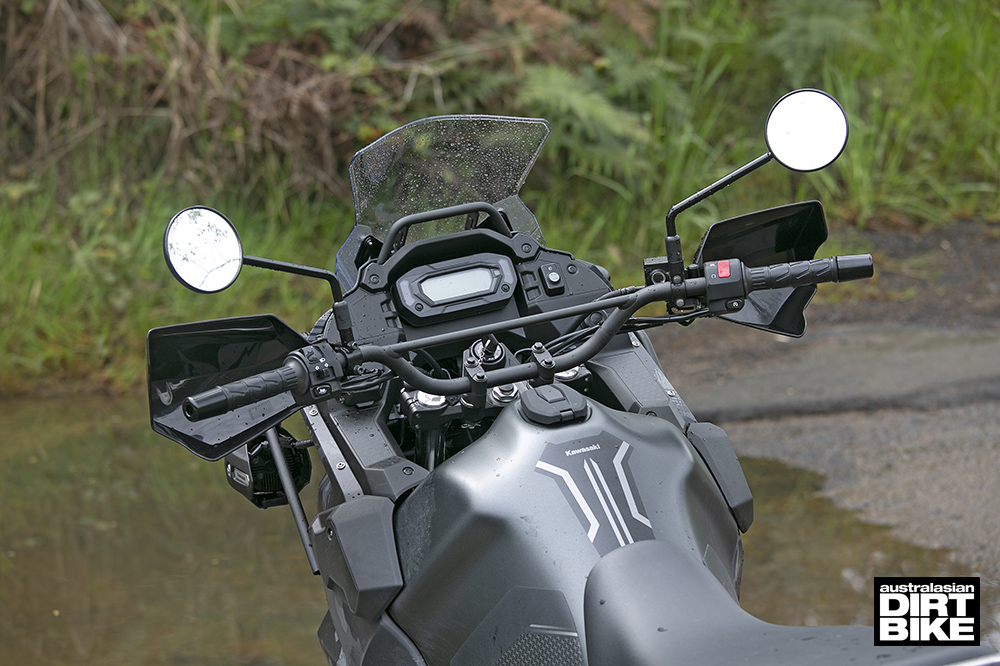 Aside from the new colourways there's also the digital dash which now displays your fuel level and some of the plastics have changed shape. The windscreen has two positions but you can't change it on the fly and the footpegs feel skinnier and are covered in a slippery rubber, but more on that later. The seat also felt softer and more comfortable but apparently it hasn't changed.
So, as you can see most of the important stuff for budget adventurers has been left untouched like the engine, suspension, big tank and major electronics. Some would say this lacks progress but we think it is actually what the budget adventurer needs because if Kawasaki had changed the engine, frame and added electronic rider modes, traction control and a suite of electronic fandangle stuff, the price wouldn't be $11,324.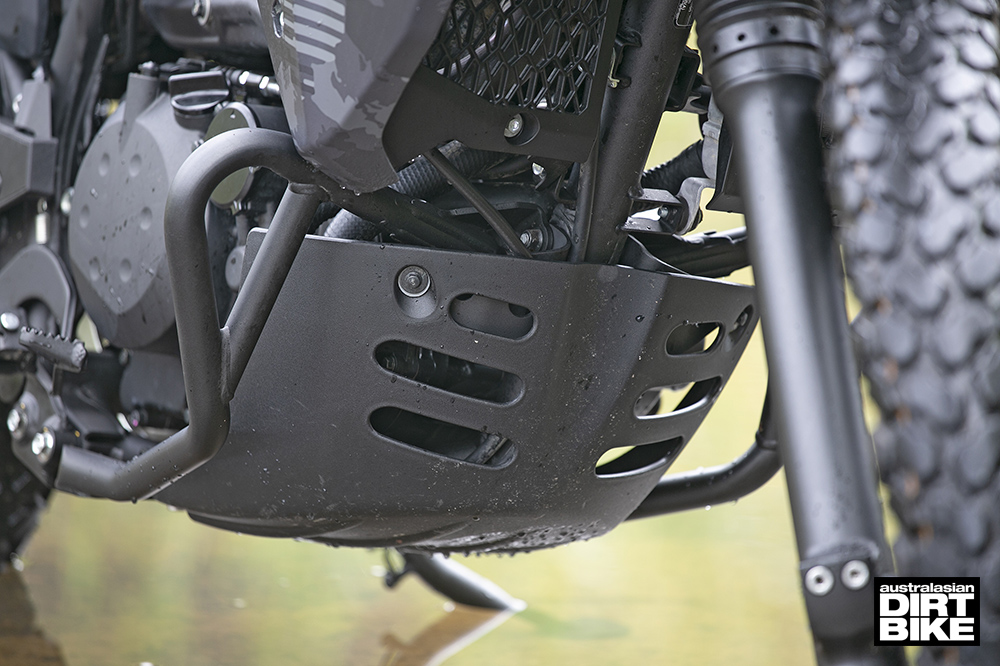 It still runs a single-cylinder, four-valve, DOHC, 652cc engine with a bore and stroke of 100 x 83mm and a compression ratio of 9.8:1. It still runs the same five-speed box and cable clutch.
While the suspension damping has been improved, the fork is still the same 41mm unit with Uni-Trak shock offering the same suspension travel at both ends as the previous model. It runs a seat height of 870mm, ground clearance of 210mm, tips the scales at a staggering 222kg but that is fully loaded with all fluids, panniers, lights and crash bars and can carry a monstrous 23 litres of fuel. It's still got a 21-inch wheel up front and a 17-incher out the back.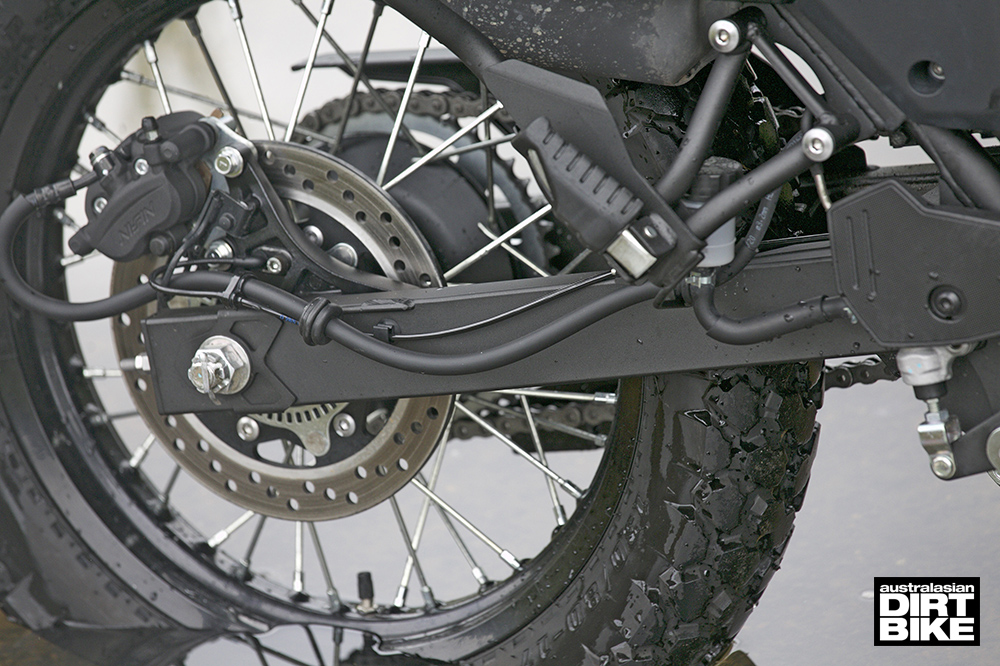 Better or worse?
Without a doubt, all the changes to the KLR650 make it a significantly better bike except one, but I'll get to that later. The fuelling from the EFI system makes it more punchy and responsive down low. It powers through the rev range cleaner, with no flat spots and fires the bike into life by simply breathing on the starter button. No more turning the fuel on and off or choke to get it started. It's a big yes from me.
I also think it improved the fuel economy. I was able to get about 350km of riding before the fuel light came on. I wouldn't stretch it to 400km unless you're sitting low in the rev range. That gives us an average fuel consumption of about 6.5L/100km. That's not bad for a single cylinder adventure bike being revved to the moon.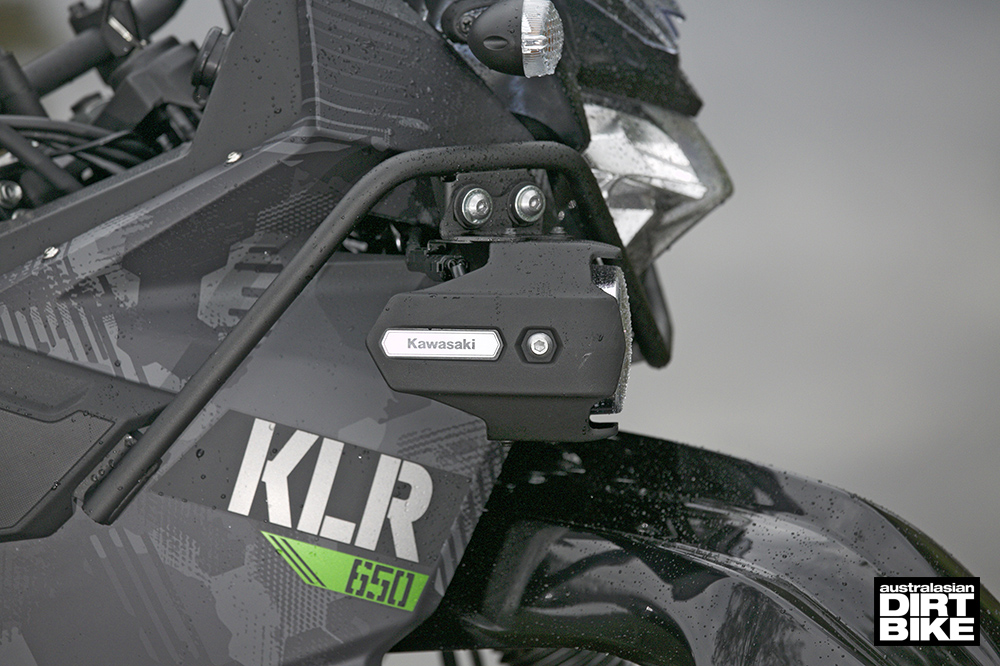 Speaking of revs, while the engine felt stronger and more responsive with the EFI, I would probably change the final gearing. I found the gap between first and second gear too big for harder, off-road trails. This was most noticeable when going down steep rocky hills where first was too slow but second rolled on too much.
When going through corners in second gear, I wasn't confident dropping the revs under 25km/h for fear of stalling which meant either going really slow through rocky corners in first, or just holding on and fanning the clutch in second. So, ideally Kawasaki would change the internal gearing on the next model (but you'll have to wait nearly 15 years) so my solution would be to put a bigger sprocket on the rear. I wouldn't jump more than two teeth. But, this could be problematic.
I found the KLR650 lacked over rev and would flatten out in the top of the rev range. It signed off a little early for my liking which meant I had to keep shifting gears but with large gaps between the gears this required me to look further ahead and be more focused with my gear changes and line selection. A pipe would probably help with the top-end but I'd suggest trying the sprocket first and then deciding if it needs a pipe.
One good thing about the big gaps between the gears was that the KLR650 was unstoppable on big open dirt roads and highway sections. The responsive EFI allowed me to carry third gear everywhere when the speed was up over 60km/h on the dirt and when sitting on 110km/h on the freeway it felt like it was hardly working! This is rare for a single-cylinder 650. And to make it even more comfortable, the new adjustable mounts for the windscreen push more wind over my helmet meaning I had nearly no wind buffering which is less fatiguing.
The suspension is also a significant improvement over the previous model. While it doesn't seem like the Kawi engineers did all that much, the firmer suspension damping settings have actually softened up that initial hit and made the suspension feel a little more progressive. Of course at 100kg I still bottomed out the suspension but I can't think of an adventure bike I haven't felt the dreaded clunk from, when jumping erosion mounds. Firmer springs for adventure riding are necessary on every adventure bike and the KLR650 would certainly benefit from some if we were loading it up and aggressively hitting the trails. But, as a previous KLR owner who did a loop of Australia on stock suspension, I can personally vouch for the comfort, quality and ability for the stock stuff to still get the job done no problem.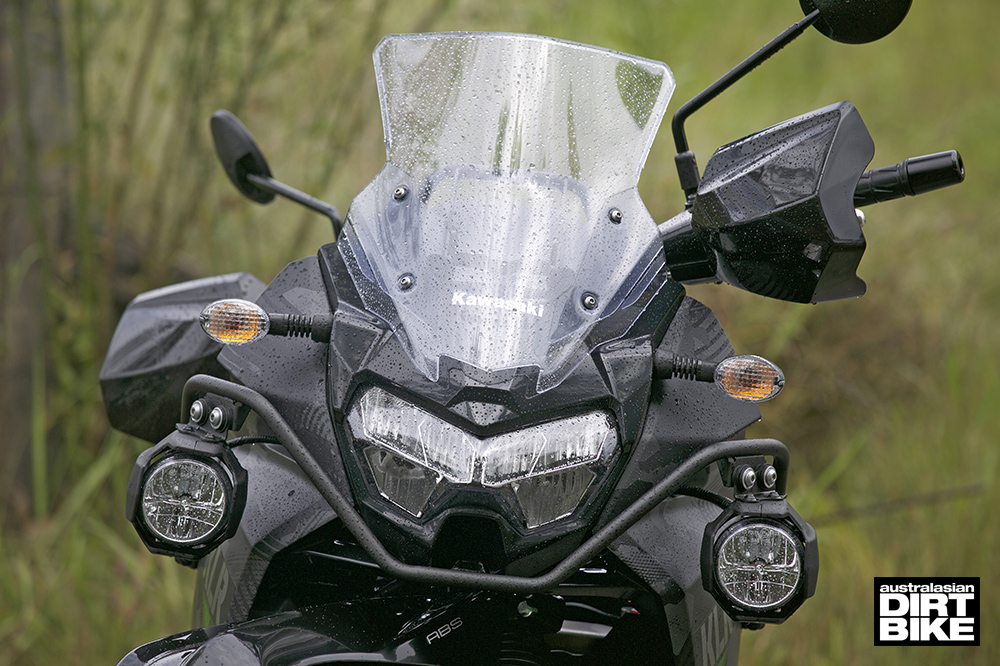 The longer swingarm and more raked out feel helped the rear-end to feel even more planted. It didn't wallow in the sand like the old one could and it felt more comfortable at high speeds, especially in the dirt. I expected to lose some cornering ability but I don't think it was worse than the previous model.
While I was enjoying the fresh new feel to the engine and better stability from the suspension and swingarm, I forgot to focus on the all-new ABS system. That was until I needed to turn around and have another go at a hill. About two metres into my descent back down the hill I remembered the KLR650 now has ABS. I grabbed a hand full of front and rear brake and the ABS kicked in. I was hurtling towards the bottom and gaining momentum at first, then eventually the ABS began to pay off and I was able to stop the bike before running off the shoulder. I'd say the ABS isn't as invasive as most other ABS systems on adventure bikes because Kawasaki have tuned it for off-road use but if I could turn it off on the dirt I would as the KLR650 is easy enough to pull up without the need of ABS. A good rider who is looking ahead would be able to stop the KLR650 quicker without ABS but Kawasaki's hands are tied thanks to new ADR laws. I'd like to see Kawasaki make it switchable so hundreds of adventure riders don't end up with dangerous DIY jobs.
So, the engine, suspension and swing arm changes have made a good adventure bike even better but, the footpegs were clearly an afterthought. When I picked up the bike I asked if the rubber inserts could be removed and Kawasaki said they couldn't. I spent the first half of the day in dry conditions and didn't notice them. Then I hit my first river crossing and my foot went sliding under the rear wheel. It gave me the shock of my life and if it wasn't for my Gaerne SG10s I may have been in a moon boot for Christmas. Please, if you buy the KLR650 put some aftermarket pegs on it with teeth. And while you're at it, try to fabricate a better footpeg mounting bracket as the one on the bike is a little too flexible.
Who does it suit?
We had the luxury of testing the KLR650 against a DR650 that had had a bunch of work done to it and it gave us a good indication as to where the KLR650 stood (you can read all about that comparo in an upcoming issue). The KLR650 is the best budget adventure bike for those that want to cover big kilometres and fall more into the touring style of adventure riding rather than trailriding. For $11,324 ride away, the Kawasaki is more expensive now than when this model was first introduced in 2007 but it's important to remember the average wage in Australia has far outgrown KLR650 price increases over the years.
At that ride away price you do not need to change anything except the 'pegs if you want to circumnavigate Australia hassle-free. There are some modifications you can do to make it even more competent but the spec in which you wheel it out of the showroom floor is plenty capable of roads like the Oodnadatta Track, The Gibb River Rd, the Tanami Track and even the run to Cape York to complete your loop of Oz.
The stocker
If you don't want the Adventure-spec model, you can opt for the stock KLR650 at $10,294. Here's what you'll miss out on with the stocker:
Spot lights
Camo colorway
Crashbars
Panniers
Pannier racks

Kawasaki KLR650
ENGINE
Type Single-cylinder, DOHC
Displacement 653cc
Bore & STROKE 100.0 x 83.0 mm
Cooling Liquid-cooled
Compression ratio 9.8:1
Fuel metering EFI
Tank capacity 23L
Transmission Five-speed
Clutch cable, Wet multi-disc
DIMENSIONS
Wheelbase 1540mm
Seat height 870mm
Ground clearance 210mm
Claimed Weight 222kg (wet)
SUSPENSION
FRONT 41mm, 200mm travel
REAR Uni-Trak, 185mm travel
BRAKES
Front Single, 300mm disc
Rear Single, 240mm disc
PRICE & CONTACTS
RRP $11,324
Kawasaki.com.au
WORDS AND PHOTOS // MITCH LEES