Before handing over the ADB KTM 350 EXC-F long term test bike to its new owner, we open her up and check the internals. Feature from ADB issue #458 - November 2017.
PROOF IS IN THE PICS
It's all well and good to tell you how impressive a long-term girlfriend has been but it's another thing to photograph her internal organs. We all know photos don't lie…
I was keen to see if anything had budged in 60 hours of riding, so I took the 350 EXC-F to KTM's  headquarters in Prestons, NSW, where Mick Carusi pulled her apart. All these images were shot during that process.
After a thorough wash, we removed all the plastics and the tank. Rather than bolt the worn plastics back on, we freshened her up with a new set. None of the parts had cracked and the graphics kit by Cam Kenny from Holeshot Graphics had done an excellent job of protecting them. Even the handguards were still in one piece.
The first thing to inspect was the top-end. Mick ripped it off in seconds and had his feeler gauge poking around to see if the valves had moved. They hadn't budged! They were within the .10-.15mm clearance that the factory recommends so they did not need adjusting. We tossed up the idea of replacing the piston but as the valves were in perfect order and it was still 20-30 hours short of piston replacement time, we decided to leave it. Mick suggested regular air filter cleaning and replacement, a Boydy fixation, was the reason for the perfect valves. Obviously fresh oil also helps but ensuring no dirt gets past the air filter is the key to ensuring the valves seat perfectly and do not wear.
Next we ripped the sparkplug out and while a little brown it was still in great condition. If the colour of the plug was slightly greyer Mick said he would have been a little concerned. But the way it was, he was very impressed. Clean fuel and fuel filters will ensure a better spark and Mick said I passed this with flying colours.
I'd busted a throttle tube from one of the millions of crashes. The end had cracked and was not snapping back nicely. Mick replaced it in about 60 seconds thanks to the ODI Lock-On grips KTM now uses. It's not the installation that makes these grips so good, it's the easy removal of the old ones. Scraping glued grips off your handlebar is a horrible job.
Mick replaced my flogged-out air filter, which he said was oiled perfectly, especially the grease layer around the edge to ensure it seals. He then replaced the plastic frame guards because the old ones looked a little worn and scratched. Miraculously, the cable ties were still in place and none had busted. We then moved onto the chain, sprockets and chainguide.
The chain was in desperate need of replacement as I'd adjusted the axle blocks out as far as they'd go. The sprockets probably had another 20-30 hours in them but we made the most of the wheel being out and replaced them as well. I'd already replaced the rear sprocket with the PowerParts orange one and it was in great condition.
Mick reckons the PowerParts sprockets wear better than the stock ones, and he uses them on the race bikes. As for the chainguide, it still had plenty of plastic on it and did not need replacing. Some chainguides wear through and, before you know it, the chain is rubbing on the swingarm or being belted by trail debris.
Next up was a set of brake pads. Now this may surprise most people but the bike was still on the original set. The front pads hardly needed replacing, while the back ones only had about 10-20 hours left in them.
We then dumped the oil, in preparation for a new clutch, and checked the magnetic sump plug for metal filings. There was hardly any metal on the plug, which Mick suggested was the result of regular oil changes and careful gear selection.
Finally, we pulled the clutch out. I expected the plates to be significantly worn as most the riding I do is in snotty, technical terrain. But, to my surprise, it didn't need replacing. Mick looked across at me and said: "Gee mate, you must be good with your clutch control!" I blushed.
We had a new clutch ready to go so we decided to replace it anyway, but not before removing the rubber grommets from behind the clutch basket. One of them had cracked but the others were fine. Mick said this wasn't unusual and, unless you know to check them, they would go largely unnoticed. If they're all cracked there'll be a loud clutch rattle at idle.
Replacing the clutch was simple, with the hardest part being to work out which order the plates go in. We bolted everything back up, leant on the starter button and Katie fired into life.
WHY SO GOOD?
If you're wondering why this long termer goes down as one of my best in the eight years I've worked on ADB, then you need to re-read the above. But it's more than just reliability that makes this machine my favourite.
Whenever people ask me what bike I would get if I had to spend my own coin I always say the current model 350EXC-F. It's agile enough for a motocross track, while still capable of being lugged up hills like a five hunge or skipped through trees as an enduro racer. It's the perfect trail capacity: not too big, not too small, not too fast and not too slow. To get to 60 hours on the same chain and brake pads was almost unheard of five to 10 years ago.
It's proof that regular maintenance and careful and precise riding can extend the durability and reliability of even the more exotic machines. KTM developed a reputation for being excellent in the sack, but a bit of a bender on the bank balance, but not anymore. This machine proved to me that it would outlast anything and anyone we threw at it.
What did I do to it?
The major change I made was to the ECU. I found it bogging and flaming out just off idle so I sent the unit to Rex Fleighter from Fuel Torque. I simply unplugged it and mailed it up to him. He knew exactly what it required and I had the ECU back in the bike within two days.
For $180 Rex turned the ECU into a torquey trailboss more akin to a 500. No more flaming out or bogging and the torque was incredible. But, speak to your KTM dealer first as they should be able to resolved any fuelling issues in the ECU.
I also opted for the PowerParts traction control and map switch. I loved this little device when we tested it at the launch. The traction control goes largely unnoticed but will ensure your rear wheel tracks a little straighter, while the mapping options were handy when needing a rest at the end of a ride. The device won't turn you into a pro, but if you can convince your dealer to throw it in for free, it's definitely worth it.
The only other stuff I did was the result of me crashing or parts wearing out. I had to replace both clutch and brake levers and the left footpeg after several crashes cracked them. The rear sprocket was replaced by the PowerParts orange anodised one because it looked cool. And Holeshot Graphics made a kick-arse set of decals that replicated the European KTM Enduro team styling.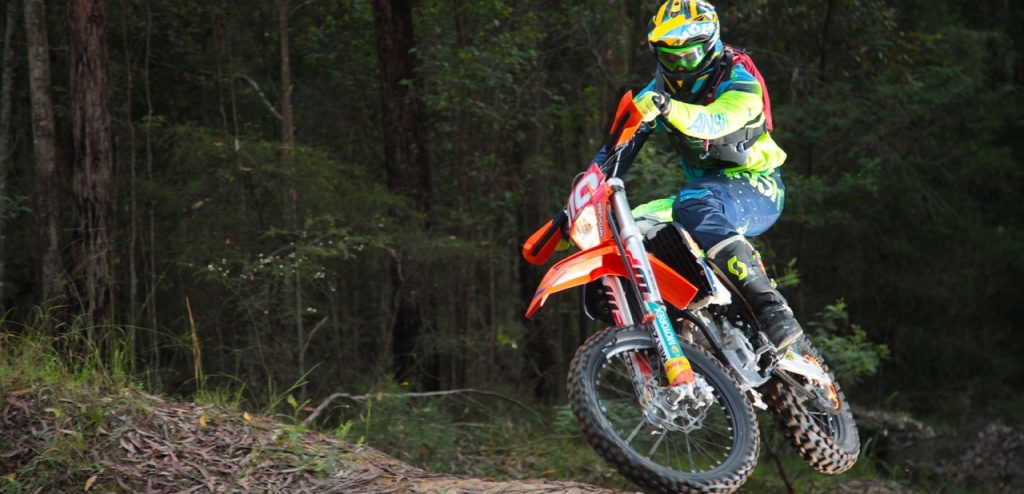 What about perishables?
Here is a list of wear and tear items I went through in 60 hours:
• Air filter: It was cleaned every second ride and replaced four times.
• Motor oil: I changed the oil after every three or four rides and managed to plough through about 10 litres.
• Tyres: Three sets. After Boydy destroyed the original set of tyres, he bolted on a set of Bridgestone Battlecross hoops. I wasn't a massive fan of the grip so I opted for a set of my favourite Pirelli mid-soft MX Extra hoops and they never let me down
• Oil filters: I only needed two oil filters in 60 hours.
• The chain was replaced at 60 hours, but probably should have gone at 40-50.
• The Selle Dalla Valle seat was just to look good and increase grip. The original was fine.
Mitch Lees