KTM 690 Enduro R Review | Bike Reviews
In 2018 and 2019, KTM released an arsenal of new adventure weapons including the 390, 790, 1090 and 1290.
The big feather in KTM's cap was the 790 Adventure R, which Mattighofen even ran in a full-blown rally race. But through all this excitement, an old capacity soldiered on despite a collapse in motorcycle sales and that was the KTM 690 Enduro R. In fact, the Enduro R increased Aussie volume from 2018 to 2019 by 31.7% to 212 units. That is pretty impressive when you consider that a variety of models from a bunch of brands hit the market.
So what makes this under-appreciated but perennial favourite one of the best mid-cap adventure bikes? It's not just the proven and reliable engine or high-end suspension but the package as a whole. The way the engine so seamlessly works with the suspension or the way the brakes take a back seat and let you focus on just riding the wheels off it. There's limited electronic trickery but mountains of power. It's an adventure bike, daily commuter and trailbike all in one. That's why KTM has not dropped this ageing beast, yet.
In recent years, manufacturers have chased brute horsepower as a means to sell adventure bikes. Ducati unleashed the Multistrada Enduro Pro, a 1262cc, 158hp monster, BMW unveiled their flagship adventurer, the R 1250 GS Adventure with 50 more cubes and even KTM upped the power on it litre-plus adventure machines from 1050 and 1250 to 1090 and 1290. But did any of the manufacturers stop to consider what the public actually wanted when you consider that only three of the top 10 adventure bikes sold last year were over 1000ccc? It's obvious, the mid-cap models are popular and KTM's 690 Enduro R is one of the best performing bikes in that class.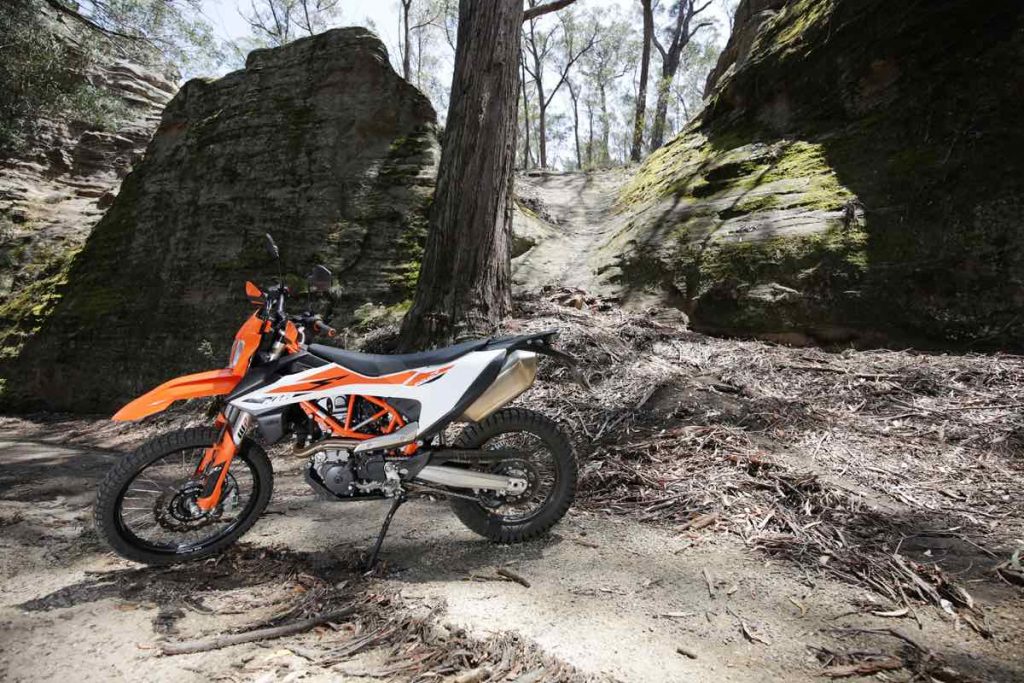 WHAT MAKES THE KTM 690 ENDURO R GOOD?
POWER For a single-cylinder engine, the LC4 feels like it puts more power to the rear wheel than any other 600-700cc adventurer. Sure Suzuki's V-Strom and Yamaha's 700 Ténéré fall into the same power bracket but they're twins and it's unfair to compare. The LC4 is an absolute brute compared with the other single-cylinder mills and, if you're not paying attention in the tight spots you'll end up wedged in a tree.
The 690 Enduro R produces mountains of torque and with a top-end to match. Other single-cylinder 600s have decent torque but that's an attempt to hide the lack of throttle response and a weak top-end. If you're buying a 690 Enduro R there's no reason why you couldn't keep up with your mates on bigger bikes in the bush.
FIRM Most 600-700cc adventure bikes are softly suspended, typically because they're on a budget. You seen how expensive a decent bra is these days? Riders then need to spend thousands upgrading the suspension just to carry luggage or a pillion. That's not the case with the 690 Enduro R.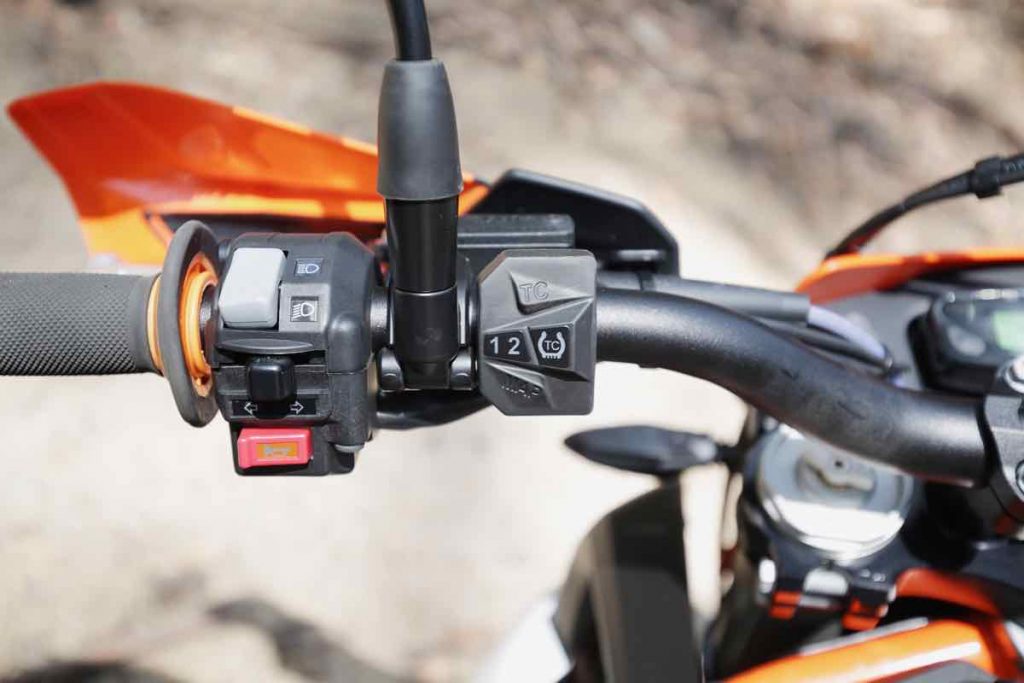 Sure, most hardcore adventure riders carting over 30 extra kegs will firm up the suspension but if they could just throw a leg over the other single-cylinder adventurers and feel how under-sprung they are, they will realise the 690 Enduro R feels like it has Cooper Webb's supercross suspension in it.
While the firm suspension was a little uncomfortable sitting down on beat-up, corrugated roads it came into its own when the track got a little rough and I found myself launching off erosion mounds. I could charge into holes, ledges and tree roots like the 690 was a 350 using the suspension and responsive engine to pop off and wheelie through anything.
TRAILBIKE Despite running a slightly bulky tubular space frame, the 690 Enduro R still feels incredibly agile. The seat is narrow and the fuel tank underneath wraps around the subframe moving the weight to the centre of the bike and down low. It allows you to dodge trees through singletrack and turn around in tighter spaces.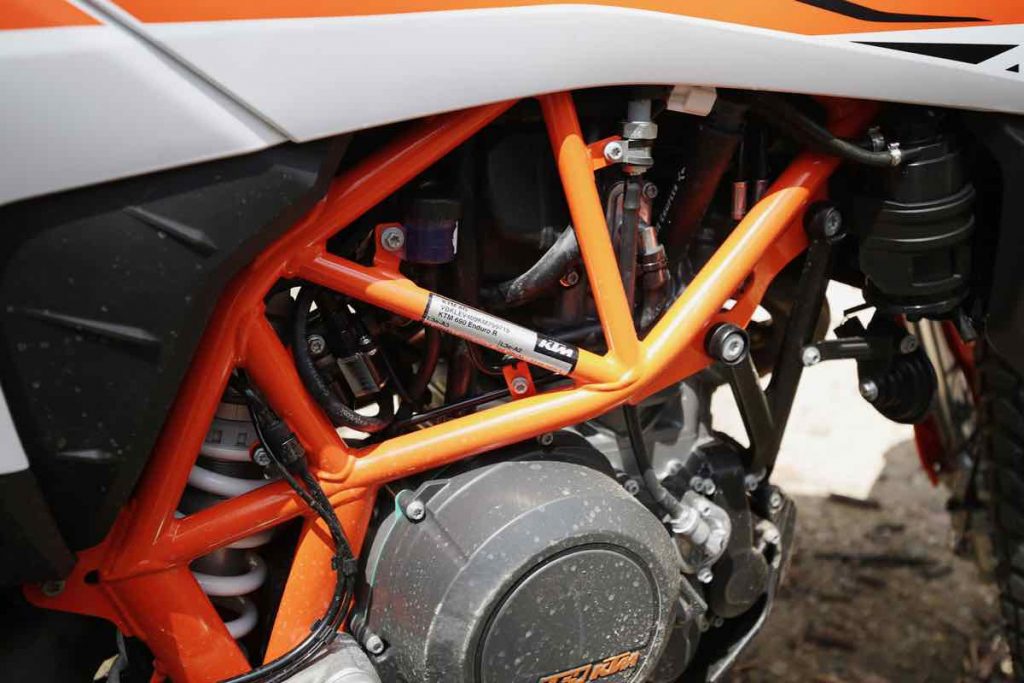 FINISH As is the case with most KTMs, they are finished with no expense spared. With Brembo brakes (and switchable ABS), a tapered, wide handlebar, map switch and compact easy-to-read digital speedo, the KTM feels more like a dirtbike than an adventure bike. Even the shrouds look slim and the handguards seem to be the same units found on KTM's enduro range.
WHAT'S NOT SO GOOD ABOUT THE KTM 690 ENDURO R?
GEAR RATIOS If you plan on adventure riding mostly in the bush you could go up a few teeth on the rear sprocket or down one on the front. When plugging along some Blue Mountains singey I found myself flicking between first and second and when I needed to pivot around a tree and up a small hill my clutch control needed to be accurate.
PRICE KTM qualifies as a premium brand, which is reflected in the price. At $16,495, that's about double the ask of some popular single-cylinder adventure bikes.
SCREEN Despite appearing in KTM's "Travel" category, the 690 doesn't come with a windscreen or fairing. On long highway stretches the wind buffeting was horrible. But at least I didn't have to eat polycarbonate when standing on the 'pegs through singletrack.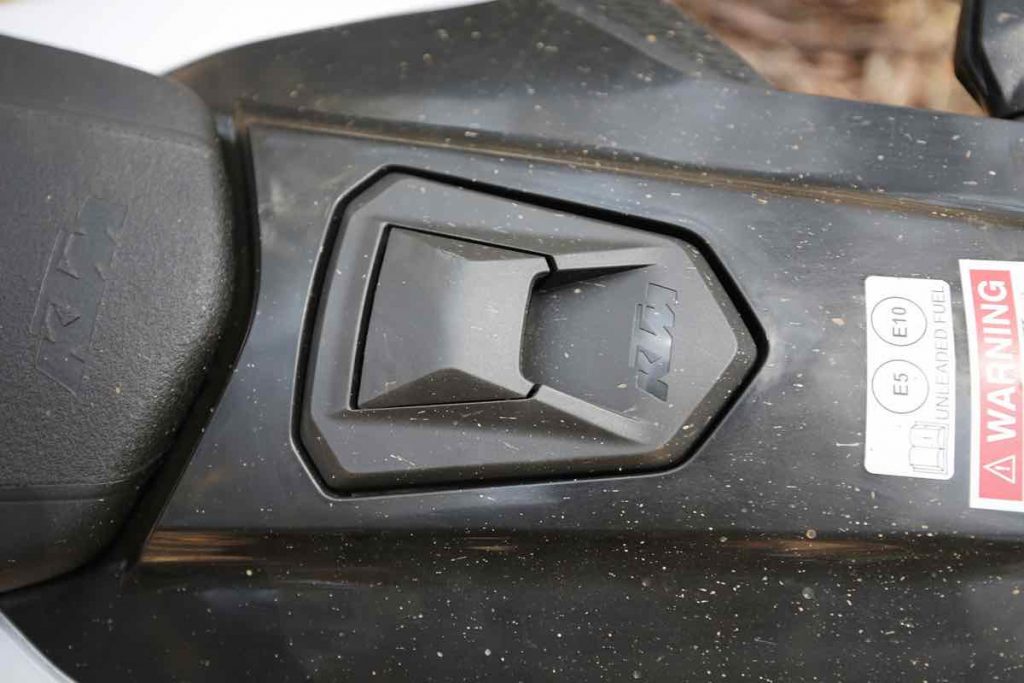 FUEL The 690 Enduro R only carries 13.5 litres and, on our trip, we chewed through about 4.5L/100km so I got just over 200km before my fuel light came on. I haven't been on an adventure ride where I've seen a 690 R with the standard tank. The location of the fuel cap at the back is also annoying as it can get covered by luggage.
SEAT The seat is tall (910mm), flat and narrow which is excellent for standing up hammering singletrack but it's also very hard. Sitting on the standard perch for hours while we commuted through Sydney's peak-hour traffic was painful.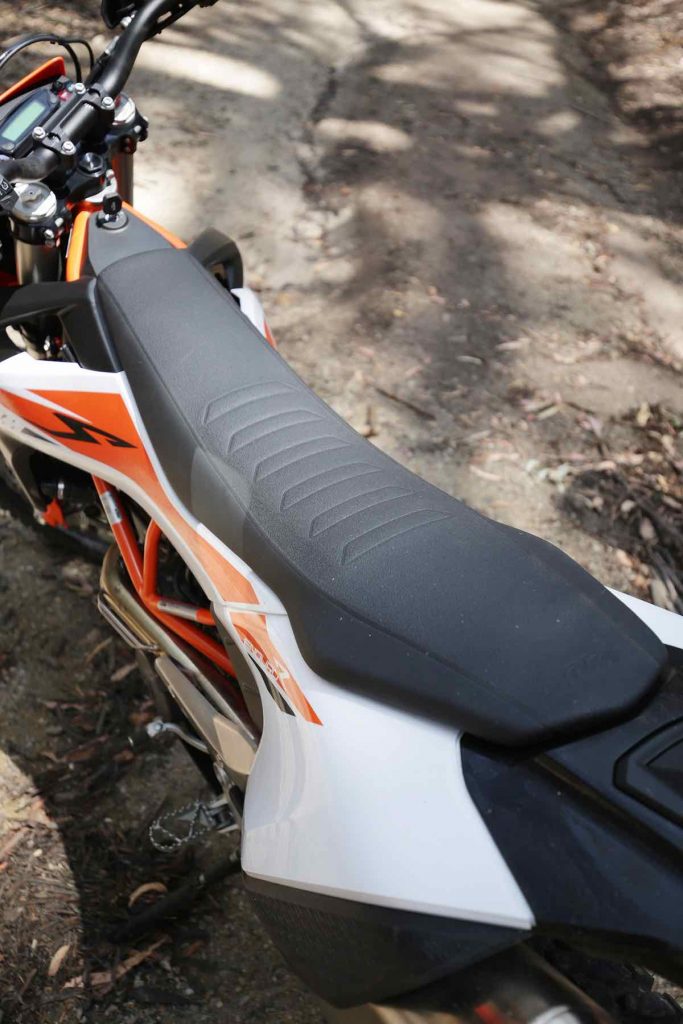 BUZZ When really stretching the legs of the 690 Enduro R, the bike can buzz a little because the single-cylinder is working pretty hard. It's not as noticeable as other singles in this class but it's still there. A set of 'bar end weights gets rid of it.
WHERE DOES IT FIT?
The 690 Enduro R is a unique bike. From a distance it looks like a roadbike with its bulky frame and LC4 engine. But get up close and you'll notice the suspension, front fender, handlebar, final drive, speedo and seat scream dirtbike. So if it's not quite dirtbike and not quite roadbike, does that make it an adventure bike? Yes and no.
With a small fuel tank and no 'screen or fairing it appears the 690 Enduro R doesn't fit the mold but sales figures don't lie and the 690 R had plenty of buyers last year. They are obviously ready to spend the extra money to make it the bike they want. With a bigger fuel tank and windscreen the 690 Enduro R becomes an adventure package with the best engine, suspension and ergos in class.
If you're still not satisfied, it looks like Kato is working on a 490cc twin to meet future emissions rules that will come in a full adventure package.
WORDS AND PHOTOS // MITCH LEES
KTM 690 Enduro R Specs
Engine
Type SOHC, four-valve
Displacement 693cc
Bore & STROKE 105 x 80mm
Cooling Liquid
Compression ratio 12.7:1
Fuel metering Keihin 50mm EFI
Tank capacity 13.5L
Transmission Six-speed, constant-mesh
Clutch Magura hydraulic, wet multiplate
Dimensions
Wheelbase 1502mm
Seat height 910mm
Ground clearance 270mm
Weight 146kg dry
Suspension
FRONT WP Xplor 48mm USD, 250mm travel
REAR WP gas-oil monoshock, 250mm travel
Brakes
Front Brembo twin-piston, 300mm wave
Rear Brembo single-piston, 240mm wave
Running Gear
Handlebar Niken tapered aluminium alloy
Front tyre Mitas Enduro 90/90-21
Rear tyre Mitas Enduro 140/80-18
Price & Contacts
Price $16,495rrp
Web ktm.com.au
Phone 1800 644 771
Warranty Two years parts and labour