Extreme enduro or amateur apple? What do these two machines have in common and where's their place in the market?
When KTM released the 350cc four-stroke Freeride, a new genre of off-road motorcycle was spawned. There's plenty of beginner bikes around, but none that could act as an amateur's trails tool and extreme enduro machine at the same time. Kato then released the 250 Freeride, which runs a detuned version of the motor in its hardcore two-stroke cousin in the EXC range.
The Freeride pair didn't receive the accolades here they'd been receiving in Europe and the sales figures have not taken the local industry by storm. But with all the hype surrounding the Freerides in Europe, Beta soon released its entry to the category late last year called the X-Trainer, which runs a detuned 300cc two-stroke engine.
Both bikes are more agile and nimble than their hardcore off-roading cousins, the EXCs and RRs. But are they for amateur or advanced riders and are they battling for the same prize or completely different?
To solve this difficult conundrum, I enlisted the help of beginner Chris Harris who could tell me if these two machines are easy to ride. We headed out to the Otway State Forest in Vic to tackle everything from singletrack, to fire roads, technical hillclimbs and even whoops. With such a variety of terrain and the skill levels of me and Harris, we were sure to get a resolution.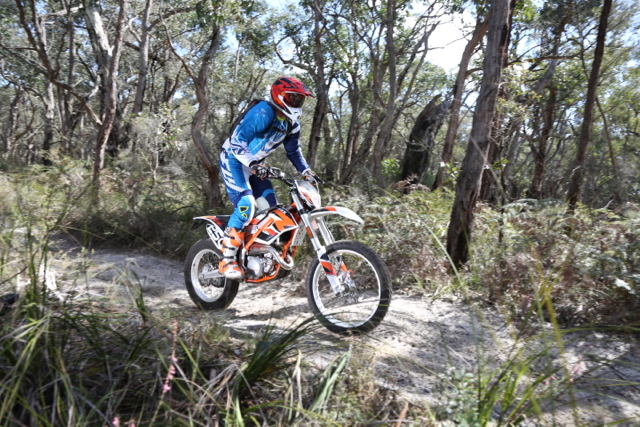 NOT SO SIMILAR
Riding the Freeride and X-Trainer back-to-back I learnt these two machines have as much in common as a horse and a rabbit. They are totally different and here's why:
As soon as I threw a leg over both bikes I noticed a difference in the chassis and ergonomics. The Freeride is skinnier and shorter than the X-Trainer and the X-Trainer feels more like a trailbike, while the Freeride is more akin to a hybrid trialsbike.
The X-Trainer is bigger than the Kato and feels and looks more like a trailbike in size and shape. This has pros and cons. The smaller slimmer Freeride is excellent for flicking through the tight technical stuff, or for someone short of stature, while the X-Trainer is a little heavier and more cumbersome and won't be as easy to manoeuvre in the technical climbs.
In short, if you struggle to touch the ground on most bikes you'd be better served riding a Freeride, while those who want to improve their skills on something that feels remotely like a trailbike, you'd benefit more from the X-Trainer.
CAUGHT IN SUSPENSE
The suspension differences are as noticeable as the chassis and ergonomic ones. The Freeride is much firmer and feels a little more racey, while the X-Trainer is soft and would suit a beginner better.
The suspension of the X-Trainer absorbs typical trail debris like an old XR and you don't feel a thing at slow speeds, but it struggles at higher speeds. But that's not what the X-Trainer is designed for.
While firmer, the Freeride suspension was more competent when the speed increased, but across tree roots and square edge bumps it was too firm. If you intend keeping up with your mates through fast, rough singletrack than the Freeride will do it with ease. But if you're a beginner after an easy ride that won't spear you off into the trees then the X-Trainer would be a better fit.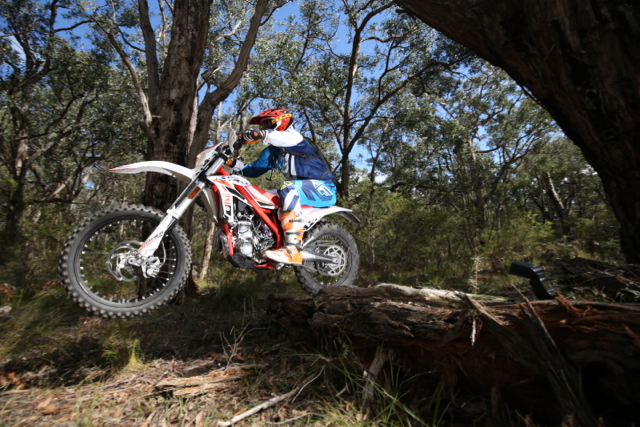 250? MORE LIKE 125!
The engines are the biggest point of difference. While there's only 50cc between them, it's like night and day in performance. The Freeride needs to be ridden like it's a 125; ring its neck and let it sing, while the X-Trainer has far more torque and can be ridden in the bottom-end.
Harris and I took both bikes to a long rutted-out climb. The X-Trainer easily carried third, tractoring up the hill without any surprises.
As for the Freeride, I needed to build speed early and keep the engine revs high. If you let the revs drop off you'll be fanning the clutch to reach the crest.
POLAR OPPOSITES
After a day of riding both bikes back-to-back Chris and I agreed they are nothing alike. The Freeride has a fast engine and firm suspension, while the X-Trainer has a torquey, docile engine and soft suspension.
Both bikes can be used by either advanced or beginner riders, but I'm inclined to recommend the latter. An advanced rider will enjoy riding both, but will find their limitations quite quickly. As a training mule or extreme enduro ride, the X-Trainer or Freeride are awesome, but for an advanced rider, they won't be more enjoyable than your EXC or RR, so you'll need to have both.
As for beginner riders, it is perfect. The seat height on both bikes is short enough for all makes and sizes and the engine isn't going to wrap you around the first tree. But that's not to say either are underpowered, they're just more rideable for a beginner. Mitch Lees
SPECS
2015 BETA X-TRAINER 300
ENGINE
Type Liquid-cooled, two-stroke
Displacement 293cc
Transmission six-speed
Starter system Electric and kick
SUSPENSION
Front 43mm hydraulic USD, 270mm travel
Rear suspension Monoshock, 270mm travel
DIMENSIONS
Seat height 910mm
Ground clearance: 320mm
Fuel tank capacity 8.5l
Dry weight 99kg
PRICE & CONTACTS
Warranty 6 months parts and labour
RRP $9890
2015 KTM FREERIDE 250R
ENGINE
Type Liquid-cooled two-stroke
Displacement 249cc
Transmission six-speed
Starter Electric
SUSPENSION
Front 43mm hydraulic, 250mm travel
Rear WP PDS shock, 260mm travel
DIMENSIONS
Seat Height 915mm
Ground Clearance 380mm
Fuel Tank Capacity 8.5L
Dry weight 92.5kg
Price & Contacts
Warranty 6 months parts and labour
RRP $9995
This article appeared ADB issue #435 December 2015.