Like it or not, electric bikes are here to stay and future generations could grow up on them.
Words: Olly Malone | Photos: Mitch Lees – KTM SX-E5 Review
Few things have rattled the cage of the dirtbike community more than the electrics. Having grown up on bikes powered by internal-combustion engines, most of us just hate the new wave. We love the sound of those tiny explosions going off inside a cylinder thousands of times a minute and the raw power they produce.
Through our rose-coloured goggles we seem to forget the hours upon hours of maintenance and money that goes into keeping our petrol-burning bikes running. When the helmet goes on we quickly forget being up until 2am cleaning the air filter, changing oil or clearing a blocked jet or injector.
Electric bikes seem to offer many benefits over their fuel-burning brothers and only a few drawbacks but it seems the masses aren't ready to ride the new breed, no matter how many Silicon Valley start-up companies die trying to convince us they have all the answers we need.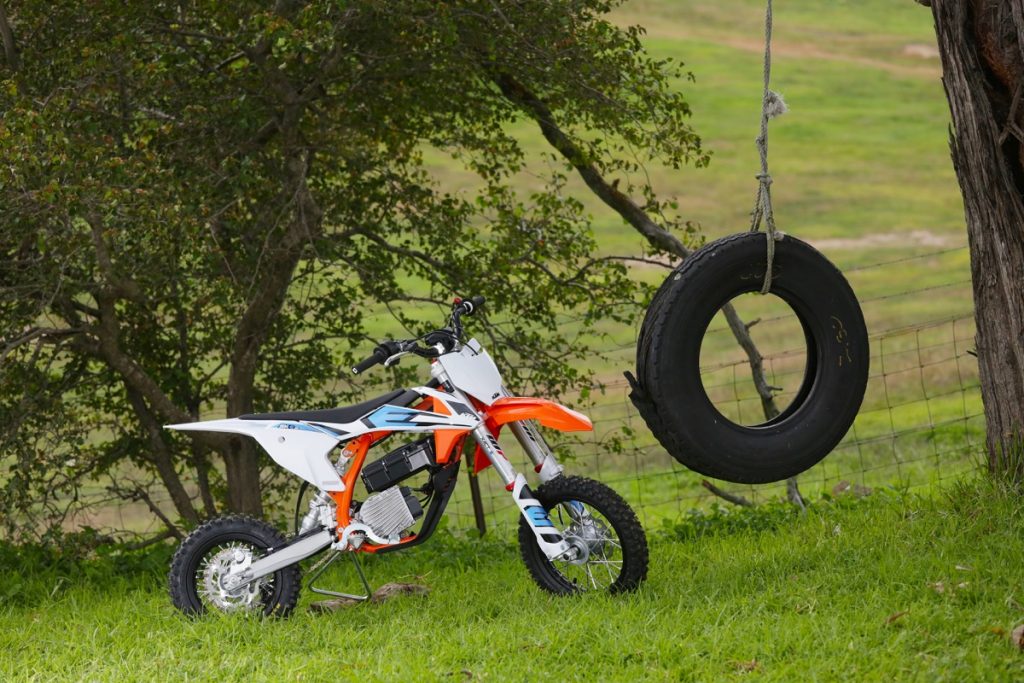 Luckily, kids think differently. They aren't influenced by nostalgia and only care about one thing – having fun. They don't care what sound a dirtbike makes, what old farts on Facebook think and they certainly don't care if it burns petrol or drains a battery, they just want power!
ADB junior test riders have sampled a few electric bikes over the years, the most recent being the YCF 50E, but the most serious effort we've tested to date is KTM's SX-E5.
Before we get into the nitty gritty I'll explain the name. SX stands for supercross, so the SX-E5 is a race bike and is marketed as a silent alternative to the petrol 50SX, it even shares a lot of parts, but more on that later. It's pretty obvious what 'E' stands for and '5' is the maximum kilowatts you can screw out of the electric motor with parental approval. And if you don't like orange, Husqvarna offers the same bike in white, but called the EE 5.
THE REAL DEAL
KTM has done the smart thing when designing both. It took the race-proven 50SX, ripped out the 49cc petrol engine and slotted in a 48-volt electric one. But because this brushless direct-current (BLDC) motor is self-contained, KTM could also do away with bulky rubbish like the radiators, airbox, fuel tank and a tonne of wiring. The result is a lot of empty space around the sizeable battery and a fighting weight of 40.5kg. That's about 2.5kg lighter than the 50SX with a full tank.
While it was fitting the electric motor, KTM didn't touch the running gear. That means the SX-E5 comes with the same fully-adjustable WP Xact 35 fork, Xact shock, Formula hydraulic disc brakes, black anodized rims and Maxxis tyres. This is good news for parents when it comes time to find parts at the races. Need a set of brake pads at the track or forgot to pack the pump for the air fork? Chances are someone at the track will be able to help.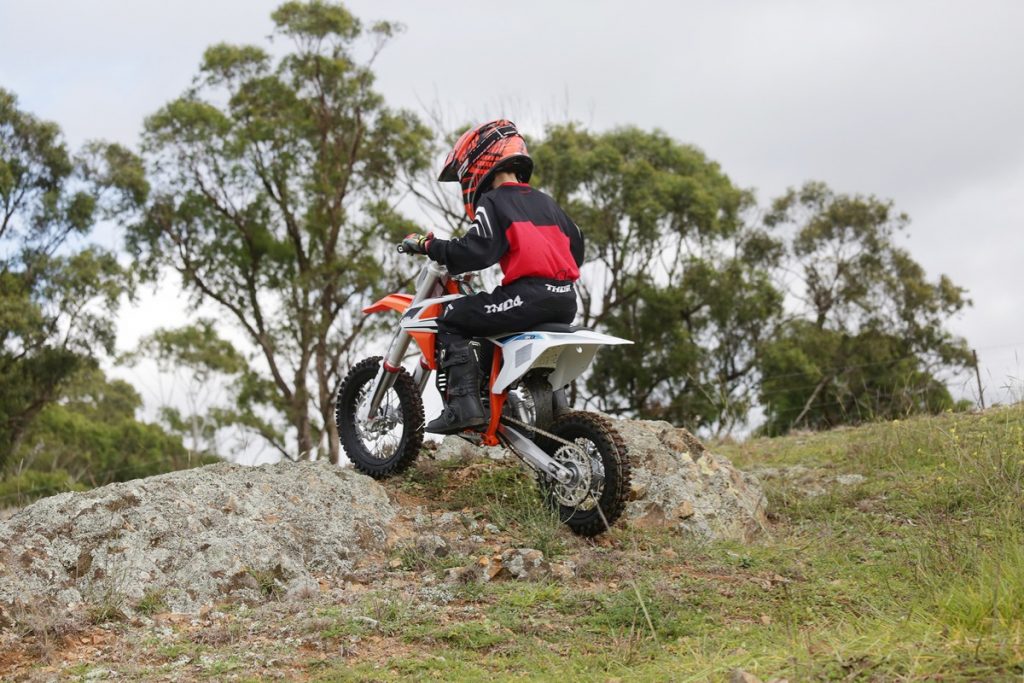 One of the SX-E5's party tricks is its ability to be adjusted to accommodate riders of different sizes. In stock trim the seat height is 665mm. Stage one lowers the seat and bodywork to 640mm. Stage two drops it to 615mm by sliding the fork legs through the triple-clamps and moving the shock to the higher top mount.
Stage three requires the $274.95 PowerParts lowering kit which drops the seat to 559mm by changing suspension internals as there is no linkage. All this gives the SX-E5 a seat-height range of over 100mm.
But the tricks don't stop there. Another feature parents will like is the E5's six selectable power options. Level one gives the bike a top-speed similar to a fat bloke in thongs powerwalking to the toilet paper aisle at Woolies during a pandemic. At the other end of the spectrum, level six is fast enough to have an adult clenching, I'm speaking from personal experience.
We enlisted the help of Ben Grabham's eldest son, Jaxson, to test the SX-E5 and he was happy riding all day on level three. A parental lock under the seat disables the power option switch so little ones can't mess around with it while you're not looking.
Another safety feature is the magnetic kill switch. If your young one crashes and comes away from the bike, the magnet attached to their wrist by an elastic band will detach from the switch and kill the power. There is also a rollover sensor. The ECU can detect if the bike is on its side and will shut it down within five seconds.
ELEPHANT IN THE ROOM
For all their benefits, electric dirtbikes have one drawback you cannot ignore – battery range. KTM claims the SX-E5 will last up to two hours riding at a relaxed pace but on level six, at race pace, you can expect 25-30 minutes. This time will change depending on the surface on which you're riding. Sand or mud will drain the battery quicker than hardpack, just like sand burns more petrol.
But, from our experience, two hours at a relaxed speed could be under selling the Power Pack. Jaxson rode for more than two hours and, when Grabbo pried him off the thing it still had one bar of battery life showing.
The good news is charging time isn't too bad. Forty-five minutes will charge the battery to 80 per cent while a full charge takes 70. The bad news is the charger isn't included in the bike's $8395 retail price and costs an additional $685.90. To limit downtime while the battery is charging you could buy a second one for $2300 and swap them out so your kid can ride while the other one charges, but KTM doesn't recommend this. Changing the battery is no easy task and KTM told us it takes just as long to swap the battery as it does to charge.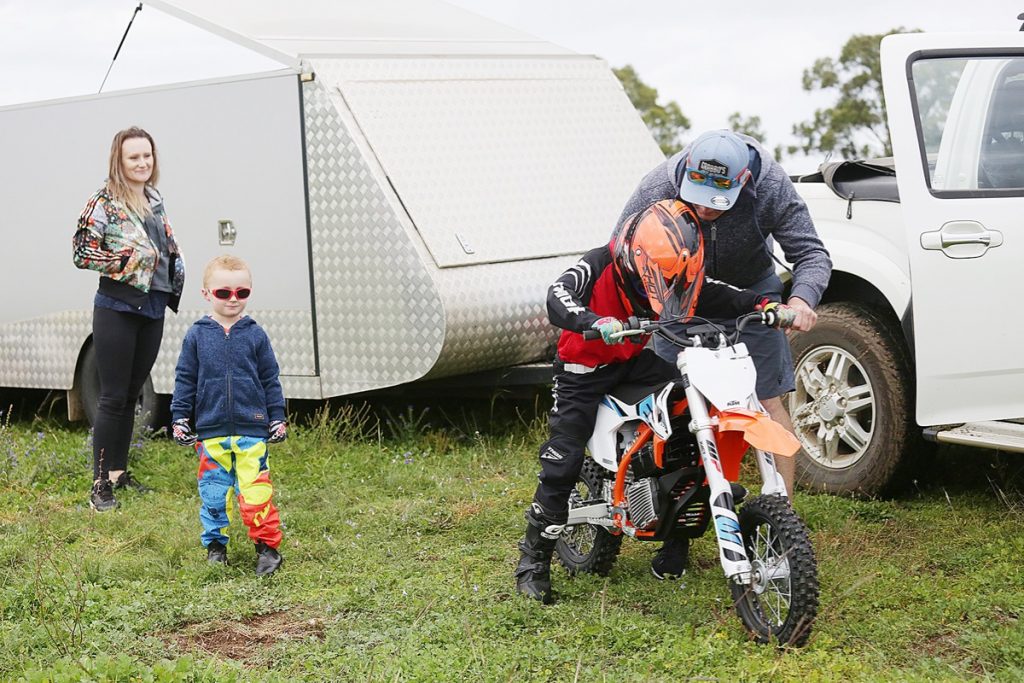 To help extend battery life Kato has included kinetic charging, which provides juice to the battery anytime the bike is rolling with the throttle closed. It's not enough to extend ride time by more than a couple of minutes, but it all adds up. KTM said rolling down a 15km hill would charge the battery by 5 per cent.
The Power Pack is made up of 84 lithium-ion batteries providing 907Wh in a 48-volt configuration. KTM couldn't give us an exact number of cycles it would last but so far it's been tested up to 500 cycles, at which point it could still hold 70 per cent.
The only scheduled maintenance is the replacement of two bearings on the output shaft every 40 hours. Besides that, it's only wear and tear items like sprockets, tyres and brake pads that need to be changed as required.
HOW DOES IT RIDE?
Jaxson Grabham rides a YCF50A every other day but the KTM SX-E5 wasn't his first journey with e-power as he'd ridden the electric version of the YCF, cleverly called the 50E. His initial reaction taking off on the KTM SX-E5 was an ear-to-ear grin. Jaxson navigated the Junior test loop at ADB's private test ranch with ease.
When we managed to flag him down to ask him a few questions he only had good things to say. He loved how quiet the bike was because it did scare him. Jaxson also liked that the SX-E5 was faster and smoother than his YCF, even on power level three. The brakes were very responsive, Jaxson told us, and he liked that the rear one had a pedal, not a hand lever. He was also a huge fan of the way the bike looked, saying it looked just like a full-size KTM race bike … happy coincidence, we reckon.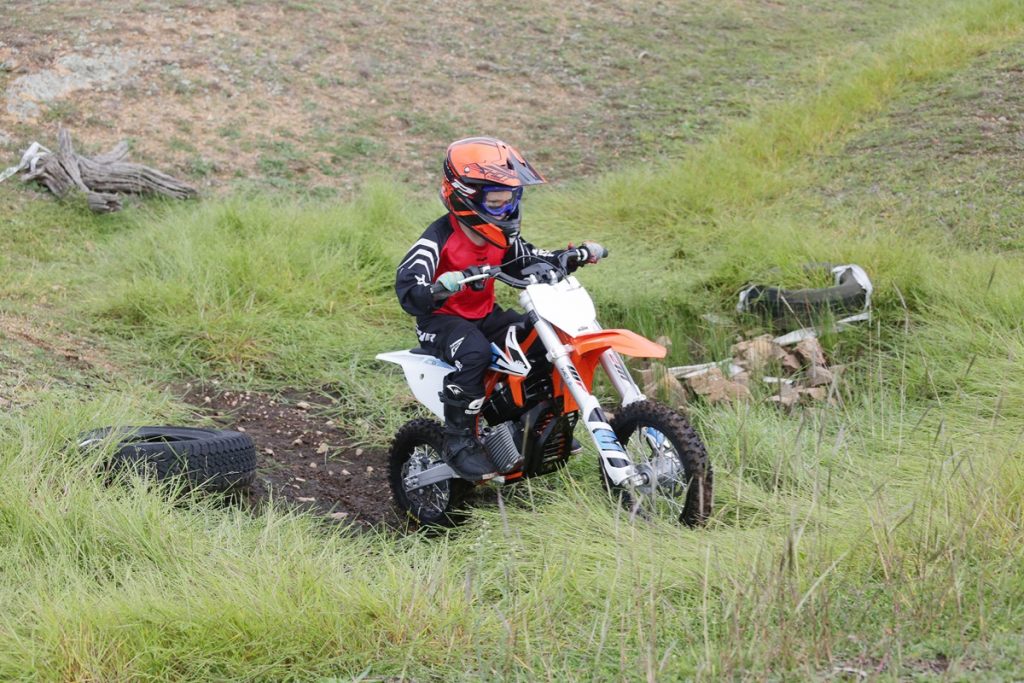 Parent's Perspective on the KTM SX-E5
Before Jaxson had the chance to test ride the KTM SX-E5 I hadn't put much thought into the bike. I had heard the price tag was going to be over $8000 plus the extra $685 for the charger, which is a bit steep for a kids' bike. After Jaxson's spent the day riding it my concern was somewhat eased.
It was great I could change the power output with the press of a button. The six modes give the bike a wide speed range, from a slow jogging pace in mode one up to mode six, which was more than enough power to see my boy going way faster than I wanted to see.
I still found it weird seeing him whizz around without any engine noise but could see the huge benefits for people living in urban areas.
I do like the fact the power and the ergonomics of the E5 are very adjustable and as long as the E5 remains reliable I could see owners getting a handful of years out of one of these before their kids run out of room. For parents with no mechanical aptitude the E5 will be easier to maintain as well.
As far as I know it doesn't have any class to race in just yet so that is a bit of a downside for kids who want to. Other than that I now feel if my young fella could get five plus years of fun out of one of these the price tag is much more acceptable. Ben Grabham
Race Day
Electric bikes are relatively new and Motorcycling Australia hasn't got rules sorted for them yet. For now, it says bikes like the SX-E5 are only "permitted to compete in the 50cc Demo (non-competitive), 50cc Division Two and 50cc Auto classes requiring 10-inch rear and 12-inch front wheels. However, until MA can confirm any further regulations for these machines they are ineligible to compete for state or national championships unless they meet the requirements to constitute a standalone class."
MA explains that with so few electric bikes at events there are insufficient riders to have a separate class for them. It also hasn't figured out whether electrics are suitable for competing against petrol-powered bikes (sounds like we'd better do a comparison test). This doesn't mean, however, that clubs can't run electric-only classes at their events.
KTM SX-E5 Specs
MOTOR
Type 48-volt BLDC with outer rotor
POWER 5kW at 3900rpm with power controller
torque 13.8Nm at all revs
Cooling Air
Battery 21 amp-hour lithium ion
CHARGING POWER 900W/h
TIME TO 80/100% 45/70 minutes
Transmission N/A
Dimensions
Wheelbase 1032mm
Seat height 665-559mm
Ground clearance 252mm
Weight 40.5kg claimed
Suspension
FRONT WP Xact 35mm USD, 205mm travel
REAR WP Xact gas-oil shock, 185mm travel
Brakes
Front Formula twin-piston, 160mm wave
Rear Formula single-piston, 160mm wave
Running Gear
Handlebar Neken tapered aluminium alloy
Front tyre Maxxis Maxxcross 60/100-12
Rear tyre Maxxis Maxxcross 2.70-10
Price & Contacts
Price $8395 plus charger ($685.90)
Web ktm.com
Phone 1800 644 771
Warranty One month.
PowerPack and battery 24 months