LAUNCH REPORT | 2019 SWM RS300R | Bike Reviews
Since we first threw a leg over the RS300R more than two years ago, the design brief has not changed: SWM builds bikes for coin-conscious trail warriors.
If you think they look familiar, well that's because SWM is pumping out machines from the same mould that Husqvarna did about a decade ago in the same factory.
In issues 437, 445, 452, 457 and 465 we investigated the similarities between the Huskies and the SWMs and they're pretty obvious, so we won't bore you with that story again. Instead, we're going to concentrate on why these bikes make excellent trail companions.
The one thing we've noticed that wasn't trail friendly previously was the white plastics, but they've been changed for 2019. Everything from the engine to the suspension, chassis and even ergonomics screams trail boss on the MY19 model, just like it did before.
Even the price will put a smile on the dial of most trail aficionados. But what makes this warrior chief of the trail tribe?
We headed to rural Vicco to narrow it down to five main attributes the RS300R possesses that let it stand atop the tribal trail totem: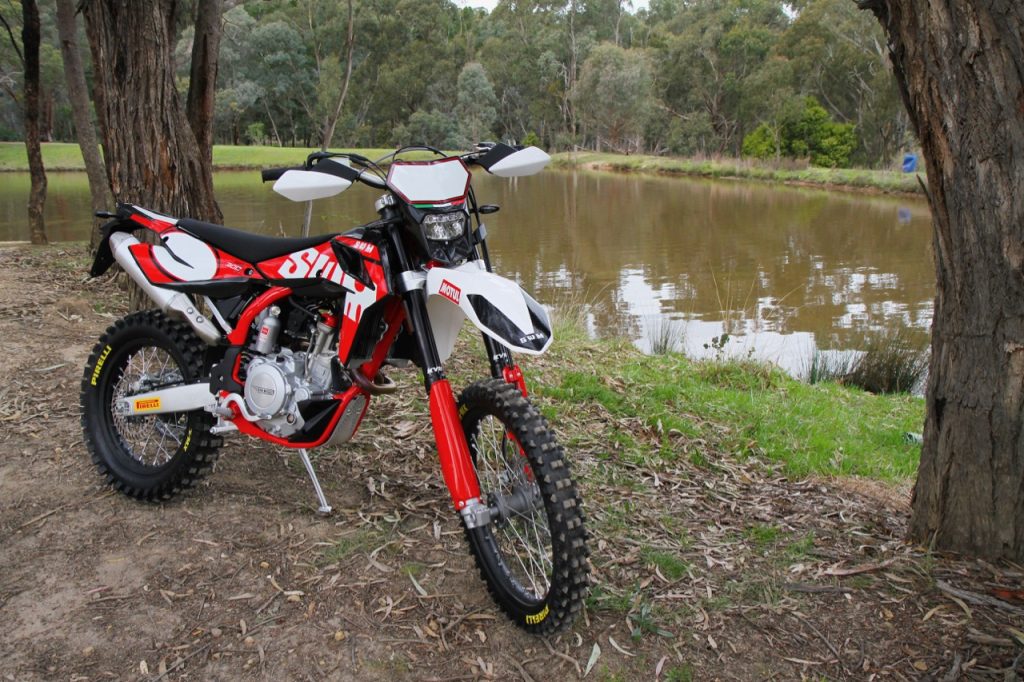 5. TRAIL PERCH
For long days in the saddle a comfortable place to rest your arse is essential. The SWM offers a seat height of 963mm and for this year has more padding. The seat is actually quite tall, slightly higher than more race-oriented European offerings. But for tall chiefs, this is a good thing because it means less bend in the knees, which can get uncomfortable over long periods with kneebraces.
The healthy layer of padding means you can't feel the seat rails and the edges of the seat are curved so your arse sits snug without feeling like you're sitting on a block of wood. The seatcover is grippy but the best part is the quick-release fastener at the back to reach the battery and airbox. Having to undo pesky 10/12mm bolts to get in and clean your air filter after every ride just adds to the pain that is cleaning your bike.
4. PLUSH PUPPY
The RS300R's suspension is soft, there's no two ways about it. While other brands chase firmer suspension and sharper handling, SWM has gone for that old XR feel. Great for the trail.
And, it feels even more spongey because of the extra padding in the seat we just mentioned. Despite the low price (I'll get to that soon), SWM has managed to equip the RS300R with Kayaba suspension. This quality Japanese kit is among the best in the business, with brands like Gas Gas and Sherco shying away from the brands they've used for years and opting for top-of-the-range KYB gear. But SWM did not opt for KYB's race-bred suspension, instead they went for a more mundane version.
A 48mm USD fork takes care of the front and while it may not have all the adjustment of the more expensive models, like preload on top of the fork, it does have rebound and compression adjustment at both ends and preload on the shock. But, for most people buying an SWM, punching out laps and adjusting the clickers probably isn't your thing.
3. EASY PICK UP
The RS300R tips the scales at 107kg dry, which is more lightweight than most Japanese alternatives, but with less power. The RS300R feels lighter than most trailbikes and is an easy warhorse to pick up when it's lying on its side.
However, we have grown to expect lower mass on modern dirtbikes with the more expensive brands pouring bulk cash into centralizing the weight. The RS300R carries its load a little higher so it can tend to feel like it's wallowing when you're trying to stretch the throttle cable. Combine this with the soft suspension and it doesn't feel as sharp and accurate as, say, a Sherco 300SEF-R.
But if I plan on pushing a bike through bogs and uphills, or picking it up all day I'd much rather it be a shade over 107kg than near 130kg. The RS300R is also surprisingly fancy for a cheap ride. It runs a hydraulic clutch, electric start (it's sometimes a little precious, like the old Huskies), Mikuni EFI and GET ignition.
Most other brands that have bikes in this price range use cheap in-house parts to finish their machines, but not SWM. It even has handguards as standard and the levers are nicely contoured and not agricultural.
2. SNAKE VENOM
The power of the RS300R is as poisonous as a diamond python. In case you are wondering how poisonous that is, it's not very. For riders who might be concerned that a modern four-stroke is too responsive then the SWM would make for a capable alternative.
It has plenty of bottom-end torque for a 297cc engine but the liquid-cooled, four-valve single signs off like a fast-food health inspector. There's no top-end sting and the power is docile and smooth. The chance of getting caught napping on this bike is limited.
Even holding it wedged posed no risk of ending up parked in a tree. The dual pipes don't help with exhaust flow but the single-sided aftermarket Arrow muffler will introduce some much-needed testosterone if that's what you're after.
The linear power is distributed via a six-speed gearbox in which the ratios are surprisingly close together. The top speed won't be too much more than 100km/h but the spread between second and third is perfect. They're the gears you spend the most time in while in the singletrail and they provide enough useable power for most scenarios.
PRICE MATCH
SWM should offer a price-match guarantee on its RS300R. I can't think of a new bike that offers better value for money. Sure there are cheaper options for the trail, but none with the capacity and quality parts of the SWM.
Some people may be concerned about resale value with a bike this cheap but, even if the value halved in a year, you would still probably lose less cash than you would if you bought a more race-oriented machine.
In our day of testing we had no mechanical dramas, the bike started every time and it got us from A to B with just as much fun as a more expensive bike would, albeit a little slower. But, then again, who's to say a more powerful bike will necessarily mean you are faster. One thing's for sure, a cheaper bike definitely means you're richer!
SWM RS300R
Engine
Type: DOHC, four-valve
Displacement: 297.6cc
Bore & STROKE: 83 x 55mm
Cooling: Liquid
Compression ratio: 12.9:1
Fuel metering: Mikuni D42 EFI
Tank capacity: 7.2L
Transmission: Six-speed, constant mesh
Clutch: Magura hydraulic, wet multiplate
Dimensions
Wheelbase: 1495mm
Seat height: 963mm
Ground clearance: 250mm
Weight: 107kg dry
Suspension
Front: KYB 48mm spring-cartridge USD, 300mm
Rear: KYB gas-oil monoshock, 295mm travel
Front: Brembo twin-piston caliper, 260mm disc
Rear: Brembo single-piston caliper, 240mm disc
Running Gear
Handlebar: Tapered alloy
Front TYRE: Pirelli Scorpion XC fitted, 80/100-21
Rear TYRE: Pirelli Scorpion XC fitted, 120/100-18
Price & Contacts
RRP $8290
Website swmmotorcycles.com.au
Phone (03) 8362 1600
Warranty Six months parts & labour