LONG TERM UPDATE: 2018 Sherco 450 SEF-R Six Days Part 6 | Back End | Bike Reviews
Not a whole lot has happened since my last long-termer yarn. After the Four-Day, I had grand plans of getting plenty more seat time and doing a heap of testing and, well, it hasn't really happened.
This Sherco 450 SEF-R Six Days long term update was published in ADB issue #467 – August 2018.
After all those weekends away preparing for the Four-Day, I decided to take a couple of weekends off and recharge. The next race on my schedule is Hattah and that event is one of the biggest races in Australia.
I believe the legendary desert race sold out in under 15-minutes! But there's a good reason for that as it is probably one of the best races you can do. It's pretty much a 35-plus kilometre sand motocross track and if they get some rain beforehand, it forms up amazing. While it's a brutal four hours on the body, it's still a ton of fun.
I was scheduled to race Hattah in 2016 on the ADB long-term Yamaha YZ250X, but cut my hand at work a few days out so I'm excited to get back down there and swing off the Sherco 450SEF-R. I've ridden the event twice and have had bad luck both times so, fingers crossed, it's third time lucky.
While I had those few weeks off, I sent my suspension back to Chad's Offroad Setups to get it firmed up and tuned for Hattah. You want the bike nice and stiff to handle those sand whoops and top-gear G-outs without spitting you off.
As I mentioned in my previous yarn, Chad has fitted my Sherco with the MX-Tech cartridge kit in the fork and the MX-Tech Triple Adjuster in the shock. The MX-Tech modified fork is much firmer than the stock WP Xplor 48, which is what I was hoping for. Don't get me wrong, the stock fork is fantastic for trailriding but, on the race track, it was too soft.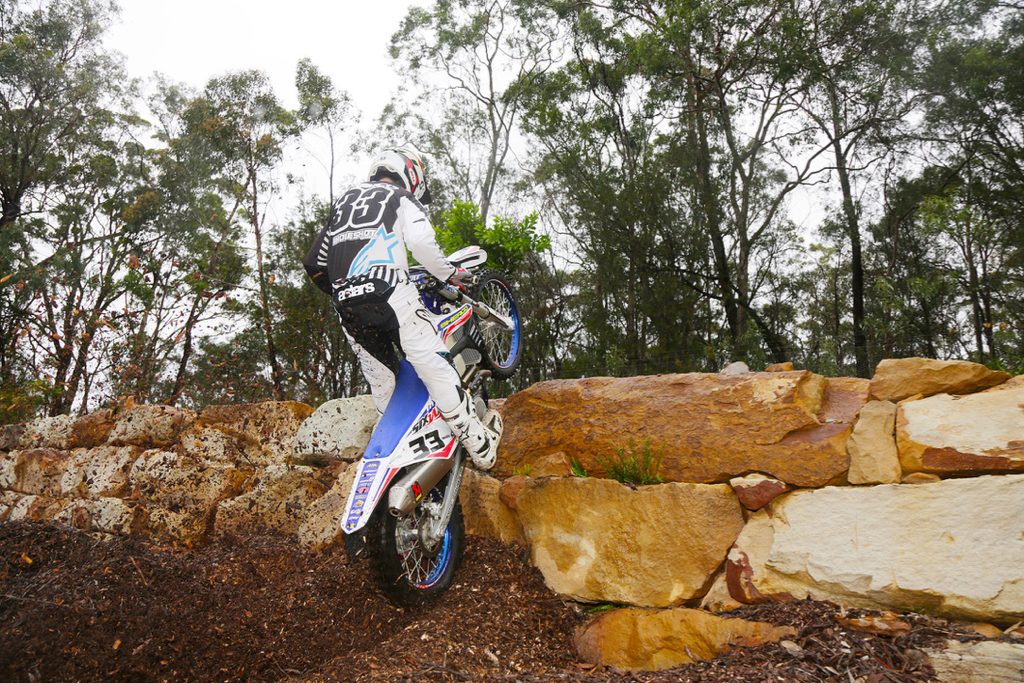 LAUNCHING
Once I got my updated Chad's Offroad suspension back, I bolted it up and headed up to our farm to test it. First impressions of the new set-up were good, as Chad has firmed it up a lot and I think we are heading in the right direction in terms of getting into Hattah-spec.
I like having a firmer front-end, not just for desert stuff but for the AORC tracks as well. It just gives you that extra bit of confidence mentally that you can hit the bumps and ruts as fast as you want and the bike will handle it and not spit you off. I am pretty eager to get out onto some fast-paced sand tracks and put it through its paces.
As far as other preparations go for Hattah, you have a couple of things that are a must. Firstly, Steg Pegz are crucial as they hold you in place when you're standing and prevent you from launching off the back. They save your arm strength as you can rely on your calves to hold your weight as you lean back.Another cool thing about Steg Pegz is that they are Australian made.
Next on the Hattah list is a steering damper. These bad boys will hold your front end firmer than what you can tighten the head stem without trashing the bearings and help you stay true on the crazy-fast paddock straights.
Then there are other things like taller gearing, exhaust changes, a big tank – the list is endless really. Enduro Editor Geoff Braico
SO FAR
HOURS: 10
MODS THIS MONTH: Chad's Offroad Setups desert suspension
MODS NEXT MONTH: Steg Pegz, steering damper, gearing, big tank