Rain, rain go away – and as soon as it did, I consummated the blossoming relationship between me and the SWM RS500R.
THIS UPDATE WAS PUBLISHED IN ADB ISSUE #454 – JULY 2017
Like an adults-only episode of Married at First Sight, I not only decided to try slipping the tongue in first time out, but going all the way on our first proper date.
An ambitious strategy, sure, but I figured we might just as well get all the small talk over and done with right there and then. So with the sun finally shining and the dolled-up red, white and black SWM looking thoroughly ready, willing and able, I climbed aboard her early on a bright blue morning on the Easter weekend and we went hard at it … all day long.
Ten hours and a whopping 395km later, we finally uncoupled and rolled back for a cigarette (so to speak) while wiping the sweat from our respective brows. That big session sure did tell me a lot about what's in store living with this sultry Italian.
From day one my brief with the SWM long-termer was to treat it as a trailbike. Editor Mitch Lees said "ride it like a trailbike". SWM Motorcycles said it was marketing it as a trailbike – not an enduro racer. Right then, no confusion. For our initiation I rode it from home on Sydney's northern beaches all the way up to the Watagans forest near Newcastle for a solid thrash in the sticks, and then rode it all the way home again.
It was a massive day that included suburban roads, the heavily policed Old Pacific Highway, heaps of forest roads and fire trails and decent lumps of singletrack as well. If that's not a trailriding day, what is?
So how did it go? First things first: the seat sucks. I don't know whether the gripper cover wraps around a slab of imitation Italian marble or a length of petrified Chinese bamboo, but whatever it is, it's bone hard.
My arse had a set of red GT stripes to prove it. I so hope the crew at Adventure Moto, the local Seat Concepts distributor, has a seat kit which will let me put away the Rectinol cream.
Fuel economy proved to be surprisingly good, averaging between 18 and 22.5km/l over the three tanks of 95 octane I put through it on the day, with the fuel warning light coming on at around 125km and suggesting just over a litre of fuel remained.
And yes, the tech guys at SWM Motorcycles said to run the bike on 95 rather than 98 octane, so that's what I'm doing. The big-bore powerplant certainly has its fair share of vibes, which you feel most through the seat and footpegs. Sadly, there is no cush-drive rear hub.
On the open road at high speed, the revs felt higher than I was expecting given the six-speed gearbox, but the gear ratios do feel close together and you get into sixth quickly, suggesting that a taller final-drive than the stock 13/47 might help.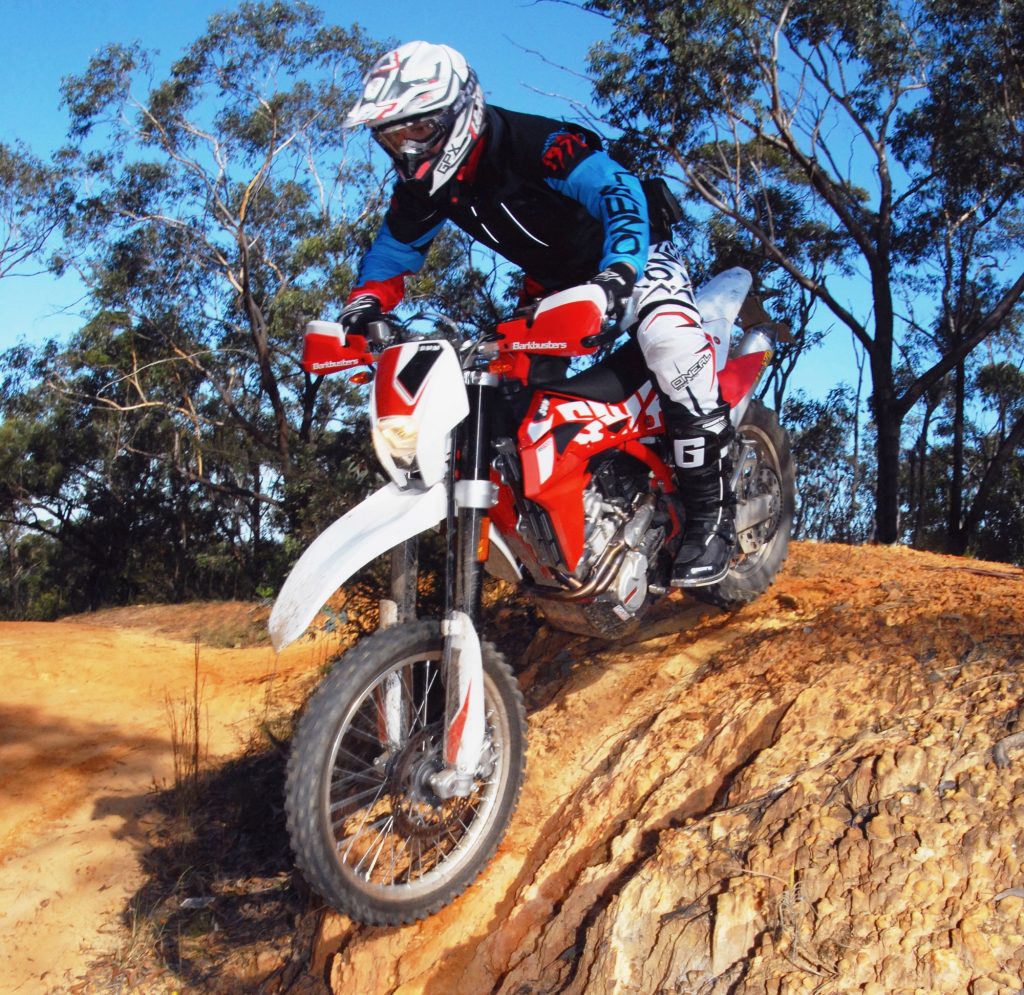 That will certainly be a mod for a future issue. In the bush, the gearbox and hydraulic clutch make for sweet shifting, while the clutch has a light and progressive feel. Only in the gnarliest of situations do you even use first gear, as most tight sections of singletrack are eaten up by second and third, while fourth and fifth carry most of the load on open, faster fire-trails.
On the whole, the SWM's power delivery feels surprisingly mellow, unlike other big-bore thumpers that do their level best to tear your arms from their sockets every time you crack the throttle hard. The motor does like more open riding conditions for sure, rather than tight and gnarly, which can bring out the traditional big-bore thumper 'ka-donk' inertia stall. Some mapping tweaks should sort this.
PLUSH OVERALL
As for the suspension and handling, the SWM felt fine on fire-roads and in the bush, with a generally plush overall action in the dirt compared to some other big-bore off-road thumpers that are aimed at the enduro racing end of the dirt riding spectrum.
Nevertheless, I'm keen to have both the fork and shock serviced and setup for my weight by a suspension specialist, as I believe that a quality ride pays big dividends on the dirt – more so than chasing horsepower, especially on a big-bore.
The Brembo brakes are good. When I first received the bike the front lever felt a little spongy, but when riding it's strong and predictable and ably supported by an impressive rear stopper.
The ergos are good and open, but it's no surprise the SWM feels just like the 2010 Husqvarna TE510 it is derived from. I remember that Husky having a longish feel to it, and the SWM brings those memories flooding back.
I found I wanted to get well forward on the bike, so I rolled the stock handlebar forward in the mounts to get the ergos I wanted. Standing up for long dirt sections also made me want beefier pegs, so that's another setup I will look into in the months ahead.
Finally, the SWM's digital dash is a good 'un, with a gaggle of functions you can switch through, including speedo, tacho, trip meters, average speed, clock and more, on the unit tucked in behind the headlight shroud.
The SWM now has almost 700km on the clock, so it's well and truly time for its first service, which means dropping the engine oil/filter and completing a thorough overall inspection. This job will be first on the agenda for next issue, for as we all know with any relationship, a little TLC goes a long, long way. Clubby
SO FAR
HOURS: 11
MODS THIS MONTH: Barkbusters VPS, Force Accessories bashplate
MODS NEXT MONTH: First service engine oil/filter change and inspection