After more than six months in the O'Neal 10SRS Flow Helmet, ADB Ed Mitch Lees gives us his thoughts on it and if it is bang for your buck.
I've been running the O'Neal 10SRS Flow helmet for over six months now and it's been holding up really well. I typically hold onto a helmet for a year before rotating it (in an effort to test as much product as we can in ADB) and this one will definitely go for years.
For years I saw O'Neal as a budget-friendly, value-for-money brand but having been wrapped in the O'Neal 10SRS Flow Helmet, I'm now seeing them differently. While the lid is still affordable at $339.95, it comes with a bunch of impressive features like a lightweight fiberglass shell that weighs 1200grams in my size, a large, an adjustable visor loads of air vents and a Coolmax liner to further improve internal temps.
We liked
PRICE The price of the 10SRS is a third of the cost of other top-of-the-line lids and I feel more confident putting my head in an O'Neal helmet then I ever have before.
COOLING I started wearing this helmet late last year and in December and January I was still sweating a fair bit. But as I wore it more through the shoulder months I found I rarely sweated in it. It is well-ventilated and the Coolmax liner keeps my forehead cool.
LIGHTWEIGHT At a little over one kilogram the 10SRS is lightweight which means I find it easier on my neck and shoulders.
LOOKS The 10SRS looks more expensive than it is and the matte grey finish with yellow highlights really pops.
AERODYNAMIC When bolting down a fire road the helmet is pretty sleek and doesn't bounce my head around too much.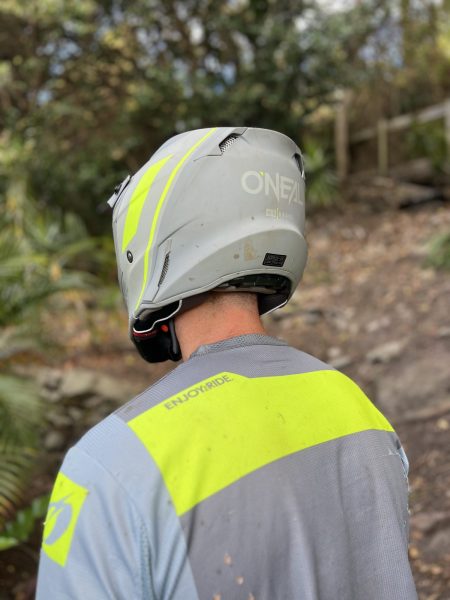 We didn't like
SAFETY FEATURES The only thing the 10 SRS is missing is a significant safety feature to hang its hat on (pun intended). I never really go fast enough nowadays to worry about concussion but knowing the tech is there if I do decide to see what the end of the throttle pull feels like would be nice.
Verdict
This helmet is a great option for the budget-conscious rider. It is aerodynamic, feels lightweight and comfortable, has a grippy goggle port and looks awesome. If you're a cruisey trailrider who doesn't plan on binning it out on the Finke track, have a look at the O'Neal 10SRS.
Mitch Lees
GET IT HERE
BILL
$339.95
BROWSER
BLOWER
(02) 8882 1900
Full story in issue #529 of ADB.