The 2019 Yamaha WR450F international press launch took place earlier this month in New South Wales and ADB Editor Mitch Lees and ADB Enduro Editor Geoff Braico both went along.
Mitch rode the all-new 2019 Yamaha WR450F from the perspective of a clubman/trailrider while Braico happily assumed the role of pro. Here is what the two riders thought.
You can read the full review of the 2019 Yamaha WR450F in the next issue of ADB Magazine – on sale 7 January
Is this bike a race bike or trail weapon?
GB: The new 2019 Yamaha WR450F is definitely aimed at racers or more experienced riders, even Yamaha says that. Sure, it can be trailridden easily as it has plenty of torque and enough power to just chug through the gears all day, but it is a lot of bike and I could see a novice rider getting into a bit of strife if they get a bit slap happy with the throttle.
ML: I'm with you on this one, from the minute you throw a leg over this beast you notice its race pedigree. The suspension is firm (much firmer than the old-skool WRs) and the engine just wants to go fast. The inertia had me struggling to pick first or second gear because it was too quick and when crawling at slow speeds over rocks it required a fair bit of clutch input. But, when motoring along on open singletrack or twin track it was an absolute dream with so much power to call on.
Would you tame it down or liven it up?
GB: Fortunately, with the smartphone tuning, I did both. I do prefer my bikes to have plenty of grunt off the bottom so I would say I would prefer it to be tuned up. Or you could just buy an aftermarket exhaust and free the motor up and keep the maps standard. Plenty of options.
ML: You like going around in circles on test loops whereas I like all-day trailrides so if I was to hang off this thing until dark I'd need to tame it back. I worked with A.J. Roberts to reduce the ignition input and increase fuel injection using the app which worked wonders.
Does it feel heavy or lightweight?
GB: Compared to previous WRs, it feels way lighter. It still feels fatter than some Euro bikes but with the seat being flatter, thinner and a little lower, you don't feel as if you're steering a bus anymore. The shrouds are more ergonomic as well and you notice that it's easier to get forward and grip them when sitting through a corner.
ML: It certainly feels lighter and, as a bigger bloke, I actually think it feels almost as light as the Euro options. But with the strong inertia it felt a little heavy when trying to pivot wheelie because you had to use too much clutch otherwise it would be going too fast for your pivot.
Is it easy to turn or hard?
GB: Out on the grasstrack or on the more flowy trails, I had no issue with how the bike turns. I found myself settling into ruts with ease and picking the lines I wanted too. The bike was happy to go where I needed it too, which is a big improvement. However, on the tighter trails, I did have some issues with the firmer suspension deflecting off rocks and roots. I did expect it though and the fork and shock are a tad firm for a rider of my weight at slow pace.
ML: I've had a Yamaha WR250F for a year as a long-termer so I've worked out how to set these up perfectly. This year the WR is lower in the rear so I set the rider sag at 104mm and I dropped the fork through the clamp by 5mm. This allows the front-end to stay in ruts and the handling improves significantly.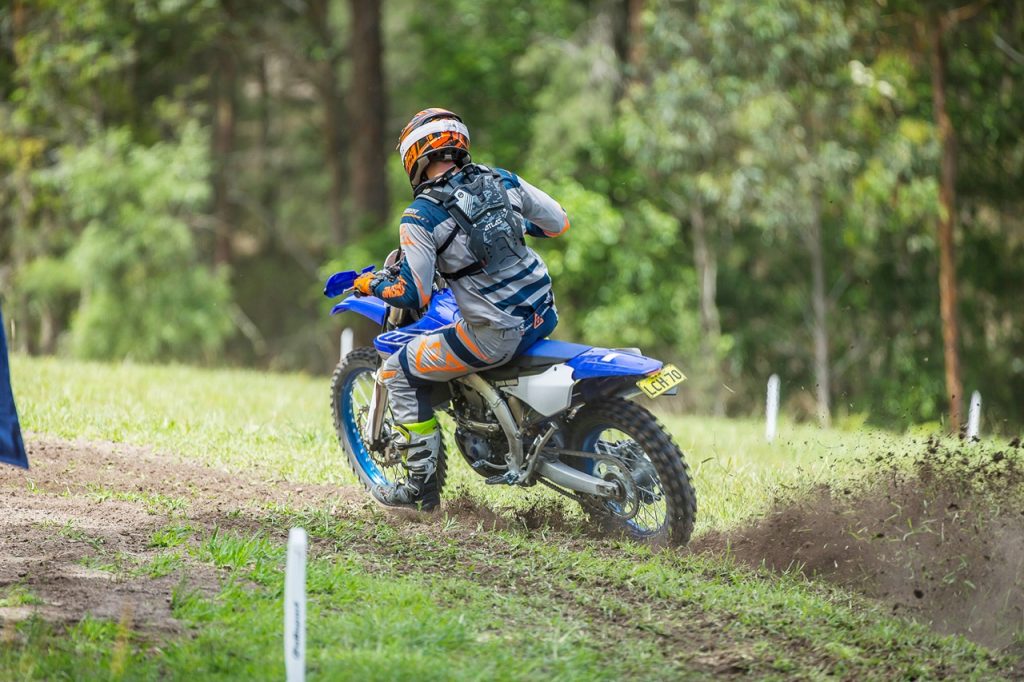 Would you rather more bottom-end torque or top-end snap?
GB: I prefer the bike to have the torque down low and mid. I'm not a real top-end power chaser. The bike has plenty down low and it's very strong in the mid too. You rev it out in second and third or you can short shift out and chug it through the trails no problem.
ML: The mid-range power for the MY19 is wild! The bottom has plenty of torque but breathe on the throttle and the front wheel is up. After plenty of hours playing with the app I tried to remove the mid-range crack (it could be deadly) and increase torque right off the bottom.
Does the Bluetooth adjustability come in handy?
GB: Once you figure out the method, then for sure it comes in handy. It takes a good day of riding to figure out how to load the maps and send the maps back and forth between your bike and phone but after you play around with the different maps and start learning what the bike does, then you will be able to adjust the bike to whatever conditions you are riding.
ML: Yes, it is unreal. I like lots of buttons in my car and things to play with on all my gadgets so an app like this makes riding even more fun. It is so easy to use and the changes you can make are significant.
What would you have liked to see done differently?
GB: The 'grips are still hand shredders and feel like they are from back in the day when we had gloves made out of leather. Those things are hard work! I had the chance to hop on one of the WR race bikes that was at the shoot and they have lower 'bars and a taller seat and I felt like, for me to race the bike, it was a good combo. I could get more on top of it. Other than that, probably just chuck on a pipe to free the motor up.
ML: You live in a fantasy world, Braico, although I do agree the 'grips are much too hard and my soft office hands had blisters on day two. I would like to see it a little tamer and possibly less aggressive in the bottom-end. Otherwise, it's a cracker!
Who would you recommend buy this bike?
GB: If you a rider who likes their bike fast and firm, then this bike is for you. If you are a racer who is looking to buy a bike that needs very little money spent on it to get it to race spec, then the WR could be right up your alley. I think if you have are a bit green and haven't done much time on a Yamaha before, then maybe you should try the WR250F before stepping up to the 450. It is an animal of a machine and one that is very enjoyable to ride.
ML: I've done plenty of rides out near Narrabri, NSW, in the Vic High Country and in the jungles out of Townsville and Cairns and this bike would be great on their fast, slightly more open trails. It is an absolute speed demon that requires you to be aggressive on the handlebar and fit enough to handle it. It's not really the trailriders' weapon of yesteryear but, from all reports, it is an incredibly reliable bike so those slack on maintenance will be impressed too.
2019 Yamaha WR450F Specifications
Engine
Type DOHC, four-valve
Displacement 449cc
Bore & STROKE 97 x 60.8mm
Cooling Liquid
Compression ratio 12.8:1
Fuel metering Mikuni 44mm EFI
Tank capacity 7.9L
Transmission Five-speed, constant mesh
Clutch Cable, wet multiplate
Dimensions
Wheelbase 1480mm
Seat height 955mm
Ground clearance 320mm
claimed Weight 110kg dry, 119kg wet
Suspension
FRONT KYB SSS 48mm spring-cartridge, 310mm travel
REAR KYB monoshock, 317mm travel
Brakes
Front Nissin twin-piston, 270mm wave disc
Rear Nissin single-piston, 245mm wave disc
Running Gear
Handlebar Yamaha tapered alloy
Front tyre Metzeler Six Days Extreme, 90/90-21
Rear tyre Metzeler Six Days Extreme, 130/90-18
Price & Contacts
RRP $13,299
BROWSER yamaha-motor.com.au
BLOWER (02) 9757 0011
Warranty Three months, parts only