You only have to look back to 2016 to see no 125s racing at the MX Nationals or the Australian Off-Road Championship.
WORDS: Ben Grabham
PHOTOS: Mitch Lees
THIS FEATURE WAS FIRST PUBLISHED IN ADB ISSUE #472.
---
The 125cc two-stroke that once filled motocross starting gates all over the country was also the bike you used to see filling the top five Outright positions in off-road events like the Australian Four-Day Enduro.
With the technological advances in four-strokes over the last 15 years, combined with a lot of the Japanese manufacturers dropping the zippy two-strokes, very few riders look to buy, let alone race one especially when the new generation of high-revving four-strokes are easier to ride fast.
All this fabulous easy-to-ride four-stroke technology does come with a down side. It is very expensive and very complicated for your average Joe to work on a DOHC, four-valver. The promoters of the MX Nats noticed and started running the 125cc Gold Cup at selected rounds. Now in its second year, the Gold Cup is growing in popularity as it provides riders with the chance to race at national level on a cheap and cheerful 125.
OFF-ROAD PARTY
Last year the AORC jumped on the bandwagon with the 125cc Amateur Cup running at selected rounds. You only have to look at the entry lists to see that the two series have attracted all the 125cc two-stroke manufacturers but the only bike to win rounds at both the 125cc Gold Cup and Amateur Cup was one of the newest in the class.
It may only be in its first year of production, but the Sherco 125SE-R has done just that. Not many up-and-coming motocross riders, or even older campaigners, would look to an enduro 125cc for motocross but Justin Carafa did. He raced the 125SE-R to win both motos at round one of the 2018 Gold Cup, causing a bit of a stir.
As soon as I knew ADB had the Sherco 125SE-R that Carafa raced and won on locked in for a test, I had both arms waving in the air to be the rider.
I have raced and tested some very cool and special 125 two-strokes in my time, including Shane Watts' 1997 World Enduro Championship-winning 125 and the one on which he won the 1998 Australian ISDE Outright. I've also tested the TM125 that won the 125 class at the '97 Italian ISDE so you could say I have a bit of experience. My last Outright A4DE win in 2003 was on a 125 two-stroke which left me with some very cool memories.
Mt Kembla Motocross Track was the test location, with ADB Editor Mitch Lees having picked up the Sherco from the MX Nats round at Raymond Terrace the day before. The little Sherc was looking the goods, helped by the fact that a small tip-over resulting in a dislocated shoulder meant Carafa hadn't given the bike a full workout.
LIGHT AND TIGHT
Pushing the bike around the pits I soon remembered how light a 125 is. Next, I went for the kickstarter before I remembered it doesn't have one. Oops, I hit the button and this two-stroke sounded extra special and crisp with its Fresco exhaust combined with a Fresco Lite Series muffler.
I had spent the weekend racing a 450F so even though the 125 sounded cool, the take-off was not all that fast.
Remembering my 125cc days, I wrung the twistgrip and made the little Sherco sing like a bird. The next thing I had to remember was how many gearshifts a 125 needs to keep it in the powerband.
At the end of the first big straight it was getting along quite fast in sixth gear. With a tight left-hand corner ahead, I grabbed a fist full of front brake while stomping on the rear one. Wow, it felt like the world stopped in a split second.
I know 125s stop well but the little Sherco's Brembo brakes with oversize Braking front disc had way more stopping power than I expected. After a few more straight runs I felt I could go from top gear flat-out to a full stop quicker than ever before.
ENGINE
As I adjusted to being back on a 125 I was becoming more and more impressed with the engine. Now I could understand how it was possible for Carafa to win motocross races on this bike at national level. The bottom-end power was decent although it wasn't the gruntiest I've experienced.
It did have enough to lug along when I forgot to change down enough gears before exiting a corner. Mid-range is where this engine started to show its potential, with it coming on pretty strong for a 125. If you keep the throttle open and let it rev into the top-end, it really shines.
Yes, I have ridden more powerful 125s but they were engines that had a lot of mods or were factory units. This Sherco engine was impressive for a standard 125 that only had a different exhaust, muffler, jetting and race fuel.
I have not ridden too many 125s in my time that I would say handle too bad, mainly because they are so light plus you don't have that much horsepower to actually get into trouble. The Sherco 125 was no different. It turns amazingly well and, combined with its crazy stopping power, I could get into and hold lines that bigger bikes would just not get to.
Carafa's suspension setup was top level as he was running a WP 48mm Cone Valve fork with a WP Trax shock. Sherco head mechanic Derek Grundy happened to have this suspension laying around from his 2017 AORC class-winning race bike so Carafa struck gold with that.
Both fork and shock felt firm, as motocross suspension normally does, compared to the more traditional enduro setup I run. But the faster I rode the better it handled and the smoother all the bumps became.
I over-jumped the tabletop and slammed into the roughest section of the track expecting a harsh landing or to be kicked around, but nothing crazy happened. It felt like the suspension almost laughed at me saying, "is that all you've got?" Combining those legs with Justin's high fitness level, I could see how they made a perfect combo on the track.
Everything I experienced on the 125SE-R made it easy for me to see how this 125 could be competitive at MX Nats level. I enjoyed my time so much on this bike that I got hold of it to race in the AORC 125 Amateur Cup. Just as it didn't disappoint me on the MX track, this impressive little two-stroke managed to take me to the Amateur Cup win.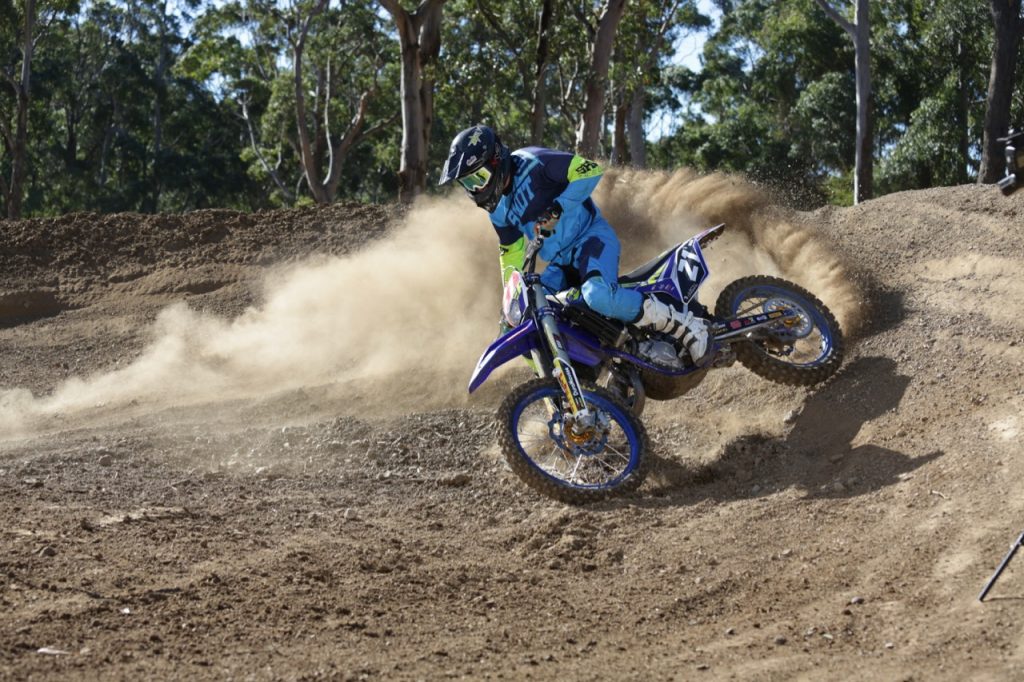 PARTS LIST
Justin Carafa's Sherco 125SE-R had the following parts fitted, Grabbo removed some of them for enduro work:
• Pirelli MX32 tyres, 19-inch rear for motocross and 18-inch for AORC
• Talon hub with 19-inch Excel rim from John Titman Racing for motocross
• Factory Sherco clutch cover
• ODI lock-on handgrips
• FunnelWeb air filter
• Fresco expansion chamber
• Fresco Lite Series muffler
• VP Race fuel with Motul 800 (MX Nats)
• WP Trax monoshock from Sherco Racing Hard Parts (MX Nats)
• WP 48mm Cone Valve USD fork from Sherco Racing Hard Parts (MX Nats)
• Braking oversize 270mm front disc available from Sherco Racing Hard Parts
• Braking rear disc from Sherco
Racing Hard Parts
• Topline seatcover
2018 Sherco 125SE-R Factory
Engine
Type: Piston-port, reed valve
Displacement: 124.8cc
Bore & STROKE: 54 x 54.5mm
Cooling: Liquid
Compression ratio: N/A
Fuel metering: Rejetted Keihin PWK 36
Tank capacity: 10.4L
Transmission: Six-speed, constant-mesh
Clutch: Brembo hydraulic, wet multiplate
Dimensions
Wheelbase: 1465mm
Seat height: 950mm
Ground clearance: 355mm
Weight: 95kg dry (stock)
Suspension
Front: WP Xplor 48, 300mm travel
Rear: WP monoshock, 330mm travel
Brakes
Front: Brembo twin-piston, 270mm Braking
Rear: Brembo single-piston, 220mm Braking
Running Gear
Handlebar: Oxia tapered alloy
Front: tyre 80/100-21 Pirelli MX32 fitted
Rear: tyre 110/85-19 Pirelli MX32 fitted
Price & Contacts
PRICE: $12,990 (2019)
web: sherco.com.au
PHONE: (03) 8363 1600
Warranty: Three months parts and labour