Chris Harris has a soft spot for old bikes and loves nothing more than spending countless hours in the garage cleaning spokes with a toothbrush. We look at his prized 1986 BMW R80G/S Paris Dakar.
WHY'D YA BUY IT?
This is a unicorn bike and I'd been chasing one forever. I never thought I'd be able to afford it because they can be quite pricey. The R80G/S is the bike that started it all. There were no other real adventure bikes before it. It is like the grandfather of them all. I think the BMW R80G/S Paris Dakar is the most collectable model of the G/S and GS series because it is named after the original Paris-Dakar Rally.
WHAT YA DONE TO IT?
For starters, I had to get it roadworthy. So I sent it to BMW Motorcycles in Ringwood, Vic, and the boys there went over the entire bike and got it humming. They freshened up the engine and gave it a good service, which included the gearbox. Once I had all the relevant roadworthy certificates I put it on club rego and fitted a new set of tyres. Living in Victoria it feels like the weather is always miserable so I got a set of Oxford retro heated 'grips. I wanted handgrips that were faithful to the era, so they have little diamonds in the pattern. I then bolted on a set of Barkbusters to protect my levers but also keep my hands out of the wind and a little warmer. I picked up a Garmin GPS unit and mounted it on the dash. The original 'pegs are really skinny so I grabbed a set of Pivot Pegz to give me more stability when standing. But the biggest change I made, and the most important, was to the suspension. I took it out to Suspensions R Us and they gave it a full overhaul. They put in a fully adjustable Wilbers 633 Competition shock because the original was too soft and I do a lot of two-up riding. In the future I will bolt on some 'bar risers.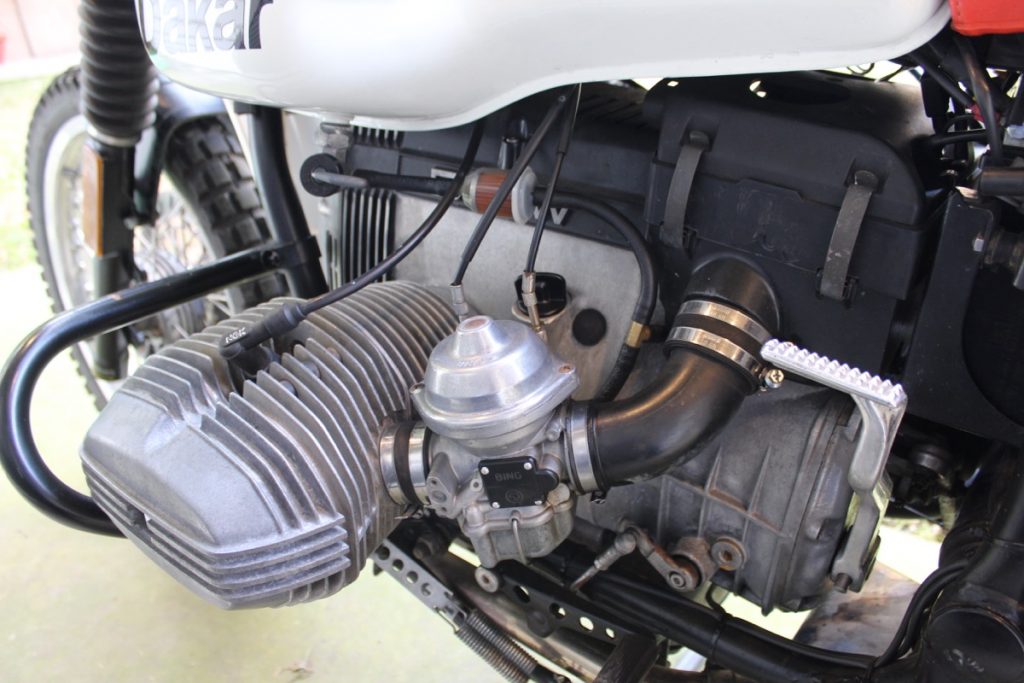 HOW'S IT GO?
I haven't been able to take the bike for a massive ride yet because I've had a busted ankle, so most of my rides have been in Victoria on weekends. The bike rides considerably better with the Wilbers shock. It doesn't blow through the stroke. The old Hagon shock was too soft. When I would ride two-up with the old shock it would sag in the rear despite my partner only weighing 53kg, but now it sits perfectly. It also gives me more control up front. The fork, now fitted with Wilbers progressive springs and emulators, is actually pretty good. I've done a ride to Jindabyne and it kept up with the faster guys. The airbox was restricting it a lot so we drilled some holes in it. It had an oversized front disc (330mm) fitted by a previous owner. I have opted for shorter gearing for off-road use. I don't need to do 180km/h down the highway so the lower gearing is fine as it improves the torque.
RECOMMEND IT?
What a stupid question, absolutely! The R80G/S is really robust and so easy to maintain and work on. The sparkplugs are easy to change because they're easy to get to. The same goes for the carburettors, which are right where they need to be to work on. Even changing the oil is easy. Because it's shaft drive there is no maintenance required in that department either. Because BMW used a boxer engine (yes, even back then) the weight is down low, so it has a low centre of gravity which is great when cornering and picking it up. I wanted something that was eligible for club rego and the R80G/S is. It's also air-cooled so there's no radiators to worry about and think about damaging. Despite being an old bike, parts are readily available if you want to restore one. That being said, pannier frames are hard to get because the G/S ran a differently shaped frame on the left to avoid the exhaust.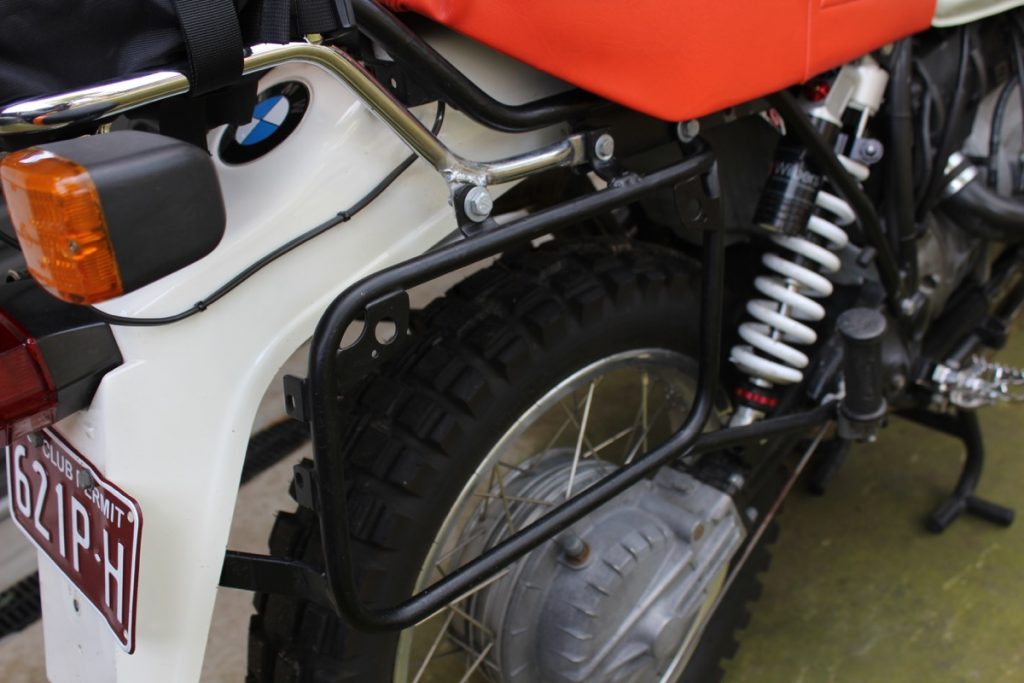 5 THINGS YOU DIDN'T KNOW ABOUT THE CHARRIS
1. Can talk under water about the history of his R80G/S but that will likely put you to sleep.
2. Knows a lot about the history of Wilbers, which is apparently based in the western part of Germany.
Yawn…
3. Always does interviews with that large rottweiler by his side, which barks incessantly.
4. Extensive knowledge of 'grips and how the pattern can identify a specific model. Someone wake me up!
5. Has dreams of hosting Antiques Roadshow and using his extensive knowledge of irrelevant facts.
THE BASICS
WHAT: 1986 BMW R80G/S Paris Dakar
WHO: Chris Harris, Motorcycle Trader
WHERE FROM: Melbourne's leafy south-east
HOW MUCH: $12,000