REVIEW: RK RACING CHAIN AND SPROCKETS | Product Evaluations
RK Racing chain and sprocket kits come with a countershaft sprocket manufactured from SCM-415 alloy steel with a shot- peened surface.
The rear sprocket is a light design that is CNC machined from 7075-T6 European aircraft aluminium. It is hard anodised in a variety of colours and features machined mud grooves.
The chain that comes with the Race Kits is an RK Racing gold U-ring chain. This is a heavy-duty chain that is designed to be durable while still being light. We fitted up the kit to our recently-departed 2018 Suzuki RM-Z450 long-termer to see how it would handle the power and just how much abuse the components could handle.
WE RATE
EASY TO FIT: There was nothing hard when it came to fitting the kit. Everything was straight-forward and easy.
DURABLE: This kit was put through everything, including mud and sand, and was still in good condition when Suzuki took the bike back from us. The trick is to clean it regularly, to not let gunk build up all over the chain and to lube it regularly
even throughout the day when riding.
LOOKS FRESH: The gold chain and rear sprocket really added some style points to the RM-Z. The stock black chain and silver sprocket just weren't cutting it in the looks department.
THIN: The chain is not as thick as a normal O-ring chain. It fits through the guides nicely without chewing them out and the joining link slides together much easier than a typical O-ring one.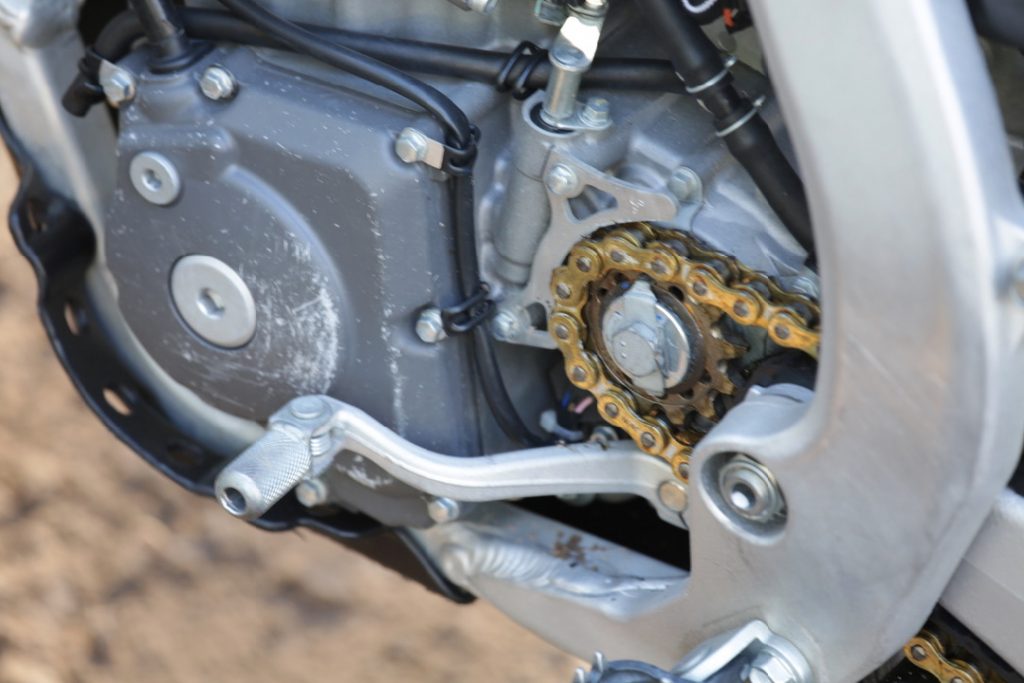 WE DON'T RATE
PRICE: I can't fault the products at all but with the chain being $149 I feel some people might want to opt for a cheaper, nastier one.
The GB520MXU chain is top quality and lasts well. If you chose to fit a cheaper chain then it will stretch and wear the sprockets out much faster.
VERDICT
The RK Racing GB520MXU chain and sprockets make a top-quality kit that's worth the money. It is a durable set that is easy to fit and will last well providing you clean them and regularly lube the chain. The set is easy to fit and the alloy rear sprocket comes in different colours to suit your bike. The rear cog is light and does its job very well around a motocross track but if you are a trailrider constantly punishing your bike through some rough terrain then you may want to go for the steel option as it will withstand the abuse much better. Technical Editor Mat Boyd
GET IT HERE
BILL: GB520MXU chain $149, front sprocket $27, rear sprocket $79.90
BROWSER: linkint.com.au
BLOWER: (07) 3382 5000