At the after party for the KSP KTM Wodonga Alpine Rally one punter came up to me and asked, "So what bike were you riding, Grabbo?" I told him I was mounted on a mighty Suzuki DR-Z400E and he scoffed.
THIS FEATURE WAS PUBLISHED IN ADB ISSUE #470 – NOVEMBER 2018
WORDS: Ben Grabham
PIX: Mitch Lees
"Out there?" he said. I told him it was perfect for the day's conditions and I'd had a ball on it. He still struggled to believe me until ADB Editor Mitch Lees chipped in by telling him I was hammering past blokes on bikes that cost twice as much and had managed to get the DR-Z everywhere.
Many people believe they need to be on a fast bike to go fast but that is simply not true. I've ridden factory race bikes for twenty years and I loved the DR-Z and believe it has a place in the trailriding arena.
While I did manage to record 140kmh on the slightly modified DR-Z it was more the comfort with which it did everything than its speed that impressed me. The DR-Z is not the lightest bike around, tipping the scales at 138kg wet, but that weight comes in handy at times.
It helps keep both wheels firmly on the ground, giving the DR-Z a positive feeling to keep charging over small, loose obstacles.
At 178cm I'm not the tallest rider, so the 935mm seat height was very comfortable. It's a few centimetres lower than your average enduro. Being able to touch the ground when needed definitely helped.
The DR-Z's engine is a gem. It happily chugged along all day long eating up everything I threw at it. It's one of the last four-strokes still available with a carburettor but that doesn't stop the DR-Z from delivering silky-smooth power that really shines in its ability to not break traction and it lugged up every hill on the ride with ease. Where the DR-Z really stood out to me was its turning ability with the Pirelli Scorpions fitted.
SIZE MATTERS
I have always been a big fan of motorcycles that can hold a tight line and give good front wheel grip. I see this as a huge plus when trailriding because, generally, you don't know what is around the corner, so the ability to switch lines and feel confident on loose, stony ground is very important.
Stability was also good, which is something that can sometimes be sacrificed when a bike turns as well as the DR-Z but that's not the case here. Even though I found myself standing up a lot, the seat was so comfortable while I was sitting, adding to the easy feel of the DR-Z.
The Alpine Rally really was the perfect chance to test the DR-Z in real-world trailriding conditions. I got to ride with over 400 other traillies who were getting just as excited with the perfect conditions as I was, meaning there was a bit of 'bar banging and over jumping of erosion mounds while trying to miss fallen riders and carve through others over terrain I had never seen before.
If the DR-Z was going to have any nasty trailriding traits I would have experienced them in the 150km of varying terrain we did, but there were none. The trails were mainly open, easy hardpack with greasy logs mixed in and a decent amount of loamy singletrack. This was all linked together with some open fire trails with the odd decent hill climb. If this was the conditions I rode every day I would happily ride a DR-Z400E.
THE SET-UP
The DR-Z I was riding was not completely standard as Chad's Offroad Setups has developed a suspension package that I will let him explain:
"I have serviced and re-valved both the fork and shock, polished all the fork internals and fitted a speed-sensitive mid-valve aimed at making the fork hold up better at low speeds while giving a more compliant feel on big, sharper hits. With the shock I have given it more high-speed compression damping as well as low-speed to make it handle all situations better. This setup I have developed is available to any DR-Z owner for $420."
Chad had also fitted a stronger alloy Renthal handlebar as the standard steel 'bar is very soft. We also had the standard Bridgestone Gritty road/trail tyres replaced with a set of quality Pirelli Scorpion MX32 tyres.
MAKING IT MINE
If I was to roll a DR-Z off the showroom floor and make it mine, I would definitely go with Chad's Offroad Setups suspension upgrade. It did everything Chad said it would and more. It's not very often you can chug around in the bush feeling totally comfortable as the suspension soaks everything up. But you can still send it flying over erosion mounds with confidence as the suspension is capable of taking some big hits.
Next up I would also opt for a stronger handlebar as it doesn't take much of a fall to twist the standard steel one. Protection wise, Suzuki has a promotion going at the moment where you receive a "Bonus Enduro Kit" with the DR-Z which includes Barkbuster Suzuki handguards, Suzuki bashplate, Suzuki radiator guards and Suzuki muffler end-cap that improves power while limiting the noise increase.
The last thing I would purchase for the DR-Z would be an oversized front disc kit, something like a 260mm or 270mm as the standard 250mm disc just was not powerful enough at times. I had to use four fingers and lots of strength to get the front to stop quick enough on the fast, open fire trails.
RELIABLE AND TOUGH
Living with the DR-Z is made rather easy as normal service intervals are at 6000km. This means you get plenty of trail hours in without burning the midnight oil on the tools. Air filter changes are made easy with tool-less access. Having a carburettor makes things a lot simpler and less complicated for the average trailrider, especially if you plan some long-distance rides in remote areas with minimal support. Ninety-nine per cent of riders I know are capable of cleaning a blocked jet or just making sure fuel is getting from the tank to the carburettor. I do know no carb has ever stopped me from finishing a ride or race, so if you are looking for a street-legal dirtbike that you can ride to work during the week then trailride with your mates on the weekend with minimum fuss, I would suggest you check out one of these work horses.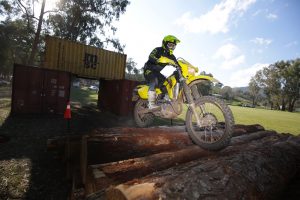 SUZUKI DR-Z400 Spex
Engine
Type DOHC, four-valve
Displacement 398cc
Bore & STROKE 90.0 x 62.6mm
Cooling Liquid
Compression ratio 12.2:1
Fuel metering Keihin FCR39
Tank capacity 10.0L
Transmission Five-speed, constant mesh
Clutch Cable, wet multiplate
Dimensions
Wheelbase 1475mm
Seat height 935mm
Ground clearance 325mm
Weight 138kg wet
Suspension
FRONT Modified Showa 49mm conventional, 288mm
REAR Modified Showa monoshock, 295mm
Brakes
Front Nissin twin-piston, 250mm disc
Rear Nissin single-piston, 220mm disc
Running Gear
Handlebar Renthal 22.5mm alloy fitted
Front tyre Pirelli Scorpion MX32 80/100-21 fitted
Rear tyre Pirelli Scorpion MX32 120/90-18 fitted
Price & Contacts
Price $8990 rideaway with Bonus Enduro Kit
Web suzuki.com.au
Phone (03) 9931 0500
Warranty 12 months, unlimited km