Riley McGillivray has secured a round win in class and Andy Wilksch a pair of third place results at Round 9 of the 2023 AORC.
It was another strong weekend of racing for KTM-supported off-road riders, with Riley McGillivray claiming a round win in class and Andy Wilksch securing a pair of P3 results at the 2023 Australian Off-Road Championship (AORC) in Kyogle, NSW.
In the big-bore E3 class, talented newcomer McGillivray continued to prove he's one of Australia's most promising young racers when he stormed to Sunday's victory.
After taking a solid runner-up result in Saturday's dry and dustry ninth round, McGillivray and his powerful KTM 500 EXC-F put in a near-perfect performance on Sunday to claim the E3 win, battling hot conditions, technical stages, and a fierce challenge from his closest rivals in the process.
In the end, the 19-year-old finished the day with a narrow 10-second victory, setting the stage for a thrilling showdown at the final two rounds in four weeks time.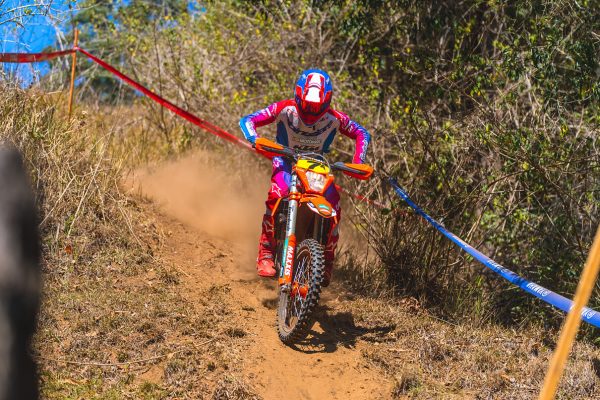 The talent-stacked E2 class saw last year's E3 title winner Wilksch put in a gritty performance onboard his KTM 450 EXC-F to take a pair of third-place results.
Just days after returning to riding from a knee injury sustained at the previous round in Keyneton, Wilksch put in a brave performance around the marbly special tests to finish the weekend with a satisfying haul of points.
The 2023 AORC season will conclude on October 14-15, when rounds 11 and 12 take place at Dungog, NSW.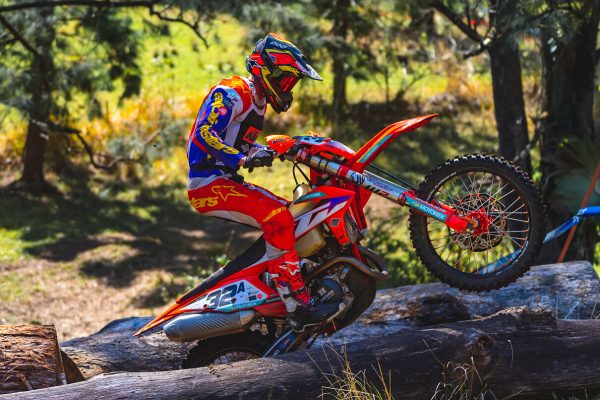 Riley McGillivray: "It was a bit of a scrappy weekend and I had a lot of small crashes and errors that cost me time, but even though I'm not happy with how I rode, I was happy to finish the weekend on top of the E3 class. Even yesterday when I finished P2, I knew I had the speed to compete for the win, as the amount of time I lost in crashes was more than the gaps between myself and the leader. I usually like the technical stuff, but there were lots of off-cambers and there wasn't much grip out there. The aim now is to clean up my riding over the next few weeks, so that I can be more consistent for the final rounds at Dungog."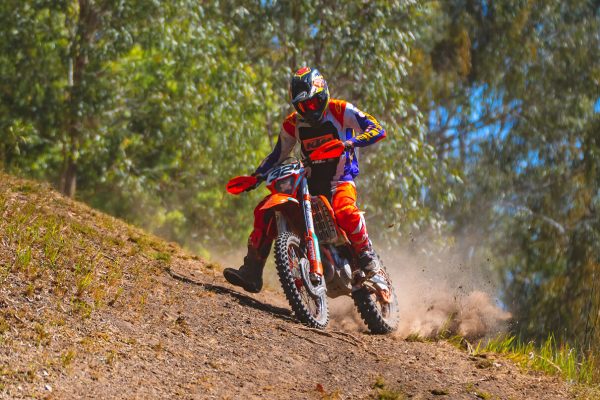 Andy Wilksch: "I had a challenging lead-up to this weekend. I ended up with a new tear in my meniscus at the last AORC and I was chasing a plan of attack for the past few weeks. There was a lot of trial and error to see if I could handle weight-bearing and racing with my knee, but we figured out I could ride last week, so we packed everything up and came up here to race. Luckily my knee held up really well and I could battle towards the front with a couple of third outright test results yesterday, then battling for positions again today in the E2 class. Considering the setbacks I've had this year, I'm super-happy that we could be competitive, show everyone how awesome the KTM is, and how easy it is to get good results on these bikes."
2023 Australian Off-Road Championship – Kyogle, NSW
Round nine results:
E2
1. Jonte Reynders (Sherco)
2. Joshua Green (Yamaha)
3. Andy Wilksch (KTM)
4. Jye Dickson (GASGAS)
5. Fraser Higlett (Beta)
E3
1. Stefan Granquist (Husqvarna)
2. Riley McGillivray (KTM)
3. Sam Pretscherer (Husqvarna)
4. Patrick McGillivray (KTM)
5. Thomas Henry (Beta)
Round 10 results:
E2
1. Jonte Reynders (Sherco)
2. Joshua Green (Yamaha)
3. Andy Wilksch (KTM)
4. Jye Dickson (GASGAS)
5. Travis Silk (KTM)
E3
1. Riley McGillivray (KTM)
2. Stefan Granquist (Husqvarna)
3. Sam Pretscherer (Husqvarna)
4. Patrick McGillivray (KTM)
5. Thomas Henry (Beta)