Back in issue #432, we fitted a 30 litre tank to our DR650SE budget adventure bike. Here's what we thought about it...
Safari 30 Litre Tank
Price:
$650.00
Where:
Safari Fuel Tanks
www.safaritanks.com.au
Phone: (03) 5729 5556
Suzy, the DR650SE budget adventure project bike, came out of the Suzuki factory wearing a 13-litre tank. As anyone will tell you, that's going to limit your travels in the Lucky Country. But Safari Tanks in Victoria is the go-to for long-range ability, so we ordered a 30-litre unit.
The Safari tank is translucent white plastic. Remove the original tank and the Safari essentially slots straight onto the existing tank mounts. A quick and easy one-can job – maybe two. Any more and you may have a drinking problem.
Other colours are available to match your bike's colour scheme but I like the 'see how much is left at a glance' fuel gauge of the translucent white tank.
An instruction sheet with explanatory photos is provided, along with mounting hardware, including brackets to move the blinkers and horn clear of the tank.
The replacement process is quick and easy, needing minimal tools, and the brace bar that goes across the bottom of the tank slipped into place despite the instructions warning it could be a little bit fiddly.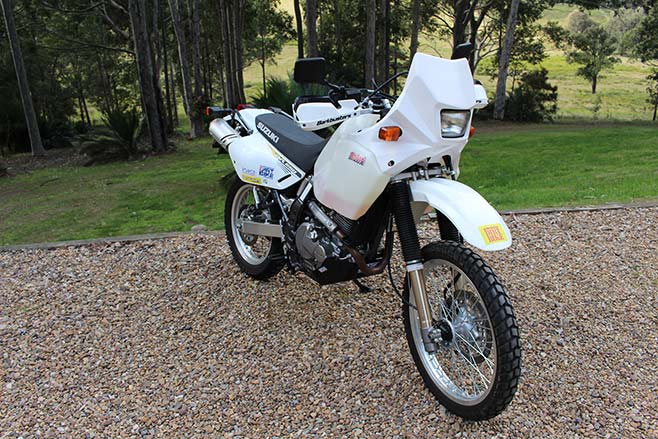 At $650, it's not cheap. When you consider rival bikes in the same market carry bigger stock tanks, paying $650 to match up is big hit to the hip pocket.
There's little else to worry about – it's a good bit of gear, although the holes in the bottom brace bar needed a quick rub with a round file to line up perfectly, as one hole was a poofteenth out of line.
The Safari 30-litre tank should ensure I'm not waiting on the roadside trying to beg fuel from passing 4WDs – I'd expect a 500km range and most outback pubs are closer together than that. Safari supplies tanks for most off-road bikes, plus accessories such as pannier racks and fairings.
To receive the latest news, reviews and video highlights from the world of dirt bikes, sign up to our weekly newsletter here.