Grabbo swaps speed for finesse on a trials bike.
Grabbo test rides the French built, 2022 Sherco 250 ST Factory.
Close to three years ago I rode my last trials bike in the hills around Melbourne for an ADB ride review just like this one. I do not have a huge amount of experience in riding trials, but I do enjoy it every time I get the chance to ride one. I have no doubt riding and training on a trials bike improves a riders overall skills no matter what discipline is their main focus. The last three trials bikes I have ridden were all 300cc two strokes, making the fact I was about to test a 250cc two stroke trials bike quite exciting.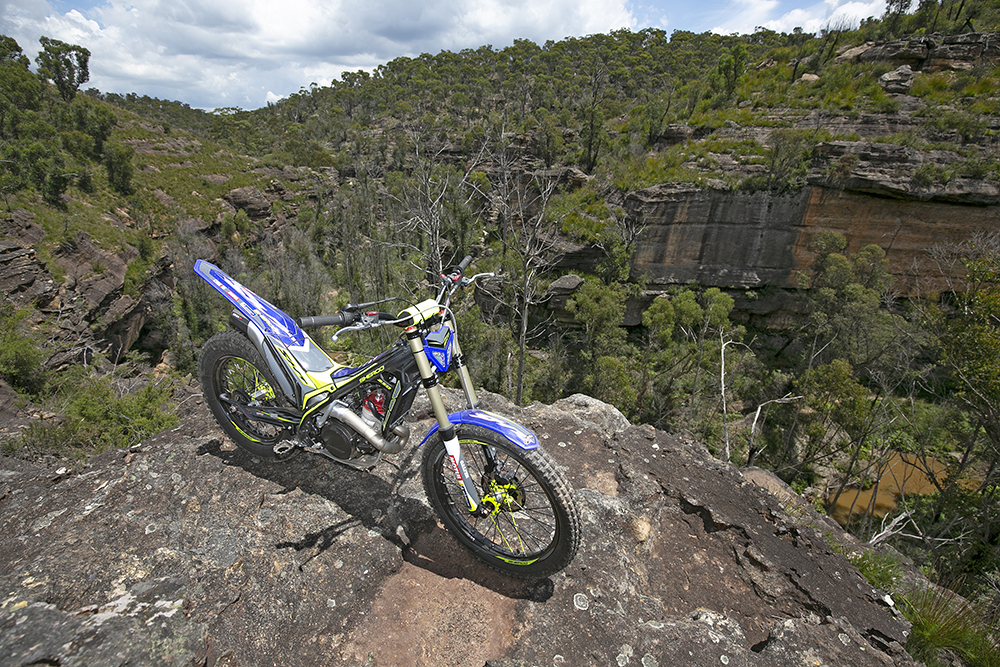 The French built, 2022 Sherco 250 ST Factory was the actual model, and its list of new parts for 2022 is quite small and comprising of updated graphics, a new red cylinder head and a taller second gear. For me this did not matter much at all as I spend so little time on a trials bike that it is basically an all new motorcycle to me.
I get the chance to ride a lot of different motorcycles ranging from 50cc up to 1290cc but what makes a trials bike special and interesting to me is how light they are built and that they are built to do one task only. That task is to traverse terrain and obstacles that ninety nine percent of us think are impossible.  Jumping onto a trials bike I always have images in my head of 29 times World Champion Toni Bou effortlessly bouncing from rock to rock on the rear wheel, then gracefully popping off a three meter drop onto the concrete and making it look like he landed on marshmallows.
In the first few seconds of taking off on the 2022 Sherco 250 ST Factory I fully believe I can do the same because it feels crazy light and the power is silky smooth. Unfortunately only minutes later after trying to drop off a knee high rock I realised the bike may be capable, but my lack of trials skills make the gracious images in my head all but impossible. Nevertheless I soldiered on as I love testing motorcycles and experiencing their components.
Firing the engine into life requires a quick firm kick of the kick start lever, as everything on a trials bike is about minimal weight and the reason it doesn't have the luxury of electric start. Once fired into life the exhaust note of the 250 ST is very quiet, throttle response is crisp but the engine builds revs a lot slower from what feels like a much heavier flywheel than what I am used to on a two stroke enduro engine. Taking off is effortless with the super light hydraulic clutch action but first gear doesn't get me moving very fast, as the gear ratios are very low, and third gear feels more like first on a enduro bike.
Tackling my first hill climb on the 2022 Sherco 250 ST Factory had me in awe of how much torque this engine produced. I was in third gear but no matter how steep the hill got the 250 ST just kept on wanting to move forward with or without me. Seeing the engine was so strong and wanting to climb the hill with or without me I started using the clutch to calm things down.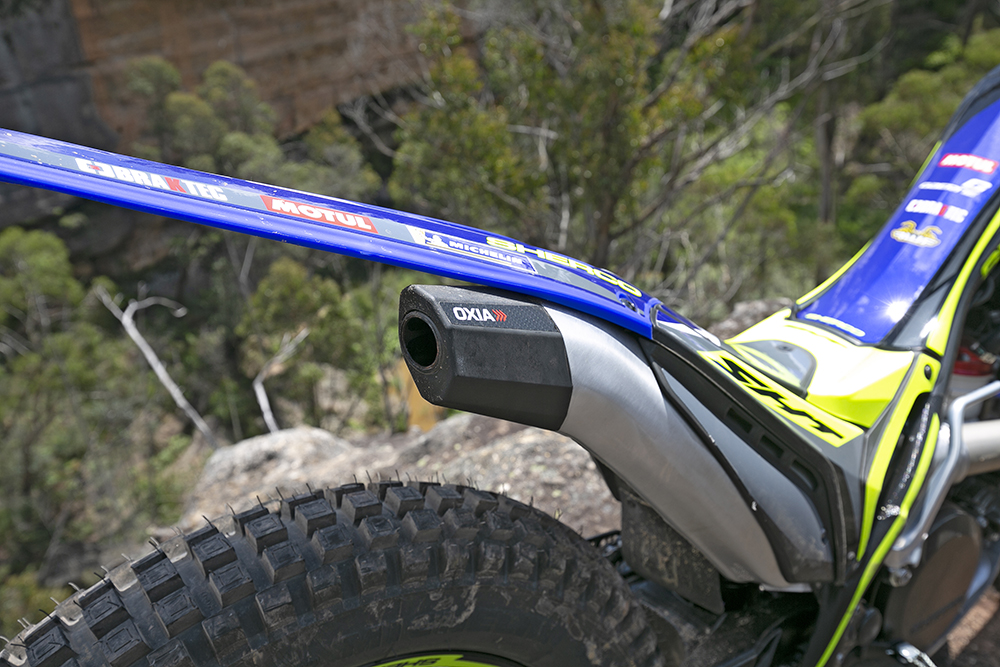 The first thing I noticed with the clutch was how sensitive it is to every millimetre of clutch lever movement. On a enduro bike I generally have to move the clutch lever around 10mm to slip or engage it's action, but on the 250 ST it was more like only 2mm of clutch lever movement to get clutch slippage or bite. This took a bit of getting used to, especially with the added flywheel effect that keeps the engine running on a lot longer than I am used to. I can totally feel how this engine and clutch combination could tackle obstacles that look impossible with ease, but it would take me more than a few hours on the 250 ST to master this impressive engine package.
The ergonomics on a trials bike are basically non existent to me as I am used to sitting on a seat or gripping a bike with my knees and this machine offers neither. What it does offer me is a super thin feel between the legs. The handlebars and control levers are butter smooth with a very light feel. S3 Hard Rock foot-pegs kept my feet glued to the bike and provided a great platform to manoeuvre the bike from.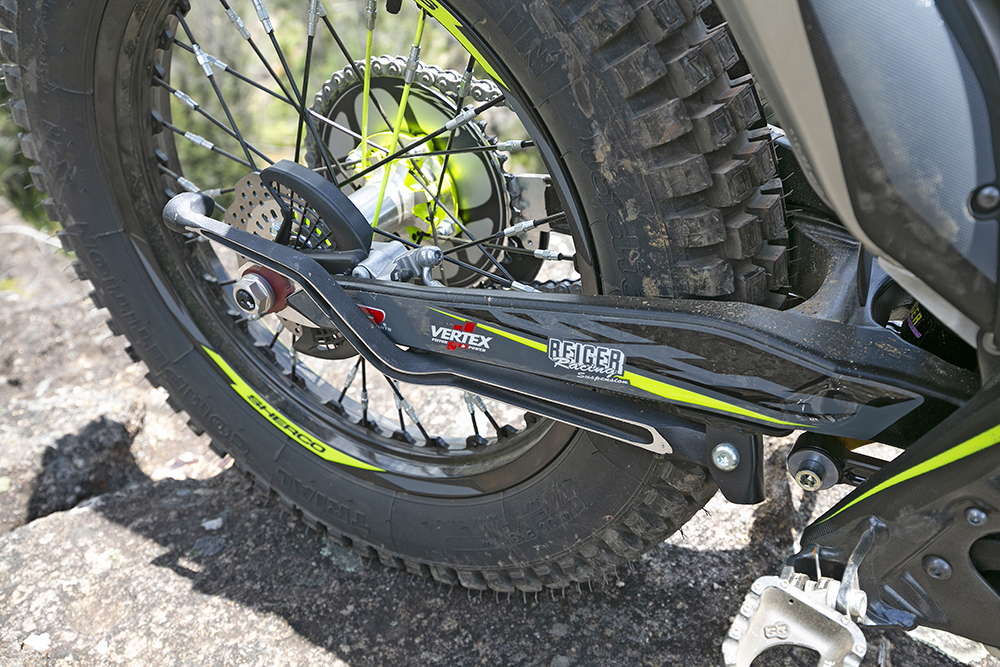 Both ends of the suspension are very soft and smooth and this makes the bike glide across any kind of loose obstacle with ease. Riding across loose rocky sections that would normally require lots of energy on an enduro bike felt effortless. The downside to this butter soft suspension action is how hard it bottomed out when I did not land right from a drop off.
Even though both the front and rear brakes are visually small they pack a pretty big punch. It definitely helps that the 250 ST is so light, but regardless of that, I was impressed how little strength was required to get enough braking power out of either end of the tiny disc brakes to bring things to a sudden stop.
Verdict
I would love to have a 2022 Sherco 250 ST Factory sitting in the shed and more spare time on my hands to see what kind of trials skills I could acquire on it. The engine is so strong that it would be great to get more of a feel for it and see how nasty of a hill I could tackle with it. One of the best features is the fact it is so quiet, no neighbour would ever get annoyed with it or even know you were out trying to become the next Toni Bou.
Even though I was never going much faster than walking pace the strength and endurance it took from me would be a perfect way to keep the body in shape. Full credit to Sherco engineers they have produced one silky smooth trials bike that egged me on to try more and left me wanting to ride it more.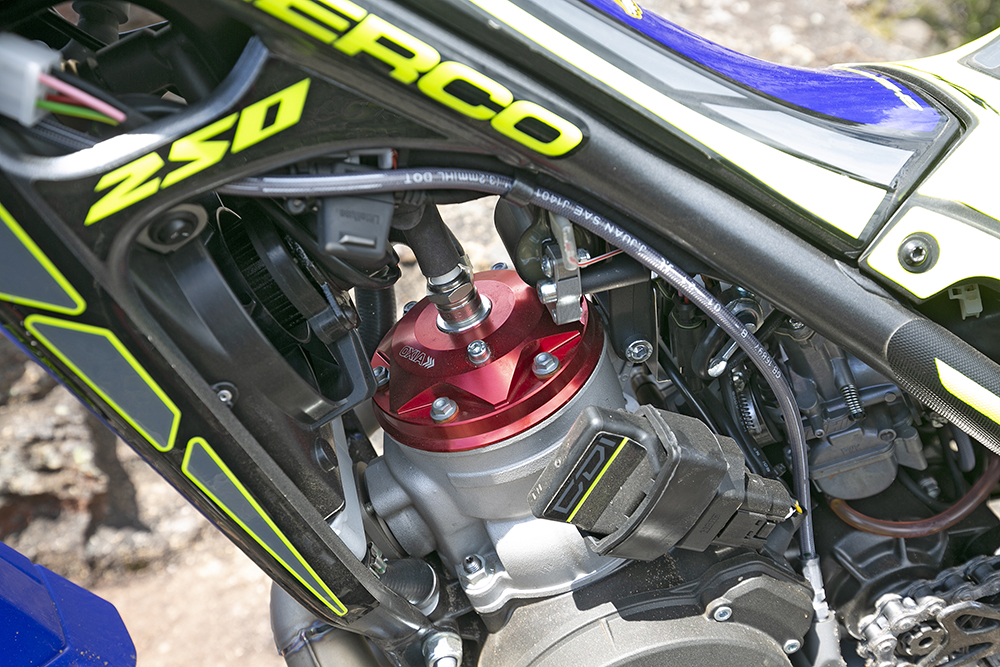 Would I tell a 16 year old me to get one.
If I could go back in time and tell a much younger version of myself about the benefits of riding a trials bike I definitely would. The beauty of riding a trials bike is how it forces you to use correct body position and does not accept anything less. Seeing as you have no legit seat to resort to for feet out paddling action it teaches you to attack things correctly, standing up with your feet on the pegs. This alone is a huge benefit when training for technical terrain or tricky conditions. I can see how some of the previous greats like Stefan Everts and Stefan Merriman went on to  being multi time World champions after honing their base skills on a trials bike.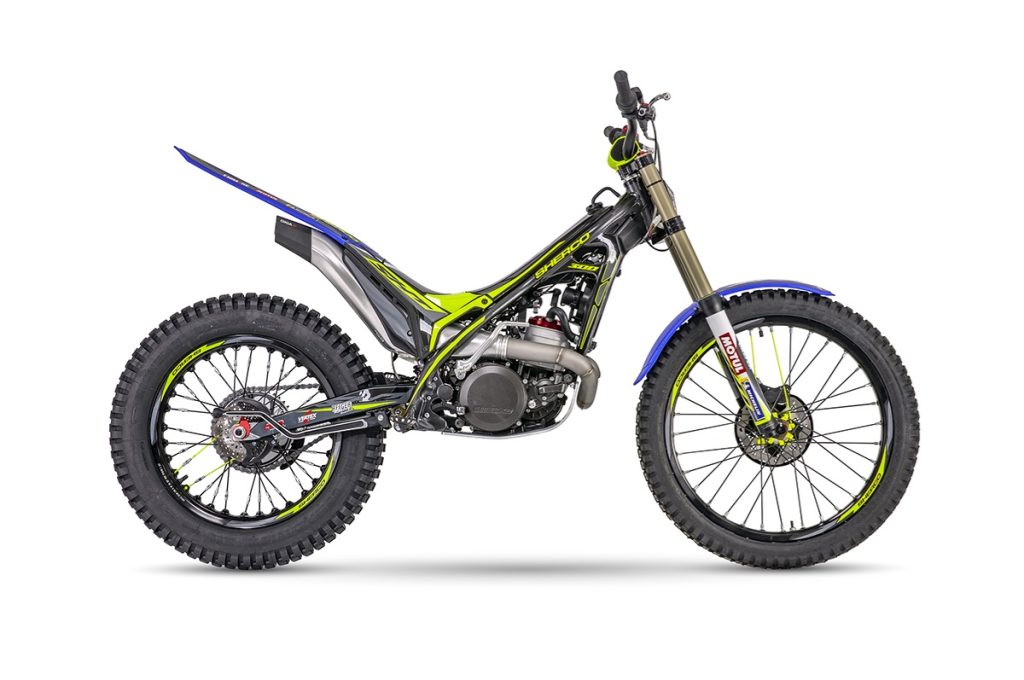 SPECIFICATIONS
Sherco 250 ST Factory
ENGINE
Type Single-cylinder, liquid-cooled two-stroke
Displacement 249.7cc
Bore & STROKE 72.8mm x 60mm
Fuel metering KeIhin 28mm carburettor
Transmission Five-speed sequential
Clutch Hydraulic
Fuel Capacity 2.4 litres
DIMENSIONS
Wheelbase 1322mm
Seat height 685mm
Claimed Weight
SUSPENSION
FRONT 39mm tech fork , 165mm travel
REAR Reiger shock, 175mm travel
BRAKES
Front 185mm disc with twin piston calliper
Rear 185mm disc with single-piston calliper
PRICE & CONTACTS
RRP: $11,690
WARRANTY: Six months
Sherco.com.au
WORDS // BEN GRABHAM
PHOTOS // MITCH LEES