My time with the Sherco 450SEF-R Six-Days has come to an end and if I was, to sum up, my seven months with the beast in one word, I'd say "surprising".
THIS TEST WAS FIRST PUBLISHED IN ADB ISSUE #471 – DECEMBER 2018
WORDS // GEOFF BRAICO
PHOTOS // Mitch Lees

I have mentioned previously that the idea with this long-termer was to get comfy on a model that I have struggled with in the past.
There was something that I just could not put my finger on when it came to the 450SEF-R. I have ridden the whole French range and this was the only one that gave me this feeling so, when Sherco approached us to run a long-termer, I immediately wanted to get the 450.
Straight off the bat, I have to say that the 2018 450SEF-R is by far the best 450 that the French have produced, and I had a blast getting to know it while riding and racing it around the country. I worked with the Sherco Australia guys, to transform this already impressive race-ready 450 into a class killer and they were nothing but enthusiastic.
Derek Grundy is the brains behind the Motul Pirelli Sherco Off-Road team so I hit him up for some inside knowledge. The guy lives and breathes Sherco and it was epic to work with such a grounded, honest, genuine bloke. Nothing was ever an issue and he was only ever happy to help.
FIRST RIDE
It was the beginning of February when I took delivery of the 450SEF-R and, after spending the first night with the bike trying to read as much of the manual as possible to familiarize myself with it, I was ready to get it dirty. My first outing on it was a demo day for Sherco Sydney at Pacific Park on a fresh little grasstrack loop.
Dealership boss Neil and Stephen Tuff had me out there cutting laps and that was when I first realised that the 2018 bike was a huge step forward in terms of rideability and comfort. The issues I'd had with balance and engine braking had been taken care of and I ended up riding lap after lap on the demo day test track.
Over the course of the first month or so, I rode the bike at a heap of places and really started to get my act together on it. I noticed right away that the bike had more power, and that it was more balanced with the new WP damping settings much closer to the mark.
I was impressed at how smooth the motor was and I felt like I could ride it all day and not get tired. It no longer felt like a heavy bike and small things like the new handlebar bend made it feel more natural to sit on.
FOUR-DAY
With the Australian Four-Day Enduro being just a few hours from my house, I decided to try and get myself back into race shape and the Sherco was my weapon of choice. I did a bunch of riding and testing before Cessnock and had a lot of great people come on board. We used the team suspension guru, Chad Talbot of Chad's Offroad Setups, and he fitted up some MXTech cartridge inserts in the fork and worked on the shock with an MX Tech Triple adjuster as well as some valving. The standard WP Xplor settings work well but, for racing, I needed a firmer set-up and that is what Chad gave me. He firmed the bike up a heap and got me moving along the tracks with some more pace.
I did a few club days and a NSW state enduro to try and prepare myself for the Four-Day and when it rolled around, I felt well … kind of ready. I don't seem to have the time that I used to when I raced but I tried to cram in as much riding as I could. It was my eleventh Four-Day and I was excited to get back out there with the boys.
I rode decent considering I only had the bike for two months beforehand and finished 17th Overall. I was seventh in the hotly-contested E2 class and highest-placed Sherco.
The tracks were brutal, and I struggled with fitness and just being back in that crazy, focused world of racing. The Sherco didn't miss a beat. Even with the atrociously dusty conditions, it ran as solid as a rock. With the motor being looked after by some quality Aussie-made, Unifilter Rush filters and Motul oil, I could not fault how the bike ran.
The only issue I had was dealing with the ever-changing terrain. I had never ridden the 450SEF-R on anything even close to what the Tests at the Four-Day were and I learned a lot about my set-up, it was too soft. When the tracks were smooth and fresh, the bike handled really well but as they turned to rutted, bottomless powder, I found myself battling to charge with confidence.
I played around with the clickers and that helped but, overall, we needed to go firmer so it wouldn't run low in the stroke through the ruts. We had room to improve and I was excited to keep testing and get ready for the next race.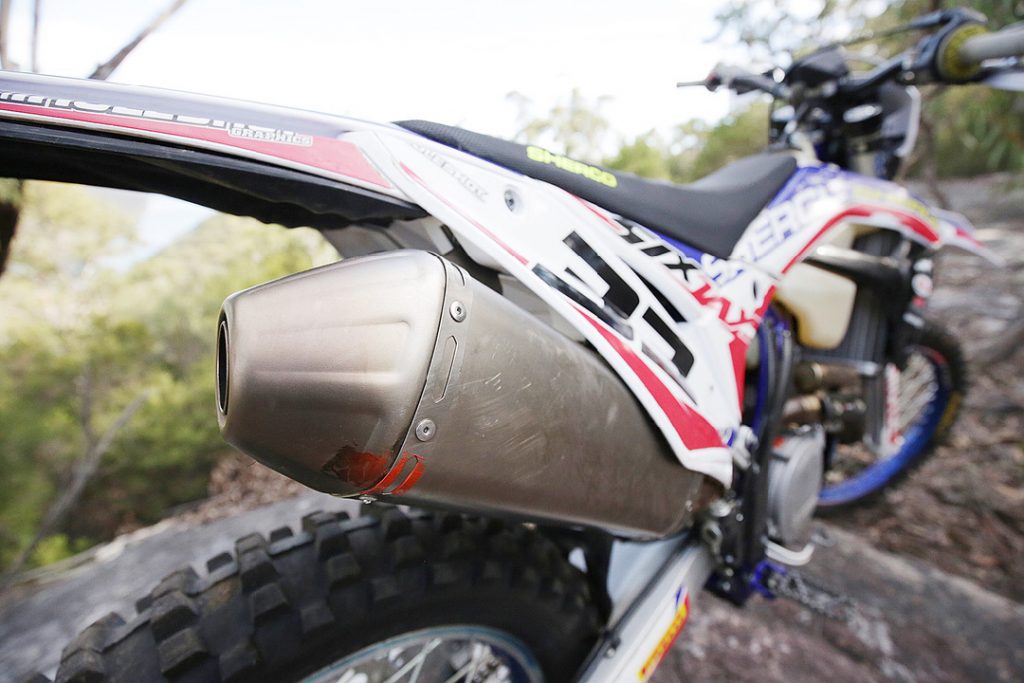 HATTAH
With a decent gap after the A4DE, I had plenty of time to get more in tune with the beast for the brutal event that is Hattah. As the bike had proved to be more than reliable enough to handle the race, all my focus went into making the bike faster and firmer.
It is next-level wild there in the deserts of Hattah and the Sherco was loving every second of it. It ate up the sand with ease and I had so much fun. The bike was firmer than for the A4DE and I was jumping into the whoops with confidence and, apart from my lack of seat time, I felt like I had my best shot at a good result.
Sadly, the rear tyre decided that it wasn't meant to be. As at the Four-Day, the 450SEF-R proved to be a reliable workhorse but, unfortunately, I did not get to push it to the limit for the full four hours.
VERDICT
After going into this a little unsure, the Sherco 450SEF-R Six-Days certainly proved to me that it meant business and was a worthy long-termer. I wanted to spend plenty of time on it and develop it into a race bike that I was comfortable on and I achieved that.
Like I said at the start of this article, I was pleasantly surprised by this bike. I can't fault the reliability of it, as it started first touch of the button every time and ran like a dream on every ride. If you want to stand out from the crowd and are after a bike that isn't high maintenance and is enjoyable to ride, then the Sherco 450SEF-R is right up your alley.
Parts bin
Having competed in several different races this year I needed loads of different parts. Here's some of the stuff you may have missed:
• I used Motul Oils, Pirelli tyres, RK Chains and Polisport Plastics
• Chad's Offroad Setups took care of the suspension
• Topline Upholstery nailed the seat
• Holeshot Graphics made it sexy
• Unifilter kept it breathing
• Steg Pegz allowed me to hang on
• Safari Tanks got me the distance
• MSC Dampers kept her straight
What's hot?
Rideability: The Sherco is so easy to ride. The motor is crazy smooth and anyone from a trail newbie to a fast racer can hop on and enjoy the power. It has plenty of torque off the bottom, but it is delivered smoothly, and it really makes it nice on your body after a big day's riding
Reliability: I put 60-plus hours on this bike, raced it in the toughest conditions – mud, dust, you name it – and it never missed a beat. I did regular oil changes and even more regular air filter changes and I did not ever have an issue with it. I was very impressed.
Easy to keep clean: I don't know what the Frenchies do when manufacturing these bikes, but it was easy to clean the bike even after a muddy ride. The swingarm came up looking new every time and the motor didn't seem to dull like on other bikes.
Extra trick bits: The Six-Days versions come with a host of extra fruit and obviously, the coolest part is the full Akrapovic system. That thing looks so sweet and is plenty drool-worthy.
What's not:
Airbox design: With the drought killing everyone's riding buzz in 2018, there was a ton of air filter changes done this year. Access on the Sherco is easy, with the single clip, but the screw-in filter and the way you must carefully twist the filter out of the subframe with minimal clearance allows too much opportunity for dirt to get into the inlet boot and into the motor.
Battery placement: The battery sits under the air filter and it gets absolutely covered in dirt and grime from the moment you get out on the track. I get that it lowers the centre of mass, but I feel like it was a bit of an afterthought.
Nuts and bolts: The bike has a host of different nuts and bolts that I found myself having to be extra careful with. If Sherco was to put a little tack-weld on each of the nuts where they meet the frame, so that they were in the right position every time, it would reduced the risk of losing them.
WP Xplor: For me, the Xplor fork needed to go two rates heavier on the springs. It dived a little under brakes. For 2019, the Racing versions inherit this fork and the Factories get stiffer KYB kit on them and I'm pretty excited to try that.